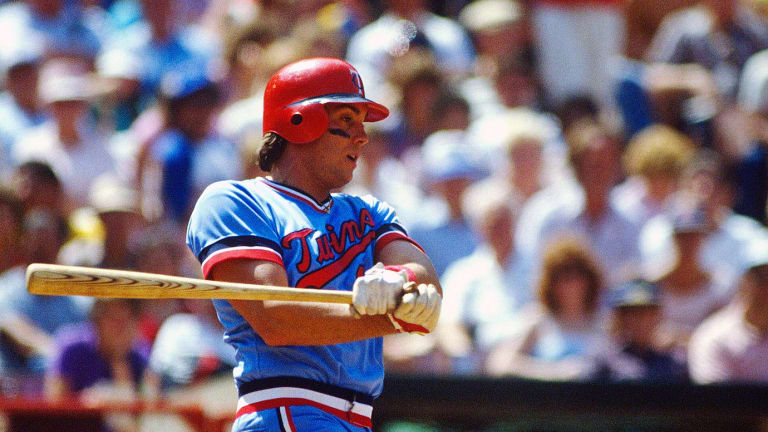 Local Boy Makes Good, Local Team Makes Bad
Homegrown Kent Hrbek, the best rookie hitter in years, plays mightily for Minnesota, which has the worst record in the majors
Hratio Alger would have liked this story. Boy grows up near ball park, dreams of playing for hometown team, applies himself, fools scouts, signs with hometown team, jumps to big show, hits game-winning HR in debut, becomes threat to win Triple Crown in rookie season, hits Herculean shots and leads hometown team to victory after victory.
That last part needs a little work, but otherwise, Kent Hrbek, the 22-year-old rookie first baseman of the Minnesota Twins, is the stuff of dreams. His team happens to be the stuff of nightmares right now. Hrbek and the Twins are rushing headlong into baseball history. So is the place they play their home games.
At the end of last week, Hrbek was batting .330, with 49 RBIs, 15 homers and hitting streaks of 23 and 17 games. In the days of yore they would have called him the Bohemian Behemoth, although he's as gentle as a puppy. He may be headed for the best overall rookie year since Ted Williams' 1939 season. Yet on June 21 Hrbek wasn't among the eight listed first basemen in the All-Star balloting. His 14-year-old sister Kerry was hoping to correct that oversight by writing Hrbek's name on at least 20 ballots a day until the voting concludes on July 4.
Through Sunday Minnesota was playing at a .247 clip and was 25½ games out of first place. The Twins have already been referred to as the Twinkies, the Tloses and The Who.They are threatening the futility record of the 1916 Philadelphia Athletics(.235) as the worst team in baseball history; Minnesota's 18-55 mark at week's end is "ahead" of the pace set by the 40-120 New York Mets of 1962, the losingest team in history. On Father's Day, Manager Billy Gardner got a card from his 15-year-old son Billy Jr. that said, "Hang in there, Slick,"Slick being the elder Gardner's nickname. Enclosed was a picture of Casey Stengel with the caption, "Can't Anybody Here Play This Game?"
The Twins aren't all that bad. And Hrbek may not be all that good, although his stats have held up his second time around the league. Only time will tell, and time is very important to Hrbek. Last year he found out that his father, Ed, was dying of amyotrophic lateral sclerosis, a/k/a Lou Gehrig's disease. Kent wanted to come home from California when he got the news, but his father told him to stay put.Ever since, the tears have given way to a tear. Hrbek ripped apart the Class A California League and he was batting .379 with 27 homers and 111 RBIs for the Twins' Visalia farm club when he was called to the majors on Aug. 24. In his first game, he homered in the 12th inning to beat the New York Yankees. He was playing Gehrig's position in Gehrig's stadium.
The Hrbeks livein Bloomington, Minn., two miles from where the Twins played until this year.When Kent was a youngster he could see the lights of the park from his bedroom window. This season, his folks have attended every game but one at the new Hubert H. Humphrey Metrodome in Minneapolis, and Kent had hit .355 at home through last week. In road games televised back to Minneapolis, he is batting.359.
The Hrbeks and friends sit in the last row of the lower deck behind home plate in the Metrodome. Sometimes they wear T shirts that say, HERBIE'S SISTER, HERBIE'SDAD, HERBIE'S MOM, HERBIE'S PAL.... Kent has one emblazoned HERBIE. Ed's disease has left him unable to speak, and he has had to struggle to stand for the national anthem and the 10 homers his son has hit at home. But his eyes light up at the mention of that other notable player of Czechoslovakiandescent, Elmer Valo. Happier people can't be found in the stadium.
Kent is one of more than a dozen seeds that Twins owner Calvin Griffith has thrown out on thefield in the last two years. While Hrbek has taken root, others have been blown away. To carry the metaphor one step too far, Minnesota fans worry that Hrbek will be transplanted when the Twins decide they can no longer afford him. He's now making $42,000 a year. Griffith, who is loath—both out of principle and because of economic necessity—to pay the big salaries that other owners do these days, isn't the most popular man in Minnesota. "I don't mind being called a dinosaur," says Calvin. "The dinosaurs were very strong people, er, things."
Griffith is in fact a likable man who just happens to be stuck in the wrong era. He tends not to listen to his Dartmouth-educated son Clark—they're barely on speaking terms.Instead, Howard Fox, executive vice-president and longtime traveling secretary,has Calvin's ear. Fox came to the organization from the peanut business 35 years ago, which could be the reason peanuts best describes the Twins' salary structure.
Since April,Minnesota has dispatched to other teams the salaries of Roy Smalley, Butch Wynegar, Roger Erickson, Rob Wilfong and Doug Corbett—$1.6 million a year in all. Smalley, now playing for the Yankees, had more major league experience(seven years) before this season than Minnesota's current starting lineup.Twelve of the Twins' 25 players are rookies.
One would be justified in thinking the Twins have a lot of nerve putting such a lineup in a brand-new domed stadium where most tickets go for $8. Even with those ticket prices, Minnesota needs to draw about 1.2 million fans to break even. Although attendance has increased by an average of 5,602 a game, the Twins will be lucky to bring in a million.
The Metrodome is quite nice, if you like that sort of thing. Pitchers certainly don't. At week's end 91 homers had been hit in the dome, 43 by the Twins. At that pace, 223 home runs will be hit in the Metrodome this season, shattering the indoor record of 182 set at Seattle's Kingdome in 1979. The mark for the Houston Astrodome is 115, set in 1970. The Metrodome has an outside chance of breaking the major league record established at Wrigley Field in Los Angeles, home of the Angels in 1961 and launching pad for 248 homers. "It's the prettiest place I'veever seen to watch a game," says Twins Pitcher Ron Davis of the Metrodome."But it's just a terrible place to pitch in. The fences are short and the ball just jumps out of here."
While the distances in left—347 feet to the foul pole and 385 feet to the fence in left center—would seem to make it no pushover, the Metrodome is a piece of cake for left handed sluggers like Hrbek, with the barrier in the right field power alley only 365 feet from home plate, second shortest in the league. The standard line for explaining all the homers is that the ball carries especially well in the Metrodome. That notion is derided by David Geiger, whose firm, Geiger Berger Associates, designed the stadium's translucent roof. "I think the real reason they're hitting all the homers is that the lighting is better," hesays.
There's yetanother reason that the new home of college football's Minnesota Gophers has become the home of the gopher ball. "The fans like to see home runs,"says Clark Griffith, "and we have assembled a pitching staff for theirenjoyment." Having surrendered 97 homers through Sunday, Minnesota pitchers were in position to break the major league record of 220 set by the Kansas CityA's in 1964. Now you know why there's a box of Alka-Seltzer on Gardner's desk.Inside are 14 packets, one for each of the losses in the Twins' recent club-record streak.
Gardner has tried to use humor to deflect the frustration of constant losing, but he's also very protective of his players. He feels the umpires are taking advantage of them because they're inexperienced, and he was absolutely incensed last week when Britt Burns of the White Sox failed to get a warning after he hit Twins Third Baseman Gary Gaetti in the head with a pitch. "It would be one thing if he came off the mound to apologize, but he just glared at him," Gardner says."He was trying to intimidate my kids. That was the third time he threw at their heads."
Gardner has had to do a little baby-sitting because some of his players aren't ready for the majors. One pitcher was literally afraid to throw the ball to the plate, and one hitter is afraid to step into the box. Being rushed to the majors may also have had a deleterious effect on Center-fielder Jim Eisenreich, who two weeks ago went on the disabled list for the second time this season because of a nervous disorder. A very talented outfielder with a .303 average, Eisenreich has hyperventilated so severely on several occasions that he had to be removed from the game.
Hrbek isn't the only bright spot, though. Through Sunday Tom Brunansky, acquired from the Angels for Corbett and Wilfong, had 10 homers, and he and Hrbek were looking asif they could give the Twins the best three-four power punch in the division for years. Rookie Ron Washington, finally given a chance at the age of 30, hasbeen playing a steady shortstop while batting .278.
"Sure, the Twins are talented," says White Sox Pitcher Jerry Koosman. "But everyteam has talent. The difference is experience. My wife is talented around the house, but she also has experience. I wouldn't trade her for two 20-year-olds." Koosman was traded by the Twins last year for one 20-year-old and two 23-year-olds.
The Twins' pitching has been frightful. When right hander John Pacella arrived from Columbus as part of the Wynegar deal with the Yankees, Gardner wanted to know if he could start that very night. On another occasion Gardner asked a pitcher if he was tired. When the pitcher said no, that it was only the first inning,Gardner replied, "Well, the outfielders sure are." No pitcher had an ERA of less than 4.00 at week's end, and the best guy on the staff was the fellow named Others at the bottom of the stat sheet—he had four wins, two complete games and three saves. The Twins had lost three games in the seventh inning, seven games in the eighth, four in the ninth and all nine of their extra-inning games. Their best relievers, Terry Felton and Davis, were 0-8 and 2-7, respectively.
Three members of the Twins, Davis, Larry Milbourne and Bobby Castillo, played in the World Series last year for New York and Los Angeles. Milbourne isn't taking it well—he wants out. Castillo doesn't mind; he has been the most consistent starter after years of relieving. Davis, who ripped the Twins' trades, is now philosophical. "What you miss is the laughter after a game," he says."Here, there's sadness."
One of the ironies of the Twins' situation is that if it weren't for the legendary Griffith nepotism, Hrbek might never have been found. He was a first baseman and pitcher at Kennedy High in Bloomington, but the Twins only found out about him because Smokey Teawalt, the No. 3 man in concessions behind his brother-in-law Tommy Bourdouklis, saw Hrbek play against his son. Teawalt told Jimmy Robertson, the No. 1 man in concessions and Calvin's brother. (Calvint ook the surname Griffith when he was adopted in 1923.) Angelo Giuliani, along time Twins scout, was sent to take a look. Hrbek had escaped the attention of other scouts, even after attending tryout camps held by the Reds and Dodgers.
Despite Giuliani's glowing recommendations, the Twins waited until the 17th round of the June 1978 draft before picking Hrbek. Farm Director George Brophy was hesitant to offer Hrbek too much money—what else is new?—but the Twins had already let such native Minnesotans as Dave Winfield and Paul Molitor slip past. Calvin went to see the lad himself. "Great stroke," he recalls."I know talent. Other owners think they know talent, but I know talent."
Last year at Visalia, Hrbek came into his own. The Visalia Times-Delta compared him to Ted Williams, and teammates started calling him Ted. "The last week before I was called up," Hrbek says, "this clothing store had a promotion in which it would give away a pair of pants to the first player who hit a home run in a game. I think I won four pairs that week. I had to order them by phone,though, because I was already in the major leagues. Thirty-six extra long."
When Hrbek arrived at Yankee Stadium, he was star-struck. "I watched Reggie and Winfield run by, and I wanted to just go up and meet them and shake their hand—but you don't do that," he says. "If I'd had a pen and paper, I'd have asked for their autographs." In the 12th inning of that first game,Pitching Coach Johnny Podres said to Hrbek, "C'mon, kid. I've got to get a cocktail." Hrbek hit George Frazier's 2-2 fastball over the right-field wall. "What I had done really didn't hit me until I got home a few days later," he says. "I woke up that morning and there on the wall was a picture of Yankee Stadium I had put up as a kid."
Although he stands 6'4" and has to work to keep his weight down to 215, he isn't the stereotypical slugging first baseman. He's surprisingly fast. "I've gotten a number of infield hits because the infielders didn't realize I could run," he says. But mostly he hits. Through Sunday he led the majors in slugging percentage at .609. He is challenging the rookie slugging record of.621 established by George Watkins of the 1930 Cardinals and the rookie homerun record of 38 set by Walter Berger in 1930 and equaled by Frank Robinson in '56. His statistics could look very much like Ted Williams' did in '39: .327with 31 homers and 145 RBIs, although he'd have to go some to match that last figure. Williams' own appraisal is that Hrbek has "a great swing."
Hrbek has not rouble with lefties or curveballs, both of which he's seeing with increasing frequency. He's hitting .389 against southpaws, although most of his power has come against right handers. "When we were out in California, Rod Carew suggested I open my stance up more against lefties, and it's really helped," says Hrbek.
Perhaps the ultimate compliment was paid Hrbek by Texas Manager Don Zimmer. On June 18,with two outs, nobody on and the Rangers leading 3-2 in the ninth, he ordered Hrbek intentionally walked. The next batter grounded out. "The only other time I've done it was with Aaron," said Zimmer. "But I wasn't going to let the kid beat us with a home run." Maybe next time.
TWO
PHOTOS
RONALD
C.
MODRA
The Metrodome is a spacious new baseball home for Clark and Calvin but it's a dangerous underworld for beleaguered pitchers.
TWO
PHOTOS
RONALD
C.
MODRA
Kerry Hrbek is leading her brother's All-Star write-in campaign with 20 ballots per day.
PHOTO
RONALD C.
MODRA
Davis misses the laughter that comes with winning, but his 2-7 record sure is no joke.
PHOTO
RONALD C.
MODRA
At age 30 and after a decade of trying, Washington is safely in the major leagues.
PHOTO
RONALD C.
MODRA
Gardner's lineup hasn't been very slick.
PHOTO
RONALD C.
MODRA
Brunansky gives Minnesota Twin towers of power.