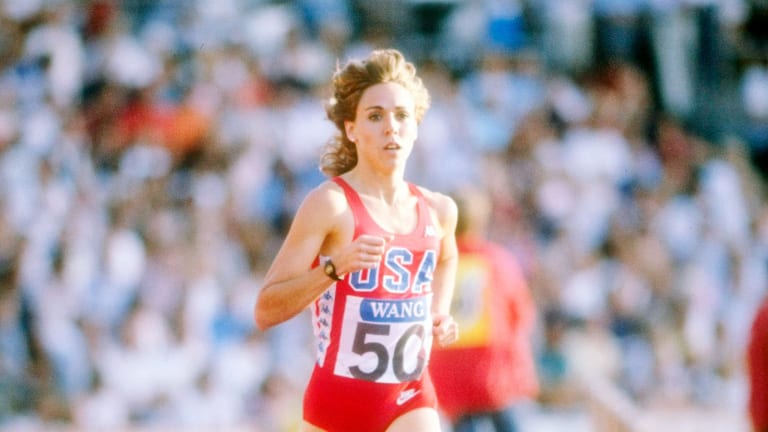 It Was Just Another Mary Chase
Mary Decker Tabb celebrated her homecoming by entering a 10,000—and set her seventh world record of 1982
It's a law of nature that U.S. runners drag home from the European wars each summer exhausted. "The first day back," Steve Scott has said, "my legs are always so weak I wonder whatever gave me the dumb idea I could run." Or they come back broken. In 1980 Mary Decker departed the Continent with a strained Achilles tendon that would eventually require surgery. She had run 2,000 meters of, as she put it, "just one last 3,000 before I go," when the tendon went.
Decker wasn't to recover for a year. In fact, when she married marathoner Ron Tabb last summer, a wedding guest was heard to whisper, "She goes lame so often now you can call her Pull-Tabb."
Tabb, a patient and selfless man, has been instrumental in gently guiding his sometimes overspirited wife through a gradual return to her extraordinary form. Both of them, in turn, have been overseen by Athletics West administrator Dick Brown, also a marvelously soothing soul and a highly trained physiologist, who stressed consistency and caution.
The result had been this year's spate of six world records, four of them indoors—the 3,000 (8:47.3) and three successive improvements in the mile, culminating in a 4:20.5 on Feb. 19 in San Diego—and two of them outdoors, a 15:08.26 in the 5,000 in Eugene on June 5 and a 4:18.08 mile on July 9 in Paris. Moreover, Decker Tabb set an American women's mark in the 3,000 (8:29.71) on July 7 in Oslo, narrowly missing the world record of 8:27.12 held by Lyudmila Bragina of the Soviet Union.
To forestall potential injury, the Tabbs flew home to Eugene, Ore. late last week for a three-week recharge before returning for late August races in Nice, Zurich, Brussels and Koblenz. They were 16 hours in planes and concourses between Geneva and Eugene last Thursday. "Alberto and Molly Salazar were on the same planes," says Decker Tabb. "And Alberto said that despite setting American records in the 5,000 and 10,000 [13:11.93 and 27:25.61], he felt he had a good 10,000 left in him." Salazar wondered aloud—and presciently, it turned out—whether it would count in the eyes of the International Amateur Athletic Federation, which approves track and field world records, if he set a mark in one of Eugene's all-comers meets.
"All-comers meets?" said Decker Tabb. "You'd want to run that hard in a little all-comers meet?"
The Tabbs finally made it to their chocolate-brown bungalow, and Mary collapsed into bed at 1 a.m. Friday. She slept until 11 and still couldn't get up the gumption for a morning jog. She weighed herself: 103 pounds, very light for her. At 4:30 that afternoon Ron was reading the paper. "Hey," he said. "They're having a women's 10,000 tonight."
"Where?" said Mary.
"Down at the track [the University of Oregon's Hayward Field]. At the all-comers meet."
"That rings a bell," thought Mary.
She called Brown and inquired if she might run. He said she could enter, but only if she promised three things: not to wear spikes—only flats—to save her legs; that if she was feeling bad, she'd drop out; and that she'd do no track work for a week afterward. Ron agreed that all restrictions would be adhered to.
"They gang up on me," said Mary.
Brown checked and found that official marks could be set in the race. "Go to break Mary Shea's American record (of 32:52.5)—but just by a little bit," said Brown. "Seventy-nine seconds per lap will do it."
The world record was 32:17.19, held by Yelena Sipatova of the Soviet Union, although Denmark's Loa Olafsson has run a 31:45.4 that wasn't accepted because there were men in the race. "I think you can run 76s or 77s," said Ron. He told Brown Mary could run 31:30. He has credentials as a prognosticator, having predicted 4:18 in the Paris mile.
At 8 p.m. the summer twilight at Hayward Field was almost Scandinavian in its coolness. The daylong north wind had dropped. And about 500 Eugenians ringed the track. Mary, growing eager, was trying to get out of part of her deal. "Don't you think I ought to wear spikes?" she asked an old friend, John Gregorio, who's also a shoe representative. But old friends know all about her fragility. "Nice soft flats," said Gregorio.
Decker Tabb went to the line. In flats. Beside her was Eryn Forbes of Oregon, the runner-up in the NCAA 10,000. "What pace are you going out in?" asked Decker Tabb.
"Seventy-nines," said Forbes.
"I'll just stay behind for a while," said Mary.
It was a very short while. Decker Tabb had the lead and was running away after 50 yards. "Well, the pace felt way too slow," she said afterward. "I just picked it up to where I felt relaxed." Her first four laps were 76, 77, 76 and 77, a 5:06 mile. She didn't even look as if she had begun to sweat. Her second mile was 5:07, and still she ran with the miler's power, perhaps overstriding a little, but obviously in complete control. "I just wanted to relax," she said. "I wasn't sure when you should try to push it, or even whether you should."
Her third mile was in 5:10, the 5,000 passed in 15:55, world record pace. Ron stood by the track, calling "77...78...77..." as Mary ground out the laps.
In the fourth mile her bounding power was ebbing. Decker Tabb simply ran with a quicker cadence. The miles went by in 5:04, 5:06, 5:03. Along the last backstretch spectators roared her on and then ran across the infield to see the finish. Decker Tabb sprinted well, though she said, "I couldn't kick in those shoes. They felt cloddy, not like track shoes."
She crossed the line in 31:35.3, the fastest 10,000 ever by a woman on a track and her seventh world record of 1981. (On the road, Grete Waitz of Norway has run a 31:00.) It was Decker Tabb's third world mark in six weeks and made her the fastest U.S. woman of the year at all six distances from 800 to 10,000 meters.
Because of the relative ease with which she set the record, Decker Tabb at first discounted the significance of her run. "It just proves the records aren't real stiff yet," she said. "I'd like to try it again. It will come down some more."
The next day she added, "That 3,000 [in Oslo] was my best run. It's a tougher record than the five or 10. That's the one I want to go back and get." The 3,000 will be the longest race on the track for women in the 1984 Olympics, when everything comes back to where Decker Tabb grew up, in Los Angeles.
"But first maybe Alberto and I could wait a couple of weeks and try another of these neat all-comers meets. He can do his 10,000, and I'll do the 5,000. I'd get more satisfaction from breaking 15 minutes than I would from winning some 1,000-meter race in Nice."
This idea has yet to get Brown's approval, but Ron said he knows Mary can run in the 14:30s. "I get so much satisfaction out of watching her progress," he says. "I think, for example, that if she can stay healthy, she'll be the first woman to break 2:20 in the marathon." He looked at Mary, who was squirming to get out and run an easy six. "I've found a great training partner."
"Me, too," said Mary. "Let's go."
PHOTO
WAYNE
EASTBURN
The prize for winning the all-comers race in Eugene? A world-record hug from Ron.
PHOTO
WAYNE
EASTBURN
Decker Tabb ran flat-out in flats: 31:35.3.