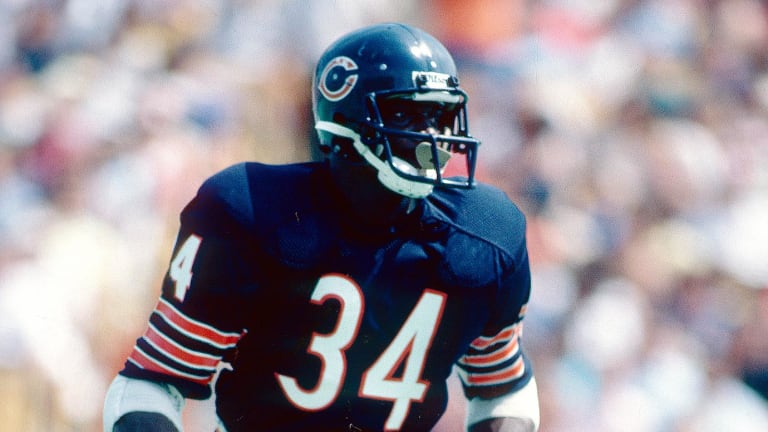 He Can Run, But He Can't Hide
The Bears' Walter Payton has trained prodigiously for the new season, but will probably take the same old pounding
It is early August, 1982. Walter Payton, who has just turned 28, sits in the lobby of one of the players' dorms at the Chicago Bears' Lake Forest, Ill. training camp and stretches his legs. He wears dark shorts and a powder-blue T shirt, which looks almost phosphorescent in the gathering darkness, accentuating his powerful upper body.
"I feel," he says, "like an old man."
He doesn't look it. He still flashes the little-boy grin that people noticed right off when he showed up at his first Bear camp in 1975, a rookie barely turned 21. His face is unlined. His movements are quick; he can't sit still for long. He gets up, paces, taps his green motorcycle, which stands in the middle of the lobby, sits down, gets up again. He talks quickly, in staccato bursts. You get a feeling of electricity. Sparks seem to shoot from him.
But the feeling of encroaching age is understandable. Payton has carried the ball more than 2,200 times in his seven-year NFL career and almost always everybody in the stadium, especially the people on defense, knew he was going to carry it. The Bears haven't had a passing attack since the days of Rudy Bukich. Payton left. Payton right. Payton up the middle. Walter Payton carrying the Chicago Bears on his shoulders.
"Not by myself," Payton says. "Nobody can carry a team by himself."
The Bears have also been dimly aware of that fact through the years, of the need to concoct a passing game and join the 20th century, to take the pressure off their 5'10½", 204-pound halfback, who, wondrous as he is, is after all only made of flesh and bone. Now they're at it again with a new coach, Mike Ditka, and a pass-happy quarterback, Jim McMahon, whom they drafted in the first round. But Payton has been down this road before.
It started for him in 1977. That year, his third in the NFL, the Bears hired the legendary Sid Gillman, genius of the passing offense. They traded first-and fourth-round draft choices to Cleveland for veteran Quarterback Mike Phipps and drafted another one, Vince Evans, out of USC Oh, they were going airborne all right.
Well, the Bears reached the playoffs for the first time in 14 years that season. They reached them because Payton ran for the fourth highest yardage in NFL history (1,852), including a single-game record 275 against Minnesota. Just as he'd done in 1976, Payton carried the ball more times than the Bears threw it—339 carries for Walter, a league record, 305 passes for the entire Bear team. After the season, the writers asked Walter when he thought he was going to break Jim Brown's alltime career rushing record. What the heck, the kid was only 23 and he was two seasons away from cracking the league's Top 20, lifetime.
"I won't be around long enough," he said. "Five years is plenty in this game."
Payton smiles now when reminded of those words. "Yes, I remember what I said in '77," he says. "I still feel the same way, but the enthusiasm has always been there. I don't mean just to play. I'm talking about the training, the preparation to get yourself ready to take the beating. If that goes, whether it's next year or after 10 years, well, it's time to get out."
"I think," someone tells him, "you're going to have one of those marathon careers, that after 15 years you'll still be saying the same thing."
"If I thought that would happen," Payton says, flashing his grin, "I'd cut my wrists right now."
Jim Brown's record, once deemed unbreakable, is now within reach. Payton is asked about it every day or so, and his answer is routine: "Right now I just want to get through training camp," a logical ambition for anyone who has gotten a taste of the heavy-contact practices Ditka runs. But Payton doesn't often forget about Brown's career record of 12,312 yards.
"I'm a little less than 400 yards away from 10,000," Payton says (he stands at 9,608, fifth on the alltime list). "I can get it with two 1,400-yard seasons." Which would give him the mark at the end of 1983, the last year of his current three-year contract worth almost $2 million, richest in pro football.
Jim Finks, the general manager, was asked last year if the dollars weren't a bit extravagant for an organization as conservative as the Bears'.
"For another player, maybe," he said. "But Walter's got the skins on the wall."
This year Payton will be playing under his third head coach, Ditka, and his fifth offensive coordinator, Ed Hughes. For the sixth straight season the Bears are talking about constructing a passing game to take the pressure off Payton (in the past four years the Bears have done no better than 26th in the NFL in passing). For the first time since Payton joined the team they devoted a No. 1 draft choice to what is called a "skill" position—runner, catcher or thrower—when they selected BYU Quarterback Jim McMahon, Jimmy Scott, their long-ball receiving threat, is back from a year in Montreal. And Ditka, along with Hughes, with whom he worked in Dallas, has brought in the complexities and multiple formations of the Cowboy system, complete with the unique up-down that the offensive linemen do before the ball is snapped. Ditka says he will use the shotgun, not only on third down, but also occasionally on first or second, and he won't be afraid to run from it.
His practices have been ferocious. "The most hitting I've seen since high school," says Strong Safety Gary Fencik. Ditka's first morning workout featured full pads and a live, 30-play scrimmage, 11 against 11, with more of the same in the afternoon. "I guess it was kind of shock therapy to some people," Ditka said last week, "but I wanted to find out right away who my players were. Next week I'll cut out the contact. I'm not' a maniac."
He ended his first practice with 10 40-yard sprints. The next day there were 10 70s, then eight 110s. "An arithmetic progression," Fencik said. "I'm glad the field's only 120 yards long, from goalpost to goalpost." At the end of the last 110-yarder, 270-pound Guard Noah Jackson, his head sagging with exhaustion, turned to the crowd watching the practice and yelled, "See what y'all get for saying, 'Goodby Neill Armstrong'!"
Ditka has reinstalled the nutcracker drill, which many coaches shy away from because of its high risk—a defensive lineman going against a blocker, with a ballcarrier behind him. Payton takes his turn in this drill, along with the other running backs. He also blocks, which many of the showcase runners of the past, including Brown, didn't have to do. The first three plays of Ditka's first scrimmage featured three perfect blocks by Payton, three wipe-outs of the linebacker.
As always, the talk is of a more diversified offense to take some of the pressure off Payton, to cut down on the 21 carries per game he's averaged for his NFL career, an output no runner except Houston's Earl Campbell, in three fewer seasons, has ever matched. Payton smiles and nods. How many times has he heard this before? "Whatever I can do to help the team," he says, but he knows that when the weather turns chilly in November and the "must" games come up, he'll get his share of ball carrying. And he prepares in his own way, a preseason workout regimen so brutal that he's burned out everyone who's tried to train with him, a training program built on torture, but one that has made his legs so strong that he has started in 95 consecutive games (he's missed only one game in his entire pro career).
"I developed my training routine going into my senior year at Jackson State," he says. "I found this sandbank by the Pearl River near my hometown, Columbia, Miss. I laid out a course of 65 yards or so. Sixty-five yards on sand is like 120 on turf, but running on sand helps you make your cuts at full speed. If you've got to come under control when you make a cut, the pursuit will catch up to you. In the sand you have to move one leg before the other is planted.
"I'll run it five times, sometimes 10, depending on how many other people are there and how hot it is. I try to pick the heat of the day to run in, but sometimes that sand'll get so hot you can't stand in one place. It'll blister your feet.
"Running alone is the toughest. You get to the point where you have to keep pushing yourself. You stop, throw up, and push yourself again. There's no one else around to feel sorry for you."
The Sand is the real workout. Less demanding is The Levee, on the Pearl River near Jackson State. The Levee requires a short sprint up a 45-degree slope.
"I've done it 20 times in a row," he said, "but usually I'll do it in sets of fives. Up one side, down the other, real short, choppy steps that make your thighs burn. I tried to run with other people, but after one or two days it was tough finding anyone. I've trained with Jeff Moore—he played for Seattle—and Ricky Patton of the 49ers and Rod Phillips who was with the Rams and Ben Williams of the Bills and guys from Jackson State. I'd go by the dorm and pick 'em up. On the second day half of them wouldn't get up and after a week I was alone."
Larry Pillers, the 49ers' defensive end, recalls going with Payton to run the stadium steps in Jackson. "It wasn't like Shea Stadium, or one of those places where the steps kind of fall back," he said. "These went straight up. I'd do it once and I was through. He'd just keep going."
"About 35 minutes on the steps, without stopping," Payton says. "Then a five-minute rest and another half hour. I'd do it until my legs were so tight I couldn't lift 'em. I guess that between May and June I'd run close to 700,000 steps."
The Sand, The Levee, The Stadium—those were Payton's off-season conditioners during his early Bear years. Then one day, a few years ago, he was driving near his home in Arlington Heights, Ill., and he saw it. The Hill. "It was in a place called Buffalo Grove," he said, "about three and a half miles from my home. It's deceiving. From a distance you see it and it doesn't look like much, but standing right next to it, it seems to go straight up.
"It used to be a land-fill area. Packed black dirt. The only way you could get up it is with cleats. You wouldn't make it in regular sneakers. I started running it with Willie McClendon, my teammate on the Bears. He'd do it every other day. I'd do it every day. Miss a day or two, and it's like starting all over again. When we first started, four times up and down and you were ready to pass out. Sometimes some high school kids would come out to run it with us. They'd throw up on the second one. At the end they'd be coming in on all fours.
"The most I ever did was 15 in a row. The hardest workout I ever had was a three-and-a-half-mile run from my house to The Hill, then 10 times up and down, then three and a half miles back home."
There might be faster backs in the NFL than Payton (he ran a 4.3 at Jackson State, and he says he was clocked in 4.5 at the Bears' first mini-camp this year) but it's tough to believe any of them has that kind of power in his legs—except maybe for Campbell, and he's 33 pounds heavier. It's that foundation of strength, laid in by all those torture sessions on The Hill and The Levee, that probably has saved Payton from serious injury. Not that he hasn't been banged up. In '79 he played four games with a nerve injury that made his right arm feel "like a lightning rod from time to time." He played three games with cracked ribs last year, and six games at the end of the season with a pinched nerve in his shoulder.
"I couldn't raise my hand over my head," he said. "I remember going into the Detroit game, and they threw three or four passes to me and I couldn't get my hand up to catch them." As the offense broke down in '81, as the line and the blocking became shaky and unsettled, Payton began to absorb more and more of a beating. He ran for 1,222 yards, the fewest since his rookie season, and for the first time in five years he didn't win the NFC rushing title.
After the Bears' third game, against Tampa Bay, in which he was held to 64 yards on 21 carries, he made his frustrations public. "It got to the point where there wasn't any place to go," he said. "I attacked the defense. As a result of that, I had guys who were trying to tackle me lying on the ground. I broke my shoulder pads. Look at my helmet." It was badly scarred.
A week later, after a Monday night loss to the Rams (17 carries, 45 yards), Payton was reminded that once he had given his offensive linemen gold watches after a season. "This year I'll give 'em pieces of my body," he said.
Those words are a sore point around the Bears' camp these days, from a period no one cares to be reminded of.
"It's kind of hard, but the blame's got to go somewhere, and who are you going to blame?" said 32-year-old Center Dan Neal. "All of us took a beating out there. I don't know if the problem was so much the players as the whole offensive concept. We weren't running plays to set anything up. We were running them just to run 'em. We'd call something like a tackle-trap pass but we'd never run the tackle trap."
The inevitable questions posed themselves to Payton during that gloomy period: How much can my body take? Is there a bullet with my name on it out there, the one career-ending injury?
"I thought about it last year," he said. "You play hurt, and you can't function fully, then you get more hurt, and you wonder, how much longer can it go on like this? I was depressed when I made those statements last year. You give it all you've got and still lose the game, and you're depressed. I let the linemen know I was depressed. We're still friends. I didn't apologize for the statements, and no one came over to me and apologized. If people go around apologizing to each other every time something goes wrong, they lose respect.
"The worst game I ever played in was the Washington game last year [five carries, five yards for Payton; another 24-7 loss for the Bears, who were headed for a 6-10 last-place finish in the NFC Central]. I'd get the ball and guys were just sitting in the hole. I tried to stay alive. Everywhere we looked we were getting hit. We couldn't get a thing going. It was the worst day. The worst.
"Next week I looked at the films. Watching them you start wondering how much more your body can take. You're not thinking of years at a point like that, you're thinking of how many more games. You're thinking about that one play where you can't properly protect yourself, that one play everyone dreads.
"I'd see a guy get hit and go off the field, and I'd flinch. I'd ask myself why. It could be fatigue; maybe he wasn't as sharp as he could be. Or maybe he saw something the defense did that made him do something different. Something made him vulnerable.
"I realized that to function the way I have, I've got to keep my body and mind in a position where they'd function together so everything would still be sharp. Improvising and going on my own is part of it, relying on the instincts that have taken me this far. Plus conditioning, never allowing myself to get in that vulnerable position.
"I hear guys saying, 'I can make it another year, another two years.' They don't know that they're just dragging it out. They can't see it, and often those are the people who get hurt. I'll know it. I won't let it happen to me. Never."
So as the Bears proceed into the 1982 season, with their brand-new coach and brand-new offense, the question remains—do they have the tools to take some of the pressure off Payton? There are no new faces on their offensive line, and they've lost an old one—Tackle Ted Albrecht, whose recurring back problems make him questionable for any action at all this year. Ditka recognizes the problem and says he could end up trading a draft choice, and a high one, for a proven veteran lineman.
McMahon hasn't emerged as a threat to Vince Evans. Early in camp the rookie came up with tendinitis in his right knee, to go with his left one, which was hyper-extended in a BYU game last year and now carries a brace. And last week he developed soreness in his throwing arm. Evans admits he still needs to acquire some touch and learn to control his high hard one, but he's a gifted athlete, and he has had some fine moments. With proper coaching, who knows?
And Walter Payton carries on, a blocker, a punisher, a complete football player in the finest of Chicago Bear traditions. As Jim Finks says, he has the skins on the wall.
PHOTOPHOTOPayton never throws in the towel at a workout.PHOTODitka's first practices were like shock therapy.PHOTOMcMahon now has a brace of sore right limbs.