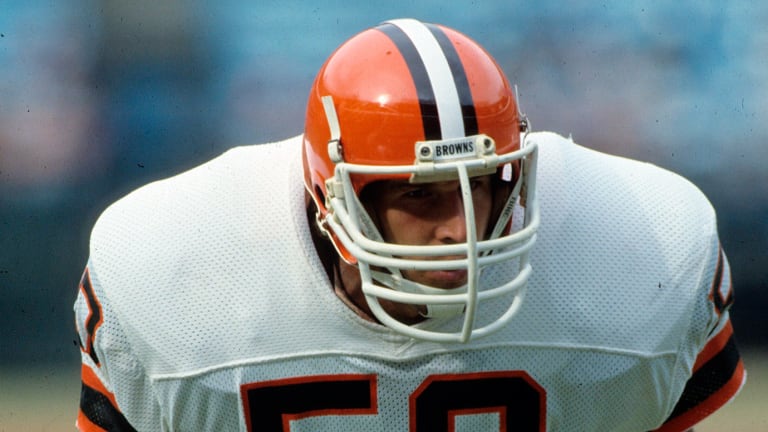 Paving the Way for $$$
By taking a roundabout route Tom Cousineau landed a big-money contract with the Cleveland Browns, who are hoping he can cement their defense
Imagine you're a linebacker—25 years old, curly-haired, single, built along the lines of a lean Arnold Schwarzenegger—and you've just signed what may be the biggest contract in NFL history: $1 million up front, $500,000 per year for five years to play for the Cleveland Browns. You've purchased a $295,000, three-story, eight-bedroom, 78-year-old house on Lake Erie and the 120-foot-long driveway needs repaving. The question is: Do you repave it yourself?
If you're Tom Cousineau you do. Ankle-deep in cement, Cousineau wields a rake while his father, Tom Sr., and three helpers shovel and trowel. Wouldn't a man who just spent three years as the highest-paid player in Canadian Football League history, who' once bought a $25,000 Pantera sports car and then grew so disgusted with it after an hour's use that he sold it and got back his money plus a '55 Chevy, prefer to hire somebody for a job like this?
"Sure," says Cousineau, wiping away the sweat that has trickled past his rolled-up bandana and down his cheek. "But I don't mind working. And I want this done right. Plus it's a good way for Dad and I to spend some time together."
Ah yes, Dad—another specimen. Fifty years old, 6'2" and 220 pounds of Nautilus-trained muscle, Tom Sr. is the head football coach at Pompano (Fla.) High School and a former Marine heavyweight wrestler. Occasionally Dad drops his shovel and throws a hammerlock on his son, and the two men grapple through the muck in play. Tom Sr. played college football at Indiana, tried out for but never made the pros. Like his son, he wears a bandana around his head. Bandanas, seemingly, are a Cousineau family hallmark—Tom Jr. even wears one under his helmet during games.
The whole driveway scene, loaded as it is with work-ethic integrity, should make Cleveland owner Art Modell, a conservative man who nevertheless opened up the bank for Cousineau, rest easier. "I debated long and hard with myself before making the deal," says Modell. "I know that if Cousineau performs, nobody will care what I signed him for. If he doesn't, it'll be Modell's biggest boner ever."
Right now the Browns believe Cousineau is worth the extravagant price. Two years ago the team seemed on the verge of greatness, finishing the 1980 season with an 11-5 record and missing a shot at the Super Bowl by a single play. Down 14-12 to Oakland in an AFC divisional playoff game, the Browns had the ball second-and-nine on the Raiders' 13-yard line with 49 seconds left. They could have kicked a field goal and won. Instead, Quarterback Brian Sipe underthrew Tight End Ozzie Newsome in the end zone and Raider Safety Mike Davis intercepted. Oakland ran out the clock and went on to win the Super Bowl.
Despite the frustrating finish, that 1980 season seemed to portend a bright future for Cleveland. Five Browns were named to the Pro Bowl. Sipe was picked Most Valuable Player in the NFL. But last season the Browns staggered to a 5-11 record. The offense that had averaged 22.3 points a game in 1980, averaged just 17.2 in '81. The Browns' scoring efficiency from within opponents' 25-yard line dropped from 82% to 62%.
But the inside feeling was that the defense had failed most. Committed to a 3-4 alignment that demands superior linebacker play, the Browns were getting by with average talent. "We'd been dodging the bullet for three years," admits Coach Sam Rutigliano. "We were aware of our problems—that we hadn't been drafting well defensively and that we weren't getting big plays from the defensive line and linebackers. A team's turnover ratio is the most important factor in pro football. We were minus 18 in turnovers last year [53 lost balls to 35 take-aways], last in the whole league."
To shake things up Rutigliano traded or waived five players during the off-season, including starting Defensive End Lyle Alzado and starting Inside Linebacker Robert L. Jackson. Looking for "impact players of the Lawrence Taylor-Ronnie Lott type," Rutigliano drafted 6'4", 235-pound USC Linebacker Chip Banks in the first round of the 1982 draft. And Modell emptied his wallet for free-agent Cousineau.
"By impact player, I mean a demonstrative person with the hallmark of talent, somebody who makes everybody around him play better," says Rutigliano. "Cousineau is that kind of player."
After two games—a 17-16 win over Detroit and last week's last minute 26-23 defeat of the Los Angeles Rams—Rutigliano was even more certain of his assessment. "Tom's got a lot to learn about our system, but he makes our whole defense into an impact defense. He can come in and BOOM! turn the games around. He's going to create a whole lot of things for us."
"On paper we might have the best linebacker group in the NFL," says Modell of his starting four, which now consists of Cousineau and eight-year veteran Dick Ambrose inside and Banks and five-year veteran Clay Matthews on the outside. "Of course," Modell continues, "in the NFL you don't play on paper."
Nor do you in the CFL, where last season Cousineau played for the talent-laden and dismal Montreal Alouettes. Though the Als boasted a number of highly paid expatriate U.S. stars—in addition to Cousineau, whose three-year contract was reportedly worth $850,000, there were Vince Ferragamo, James Scott, Billy (White Shoes) Johnson and David Overstreet—they won only three of 16 games. The main problem was the chaotic influence on the team of madcap owner Nelson Skalbania, but contributing to it was the fact that Cousineau played in only four games because he dislocated his left elbow early in the year (the Als were 12-3-1 and 8-8 in his first two seasons in Montreal).
Only money could have brought Cousineau to Canada in the first place. In 1979 the Buffalo Bills chose him as the first player in the first round of the NFL draft. Having grown up in the Cleveland area and played at Ohio State, Cousineau was eager to play in the NFL, but his agent, Jimmy Walsh, encouraged him to take a fatter contract offered by the Alouettes.
At first Cousineau took heat in the CFL because of his paychecks. One teammate, who wore Cousineau's college number, 36, kiddingly offered to sell it to him for $10,000. "Tom had only been in uniform a week or so when he started for us in our third game of the season," recalls Joe Scannella, then the Montreal coach and now an assistant with Cleveland. "The next week at Hamilton, on a coverage, Tom hit a retaining wall very hard. He stunned himself, and while he was down, all the people cheered. That's how he entered the CFL."
But soon the two-time Ohio State All-America whom Woody Hayes once called "the best conditioned athlete I ever coached," began to play up to his salary. Cousineau is a fearless tackier who thrilled and baffled Hayes by attacking runners with a smile on his face. He has the lateral moves and ball-hawking instincts of a defensive back, yet is as strong as a nose-guard from years of pumping iron. Starting at first on the outside and then moving to middle linebacker, Cousineau was named the Alouettes' rookie of the year and then was picked as the outstanding defensive player in the 1979 Grey Cup. In 1980 he was voted the best defensive player in the CFL's Eastern Division.
"I think I adjusted pretty well to the Canadian game," says Cousineau. "The biggest difference is that the game there is much faster than here. The field is wider and there are only three downs, so you don't have ball control offenses. The emphasis is on the big play. For linebackers it's very hard to see tendencies. You have to expect the unexpected and just react."
Cousineau showed how well he reacts in two controlled scrimmages against the Detroit Lions earlier this month. In a 7-on-7 drill he had two interceptions; in the full-team scrimmage he had another interception and a deflection that led to a pick-off by Cornerback Ron Bolton. "Cousineau's pass defense instincts are superb," raved Detroit Quarterback Gary Danielson later. "Those years in Canada have benefited him more than people realize."
When Scannella joined the Browns' staff last February he told Modell bluntly, "Cousineau is the best linebacker in Canada." But getting Cousineau to sign with the Browns wasn't going to be an easy matter. In accordance with the NFL's collective bargaining agreement, Cousineau would be able to enter the NFL in 1982 as a free agent, subject only to a right of first refusal by the team that had originally drafted him, the Buffalo Bills. This meant that whatever team signed Cousineau wouldn't have to pay any compensation. The Bills, however, had made it clear they wouldn't let Cousineau get away twice. "If Tom Cousineau plays in the NFL, he will play in Buffalo," said Bills Coach Chuck Knox on numerous occasions. "We're going to sign Tom Cousineau," declared owner Ralph Wilson. "We will match any offer."
Then the Houston Oilers came up with a reported five-year, $3.5 million offer for Cousineau. Buffalo, and the rest of the NFL, gagged. Word had it Houston was talking oil wells up front. Even Modell, who would end up acquiring that very contract, called the numbers "astonishing." But the Browns were determined, and after the Bills matched Houston's offer, Cleveland gave Buffalo three future draft choices, one a first, for Cousineau. Though thrilled to have Cousineau aboard, Modell is defensive about the actual bidding process. "No thinking NFL man can fault me for what happened," he says. "My middle name's not Steinbrenner. I believe in the NFL. It was Houston that set the value; I want to make that clear." For his part Rutigliano isn't worried that Cousineau's huge salary will be a problem for the Browns' players "because Tom doesn't wear it on his lapel." Says Guard Joe DeLamielleure, "We're professionals and we all realize that Tom was in the right place at the right time."
For Cousineau the signing last April was the welcome culmination of what was essentially a three-year holdout to wring money from the NFL. Several times during his Montreal years Cousineau lost faith in the plan and called Walsh, screaming at him for sending him into pointless exile. Even Walsh, a tough cookie whose big client is Joe Namath, began to doubt the one-league-against-the-other strategy. "I remember the first time I saw Tom at the airport after he'd joined Montreal," says Walsh. "He looked like he'd lost about 20 pounds. He didn't look good at all. I thought, 'My God, what have I done?' "
But everything is fine now. When Walsh was explaining the benefits for Cousineau of signing with a warm-weather team like Miami, San Francisco or Houston, Cousineau kept bringing up Cleveland. "Finally it dawned on me," says Walsh. "This guy really wants to play in Cleveland."
Indeed, Cousineau had been searching for a home in Cleveland for a year and a half before he bought the elegant old house in suburban Lakewood this spring. Cleveland is where he went to high school, where his friends are. "For the last three years I've felt rootless," he says. "I've never owned a house because I never knew where I was going to be. After each season I'd just travel around, staying for two weeks at a time at friends' places, sleeping on couches and floors. But it's been worth it. If I'd signed with Buffalo in the beginning, for what they offered me, I'd be a bitter man today."
The day before the Browns' training camp opened, Cousineau had a friend bring him a record album entitled Ohio State—Saturday Afternoon at Columbus. Cousineau needed it so he could learn the words to his college fight song; he suspected the Browns veterans were going to ask him to sing it at camp. Not many free agents would go to such measures to appease teammates. "I feel very fortunate to be playing a kids' game and getting paid for it," he says. "But it doesn't mean the world owes me a living. It doesn't mean I don't have to try to be a decent human being." Eventually Cousineau sang his song with such gusto for the Cleveland vets that they rated his performance the best of the preseason.
Mercurial by nature, Cousineau can be as flamboyant in play as he is dedicated in work. Everybody who knows him has a story about something exceedingly wild he has done, from close calls while riding a big motorcycle to jumping out of a jet boat at 70 mph to find out what it feels like to skip over water. But Cousineau is an intelligent man—he had a B average and graduated on time from Ohio State with a degree in marketing—and he knows his excesses are only the churnings of a restless soul.
"My mind changes so fast," he says. "Some days I think maybe I want to go to law school, and other days I want to be a physical therapist or learn how to fly and open my own charter service. I've even got a name for it: 'Cousair.' A few months ago I had hair down to my shoulders. Basically, I'm aware that what I do, play football, isn't that important. I'm in entertainment." About craziness, he points out that diving 50 feet from a lighthouse into Lake Erie in midwinter—which he has done and been labeled "crazy" for doing—may well be saner than sticking one's head into the vortex of a Pittsburgh off-tackle blast.
Playing in Canada, Cousineau says, helped him gain perspective. A superstar at Ohio State, he found he was just another "yard dog" in Montreal, a city that prefers hockey, baseball and even soccer to football. Occasionally the Alouettes would get locked out of their stadium before practices. At other times they would get locked in. "At Ohio State I could do anything I wanted," says Cousineau, "and that can be dangerous. In Canada I learned about the other side, about patience and humility. There are no superstars in the CFL. I think we've had more spectators at our minicamps here in Cleveland than we had at some of our games in Montreal."
But the biggest influence on Cousineau has been his father, a man with whom he has a relationship knotted with pride and competitiveness. The bonds are unmistakable: Tom Sr. has a tattoo of an eagle on his left calf; Tom Jr. has a tattoo of the sun and a shark on his right calf. Tom Jr. dates 25-year-old women; Tom Sr., divorced for two years, recently married one.
When Tom Jr. was younger, he and his father wrestled all the time at home. In matches that often turned into wars, they overturned plants, demolished furniture, upset Mrs. Cousineau and daughter Kim no end. Once Tom Jr. split his head open on the mantel and started to bleed heavily, but Tom Sr. wouldn't relinquish his grip. Another time Tom Jr. hit his father "with a standing switch that tore his shoulder out." Tom Sr. had to undergo surgery. These days there is a truce between the two. "Dad's my best friend," says Tom Jr. with conviction.
Tom Sr. did everything he could to make sure that his son would grow up big and strong and skilled at football. He put weights in the family garage. He lectured on linebacker technique. He even moved the family from Indianapolis to suburban Cleveland so young Tom could benefit from the pervasive football atmosphere in Ohio.
"One thing about Tom is that he's always been willing to pay the price," says his father. "In high school people said he wasn't fast enough, so after his junior year he spent hours every day sprinting and practicing starts. That one summer he brought his 40-yard time down from 5.0 to 4.7, just from working at it. At times it even worried me—how dedicated he was.
"When he was little, I had a very accurate growth chart that predicted he'd be 6'3", 195 pounds. He's 6'3", but that extra 35 pounds is from work."
Actually, Cousineau weighs several pounds less than 230. Because of his muscle definition people always guess that he's bigger than he is. When he weighed in for the first time after signing with the Browns, he tipped the scales at a mere 222 pounds. "Ha, ha!" Cousineau cried. "It's too late now."
On July 30 Cousineau arrived at the Browns' training camp in his 1975 white Sting Ray convertible, top down. Bronzed, sleek, clad in khaki shorts, undershirt, sunglasses and neck bandana, he looked like a Hollywood muscleman in search of the Tarzan tryouts. He found work soon enough.
On the runback of his interception in the Lions' scrimmage on Aug. 7, he was flattened and dazed by 260-pound Tackle Keith Dorney. The following Monday he was carted off the practice field with his lower right leg encased in ice. Sprained right ankle. During practice two days later he was speared in a pileup. Four stitches in his chin.
But in Cousineau's first NFL game, on Aug. 14 at the Silverdome against Detroit, he avoided injury if not more blows. Notably, he was steamrolled on a first-half screen pass and chopped down on a third-quarter reverse—by Quarterback Danielson, no less. He did make some stellar plays, however, including a critical third-and-one sideline stop of Running Back Horace King. And after the game Rutigliano was smiling. "Yes, Cousineau's still worth the money," he said. "I had to sell my house and give up two of my kids, but he's worth it."
Cousineau himself was reflective. "I'm not really sure of my assignments yet, and that's frustrating. But it will come. It won't be a lark, but I think I can excel in this league." Then he asked, "Who blocked me on that screen? A tackle? Man, that was some play. Who blocked me on that reverse? No! A quarterback?" Cousineau hung his head. "Thanks," he said, "you've ruined my day."
A moment later he looked up, smiling shyly. Life, obviously, would go on. "You know something," he said. "I'm happy, glad, proud, thrilled, you name it, to be in the NFL." Don't forget rich.
TWO PHOTOS
TONY
TOMSIC
Tom Sr. (right) is twice as old as Tom Jr. but exactly like his only son in most regards.
TWO PHOTOS
TONY
TOMSIC
Cousineau is high on Cleveland, where his eight-bedroom house overlooks Lake Erie.
PHOTO
TONY TOMSIC
Cousineau and his Akita, Kimo, stroll the beach out back.
PHOTO
TONY
TOMSIC
Ram Running Back Wendell Tyler gives Cousineau a breathtaking welcome to the NFL