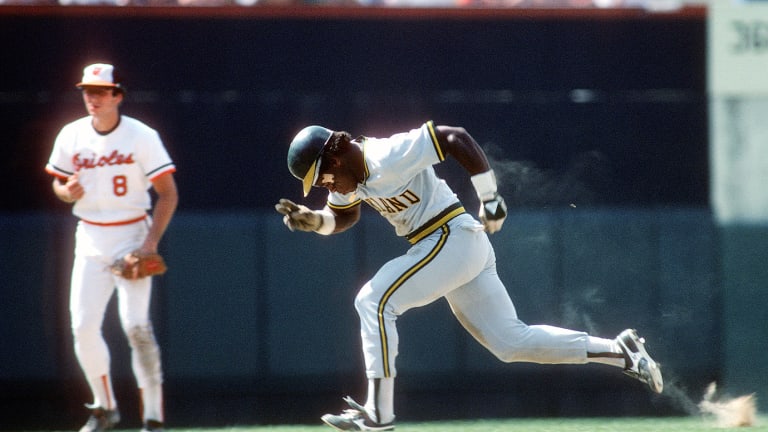 He Finally Bagged It
The base path to glory led from first to second in Milwaukee, where Oakland's Rickey Henderson stole base No. 119 to break the single-season record—and there was, and will be, more
Doc Medich, the Milwaukee pitcher, had walked Rickey Henderson on four straight balls in the third inning of the Brewers' game with the Oakland A's last Friday night in County Stadium, and now, reluctantly, he stood to become a part of baseball history. Medich wasn't happy about walking Henderson in the first place, but the Oakland A's leftfielder, whose batting stance most nearly resembles someone seated on an ottoman, doesn't offer much of a strike zone. The walk Medich issued him was Henderson's 107th in the 127 games he has played this year. So now he was on first base, 90 feet from breaking Lou Brock's 8-year-old major league record of 118 stolen bases in a season.
Medich and his catcher, Ted Simmons, had the downcast aspect of persons about to become answers to a trivia question. A crowd of 41,600 had come that night in large measure to see Henderson succeed, and Medich and Simmons were, for the moment at least, the bad guys in their own ball park. Not that they were given much chance of stopping Henderson. Medich has a lazy windup and he throws mostly slow breaking pitches, slow enough to give Henderson time to run to a concession stand and back if he so chose, and Simmons hadn't thrown Henderson out in five previous attempts this year.
But Medich was determined not to go down without a struggle. He threw to first base. Henderson scrambled back safely. The crowd—Medich's crowd!—booed him for crabbing the runner's act. Three more times Medich threw to first, and on the third he nearly caught Henderson. Content that he had at least gotten a message across, Medich now addressed himself to the batter, Wayne Gross. Henderson was off with the first pitch, running head down with furious choppy strides toward immortality. Gross, as all A's hitters are instructed to do when Henderson is running, assumed the bunt position to obstruct the catcher. But Simmons had called a pitchout, and he bounded out to his left, away from the plate and the lefthand-hitting Gross, and threw hard to second.
Milwaukee Shortstop Robin Yount caught the ball on the first-base side of second and swept down with his glove hand at Henderson, who was in the dirt now, crash-landing on his chest with his arms extended and his batting helmet flying off toward leftfield. Second base umpire Mike Reilly gave the "safe" sign as if he were winding up a soft-shoe routine. The Milwaukee fans rose to cheer their team's opponent, while Henderson, with the dust still flying, wrenched the bag loose from its moorings and held it aloft in triumph. The stolen base was transported by County Stadium functionaries to Brock, the dethroned record holder, who waited at home plate for his successor. There, Henderson and Brock exchanged encomiums and Henderson accepted handshakes from various Brewers on the field, including Medich and Simmons. "He seemed like a nice kid," said Medich. A moment earlier, Henderson had sprinted over to plant a kiss on the balding pate of Dwayne Murphy, his outfield mate who had hit second behind him most of the year and had sacrificed his own batting average by taking enough pitches to let Rickey run. "Murph should have half this base," Henderson generously allowed.
Then the game resumed, and Henderson stole three more bases and scored two runs (giving him 107 of those, the most in the majors) as his team lost 5-4. Medich acknowledged that the harder he tried not to walk Henderson the worse he fared. He walked him three times in all, and, significantly, didn't issue a base on balls to another Oakland hitter. Simmons increased his personal record of futility with Henderson to 0-for-9. Henderson had breezed past Brock's full 162-game season record in his team's 129th game. By the time he's finished running this season, he may have 140, 150 or—could it be?—160 stolen bases. He is, beyond analysis, already the greatest base-stealer in history at the age of 23 (he stole 100 in 1980 when he was 21). Brock, a mathematics major in college, made a science of stealing, breaking down his leads into precise numbers of steps, calculating how long it takes a ball to go from pitcher to catcher to second (2.9 seconds under optimum conditions) and speaking endlessly of "keys" and "three-movement deliveries" and similar arcana. Maury Wills, the first 100-base thief (104 in 1962), subordinated virtually every other part of his game and sacrificed his body in the pursuit of base-running perfection, tearing his legs to shreds with his painstaking hook slides. Davey Lopes, whose .831 base-stealing percentage was the highest in major league history entering the season, studies opposing pitchers to the point where he can tell which finger they might employ to banish an offending mote from an eye. Rickey? Well, basically, he just runs as fast as he can, and hits the dirt, as he puts it, "like an airplane coming in for a landing."
There may be faster men in the big leagues—Willie Wilson? Kirk Gibson? Tim Raines?—but none reaches maximum speed quicker than Henderson, who needs but two steps to do so, and none hits the base with such force. Henderson gives the appearance of gaining speed with his ferocious headfirst slides which, were it not for the base itself, might carry him to or through the fences. "Henderson comes in belly-first, bent on busting right through you," California Manager Gene Mauch says. "Most runners who dive want to touch the base with their hands. Rickey wants to slide through and let his belly stop him on the base." "He hurts me more diving than anybody else ever did sliding," says Angel Shortstop Tim Foli, who suffered a bruised right wrist earlier last month as a result of a Henderson cannonball slide.
Old Dodger Lopes, now an A's teammate, is frankly amazed by Henderson. "He's much more daring than anyone I've ever seen," he says. "His desire to run is constant. The country just doesn't realize what an accomplishment this is. It's comparable to Joe DiMaggio's hit streak. And he's doing it with a slide that has more disadvantages than advantages. He can hurt his chest, shoulders and hands. The ball can hit him on the head. An infielder can land with his spikes on his hands. But I guess when you're young, your body can take more of a pounding." Henderson has what Brock calls "base-running arrogance. There's mechanics and then there's guts. He defies the pitcher and the catcher."
Henderson may appear to opposing infielders as a 5'10", 180-pound human jetliner, but in person he's a sweet-tempered, boyish young man who gabs with spectators during a game and who kept his mother, Bobbie, and his fiancée, Pamela Palmer, at his side during the last trying days of his run for the record. And they were days of uncommon turmoil, which shouldn't be surprising on a team managed by Billy Martin. Henderson has been practically the only bright spot in what has been a long season for Martin. He was Manager of the Year in 1981 when his young A's took the American League West division championship. This year the team has never been in the running and is currently locked into fifth place. Injuries had reduced Martin's once-proud pitching staff to six able bodies by the end of last week, and the whole team—including Henderson, whose average is down to .271 from last year's .319—has been in a hitting slump that has put it last statistically in the league. And when Martin benched Murphy, a brilliant centerfielder and the team's RBI leader, for one game last month for misjudging a fly ball, he took his lumps from the press and, through the press, from some players. Talk of his "self-destructing" has been heard again, but, except for punching his own office wall, he has held himself in check so far.
The A's and Martin discovered, as Brock had years earlier, that not every record in baseball is looked on with favor, and base-stealing is one of them. In effect, all base-stealing records are considered tainted in some major league circles because to get them, the record holders must surely have been running when "they shouldn't have"—when their teams have been either well ahead or way behind. This might seem baffling to the ordinary fan, because, as Brock has pointed out, "you don't put a limitation on when a batter should get a hit or how many strikeouts a pitcher should get." Brock started running in the '60s, when stealing indiscriminately was punishable by knockdown pitches or other retaliatory tactics. Obviously, times have changed. Everybody seems to be running now—though no one has even half as many stolen bases as Henderson. (At week's end Toronto's Damaso Garcia had 48 and Montreal's Raines 60.)
And yet a stigma remains attached to running when the score is lopsided, running, as it is then viewed, solely for personal gain. Prejudices don't die easily. And the A's ran into them all in the last weeks of Henderson's quest.
In truth, Henderson has stolen when games have seemingly been out of hand. On July 2, against Texas, he stole in the ninth inning with his team behind 7-0, and on June 4 he stole against Milwaukee when his team trailed 9-0 in the third inning. In only one game, though, when he stole two bases in the ninth inning against Cleveland on May 1, had he stolen with his team ahead by more than four runs. That's why Martin was insulted on Aug. 21 in Oakland when Boston Pitcher Luis Aponte, presumably under Manager Ralph Houk's orders, threw three consecutive pitchouts to Gross with Henderson—still six steals away from the record—on first in the eighth inning and the A's leading 11-5. Henderson doesn't run on his own, and Martin says he wasn't sending him in a game so one-sided. "Then they did that, made it so obvious they didn't want him to get the record," said Martin. With the count 3-0 on Gross, Henderson stole second and subsequently scored the 12th run. The Red Sox railed against this violation of baseball etiquette. Martin countered that it was they who provoked it. A far worse controversy lay ahead.
Henderson needed four steals to tie Brock's record and five to break it, with only two games against Detroit remaining in the August home stand before a 10-game road trip. Despite the A's deplorable record, Oakland fans had turned out in record numbers all year—1,535,784 for 66 dates—and Martin and Henderson desperately wanted the record to be set at home. But Tiger Manager Sparky Anderson, although an admirer of Henderson, is of the old school on base-stealing. "I'd just like to go back over the box scores and see how many of those steals meant something," he said before the series began on Aug. 23. "All I know is that Joe Morgan never stole a base when it didn't mean anything and never when we [the old Cincinnati Reds] were either ahead or behind by four runs. If you're losing 7-0 and steal a base, what's that got to do with the game? I wouldn't count those."
In the first game against the Tigers, Henderson stole his 115th base in the third inning with his team trailing 2-0. But Tiger Catcher Lance Parrish threw him out attempting to steal third in the same inning. Thus Henderson tied the record for times caught stealing, 38, set by Ty Cobb in 1915 when he stole 96 bases. Actually, Henderson has a remarkable 32-for-43 record on attempts to steal third, and of his total "caught-stealings," 13 have come from pickoff plays. This was the third time Parrish had thrown him out this season. Only the Angels' Bob Boone, who has caught him six times in 13 attempts, has done better, and many of the A's believe Boone has been aided by the quick-pitch "balk" moves employed by Angel pitchers.
Henderson needed three steals to tie the record in the last game of the home stand, Tuesday afternoon, Aug. 24. Against the strong-armed Parrish that seemed unlikely, but providence then played a hand. Parrish was called to Detroit that morning to be with his pregnant wife, who had gone into labor. His replacement was Bill Fahey, a 32-year-old third-stringer playing only his 18th game of the season. Martin had managed Fahey at Texas and felt his arm wasn't strong enough to nail Henderson. The prospects of a record suddenly began to look good. Indeed, in the first inning, Henderson walked and stole second and third, Nos. 116 and 117. The crowd of 17,098 was now alive with anticipation. Unfortunately, the Tiger pitcher, Jerry Ujdur, kept Henderson off base in the second and fifth innings. With the A's ahead 3-0 Henderson was due up again in the eighth for what would undoubtedly be his last chance to tie or break the record at home. Enter Fred Stanley.
Stanley, the A's shortstop and a Martin pal from their days together with the Yankees, led off the inning. No one in the ball park, presumably including Stanley himself, wanted to see him get on base ahead of Henderson, and because his batting average was .186, there seemed little chance of it. But Ujdur, who hadn't walked a batter since the third inning, walked Stanley on four pitches, none of them, said Stanley, "even close to the plate." Were the Tigers deliberately depriving Henderson of a record at home by putting a man on base ahead of him?
Henderson followed by driving a sharp single to left on Ujdur's first pitch, a pitch on which, Stanley claimed later, he was attempting to steal second. Despite his big jump, Stanley held at second when Tiger Leftfielder Larry Herndon came up throwing. Henderson on first, Stanley on second—now what to do? Before the first pitch to Gross, Stanley, who had taken an inordinately long lead, was easily picked off second by Ujdur, succumbing to Second Baseman Lou Whitaker's tag after a dispirited rundown. Did Stanley get picked off on purpose to clear a path for Henderson? In a 14-year major league career, Stanley had stolen exactly 11 bases. Now, on the first pitch to Gross, Henderson took off for the suddenly—and conveniently—open second base. But the Tigers had called a pitchout, and Fahey, the supposed pigeon, threw Henderson out at second—at least in the opinion of second base umpire Durwood Merrill. The A's thought differently, and Murphy, Martin and Coach Charlie Metro were all ejected after a wild argument.
Accusations and counter-accusations issued from the two clubhouses and the umpires' dressing room afterward. Martin charged Merrill with wanting to "get into the act" by becoming the umpire who deprived Henderson of his record. Murphy said that Merrill was wrongly retaliating for what he considered to be Stanley's deliberate out. Stanley said that if he wanted to "make a joke of this," he would've gotten himself thrown out at third on Henderson's hit instead of holding up. In fact, he said, he'd been given the steal sign and had just taken too big a lead. Martin said he had called for a double steal. But Anderson was the most outraged of all. Stanley, he said, had "discredited the game" by, in Anderson's opinion, allowing himself to get picked off. "This has to stand with the Black Sox scandal," said Anderson. "Stanley should have to pay for it. The commissioner should give him the biggest fine ever. I don't see how that guy can live with himself."
It was an ugly scene, and the only record set that day was a negative one. Henderson had broken Cobb's record for times thrown out, and Fahey helped him do it. The A's had intended to distribute "119" T shirts if Henderson broke Brock's record that day. "They should make a T shirt for me," said Fahey.
Martin, bitterly disappointed, took his team on to Milwaukee, where Henderson appeared, as if nothing unusual had happened, at a series of comically sober press conferences. Unperturbed, Rickey tied the record Thursday night, eluding a pickoff play by Mike Caldwell, and smashed it to smithereens on Friday. On Saturday and Sunday he rested.
Not since Henry Aaron chased and caught the Babe's career home run record in 1974 had there been such a fuss. Henderson had succeeded in making compelling drama of this sometimes despised facet of the game. It remained for Murphy to sum it up: "You know, every day now for the past two weeks when I've seen Rickey take off, I've felt chills run through me. It's been that exciting."
FOUR PHOTOS
After walking in the third inning last Friday, Henderson took off, crash-landed beyond the tag and came up holding the prize.
TWO PHOTOS
Stanley was suspiciously picked off second base, allowing Henderson one last opportunity to break the record at home, but...
TWO PHOTOS
...umpire Merrill called the protesting Henderson out, enabling him to break Ty Cobb's record for being caught stealing.
FOUR PHOTOS
Henderson didn't seem to mind when everybody attempted to steal his time, least of all when his mother (above) did.
PHOTO
From 119 to 122: just a night's work for Rickey, here pilfering third in the eighth inning.
For one expert's opinion about the true value of stolen bases, turn to page 30.