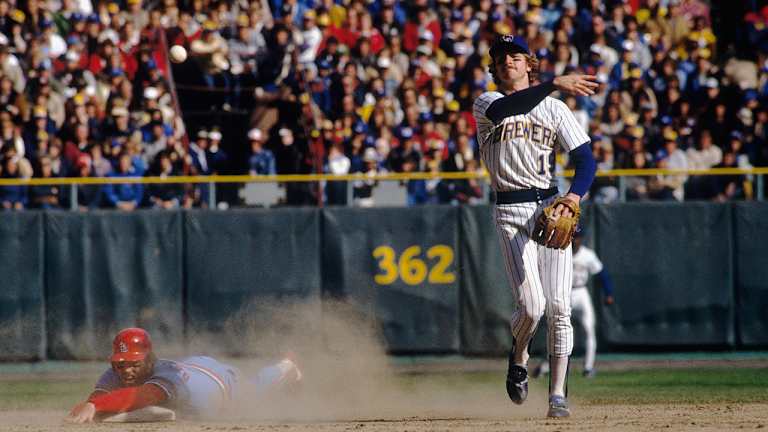 This Robin Is A Rare Bird
Milwaukee's Robin Yount is the best shortstop in baseball because he combines slick fielding with powerful hitting
It's possible that Robin Yount, who is now the finest shortstop in baseball, won't be named the Most Valuable Player in the American League, especially if Milwaukee fails to protect its Eastern Division lead (through Sunday, two games over the Orioles), but in press boxes around the league he's unquestionably the favorite. One argument in his behalf is repeated over and over: He's a shortstop who can hit. And, as Oscar Gamble, the New York Yankee outfielder, says, "He hits with power. It's amazing that a shortstop can lead the league in slugging percentage."
Yount, who turned 27 last week, has been in or close to the league lead in slugging percentage most of the season, and in total bases, too. These are power categories, the statistical realm of the big hitters, the musclemen—usually outfielders and first basemen, sometimes third basemen and catchers, occasionally a second baseman, almost never a shortstop. Ernie Banks led in both categories once, before he was switched from shortstop to first base. (Did you know that Banks played more games at first than he did at short? Does this make him a first baseman in the eyes of the great god of baseball statistics?) Rogers Hornsby did it once early in his career, before he was switched from short to second. Honus Wagner, who towers like Mount Everest over all other shortstops (see box, page 39), did it several times back in the first decade of the century. Vern Stephens and the above three Hall of Famers are the only shortstops to finish as high as second in both slugging percentage and total bases in the same year.
At the end of last week, Yount was second in the league in batting (.333), first in base hits, first in doubles, second in runs scored and third in triples; he had 24 homers and 101 runs batted in. He also had 80 extra-base hits (45 doubles, 11 triples and 24 homers). Eighty extra-base hits in one season is a considerable but seldom-noticed batting achievement. When George Brett hit .390 two seasons ago he had 66 extra-base hits. Carl Yastrzemski has never had 80 in a season. Ty Cobb never did either. Neither did Wagner or Roberto Clemente. Nor Pete Rose. Reggie Jackson has done it once. But this is the second season of more than 80 for Yount, who had 82 (49, 10, 23) in 1980.
Shortstops just aren't expected to hit like that, particularly slick-fielding shortstops, and Yount is among the slickest. Rick Burleson of the California Angels and Alan Trammell of the Detroit Tigers are generally considered the two finest fielding shortstops in the American League, but Yount is very close to them. Some observers say he's better. He has excellent range, good hands, a powerful arm and the awareness of situation that moves superior fielders to moments of inspiration. In a game in New York recently he ran, his back to the infield, far into left centerfield after a twisting pop fly. He seemed unlikely to get to the ball before it dropped, but he stabbed at it at the last moment and grabbed it somewhere near his right elbow. The catch was accomplishment enough, but then Yount, turning with the impetus of his effort, threw back to second base and doubled off a surprised base runner.
Earlier in that series he had been shaded toward second base with a man on first and Jerry Mumphrey, a fast switch hitter batting left, at the plate. Mumphrey hit the ball sharply toward the hole between third and short. Yount, sprinting to his right, speared the ball backhanded on the dead run and somehow managed to fire it back to second base in time for the forceout—and Second Baseman Ed Romero still had time to relay the ball on to first to nip Mumphrey. Ed Lopat, the old Yankee lefthander of the Casey Stengel era, was still talking about Yount's gem a day or so later. "A shortstop can't make a better play than that," Lopat said. Pitcher Don Sutton, who came to the Brewers from the National League in August, said, "He took a base hit and turned it into a double play."
Yount's grace in the field is evident, but at bat he doesn't look like a power hitter. He's tall and lithe—6 feet and 170 pounds—and he doesn't bludgeon the ball. But he has surprisingly muscular arms for his lean build, and he has a quick bat—he puts wood on the ball. He tends to boom hits to right center and left center, which helps explain the number of doubles and triples he gets. "He hits from foul line to foul line, the way Steve Garvey does," Sutton says. "He'll spray one down the rightfield line, he'll gap one to right center, then he'll jerk one to left." He's fast, too, though he doesn't steal many bases. When he's running all out, rounding the bases en route to a triple, his speed is breathtakingly evident.
In sum, he's a marvelously talented athlete who does everything well on the ball field and who elicits glowing praise from other baseball men. "Oh, Robin Yount!" bubbles George Bamberger, the manager of the New York Mets, who was Yount's manager in Milwaukee in 1978, '79 and part of '80. "There's a kid who can run, throw, field, hit, hit with power—what else is there? And he's a 100-percenter. I've never seen him let up. If somebody told me I could pick any shortstop in baseball for my team, I wouldn't hesitate, I wouldn't think about it for a second. It'd be Robin Yount."
Frank Howard, one of Bamberger's coaches, who was with him in Milwaukee as well, is even more extravagant in praise of Yount. "He's as complete a ballplayer as there is in the game," Howard says. "Plus, he's a super person. He has the respect of all his teammates and everybody in baseball. There aren't many Jack Armstrongs left, but in my mind Robin Yount is a Jack Armstrong of the 1980s, an ail-American boy. Let me put it this way: If your daughter came home with a Robin Yount, you'd be so grateful you'd light candles for the rest of your life." Sutton says, "He's a great guy to have on the club. He's funny. He keeps things loose in the clubhouse."
To outsiders these aspects of Yount's personality aren't readily apparent. He's polite and pleasant, even cordial to strangers, but he maintains a reserve. He's gracious and patient with the determined lady in Milwaukee who is head of the Robin Yount Fan Club, but a couple of years back he did decide he was too old to attend any more of the club's birthday parties for him. Some players savor publicity and use it to gratify egotistical needs; others are afraid of it and retreat into silence. Yount once told a reporter, "Publicity doesn't make that much difference to me. I don't especially like it, but I understand there is a need for it in baseball." He was 18 years old then, in his second month as a major-leaguer, and his attitude hasn't changed.
Such precocious maturity was characteristic. The youngest of three sons—Robin is five years younger than the second Yount son and nine years younger than the oldest—he has always acted older than his years. His mother, Marion, says, "He had that 'little man' attitude. I can't ever remember him being a 'little boy.' "
Yount was born in 1955 in Danville, Ill. His family is typically Californian in that his father grew up in Ohio, his mother in Illinois; one of his brothers was born in Chicago, the other in Houston. The Younts were living in Indiana when Robin was born (the nearest hospital was in Danville, just across the state line), but moved to Los Angeles before he was a year old. Phil Yount had a chemical engineering degree from Ohio State, where he and Marion met, and he had been working for Du Pont. The move to California came when he took a job as an aerospace engineer with Rocketdyne, a division of Rockwell International. The Younts bought a house in Woodland Hills, an affluent community in the San Fernando Valley, and Robin grew up there.
Neither of the elder Younts is particularly athletic, although the entire family did go on long skiing trips together, sometimes venturing as far afield as Utah or Colorado, but the sons grew up playing sports. The Yount home had a huge backyard—330 feet long, 70 feet wide—and over the years it served as an impromptu baseball diamond, football field, pitch-and-putt golf course, even a dirt-bike motorcycle track. When Robin was a junior in high school, the family built a chicken-wire batting cage in the yard. "It lasted just one season," Phil says. "Robin destroyed it, literally, banging baseballs through it."
Jim, the oldest son, who's 36 and an oceanographer and geologist living near San Francisco, was better at football than baseball, but Larry, 32 and in real-estate development in Scottsdale, Ariz., was an outstanding pitcher who played for several years in the minor leagues and had a cup of coffee in the majors with Houston. Robin was 12 when Larry signed his first contract. "That was kind of neat," Robin says, "having a brother in pro ball." Twice during summer vacations when he was in high school Robin visited Larry in the minor leagues. "I'd go and stay with him in Oklahoma City during a home stand," he says. "I lived in the apartment with him and his roommates, and I'd go out to the ball park with them and work out, take batting practice, things like that." In the off-seasons when Larry was home, he'd take Robin to a nearby field or, later, to the backyard cage and pitch to him. "Sometimes he'd throw real stuff," Robin says. "That was great experience. Here I was, a high school player, swinging at Triple A pitching."
Robin had always been an outstanding athlete, even though he was small for his age until his junior year in high school. He played Pop Warner football for two years—"He was the quarterback," Marion says, "and he kept complaining that he couldn't see over the line to throw the ball"—and was a flanker for a time in high school. He quit the sport after the 10th grade. "I didn't like it much," Yount says. "I didn't like the idea of practicing six days to play one."
He drove motorcycles from the time he was 11, and when he was 13 he began competing in moto-cross events, winning several trophies. Phil still marvels at that, saying, "There's no way in the world anybody ought to be able to ride a motorcycle the way he rode it with no background in the sport, and yet he did it. He has always been that way. He makes up his mind to do something and then he does it."
He did the same thing in golf. Marion says that the first time he ever played "real" golf, when he was 9, he beat his brother Larry, then 13. Reminded of this, Yount smiles and says, "That's one of my mother's stories. I don't remember beating him."
When Robin was in his early teens, he and his friends would sneak onto the 6,017-yard, par-70 Woodland Hills Country Club course near his home and play surreptitiously, getting in as many holes as they could before they were caught and chased off. One day he shot a hole in one. "There were some ladies ahead of us," Yount says, "and they waved and cheered. When we got to the 9th hole the ladies were up at the clubhouse, and they called to us to come up there. But we were sneak-ons, we weren't going up there and get caught. We waved back at them and kept saying, 'Yeah, thanks, right, we're in kind of a hurry,' and we kept going." Larry Yount's father-in-law, Richard Radenbaugh, for whom Robin caddied the last two years in the pro-am at the Los Angeles Open, recalls the incident. "People were up on the hill cheering him," Radenbaugh says, laughing, "and there he was, running down the street. He got chased every week."
Friends say Yount would now be a scratch golfer if he played regularly. But baseball took precedence long ago. He was named the outstanding high school baseball player in Los Angeles in his senior year and was picked in the first round of the 1973 draft by the Brewers. He was the third pick overall, behind Pitcher David Clyde (by the Texas Rangers) and Catcher John Stearns (by the Philadelphia Phillies). "We had quite a go of it before he signed," says Jim Baumer, the director of scouting who handled the negotiations for the Brewers. "They wanted more money than we were willing to give." Less than a year later, when Yount was Milwaukee's starting shortstop, he said to Baumer, "See? I told you I should have been given more money."
He played 64 games in the Class A New York-Pennsylvania League in the summer of 73, batting a solid .285, and fielded well but erratically. Still, he was impressive, and Milwaukee, beginning its sixth season as an expansion club, took him to spring training in 1974. The Brewers had finished last or next to last each season and had used a succession' of shortstops, none of whom was very impressive. Del Crandall, then the Milwaukee manager, liked what he saw of Yount's fielding in camp and felt certain he'd hit at least as well as the previous shortstop, Tim Johnson, who batted .213 in '73.
According to Brewer lore, Crandall said to the front office, "Is there any reason why an 18-year-old kid can't play shortstop in the big leagues?" The front office said, "Why not?" Yount was in the lineup on Opening Day, and he has been Milwaukee's regular shortstop ever since.
Except, of course, during the Great Golf Strike.
That began in March 1978, during spring training at Sun City, Ariz., and continued into May. Yount had played well his first four seasons, batting better than .250 each year and a strong .288 in 1977. His fielding was still a little shaky—he made 44 errors in 1975—but it was improving and was sometimes astonishingly good.
Yet that spring training Yount was restless and unhappy. He was hitting poorly and his ankles hurt. He hadn't yet signed his new contract, and he began talking of not signing at all, of giving up baseball. There were even reports that he wanted to quit to become a professional golfer. Yount denies he ever said this, at least not seriously. Rumor had it that some wealthy men in Palm Springs were going to underwrite him on the pro tour. The stories spread, and conversation among the Brewers centered around the question, "Do you think Robin's going to sign?"
Club President Bud Selig flew in from Milwaukee and spoke to Yount. Harry Dalton, the newly appointed general manager, talked to Yount. Bamberger, in his first year as manager, said things would work out. Everyone was so sure Yount would sign that a bright new rookie shortstop named Paul Molitor was reassigned to the minors. Then Yount suddenly left camp. Molitor's reassignment was hastily rescinded, and he opened the season at shortstop. Yount flew to Milwaukee just before the season began, hung around a few days, had dinner with Selig and then abruptly flew to Arizona, where he had been staying with his brother.
Throughout this period there was an atmosphere of friendliness on both sides. Yount and the Brewers both insisted that money and contract terms weren't the problem, and club officials said they were waiting only for Yount to decide what he wanted to do. Then early in May he rejoined the Brewers, worked out and was reinstated at shortstop. Molitor was shifted to second and was outstanding. Milwaukee had a splendid season, moving up from the depths to third place, and has been a factor in the American League ever since.
Yount, far from being a pariah, became a bulwark of the team, praised on all sides not just for his play but also for his team spirit, his unselfish attitude. His teammates showed no antagonism toward him. Their attitude was summed up by Sal Bando, now in the Milwaukee front office but at the time the Brewers' third baseman, who said, "Begrudge him? No. There's nothing worse than doing something you're not sure you want to do."
Friends now say that part of Yount's problem was a personal matter. Robin had been going with a California girl named Michele Edelstein, whom he had met in high school and who had lived with him in Milwaukee during the '77 season. Presumably, she told Yount that after the season she wasn't going to be just his girl friend anymore. She loved him and wanted to be his wife and the mother of his children, but she was going to stay in California for the time being. Yount was torn; Michele was tremendously important to him. Not until they worked out their future—the following winter they were married—did he decide to return to the Brewers.
Now they have two children (Melissa, 3 in November, and Amy, 16 months) and are expecting a third next month, and Yount seems supremely happy. "I'm having so much more fun than when I was single," he says. "People think being single is great, but I need to be married and have kids." One of the "coolest" things about married life, he says, is to get up in the morning and take his kids into bed with him.
Looking back at his "retirement," Yount says only, "I was injured, I couldn't play. I had tendinitis in my ankles—I missed the last month of my first season with it—and playing ball wasn't much fun. We weren't winning, either. We'd lost nearly 100 games a year my first four seasons, and I like to win. And, well, I'm not very introspective, but I guess I was at an age, 20, 21, 22, when people wonder what they're going to do with their lives. I suppose I was beginning to wonder if playing baseball was what I wanted to do.
"I think now it might have been a part of growing up. I was very fortunate. Bud Selig was very patient with me. It's as though he said, 'Give the young man all the time he needs to straighten this out.' "
In retrospect, it seems extraordinary that a major league player, especially one as young as Yount was, could walk out on a team, threaten not to play at all, return suddenly and still retain the affection and respect of his teammates. Much of the regard for him probably stems from his unassuming nature, his distinctive personality. He has an old-fashioned kind of Western-movie look about him, lean and sinewy, light blue eyes squinting against the sun, good eyes, pale eyes. He looks a bit like a young version of Russell Simpson, who played Henry Fonda's father in The Grapes of Wrath. Simpson was an actor who usually played mild-mannered sheriffs and decent citizens of the type who said, "Hold on now" to unruly lynch mobs and injected a note of common sense and reason. Yount. is the same type: pale, scraggly mustache, slightly hooked nose, creases in his face when he smiles, thin friendly voice, bobbing-head hello. In short, a decent, admirable man, modest to a fault, but nonetheless sure of himself and of his ability. "I think Robin Yount can handle anything," says Harvey Kuenn, the current Milwaukee manager and once an outstanding shortstop himself.
The future seems almost limitless for Yount. He got his 1,000th hit two seasons ago, when he was still 24, and 3,000 hits—Hall of Fame territory—seems well within reach. "He's had nine years in the majors," Kuenn says, "nine years of learning how to play the game. He knows as much now as most players do when they get to be 32 or 33. But those players are beginning to go down in their natural skills, while Robin is still on the rise. He's just coming into his own. The next five years should be his best."
Asked if he hopes to get 3,000 hits in his career, Yount, whose only expressed ambition in baseball is to be on the winning team in a World Series, says, "What happens, happens. I have no goals. I take each day as it comes." Outwardly, he shows little emotion, but he has said, "Inside, I get excited about everything I do." Despite his disclaimer, his remark that he has no career goals, who is to say Yount has never thought about his future, about 3,000 hits, about the Hall of Fame, perhaps even about surpassing the great Wagner and being recognized as the best shortstop in baseball history?
That's pretty farfetched, but don't dismiss the idea out of hand. While visiting his parents in California last year, Yount, now a responsible husband and father, tried to ride a neighbor's horse. His mother objected. "Robin, you can't ride a horse," she said. Yount replied, "Mother, there isn't anything I can't ride." Or do.
PHOTO
RONALD C. MODRA
PHOTO
RONALD C. MODRA
By staying on his toes, Yount is ready to react.
PHOTO
RONALD C. MODRA
Among Yount's assets is good range. Here he calls off Ben Oglivie in short left center.
PHOTO
RONALD C. MODRA
Rockin' Robin: .333,24 homers, 101 RBIs.
PHOTO
RONALD C. MODRA
Yount is the front-runner for MVP honors.