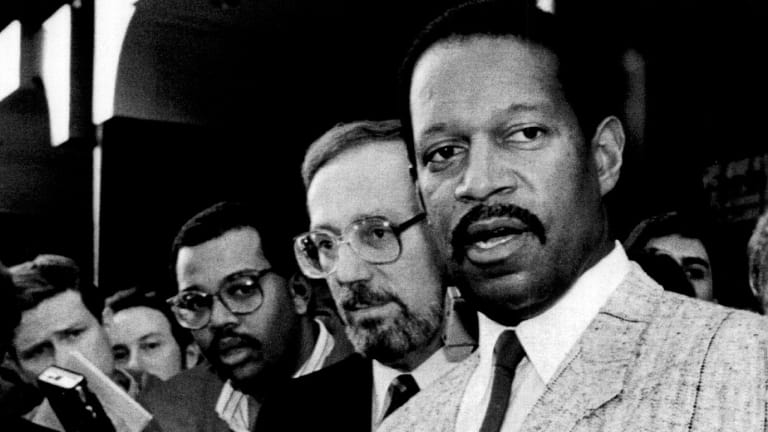 Until We Meet Again (If We Do)
The Steelers beat the Bengals in overtime but feared that a strike might mean a dead end to their auspicious start
It was a game the Pittsburgh Steelers will cherish and remember and replay in their minds many times, that 26-20 overtime victory over the Cincinnati Bengals in Three Rivers Stadium on Sunday. And in the locker room after the game they feared that the memory might have to carry them for a while, that it would be their last remembrance of the 1982 NFL season, the last game before the gates swung shut. It was a game played under a cloud.
As the Steelers dressed, with the vision of the final play in overtime, Terry Bradshaw's two-yard touchdown pass to John Stallworth still fixed in their minds, they were clearly wondering when they'd ever see good old Three Rivers again. Tuesday morning, their regular reporting time? Next week? Next month? 1983? When?
The threat of a strike hung heavy on the afternoon. There was an almost unreal quality to the game, a spirit that carried over to the postgame locker-room quotes. Yes, yes, we know, it was inspirational—Franco Harris playing like a young colt again, and Bradshaw throwing like a dream, and a new folk hero emerging, this baby-faced, blond-haired kicker from South Africa named Gary Anderson—but really, what did it all mean?
"It means," said All-Pro Linebacker Jack Ham, "that if we strike until December we're 2-0 and we've got the home-field advantage for the playoffs."
"To me it means a win and a darn good one," Coach Chuck Noll said. "I don't even concern myself with a strike. I don't even know what you're talking about."
In the loser's locker room, Wide Receiver Cris Collinsworth said, "I just want the thing settled. I don't care if a federal mediator or an arbitrator has to step in. Do you think that down there on the field anyone was thinking of a strike during that overtime period? That was NFL football at its finest out there today."
"A tragedy," Bradshaw was saying, "to see our momentum stopped right now, and then to have to regroup—it would be a tragedy."
He reached into his locker and extracted a small envelope. From it he removed a pink dental plate with a single metal post on it. Then he held the envelope to his ear and shook it. Something rattled.
"She's still here," he said, removing a false front tooth. He fitted it onto the post, put the plate into his mouth—and the gap that had been there was gone.
Bradshaw is 34, his hair is thin on top, his face carries a few more lines and he has a front tooth that goes in and out. He's in his 13th NFL season. Some of them were stormy, and the last two were depressing, but now he's on a roll. He was terrific in the Steelers' opener, a 36-28 Monday-night win over Dallas, and almost as good against the Bengals, who shut down Pittsburgh's running game cold. He had to win it with his arm, and that's what he did, finding the second and third receivers when the first guy was covered, dumping the ball off with a deft touch when he had to, the things people said he was too stubborn to learn. He has thrown six touchdown passes in two games, and against the Bengals he was two shy of the Steeler club record with his 29 completions (out of 42 attempts). He talked Noll out of a running play, talked himself out of a field-goal call and selected the final touchdown pass to Stallworth himself. And he doesn't want to go out on strike.
"We're not a great football team," Bradshaw said. "We've got a long way to go before we are. But we're getting better. We've got momentum now. A strike is the worst thing that could happen to us."
"Where'll you be on Tuesday?" he was asked.
"I don't know," he said. "I could be here or I could be out playing golf. If the majority goes out on strike, I'll be with them. I can't come in here and look at four walls all by myself. If they break the strike and come back to work, then I'll be back. I never wanted the thing in the first place."
By the next locker, Cliff Stoudt, Bradshaw's backup and the team player rep, looked on glumly. "The last strike vote we took," he said, "out of all the union members on our team the vote was 39-8 to back a strike, with one abstention. It was a big change from three months ago, when 90 percent were against a strike. I think we realize we all have to stick together."
With one exception. Lynn Swann, the wide receiver who played briefly on Sunday because of a very sore hamstring, said he'd be back at work Tuesday, strike or no strike. "I'm not in agreement with the union policy in negotiating this contract," he said. "I feel a strike should be used carefully, when you've exhausted all other methods. I'll be back in here Tuesday, and Wednesday and Thursday and the whole rest of the week, even if I'm the only one. Then it's up to the owners to determine what the leaguewide policy is going to be. I'm not afraid of any bitter feelings from my teammates, any holdover feelings—not on this team. The players on the Steelers respect the right of the individual to make up his own mind."
"Look at the bright side," Ham said. "A strike would give the guys who are injured a chance to get well—Swannie; Walter Abercrombie, he's a hell of a young running back; Jack Lambert."
Lambert, the strongside inside linebacker in Pittsburgh's new 3-4 alignment, remains the anchor of the Steeler defense. He sat out the Dallas game and played on a bad knee Sunday. Toward the end of the game he was limping noticeably. "If it had gone one more series, I'd have asked them to take me out," he said. "There comes a point where you're not being heroic anymore, just stupid."
The Steelers defense is a strange animal. In the old days they would just put their lineup of Pro Bowlers on the field and defy people to do anything against them. Now it's an ever-changing spectrum; they interchanged six different linemen and five linebackers Sunday, and they had a couple of people who took a turn at both positions. Four rookies saw action. They kept switching fronts and coverages. They blitzed more than they ever had before. Bengal Quarterback Ken Anderson calmly surveyed this sea of faces and picked it to pieces.
In one stretch spanning the third and fourth quarters, Anderson completed 12 straight passes. From late in the second quarter until late in the fourth, each of four straight Bengal drives put points on the scoreboard. They weren't cheap drives; the shortest was 58 yards, the longest 68. The last one ended with Jim Breech's 31-yard field goal, which gave Cincinnati a 20-17 lead with 4:44 to play. Then it was time for Bradshaw and the offense.
It was an odd kind of day for them, a day in which Harris would end up with almost twice as many passes caught (11) as rushing attempts (six), and in which a running game that had softened up the Cowboys six days earlier couldn't even put a dent in the Bengals. The Steelers gained 26 yards on the ground Sunday, a record for ineptness matched only once in Noll's 14 seasons. (Cincinnati didn't fare a whole lot better, gaining just 69 yards rushing.)
"The Bengals were hopping around and jumping all over the place," Right Guard Steve Courson said. "I've never seen them jumping in and out so much before."
"I could tell what they were doing until I got down in my stance," Center Mike Webster said, "then all I could see was moving feet. Unless I could recognize the shoe size, I couldn't tell who was where. They had our offense down pretty well."
What the Bengals couldn't defense was Harris' exceptional ability to turn Bradshaw's little dump-off passes into five-and 10-yard gains on his own. And Bradshaw had the skill to put just the right kind of touch on them to enable Harris to make one-handed catches without breaking stride.
"Terry throwing the outlet pass instead of forcing the ball downfield is something that we've been hollering about for a long time," said Harris, whose 11 catches were a career high. "I told him one time, then he started looking for me."
So the Steelers dinked their way up and down the field, until the outcome hinged on Gary Anderson's making a 42-yard field goal. Anderson had been Buffalo's seventh-round draft, but he couldn't beat out Nick Mike-Mayer. The Steelers, unhappy with David Trout's kicking last year, grabbed Anderson from the list of final cuts.
"He'd missed all four of his field goals in the preseason with Buffalo," Steeler Vice-President Art Rooney Jr. said, "but our player personnel director, Dick Haley, was very high on him anyway. He said one of those misses was from 59 yards, another from 54, another on a bad hold. We kept our fingers crossed that no one else would pick him up. We were all very excited when we got him, and he put on quite a show on our practice field when we tried him out. All the players stuck around and sat on their helmets watching him kick."
Anderson had booted a 40-yarder to put the Dallas game on ice with 1:02 left, and with 35 seconds showing on the clock he sent the Cincinnati game into overtime with the 42-yarder.
"If I'd been coming off a miss in the Dallas game," Anderson said, "I might have been thinking, 'God, I can't miss another one,' but this time I kind of looked forward to the chance. Ever since I was a kid I've played every game there was that involved kicking, and I've always liked the pressure. The bigger the game, the better I kicked."
The heroics were just beginning, though. Anderson had 28 seconds to work with after the kickoff, and in just 23 seconds and three plays he took the Bengals to the Pittsburgh 21. Breech tried a 39-yard field goal, but it took a low trajectory; 6'5" Defensive End Tom Beasley got a hand on it, and the game was in overtime.
The Bengals got first try, and the Steelers, who had played in a rush-three-men, drop-eight-back-into-coverage prevent-type of defense in those final seconds of regulation time, began blitzing again. Anderson was flushed on first down from his own 20 and scrambled for four yards. A Robin Cole blitz forced a misfire to Halfback Charles Alexander. On third and six the Steelers gambled on one more blitz, this time sending Ham and Strong Safety Donnie Shell. The pressure from Ham forced Anderson to throw early—to Wide Receiver Steve Kreider. Steeler Left Cornerback Dwayne Woodruff, who had been Anderson's main tormentor all afternoon, played the coverage perfectly and stepped in front of Kreider for the interception. His 30-yard return gave the Steelers the ball on the Bengal two-yard line. Pittsburgh called time, and Noll told Bradshaw to give his power back, Russell Davis, the ball.
"I told Chuck, 'Let's kick the field goal right now and get out of here,' " Bradshaw said later, "but he wanted the running play. I said, 'Well, let me throw it then. We could get a fumble on a running play.' He said O.K."
Stallworth was wide on the right side. Calvin Sweeney, Swann's replacement, was slotted inside him. Sweeney went in motion to the outside, then cut back inside. Stallworth went inside and then turned out past Sweeney. Bradshaw was rolling to his right.
"I had the option of running or throwing," Bradshaw said. "The thing is designed to get their defensive backs running into each other. It creates the biggest mess you've ever seen."
"The funny thing," Stallworth said, "is that we tried that play three times in practice Friday and didn't complete one. I still had confidence in it. It's not what they'd expect on first down. Webster told me the linebackers and defensive linemen were all pinching inside."
Stallworth made a low, lunging catch, and the nearest Bengal was three yards away. The game was history, and Pittsburgh was 2-0, with perhaps the two toughest teams on its schedule already behind it, although there's supposed to be another game against the Bengals.
The Steelers are a team with 15 first-year players, a team with a scrambling type of defense and a very sure, mature offense. Against the Bengals they picked up only one offensive penalty all day, an offsides. They're a young team on the rise; they're not all the way back yet, but they're getting there. But when they closed up shop Sunday, they were in limbo, and so was everyone else.
PHOTO
Beasley (65) blocked Breech's last-second field-goal try, forcing the game into OT.
PHOTO
Pete Johnson, Ol' Mister Thunder-Thighs, ground out two second-half touchdowns.
PHOTO
Harris ran six times, gaining just three yards, but he caught 11 dump-off passes for 88.
TWO PHOTOS
Woodruff (49) picked off a pass to set up the winning throw to Stallworth, who raised the Steelers' hopes on high.