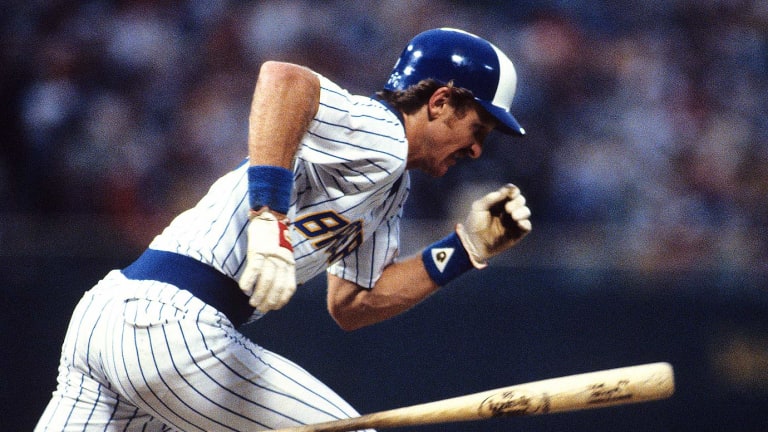 Holding on to Win at the Wire
Milwaukee was reeling after three consecutive losses to Baltimore, but on Sunday it had victory in its grasp
It began with the launching of 3,000 balloons and ended with the bursting of thousands more, but in between, the Baltimore Orioles and their fans scared the daylights out of the Milwaukee Brewers. This was only natural, because the Orioles and Halloween share the same colors. And this year they nearly shared the same month.
It came down to the last game of the regular season, Jim Palmer versus Don Sutton, for the American League East title, Earl Weaver's grand finale as Oriole manager and thousands of people screaming, "Sweep! Sweep!" while some even waved brooms. It was, in fact, only the second time in baseball history that the two teams tied for first place had met in the last regularly scheduled game of the season. The Yankees beat the Red Sox on the other occasion in 1949. This time it was the Brewers, who came alive after three moribund losses and won 10-2.
"Yesterday, I felt like my chest was wide open," said Milwaukee Catcher Ted Simmons, whose two-run homer in the ninth put the finishing touch on Sunday's victory. "And I felt like they were ready to pluck out my heart. But now I see our guys crying with joy."
The Brewers had to stare down the Orioles, the Baltimore fans and, in a sense, themselves to win their first title. In the opening three games of last weekend's series, Baltimore had outscored the Brewers 26-7, while the crowds drove them crazy. But on Sunday, Milwaukee displayed the power and the glory it had shown all season. It was too bad for Weaver, but the Brewers were just too good.
Irony fans had a good time with the thought of Palmer pitching Weaver's last regular-season game—he had long ago announced his retirement—with a championship on the line. As if that weren't enough, here was Sutton doing exactly what the Brewers expected of him when they picked up his $750,000 a year contract from the Astros on August 30.
But the pitching duel never developed. Robin Yount's fly ball drifted lazily into the rightfield seats in the first inning, and his second homer of the game and 29th of the season gave the Brewers a 3-0 lead in the third. Yount pulled within one hit of beating out Kansas City's Willie Wilson for the batting title when he tripled in the eighth. But in the ninth, the league's most valuable player was hit by a pitch and ended the season with a .3307 average. Wilson finished at .3316.
Palmer was gone by the sixth—pulled from a game for the last time by his old nemesis-manager—but Sutton hung on for eight gutty innings. Backed by a superb defense, most notably Leftfielder Ben Oglivie's sliding two-on, two-out eighth-inning catch of Joe Nolan's shot into the corner with the score 5-2, Sutton survived three jams, an accusation that he was scuffing the ball and a bad cold. "I had a sore throat," he said, "so I took penicillin to get rid of the cold, cortisone to get rid of the penicillin, water to get rid of the cortisone...pitching made better through chemistry."
The game was never really out of the Orioles' reach until the ninth, when Milwaukee exploded for five runs. But even in the bottom of the final inning, Baltimore fans exhorted the O's until Gary Roenicke flied out to Oglivie to end the game. Then, while the Brewers cavorted and six police horses pranced, the crowd called a tearful Weaver out for one last ovation: "W-E-A-V-E-R!"
The Brewers arrived in Baltimore needing to win only one game of the four. Their magic number to tie had been just one since Wednesday, Sept. 29, when the Orioles lost 3-2 to the Tigers in Detroit while Milwaukee beat the Red Sox 6-3 in Boston on Ned Yost's three-run, first-of-the-year homer in the ninth. The Brewers presumptuously congratulated each other after that one. The next night, Baltimore defeated Detroit 6-5 as Milwaukee fell 9-4 to Boston. Three games up with four to play, the Brewers took their nine cases of champagne to Baltimore.
The Orioles launched their 3,000 balloons, half of them red, white and blue and half of them orange, black and white, at the start of Friday's doubleheader. The Brewers took a 1-0 lead when Leftfielder John Lowenstein misplayed Charlie Moore's fly ball, but the Orioles came back with three runs in the second on three singles, a walk off Milwaukee ace Pete Vuckovich and a bad throw by Second Baseman Jim Gantner. Baltimore never trailed after that, even though Dennis Martinez gave up back-to-back homers to Simmons and Oglivie in the sixth. The final: Orioles 8, Brewers 3. Wild Bill Hagy, the legendary cabbie who'd been sighted in Memorial Stadium only half a dozen times this season, led one of his famous spelling bees in the bottom of the seventh.
By the time the nightcap started, the moon was full and 51,883 fans, the second-largest regular-season Memorial Stadium crowd in history, had arrived. This game belonged to Oriole rookies. Storm Davis, all of 20, pitched a six-hitter, and John Shelby, 24, and Cal Ripken Jr., 22, homered as Baltimore won 7-1. Ripken's dinger in the seventh gave him 28 homers and 93 RBIs for the year, both team rookie records.
The Brewers' pitching staff was beleaguered. Manager Harvey Kuenn had to leave Mike Caldwell in to absorb a seven-run pounding because his bullpen was tired from having to fill Rollie Fingers' jar of mustache wax. Fingers, who had been the Milwaukee pen until he went out with a sore arm on Sept. 2, couldn't throw 20 warmups without hurting.
But of more immediate concern to Milwaukee was, of all things, hitting. Gorman Thomas, 39 homers and 112 RBIs, was in a slump and was an oh-for in the twin bill. A man from Wisconsin called the press box to have somebody tell Thomas to move closer to the plate.
After the game, General Manager Harry Dalton gave the Brewers a short speech. "I just told them they were an excellent ball club, that they had nothing to be ashamed of and to forget what just happened," said Dalton. "I decided to do it in the ninth inning as I was waiting in the clubhouse. It wasn't a great speech. I wasn't exactly William Jennings Bryan."
The Orioles were clearly enjoying themselves. "We came in here, really, with nothing to lose and everything to gain," said Jim Dwyer. Three years ago, Baltimore was in the reverse position: The O's led Pittsburgh 3-1 in the World Series, needing to win only one of the last three games. They didn't.
Before Saturday's game, the Orioles engaged in their usual high jinks. Rich Dauer kidded Palmer about his shampoo commercial. Mike Flanagan kidded Rick Dempsey about Dempsey's cutting himself shaving and asking Trainer Ralph Salvon for a "skeptic pencil." Everybody ganged up on Dempsey for running down the leftfield line after a foul ball Friday night and colliding with Dauer. Flanagan received compliments on the excellent job he'd done superimposing Davis' face on one of Palmer's underwear posters. Weaver phoned his wife to tell her how to separate the large and small lima beans. Although the players were supposed to be in uniform by 11:55, the unis didn't arrive from the laundry until noon. Flanagan threatened to shag flies in his underwear. "That would be great," said Pitching Coach Ray Miller. "The Brewers would see that and say, 'Boy, are they loose.' "
The Brewers weren't. Before games they usually hold baseball's most boisterous game of flip, which is sort of Hot Potato with violence. In Boston, they had as many as 21 players involved. But Saturday the turnout was sparse, and the game lacked its usual gaiety. The only Brewer who looked ready was Oglivie—at 1 p.m. he was sleeping on the clubhouse couch, hat over his eyes, crossword puzzle stuffed inside his shirt.
It was a nice day for a game. The sky was blue, the temperature in the 70s. The Orioles scored three runs off Doc Medich right away. Eddie Murray doubled in Al Bumbry, Lowenstein singled in Ken Singleton and Medich balked home Murray. But the Brewers came back with two in the second off Scott McGregor, the runs scoring on Gantner's blooped single. The crowd, which had been exuberant at the start, became hushed. "I heard them go quiet," said Reliever Sammy Stewart, "so I started waving a towel around in the bullpen to get them to cheer." That's not all Stewart did. He relieved McGregor soon after Oglivie tied the game 3-3 in the fourth with a homer and pitched the rest of the way, allowing no runs and two hits. "He was up and throwing eight times yesterday," Weaver said later. "He's worth his weight in gold." Stewart weighs 208 pounds, so make that $1,467,823 at the going rate of $402 a Troy ounce.
The Orioles broke free with four runs in the fourth on four singles and a throwing error by Third Baseman Paul Molitor. Weaver had Baltimore stealing and playing hit-and-run, which are things he usually eschews, and the Brewers appeared rattled. Jim Dwyer got on base all four times he was up, giving him 13 straight, three short of Ted Williams' record, set in 1957. "If I was Ted, I wouldn't worry," Dwyer said later. True enough. The streak ended in his first at bat on Sunday, when he bounced to the pitcher. On Saturday, Milwaukee owner Bud Selig paced the press box and muttered, "If I see another blooper, I'm going to be sick." Indeed the Orioles were getting a lot of cheap hits. "It's a game of inches," Kuenn said later, "and let's face it, they've had more inches."
Hagy led three O-R-I-O-L-E-S cheers in the eighth, and Baltimore responded with four more runs, all on singles off Dwight Bernard. The final score was 11-3, and the sounds of "Sweep! Sweep!" shook the neighborhood.
"I think the whole thing is a dream," said Kuenn. "You play 161 games and it comes to a tie with Palmer and Sutton going. You couldn't ask for more than that." "I've pitched bigger ones before," said Sutton, "and I hope I'll pitch bigger ones down the road. Tomorrow's one of the situations you work for in life. That doesn't mean I'll do well—it just means I'll enjoy it."
"I'd enjoy it more if I felt better," said Palmer in his nearly deserted clubhouse. "My arm doesn't feel very well, and the team doesn't score behind me. I've never really won a big game before." When Weaver heard Palmer complaining, he yelled, "That makes two of us. We'll get by on guts alone tomorrow. All I want out of you is eight and two-thirds of good baseball, and I'll do the rest."
But Palmer couldn't go deeper than two batters into the sixth, when he left with the score 4-1, and Weaver ran out of strings to pull. In his swan song, he sent six pinch hitters up in the eighth and ninth. In his office afterward Weaver said, "I don't want anybody feeling sorry for me. God's been too good to me, Baltimore's been too good to me, my players have been too good to me."
The Brewers went about their bedlam quietly. Former player Sal Bando, Milwaukee's special assistant to the general manager who was put in uniform this week by Dalton to be a cheerleader, sat by himself, smiling and sipping champagne. "The only thing that was going to make us feel better was if something good happened in a game," he said, "and fortunately, we got that right away today."
"We approached this Series trying to win just one of four," said Thomas. "That hurt us in the first game, and by the time we got around to rethinking it in the second game, we were way south. We were scared the third game. Before yesterday's game nobody was playing cards or doing crosswords. But I came in today and we were playing cards, and somebody was cutting up somebody's pants. I knew we'd be all right."
PHOTO
With Milwaukee ahead 5-2 in the eighth inning Oglivie saved two runs by robbing Nolan of extra bases.
PHOTO
Having acquired Sutton as pennant insurance, Milwaukee was the beneficiary Sunday.
PHOTO
At the end, it was farewell to a rare Bird.
PHOTO
Sutton and Simmons: an electrifying battery.