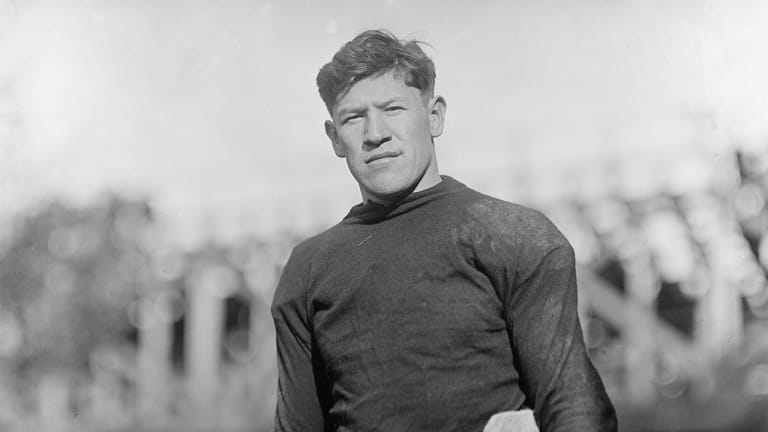 The Regilding Of A Legend
Jim Thorpe's Olympic gold medals at last have been restored, but for Thorpe's family all won't be right till his body lies in ancestral ground
Jim Thorpe lived a life of high triumph and bitter despair, both of which pursue him today, almost 30 years after his death. The decision last week by the executive board of the International Olympic Committee to restore his amateur status was most gratifying to his descendants and fans. Yet it contained the futility of all posthumous gestures and thus served to remind us that the political arm twisting that led to Thorpe's reinstatement should have been done while he was still alive.
Though he never publicly pined—pining had no place in his hard-boiled nature—for the two gold medals that were taken away from him after the 1912 Olympics, members of Thorpe's family agree that his life would have been brighter without the shadow cast by the loss of the medals, on a charge of professionalism. Thorpe could have used one fewer shadow; the bottle had caused him unhappiness enough.
But even as one chapter closes on the strange and sad Thorpe saga, another remains open: that of his unrestful soul. His body lies in a small town called Jim Thorpe in northeastern Pennsylvania, which was Mauch Chunk when Thorpe was alive. Thorpe presumably didn't know of the town, and almost certainly he never visited it. His third wife, the late Patricia Askew Thorpe, handled the burial arrangements, and as we shall see, they were odd arrangements indeed. Thorpe's sons and daughters, meanwhile, say that his soul is doomed to wander until he is returned to his native Oklahoma and given a proper Indian burial.
No one on either side—the citizenry of Jim Thorpe or the Thorpe family—is hurling epithets at the other. Indeed, the strongest feelings of divisiveness have come from within the town itself, where some people want nothing to do with the Thorpe legacy. No member of the Thorpe family disputes the fact that the town has a clear legal claim to Thorpe's remains. The family simply believes the town should willingly give up Thorpe's body because he wanted to be buried with his Indian ancestors. Town officials, on the other hand, have no intention of surrendering the body and altering the contract they made 28 years ago with Patricia Thorpe, which stipulated that as long as the town is named Jim Thorpe, the body of Jim Thorpe shall remain there.
At this point, there's no reason to believe that Thorpe's body will be moved. But for 70 years there was no reason to believe that Thorpe's amateur status would be changed, either. Two people deserve primary credit for that: author-historian Robert W. Wheeler and arm twister William E. Simon, president of the United States Olympic Committee.
It was 15 years ago that the 38-year-old Wheeler first became interested in Thorpe, the magnificent natural athlete who excelled at collegiate and pro football, major league baseball and track and field, and was named the athlete of the half century by the Associated Press. Wheeler has spent a lot of time and money trying to rewrite one aspect of Thorpe's history. His efforts were rewarded on Oct. 13, when the IOC decision came down. Even after Wheeler's biography of Thorpe (originally entitled Pathway to Glory and later reissued as Jim Thorpe: World's Greatest Athlete) was published in 1975, Wheeler continued to uncover the circumstances of Thorpe's disqualification. At first, Wheeler worked part time on Thorpe projects out of his home in Alexandria, Va. Last February he and his wife, Florence Ridlon, established the Jim Thorpe Foundation with an office in Washington. They are the foundation's only full-time employees.
Had it not been for the politics of international amateur athletics, Wheeler would not have had to work so hard to get Thorpe reinstated. Details vary from account to account, but both of Thorpe's chief biographers, Wheeler and Jack Newcombe (The Best of the Athletic Boys) agree on the major points.
In the summers of 1909 and 1910, Thorpe received either $2 a game (Wheeler) or $25 to $35 a week (Newcombe) for playing semipro baseball for the Rocky Mount and Fayetteville, N.C. entries in the Eastern Carolina Association. It was a common enough practice for collegians in those days. Unlike some of the other players, however, Thorpe used his real name, either because he was ignorant of the rules of amateurism (Wheeler) or because he had no intention of returning to the Carlisle (Pa.) Indian School in the fall of 1910 (Newcombe). Indeed, after leaving Carlisle in 1909, he didn't go back to the school until the fall of 1911.
With his semipro baseball career apparently only a memory, Thorpe made the U.S. team for the Olympic Games at Stockholm in 1912. There he became the only athlete ever to win both the pentathlon and the decathlon. (The events of the decathlon were the same then as now. The pentathlon consisted of the long jump, javelin, 200 meters, discus and 1,500 meters.) The big pre-Games American hope, Avery Brundage, who later served as president of the IOC for 20 years, finished sixth (counting Thorpe as the winner) in the pentathlon and 15th in the decathlon.
Whether those results had anything to do with Brundage's later intransigence on the subject of restoring the medals to Thorpe is a matter of conjecture, but there's no doubt that on the subject of amateurism Brundage was nothing if not stone consistent. Wheeler remembers with bitterness a short interview with Brundage when he was writing his biography of Thorpe.
Wheeler: "Why do you resist all efforts to restore Thorpe's medals?"
Brundage: "You don't know much about the law, do you kid?"
Wheeler: "What do you mean?"
Brundage: "Ignorance is no excuse."
Indeed, it was not. Soon after the Worcester (Mass.) Telegram broke the story in January of 1913 that Thorpe had played baseball for pay, the AAU voted to "secure the return of prizes and readjustment of points won by him [Thorpe], and will immediately eliminate his records from the books."
No one disputed that Thorpe had violated his amateur standing, but as Wheeler would persistently point out years later, there were many extenuating circumstances. In researching the bylaws of the 1912 Olympiad in the Library of Congress, for example, Ridlon uncovered the fact that "objections to the qualification of a competitor [must be]...received by the Swedish Olympic Committee before the lapse of 30 days." The newspaper story that led to Thorpe's loss of amateur status didn't appear until six months after the Olympics.
Wheeler also reminded the IOC that it was the AAU, and not the IOC, that had originally ruled that Thorpe was a pro. The AAU changed its position on Thorpe in 1973, and the USOC did the same two years later. Wheeler argued that an IOC reversal should logically follow the AAU's.
The role of Glenn (Pop) Warner, Thorpe's coach at Carlisle, was another factor in his being disqualified. According to Joe Libby, a Carlisle teammate of Thorpe's interviewed by Wheeler, it was Warner who had suggested that Thorpe, Libby and Jesse Youngdeer play in Rocky Mount. Newcombe agrees with Wheeler's contention that Warner didn't support Thorpe strongly enough when the professionalism story broke, and that with the official backing of the school, which Warner no doubt could have obtained for Thorpe, he would have had a better chance of being exonerated.
Until Simon came along, the biggest barrier Wheeler faced was the uncompromising attitude of the IOC, which had turned down a 1975 USOC request to restore Thorpe's medals. Among the most unyielding committee members were the two American representatives, Julian K. Roosevelt and Douglas F. Roby. As late as a month before the IOC turnaround, Roosevelt showed a remarkable ignorance of the particulars of the case. He didn't know, for example, that the AAU and the USOC had reversed themselves on Thorpe's status.
"I don't care who he [Wheeler] gets on a petition," said Roosevelt in early September. "He's spinning his wheels."
Roby, for his part, worried that Thorpe's family was pushing for reinstatement of the medals for commercial reasons. He had heard that they wanted to "open up a museum or something and charge admission." He said he would not push for reinstatement, either.
According to Wheeler, Roosevelt softened his position somewhat in a telephone conversation they had on Sept. 30, just before Roosevelt left for an IOC executive board meeting in Lausanne, Switzerland. Roosevelt pledged that he would try to get the Thorpe issue on the agenda for the full IOC meeting scheduled for January in Los Angeles.
But Simon's goal was more specific. "I went to the meeting in Lausanne with two purposes in mind," Simon said last week. "To settle a wrestling dispute and to get Jim Thorpe's medals returned. And both of them were done."
As president of the USOC, Simon isn't a member of the IOC but wields a powerful influence in its deliberations. He has the ear of Juan Antonio Samaranch, the president of the IOC. And as a veteran political power broker—he served as secretary of the treasury under Richard Nixon and Gerald Ford—Simon knows how to get things done, i.e., get your man alone and make a deal.
Simon made it clear to Samaranch that he wanted Thorpe's name cleared. So did USOC Executive Director F. Don Miller, who had advocated the return of the medals for several years. Samaranch got the message, and perhaps down the road Simon will have to repay the debt on some other issue. It was Samaranch who brought up the resolution to restore Thorpe's amateur status at a meeting of the nine-member executive committee, and it was Samaranch who saw that it got through without a hitch. Roosevelt had nothing to do with the resolution's passage, other than to vote for it.
A reporter in Lausanne asked Samaranch why it had taken so long to change Thorpe's status. "I don't know," he said. "For the first time since I became president we studied this problem, and we solved it in two hours."
The committee isn't asking that the original medals be returned by the heirs of Ferdinand Bie of Norway (pentathlon) and Hugo Wieslander of Sweden (decathlon), the runners-up who advanced when Thorpe was disqualified; rather, the IOC will issue duplicate medals to Thorpe's heirs. (The originals are gone, anyway. Descendants of both Bie and Wieslander say the medals were stolen. Perhaps there's a curse on them.) A less tidy decision is the committee's verdict that the record books continue to recognize Bie and Wieslander as winners. "We will just add Thorpe's name as co-champion," says Samaranch. That's in the worst tradition of asterisk record keeping. If Thorpe's status is truly to be restored, then he should be declared the clear winner.
But the long battle for his medals and his honor is over and, for the most part, won. The battle for his body, however, goes on.
The plaque is almost impossible to spot from the road. Even Jim Thorpe's son Jack, the 45-year-old chief of the Sac and Fox Tribe, who has been this way countless times before, misses it and has to back up the car. He's driving along a dirt road in a section of south central Oklahoma known as Eckontuske Bottom, about 16 miles northeast of Shawnee, the town Jim Thorpe listed as his birthplace. Twenty miles the other way is Stroud, site of the Sac and Fox tribal offices.
Jack gets out of the car, walks over to a barbed-wire fence and rips some brush out of the way. Bolted to a concrete post is the small plaque erected in 1970 by the Cimarron Valley Historical Society. It reads in part:
ABOUT 300 YARDS NORTHEAST OF THIS MARKER STOOD THE LOG CABIN OF HIRIAM AND CHARLOTTE THORPE. HERE ON MAY 28, 1888, WERE BORN THE TWIN SONS, JAMES FRANCIS "JIM" AND CHARLES. JIM WAS TO BECOME ONE OF THE GREATEST ATHLETES IN ALL HISTORY.
The land isn't owned by the Thorpe family anymore. Indeed, it wasn't Thorpe property when Jim was a boy, but rather an "allotment" of land that was doled out to Hiram—accepted as the correct spelling, the plaque notwithstanding—and Charlotte by the General Allotment Act of 1887, a federal law that granted the use of land to Indians. Jack drives up the road a little and then gets out of the car to unlatch a rundown gate to Hiram's allotment.
"You can still see the foundation of Hiram's old shop over there," says Jack. "He was a blacksmith. And right where I'm standing, on top of this ridge, is where my father's house was. Our people always built their houses on a ridge to get the wind." Indeed, a soft breeze picks that moment to break the intense afternoon heat of late August.
There's nothing to indicate that the man whom most people consider to have been America's greatest athlete was born at this place 94 years ago. David Perkins, who sharecrops on the property, doesn't think that's peculiar. "He wasn't thought that well of around here," says Perkins. "I don't agree with the people—and I'm somewhat of a student of Thorpe's history—but people around here said, 'Oh, he was just another crazy Indian.' " In fact, there's nothing in the way of Jim Thorpe memorabilia in this area of Oklahoma, except for a display of assorted photographs, a painting, newspaper clippings and a bust at the Sac and Fox museum. Even Thorpe's own people voted last January to change the name of the Jim Thorpe Memorial Park to the Sac and Fox Park. "It was just a way to get back at me," says Jack. "There's a lot of jealousy over the Thorpe name around here."
Nonetheless, the country around Thorpe's birthplace is very peaceful, alive with the sounds of insects and birds. A herd of cattle grazes nearby. The best way to navigate around the allotment is with your eyes down to avoid the burrs and the cowchips.
The property is posted against hunting, but Jack admits that doesn't mean much to him. He still comes over often to hunt and fish. "Signs?" he says laughing. "It's one of the Indians' bad habits. We don't pay much attention to signs." Maybe that's why Jim had such trouble getting along in the white man's world. Maybe he never paid enough attention to the signs.
Hiram is buried about a mile away from the allotment, in the community cemetery across the street from Garden Grove Missionary Baptist Church. His grave is surrounded by those of a dozen or so other Thorpes. Jack marches to the northeast corner of the cemetery and indicates an area of ground. "Right here would be a good spot for Dad," he says. "It's nice and cool, near his family, near the woods, near where he was born. He'd like it." Jack stretches out his hands as if to visualize his father's tombstone.
"According to the Indian religion, our dead have to be laid to rest between sunrise and noon on the third day after death. We believe this has to be done properly to release the spirit. Otherwise, the spirit roams until it's released. Dad's been dead almost 30 years, and his spirit is still roaming." To communicate with him, several of the clan gathered on Sac and Fox land last summer for a "ghost feast."
Jim's seven children all want the body back in Oklahoma. Grace, 60, and Gail, 64, who live together in Tahlequah, Okla., and Charlotte, 63, who lives in Phoenix, were born to Jim and his first wife, Iva Miller Thorpe. Four sons were the product of his second marriage, to Freeda Kirkpatrick, the only one of Thorpe's three wives still alive. They are: Jack; Carl Phillip, 55, a retired Army lieutenant colonel who works for the Bureau of Indian Affairs in Washington; Richard, 48, a government worker in Oklahoma City; and William, 54, who is with an aircraft company in Dallas. Jim and his third wife, Patricia, had no children. To varying degrees, all the children blame Patricia for the unrestful state of Thorpe's soul. "Look, I don't have anything against the people of Jim Thorpe, Pennsylvania," says Jack. "They did what they thought was right. But I don't see where it would hurt them if they didn't have the body. No matter what the motives of anybody, it comes down to the same thing—Dad's body was sold as a tourist attraction."
In Jim Thorpe, Pa., Johnny Otto agrees, but from a different perspective. "All we got here is a dead Indian," he says.
Otto, a former railroad man like many of his drinking buddies, has uttered that sentiment from a stool in the town's unofficial center of anti-Thorpe feeling, Al Weiksner's Hotel Switzerland bar, located on Hazard Square, across from the Carbon County Court House and hard by the Sunrise Diner. For miles around, it is simply known as Weiksner's.
Weiksner (pronounced Weeks-ner) is no stranger to publicity or attention. The 1970 movie The Molly Maguires was filmed in and around Jim Thorpe, and one of the bar's nightly patrons was Richard Harris. "You didn't see Sean Connery much, though," says Weiksner. Every out-of-town writer eventually finds his way to Weiksner's to soak up the local color, which comes at you like the rat-a-tat-tat of a tommy gun. You cannot get an amaretto sour at Weiksner's, and you'd better not ask for one, but you can get a cold beer and a cheap shot, and the locals reckon Weiksner has made plenty of money serving both.
Weiksner is a first cousin of Pete Gray, the former St. Louis Browns outfielder (the one-armed one), but he's not particularly proud of it. "He was a baseball man," says Weiksner, "and I couldn't care less about that. For me, it's football. Always has been." Al can reach into an old cabinet behind the bar and pluck out a leather helmet from the '20s, a torn jersey from the '30s or a frazzled program from the '40s. When you're a football fan and you've been tending bar in the same town for nearly 50 years, as Weiksner has, your life takes on a museum quality.
But nowhere in Weiksner's treasure house of gridiron memories is there a place for the Indian running back from Carlisle. In Weiksner's and in other pockets of regret throughout the community, Thorpe is indeed just a dead Indian. To know how that sentiment evolved, one must know something about the town, something about how Thorpe lived his life, and something about his wife, Patricia.
That Thorpe was unlucky in love was probably inevitable. An Indian woman from the reservation might have endured his lengthy absences, his drinking, his ignoring most familial responsibilities, but his transgressions were too much for Iva (married 1913, divorced 1923) and Freeda (married 1925, divorced 1941).
"It was like the problems a person from one nationality would have whenever he or she married someone from another nationality," saya Freeda, 77, who lives in Arlington, Texas. "It was mainly the drinking. I could adjust to him being away and things like that—I was very self-sufficient—but the drinking was the real problem."
On June 2, 1945, Thorpe married Patricia, a native of Louisville, who was running a bar in San Pedro, Calif. She died in 1974 in Banning, Calif., where she was managing a nursing home, and left no mourners among the Thorpe progeny. "Truthfully, I can't say one good word about her," says Jack.
Carl will allow her this: "She was a very assertive person. She was able to get Dad money for personal appearances and things that he was doing for free." Carl will also say this: "But though there was more money around the house, it seemed to me that it was going to her for things like diamond rings and furs. As far as Dad was concerned, as long as he had a buck for the next day, he was fine. Patsy wasn't like that."
At any rate, it was Patricia who controlled the destiny of Jim's body when he died after a third heart attack in his house trailer in Lomita, Calif., a suburb of Los Angeles, on March 28, 1953, two months shy of his 65th birthday. He was probably not a pauper, as many believe. Patricia gave Wheeler access to all of Thorpe's private papers before she died, and Wheeler says he saw receipts from speaking engagements in 1951 for as much as $500. Thorpe was living in a trailer because he liked the mobility; indeed, he had been a man in a trailer, literally and figuratively, for most of his life. California was just another stop.
In keeping with his wishes, at first it appeared that Thorpe would be buried in the Garden Grove cemetery. A committee raised $2,500 to bring his body from California, and $25,000 was appropriated in the Oklahoma State Senate to build a permanent memorial near the gravesite. But the bill was unexpectedly vetoed by then Governor William H. Murray. "He just double-crossed us," says Ross Porter, the former general manager-editor of the Shawnee News Star, who headed the memorial committee. "He had assured us he'd O.K. the bill, but then he backed out."
Actually, the idea of burying Thorpe among his ancestors had been anathema to Patricia from the beginning. In the middle of a burial ceremony the Sac and Fox were holding for Thorpe at Shawnee, Patricia drove up with a hearse and took Jim's body away to a crypt she had rented in another Shawnee cemetery. "It was a slap in the face to all the Indian people," says Jack. "She never accepted us." Patricia eventually moved the body to Tulsa when the rent on the crypt in Shawnee became overdue.
Patricia had decided to get her husband buried in her own way and set off across the country to find what she considered to be a fitting memorial. There's every indication she was doing some fortune hunting, too.
Even today, 74 years after Thorpe first earned All-America honors playing under Warner, Carlisle, Pa. seems like the logical resting place for him. Carlisle and Thorpe, Thorpe and Carlisle—you can't think of one without the other. The town of Carlisle did indeed want the body. When the Warner Bros, film Jim Thorpe—All American premiered there in 1951, a local committee headed by John B. Fowler tried to strike an agreement on burial rights with Thorpe and his wife. The committee had even decided on a burial site near the field where Thorpe used to play. "Pat just wanted too much money," says Fowler, now a resident of Charlottesville, Va. "We felt like we were getting in a bidding war. We tried, even after he died, but her price was too high."
Patricia's journey eventually brought her to Philadelphia, where she intended to talk to Bert Bell, then the NFL commissioner and a longtime friend of her husband's. But in her hotel room one evening she heard a story on the television news about a small town 90 miles north that was asking its residents to pledge a nickel a week to create an industrial development fund. A town with such spunk and drive, thought Patricia, should be called Jim Thorpe.
The town's name at that time was Mauch (pronounced Mock) Chunk, which comes from a Lenni-Lenape Indian word macht tschunk, meaning "bear mountain." Actually, there were two distinct towns at the time, Mauch Chunk and East Mauch Chunk. The towns were separated by a deep gorge cut by the Lehigh River and by an even deeper enmity. Nobody seems to remember exactly why the Chunks couldn't get along, but each section had its own schools, churches, municipal services and fierce loyalties.
Some people in the communities thought it was time to patch up the differences, and the Nickel-a-Week Fund was part of that new feeling. A consolidated name was an obvious step, too. So a stranger peddling a name change came along at the right time. Patricia also found the right person—Joe Boyle, the energetic editor of what was then the Mauch Chunk Times-News. Boyle had organized the Nickel-a-Week Fund and written editorials in his paper about the need for consolidation.
It was in late September 1953, about six months after Thorpe's death, that Patricia offered Boyle the body in exchange for the name change. At first Boyle thought the idea preposterous, but it started to grow on him for three reasons: A totally new name was a way to appease both sides in the Chunk dispute; there was the possibility that Thorpe's body could give the town a boost; and he thought the town could give the Indian a proper eternal home.
Lord knows Mauch Chunk needed a boost about as badly as Thorpe needed a resting place. A century before, it had been a booming transportation center through which passed trains filled with anthracite coal, the primary source of energy and heat at the time. The Switchback railroad, an ingenious gravity-rail system built in 1827 by the Lehigh Coal and Navigation Co., carried anthracite from Summit Hill, nine miles north, to Mauch Chunk. From Chunk, the Lehigh Valley and New Jersey Central railroads then took the coal to ports in Philadelphia or New York City.
There was money to be made in Mauch Chunk in those days, and the railroad barons made it. Any Chunker who knows his local history can tell you that 13 millionaires once lived along Broadway, Mauch Chunk's main thoroughfare.
And there was the natural beauty of the area. Tucked in among the mountains, with its own falls (the Glen Onoko) and its own river (the Lehigh), Mauch Chunk called itself the "Switzerland of America." John Jacob Astor and his bride honeymooned there, several Presidents stayed in the town, and Teddy Roosevelt once praised the beauty of Mauch Chunk in a speech. But the millionaires were long gone by 1953, hard coal having been replaced by petroleum. Nothing typified the lost prosperity of the town better than the fate of the Switchback railroad, which was sold for scrap to the Japanese in 1937. "We got it all back at Pearl Harbor" is a favorite line around Weiksner's.
It was time for the Chunks to make a move, and there was hope in Patricia's plan, or so it seemed. The National Fraternal Order of Eagles, to which Thorpe had belonged, supposedly promised Patricia it would finance a memorial. There was talk of the Pro Football Hall of Fame coming to town if Thorpe's body were there. There was talk that the Jim Thorpe Memorial Heart and Cancer Foundation would build a hospital in the town. There was talk of a Jim Thorpe museum. There was talk, talk, talk.
Of course, there would be tourists in need of lodgings, and Patricia had plans for a motel. The woman who didn't care for Indian ways would call it Jim Thorpe's Teepees.
Precisely what else Patricia was seeking, or eventually got, out of the deal with Mauch Chunk isn't clear. Two people know for sure, and one of them, the 67-year-old Boyle, now retired, except for a weekly column he writes for the Times-News, is mum on the subject. He won't say much about the late Mrs. Thorpe other than to concede that she wasn't an easy person to do business with. At times Boyle can't decide whether Jim Thorpe—the body and the town—is more his baby or his cross to bear.
The other man who knows is Bob Knappenberger, who was working at the American Hotel the day Patricia walked in carrying two Pekingese dogs. It was Knappy who finally brought her the check that officially ended her association with the town, but he won't say exactly how much the check was for.
"It certainly wasn't a lot of money," says Knappenberger, now assistant cashier at the Jim Thorpe National Bank. "It was basically just some money to get her out of town." Boyle insists she was paid no more than about $500 to cover her expenses for shipping the body.
No matter what Patricia got, no one has ever suggested that Boyle acted out of any motive but civic pride. "Joe is as honest as the day is long," says Weiksner, who has been playing Hatfield to Boyle's McCoy for 20 years. But Boyle got swept away by the vague promises of what Thorpe's body would do for the town, and he wasn't alone. In May of 1954, more than a year after Thorpe's death, the Mauch Chunkers and East Chunkers approved, by a 10-1 margin, a merger under the new name of Jim Thorpe.
"Hell, I admit I voted for it [the merger] the first time," says Weiksner. "We heard about a 400-bed hospital. There was a chance to get the Football Hall of Fame. What did you have to lose?"
Face, for one thing. Over the years, promise after promise fell through. The Eagles never came through with financing for the memorial; the $10,000 price tag for the mausoleum was paid out of the Nickel-a-Week Fund. Jim Thorpe was never seriously considered as a site for the Pro Football Hall of Fame, which was established in Canton in 1962. Bell did get involved with the Thorpe Memorial, but he suggested a lesser project than a hospital, such as a camp for underprivileged children. A few months after Bell kicked off a fund-raising appeal in 1958, he died of a heart attack during a game at Franklin Field in Philadelphia.
"I honestly think things would've been different, that a lot more would've gotten done, if Bert hadn't died," says Boyle. "I just couldn't get anyone else interested in taking over the memorial."
Whatever else can be said about Patricia, she got a town named after her husband at a time when his native state wouldn't even finance a memorial. And whatever else can be said about Boyle, he got himself a town with one name.
But in the years since his body arrived in Mauch Chunk on Feb. 9,1954, Thorpe has hardly rested in peace. After he was taken to a temporary crypt at the Evergreen Cemetery—that was three months before the voters approved the name change—a rumor spread through the community that Thorpe's body was not in the casket. One of the pallbearers who had carried it into Evergreen Cemetery said the coffin was so heavy that it must have been filled with rocks. Boyle felt it was his duty to check out this claim, so he and two local morticians opened the casket, a memory that still causes him some distaste. It was Thorpe.
Thorpe's corpse was transferred to its red granite mausoleum in May 1957, and in 1963 a resident who printed anti-Jim Thorpe literature in his basement attacked the monument with a ball peen hammer, causing extensive damage. The identity of the vandal is one of the town's most open secrets, but he was never prosecuted. Hammer marks are still visible on the monument.
On Nov. 3, 1964, in response to a petition originated by Otto and others, the question of whether to change Jim Thorpe back to Mauch Chunk appeared on the ballot. Thorpe won 1,392-1,032. The next year the question was on the ballot again, with approximately the same vote. If a vote were taken today, pro-Chunkers say the results would be different; the pro-Thorpers, of course, say the outcome would be the same.
No matter. The contract drawn between Patricia and the borough in 1954 is legal and binding, and town officials have no thought of changing it. "No way," says Mayor Mike Hichok, a barber. "They can't take the body back."
"Why should we give it up?" asks Boyle. "Bringing the body here is what brought this town together."
Even the pro-Chunkers admit the name change saved the community confusion and money in consolidation of services. And as the pro-Chunkers die off, the town's name probably will become a nonissue. Wheeler, who is close to the Thorpe family and considers himself an Indian advocate, is also sympathetic to the town's pro-Thorpers. His foundation recently received $500 raised by students at Jim Thorpe High School. "I'm at a position about halfway between Joe Boyle and the Thorpe family," says Wheeler. "I can see why each of them wants the body. It's kind of a tricky issue."
Still, the name Chunk just won't go away. Residents still unofficially divide the town into three sections: East Mauch Chunk, Upper Mauch Chunk and Mauch Chunk. Two of the nicest new additions to the town are the Mauch Chunk Medical Center and Mauch Chunk Creek Park. At his bar Weiksner keeps a list of all the new businesses that use Chunk in their name. Nowhere was the divided-town issue stated more clearly than on the sign one local used to have on his Chevy. It read: JIM CHUNK."
The town seems unsure of how to promote its namesake. A slide show at the railroad museum in town mentions Thorpe's mausoleum almost as an afterthought. On Route 209, the main thoroughfare into Jim Thorpe from the south, there's a WELCOME TO JIM THORPE sign that mentions the Asa Packer Mansion (Packer was a millionaire railroad baron of the 19th century) "and more attractions." Presumably, the Thorpe mausoleum is one of them.
Boyle maintains the soft sell is by design. "The man was victimized by people capitalizing on him his whole life," says Boyle. "That's the one thing Al Schacht [Thorpe's roommate when he played baseball for the New York Giants] told me. Everybody was always doing something to get something out of him. We don't want to do that. I don't want to open up a hot-dog stand or invite a honky-tonk band up there to play. We're proud of what we've done. We've given Jim Thorpe a nice resting place when nobody else wanted him."
Thorpe's mausoleum is set on a knoll in the rear of a well-kept grassy area along Route 903, or North Street as it's known locally. A sign by the road says: FINAL RESTING PLACE J M THORPE—ALL-AMERICAN. The "I" has been missing for a while. A semicircular driveway goes around the mausoleum; if nothing else, Thorpe's grave is the best U-turn on North Street. On the mausoleum are inscribed the words of King Gustav of Sweden, who told Thorpe after he had won the Olympic decathlon and pentathlon, "Sir, you are the greatest athlete in the world."
Some days there may be no visitors to the memorial at all. On weekends there may be dozens. What there invariably is, is confusion.
"I don't quite understand," says Dolores Balesterri. "Was he born here or did he play ball here or what?" She, her husband, Lou, and two of his friends have driven over from the nearby Pocono Mountains, where they're attending a convention. The men know a lot about Thorpe's career, but they're not sure why he's here, either. The visitors listen to an abridged version of how Jim Thorpe came to rest in Jim Thorpe.
"Well," says Lou, turning back to the mausoleum, "I don't know about that. All I know is that he was a hell of an athlete. Maybe the best."
PHOTO
PHOTO
MEDAL COURTESY OF FIRST INTERSTATE BANK ATHLETIC FOUNDATION, LOS ANGELES
PHOTO
Motorists aren't told of Jim Thorpe, Pa.'s most unusual attraction: Thorpe's grave.
PHOTO
Simon really knows how to twist an arm.
TWO PHOTOS
Wheeler (right) got no aid from Brundage and U.S. reps on the IOC, but Ridlon found help for Thorpe in the Library of Congress.
TWO PHOTOS
This plaque almost obscured by weeds marks Thorpe's birthplace; Jack wants his father to be buried near Hiram's grave.
PHOTO
In a publicity shot for the Thorpe Memorial foundation, Bell, fund raiser Thomas Hart, Patricia Thorpe rallied around their hero.
PHOTO
Thorpe's red granite mausoleum was built with $10,000 from the Nickel-a-Week Fund.
PHOTO
Pickles Pry asks the big question at Weiksner's.
PHOTO
Boyle (left) encouraged the town's name change, but Knappenberg delivered the goods.
PHOTO
Weiksner (left) knows what the boys in the barroom will have: a town named Mauch Chunk.
PHOTO
Freeda won't cover up Thorpe's drinking.