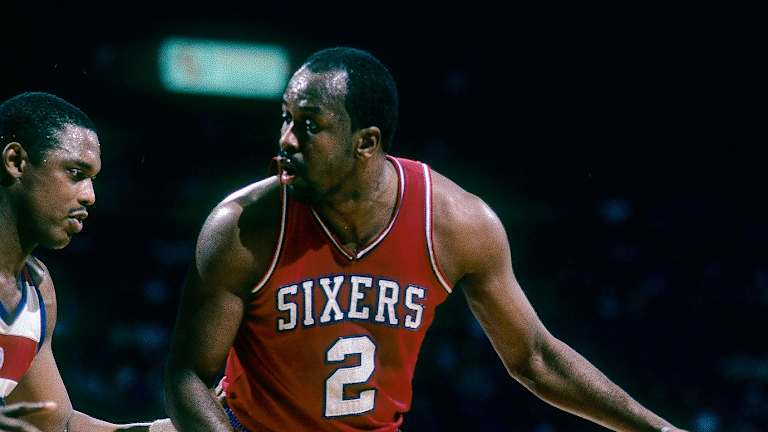 'I Can Do So Many Things'
Moses Malone is aiming to earn his $13.2 million by shooting, rebounding, running, defending—and leading the 76ers to a title
It was merely an exhibition game in October in Providence, just the first of seemingly endless nights of missed shots and two-hand jams. The atmosphere, though, said "regular season."
The Philadelphia 76ers were playing the Boston Celtics, and the intensity level was right out of Game 7 of the 1982 Eastern Conference championship in which the Sixers stunned the Celtics in Boston. The score was Philly 73, Boston 69 at 5:21 of the third quarter when Celtic Guard Gerald Henderson looped an innocuous pass toward Center Robert Parish, who was standing inside the top of the key.
The ball never reached Parish. Moses Malone, Parish's opposite number, deftly tipped it away, dribbled the length of the court and threw down a thunderous dunk. "The way the ball bounced away," said a still disbelieving Pat Williams, Philadelphia's general manager, after the game, "I was sure that it had to miss."
In his Philadelphia debut that night, Malone scored 22 points and had eight rebounds in only 23 minutes of playing time. The next night the numbers were 18 and nine against the New Jersey Nets. Both games were 76er victories. Malone blocked shots and ran up and down the court on even terms with Parish, the finest running center in the league, and then he shamed his predecessor in Philadelphia, Darryl Dawkins, into alibiing for his poor performance. Best of all, Malone and Julius Erving functioned on the same court with the same ball and seemed to actually like the process.
The 76ers will be paying Moses $13.2 million over the next six seasons, and they think they finally have found the man to lead them to the Promised Land.
Over the last six seasons the Sixers have had the NBA's best overall record and appeared in three NBA Championship series, losing in six games each time—to Portland in 1977, L.A. in '80 and L.A. again last June. But now, for the first time since Wilt Chamberlain was traded in 1968, the Sixers have a main man in the middle. Jelly Bean. Big George. All-World. Chocolate Thunder. They're all gone. The 76ers now have the 6'11" Malone—the NBA's rebounding king the last two years and the 1981-82 MVP—to dominate the middle and work with Erving, and everybody is going to be gunning for Philly.
"In last spring's series against Boston, we were the downtrodden team, David against Goliath," Williams says. "The whole nation was sympathetic to us. Now we're back to being Goliath."
The good news for Philadelphians is that while Malone makes CEO-class money, he always produces blue-collar efforts. Just like another relatively new Pennsylvanian, Charley Hustle. Pete Rose has self-promoted hustle to a status level, and he's always ready, willing and quite able to tell you exactly how and why he has attained his eminence.
Not Malone. In fact, his reluctance to discuss himself, combined with his sometimes unintelligible rapid-fire, rumbling voice, often leaves the impression that he can't. Throw in the unglamorous way he goes about his job and Malone creates his own mystique.
To Moses, it's all very clear. He's just "playin' ball," something he did this summer at least twice a day, five or six days a week. Not to prepare for his new role as Goliath, but because it's what he always does. On the playgrounds around his home in Houston, though, the game is different. "I can shoot 90-foot jump shots there and nobody says anything," Malone says.
It is a typically muggy late summer's afternoon in Houston as Malone pulls up to a Frenchy's in his $50,000 Mercedes for a $2.50 luncheon of chicken wings and strawberry soda pop. As he eats, oblivious to the whispers—"Lookit him. Two million dollars a year and he's eatin' here"—he seems to be delivering a not-so-subtle message: You're eating here, so why can't I? If I prefer Filet-O-Fish to filet mignon, that's my business. I don't care what you think anyway.
That's not money talking, just how Malone feels. If there's any changing to be done, you're gonna be doin' it. Why should he? Thirteen point two million dollars for six years is very articulate, thank-you-ver-ry-much. And how would you like your McRib à l'Orange cooked?
Malone refuses to fit any precast mold. On an NBA junket to Germany and Italy last summer, adults and children alike followed him about. "Moses, Moses," they cried. Touching? Inspiring? "I guess people just like the way Moses sounds," Malone says. "I was just playin' ball."
He always is. Ask what he did during the off-season and he answers immediately: Watched TV. Played video games. And played ball. Never got tired of it. "Shoot," he says, "I'm ready to get goin' again a week after the season's over."
Question is, will last season's MVP 1) mix well with the '81 MVP (Erving) and 2) put the Sixers over the top? "I'm just 6'11", 250 pounds," Malone says. "I don't wanna be the best player; there are better players on the team than me. They win 55, 60 games every year. I just want to help them win a few more."
A few days later Malone arrives at Robertson Fieldhouse on the University of Houston campus. The paint is peeling and the dimly lit gym's seats look like long rows of concrete pews.
Many of the Houston players who made it to the 1982 NCAA Final Four are on hand, and sides are chosen. Malone decides he doesn't want to play. "You guys beat me up too much yesterday," he says. "I got knocked down and around, hurt my finger. The NBA ain't even that physical," he says, plopping down on a bench.
So he becomes an analyst. Colorful commentator is more like it. On one team, an overweight Rob Williams, the Denver Nuggets' first-round choice, is having a dreadful time of it, his low-trajectory shots lying on the rim like so many cinder blocks.
"Rob's shot's a little flat," someone offers.
"Yeah. He better put some air in it before he gets to Denver," says Malone.
Moments later an argument ensues after a foul called by Akeem Abdul-Olajuwon, the Cougars' 7-foot center from Nigeria. Five minutes of yelling follow. "That boy just learned too quick," Malone says. "All the English he knows is 'women' and 'My ball, my ball.' "
An hour and a half later, Malone agrees to join the by-now degenerated play, but his effort is minimal at best. In fact, the highlight of his day comes when the Houston women's team marches onto the court just as he's leaving. "Mo," says Rockets Guard Tom Henderson, noting the ladies' matching shirts and shorts emblazoned with the Houston logo, "they've got better stuff than we—excuse me, I mean better stuff than my team, the Houston Rockets—do." Malone, wearing a red T shirt with PHILADELPHIA SAM'S CHEESESTEAKS in bold lettering, just smiles.
Malone wore a Houston Rockets uniform for six seasons. He played in 464 games and led the club in scoring in 239 of them. Malone has scored in double figures in his last 316, the second-longest streak in the league behind the Lakers' Kareem Abdul-Jabbar (381).
Moses Malone was the Houston Rockets. Playing 42 minutes a game last season, he took 25% of Houston's shots and averaged 31.1 points per game. And, of course, he rebounded, averaging 14.7 per game to win his third crown in six years and become the first repeat rebound champion since Chamberlain in 1971-72 and 1972-73. Only one other player has ever repeated as rebounding champ: Bill Russell. "In the 37-year history of the league there have been only four dominant players," says Houston General Manager Ray Patterson. "Wilt, Russell, Abdul-Jabbar and Mo."
Which is why the 76ers decided to mortgage their future and trade starting Center Caldwell Jones and Cleveland's top pick in next June's draft—possibly Ralph Sampson—for Malone.
Philadelphians have been talking title since Sept. 15, the day Moses officially became the $13.2 Million Man. "There are lots of things that I can do that the public hasn't seen yet," Malone says. "The people will see how much I'm an all-around player. They say CJ [Caldwell Jones] is a great defensive player. I was the best defensive player the Houston Rockets ever had. Some nights I had to prepare for three guys: the center, the power forward and the small forward. I had to check them all. If CJ does that, he'll foul out every other game."
Since Malone signed his contract, Houston's season-ticket sales are down 15% while Philly's are up 48%. Even before the trade, the Sixers raised ticket prices an average of 45% across the board and added 118 new courtside seats at $50 a pop; most of those have been sold. In all, the Sixers have sold 5,000 season tickets for Malone's inaugural season in Philadelphia, 2,000 more than last season. And revenue generated by sales of season and single-game tickets is incredibly already 67% of last year's total, which was $3 million.
Malone made his debut as a 76er in the team's annual training camp mile run. He crossed the line in 6:15, dead last and almost dead, period. "Didn't you guys do this in Houston?" someone asked. "Naw," Malone panted, "all we ever did was four laps around the gym." Malone also was unprepared for the turnaway crowds that often showed up at practices at Franklin & Marshall College in Lancaster, Pa. "The most people we ever got in Houston were about 15, and most of them were reporters and people passing through," Malone says. "I'll bet CJ's down there now goin', 'Where are all the people?' "
All the excitement aside, there are some questions to be answered, like: How will Malone blend with his new teammates? "I think they'll be fine," says Milwaukee Coach Don Nelson. "They'll use him 44 minutes a game unless they're losing. Then it'll be 48."
But Boston General Manager Red Auerbach, perhaps looking to score an early psychological blow on his Atlantic Division archrivals, sees Malone's big contract wreaking havoc, 'it might be good for Philly for a year," he says. "But then it will start to eat their team up. What are they going to do when all their other great players want to renegotiate in comparison to what Malone got? That's when the fun will start."
It already has. Point Guard Maurice Cheeks sat out the first week of the preseason until Williams and owner Harold Katz agreed to rework his contract. But Katz believes there's more than enough money to go around. "Comparing our salary structure from last year to this year is a wash," Katz says. "When we traded Dawkins, who was making $800,000 a year, we got $700,000 from the Nets. CJ was making $500,000 a year. Plus we're saving the salaries of Steve Mix [waived to Milwaukee] and Mike Bantom [waved bye-bye]." The bottom-line net gain from all those moves: $2.5 million, or $300,000 more than Katz is paying Malone each season.
Erving reportedly was irked when he learned of Malone's contract, but now seems mollified. He also doesn't buy the argument that he and Malone can't play together.
"I don't understand the logic in that kind of thinking," Erving says. "It's not like he's Bernard King and we're playing the same position. Mo has been one of the fellas from the first day of camp. He said, 'Don't worry about getting the ball to me, I'll just go to the offensive boards and get in shape.' Now that might not be as newsworthy, but the team will be successful."
While it will take time for Philadelphia to find the right blend of fast break, free lance and post down to Malone, the look probably won't be as striking as people expect. "We won't prepare for them any differently," says Boston Coach Bill Fitch, who didn't have his tongue in cheek. "When he has it going good, Dawkins is every bit as powerful as Malone."
In Philadelphia they're treating such comments as sour grapes. "Moses has a much better concept of the game and how it should be played than I anticipated," 76ers Assistant Coach Jack McMahon says. "Making the right pass, being in position to help other players. He's got good hands; the others aren't afraid to pass him the ball."
"I didn't know he could do all the things he's done so far," says Coach Billy Cunningham. "His work habits are excellent. He's gotten up and down the floor, been a force defensively, done all we've asked."
Malone may not be very eloquent, but he's no fool. He knows he's this close to a championship, and he'll do everything he can to win. Suggest to him that his slow-and-easy style on the court will slow the 76ers down, and he'll ask when was the last time you saw the Lakers fast-break with Abdul-Jabbar leading the way? And just for good measure, he'll keep up with Parish step-for-step in Providence. Mention that other teams don't fear his defense, and he'll block a few shots in no time.
"I can do so many things that people don't recognize yet," Malone says. "If people want to find something bad about Moses this year, they won't be able to find it. I'm not gonna fool anybody, not gonna promote myself to people. I just want them to respect me."