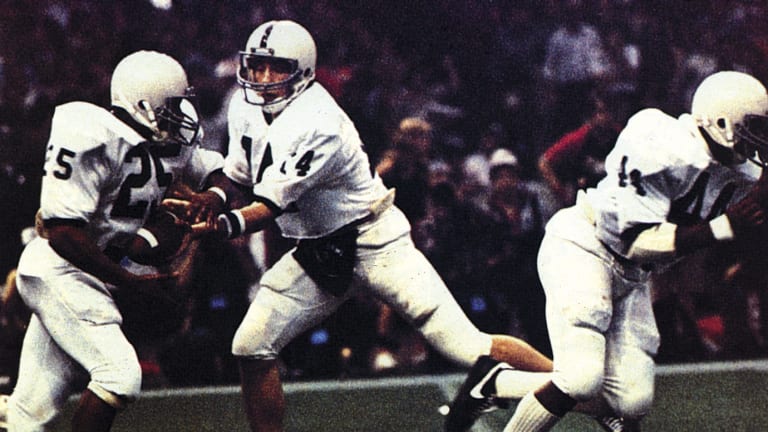 But How 'Bout Them Lions?
Penn State's defeat of Georgia ended a long quest for a national title
The young man, 6 feet tall, 235 pounds and black, ambled down Bourbon Street, which was packed to the saloonfronts with postmidnight revelers dressed in assorted shades of red or blue, most of them drinking jet fuel from plastic cups and arguing the results of a football game that wouldn't be played for three days.
The din was frightful. From one side of the street, a blue-clad mob alternated calling and responding: "We are..."
"...Penn State!"
From the other side, a roiling red tide put the question: "How 'bout them Dawgs!"
And made its own obvious response: "How 'bout them Dawgs!"
The young man watched and walked in quiet awe, until a celebrant recognized him as being one of the football players responsible for all the commotion.
"Hey! What's your name?" the somewhat unsteady man asked the athlete.
"Walker," was the reply.
The man checked him out. "Your name's Walker?"
"Yeah, Walker."
A crowd gathered.
"You're not Walker," said a new voice.
"Yes I am. I'm Walker."
"Naw, you're not. You're not Herschel Walker."
"No. I'm Walker Lee Ashley. From Penn State. You'll be hearing about me."
The crowd dispersed.
Amid the incessant woofs of humans imitating bulldogs and the roars of proud Pennsylvanians who had painted their faces with blue lions' paws, the word most often heard throughout New Orleans all week long before Saturday's Sugar Bowl game was Walker, Walker, Walker. The thousands of Georgia fans took it as gospel that Herschel Walker, the Bulldogs' Heisman Trophy-winning junior tailback, was unstoppable, a man among boys—and little else mattered. In the 35 games Walker had played for Georgia, the Bulldogs had won 33 and lost two, both of them a season ago, sandwiched between two undefeated campaigns—the first culminating in a national championship with a win over Notre Dame in the '81 Sugar Bowl, the latest dawggone sure to wind up with another Sugar Bowl victory and another title.
Penn State had other ideas. When the Nittany Lions had won, 27-23, and the woofing had finally stopped, members of the Penn State band ringing the Lions' bus outside the Superdome chanted "Walker Lee! Walker Lee!" for their heroic defensive end, while the other Walker skulked off nearly unnoticed into the darkness, his pride and his right shoulder somewhat out of joint from the beating he had taken.
Inside the Dome during the preceding hours a great football game had been played, only the sixth postseason matchup of a No. I team (Georgia) and a No. 2 team (Penn State) since the Associated Press Poll began in 1936.
Earlier in the week in response to a remark by Ashley that Penn State was going to "make Herschel mighty sore," Walker had said, "Talk is cheap. If everyone got paid for talking we'd have a lot of rich people in the world." And then Herschel went right on talking.
"A lot of people look forward to tackling me," he said. "If I was a defensive player, I'd look forward to tackling myself. I can dish out more punishment than a defensive guy can dish out on me."
The record certainly substantiated Walker's claim, solidly enough to keep Coach Joe Paterno, in search of his first national championship in 17 years as head coach at Penn State, fretting and squirming right up until kickoff time, then restlessly pacing the sideline until the game was over. A friend invited into the Nittany Lions' locker room before the opening kickoff tried to ease Paterno's obvious tension by asking him what he thought Herschel might do on his first few carries. "Hey, are you kidding?" said Paterno. "If we knew that we wouldn't be sitting here fidgeting."
As it turned out, Penn State knew exactly what Walker was going to do, and how to stop him. In the Sugar Bowl the Lions unfolded what they call the "Magic Defense"—as in "now you see it, now you don't." Linemen and linebackers shifted into various configurations, sometimes showing an eight-man front, sometimes a five or a six. They switched from nose to gap alignments, and at times as few as two defenders got down into a four-point stance, forcing the Georgia linemen to recalculate their timing and blocking angles while trying to remember their assignments and the count.
A year ago in the Fiesta Bowl, the Magic Defense held Heisman Trophy-winner Marcus Allen to 85 yards rushing, 127.9 below his season average. In one of its biggest victories this season, Penn State held Nebraska's Mike Rozier to 86 yards, 52 below his average. "It's called Magic," said Defensive Coordinator Jerry Sandusky, "because sometimes it is. Then again, sometimes it's not."
On Saturday it would face its toughest test in Walker. "He's gonna break tackles," said Sandusky. "You hit him low and he moves his feet. You hit him high and he'll knock you over with a forearm. It takes more than one man to get him. You get the first contact and then you have to have other people around." Practice was so intense that the Penn State players began feeling they were tackling Walker himself over and over again instead of freshmen Steve Smith and Eufard Cooper, who took turns playing Herschel. "Smith really had Herschel down, the cutbacks, the moves, everything," said Linebacker Scott Radecic. "We nailed him and nailed him until he said, 'I'm tired of being Herschel Walker' and wanted to quit."
On Saturday, three prides of Lions hit the real Walker hard and hit him often. The first wave, led by Ashley and Greg Gattuso up front, stripped away Walker's blocking and tried to keep his movements lateral—"east-west and not north-south," said Tackle Dave Op-far—and made the initial hit whenever possible. Radecic and the other punishing linebackers in the second wave tried to hold Walker up so that the third wave, led by Safety Mark Robinson, could complete the mission. Meanwhile, the Penn State defenders had to keep in mind that Georgia could go other ways if it had to—"only as a last resort," Bulldog Coach Vince Dooley admitted before the game—to Fullback Chris McCarthy, for instance, or, if things got really tough, to the air via the arm of Quarterback John Lastinger.
The result? Walker was held to 107 yards on 28 carries, his lowest one-game output since his freshman season, with the exception of this season's opening game against Clemson in which Walker, nursing a broken thumb, was used mainly as a decoy. Moreover, Walker's longest run against Penn State was only 12 yards. Except for the Clemson game, he had run at least once for 14 yards or more in every game of his career, going all the way back to his debut as an 18-year-old freshman.
"The defensive line did a great job of stringing him out," said Safety Robinson. "A lot of times all I had to do was come up and just push him over."
And if you want to talk a little more magic, consider Penn State's offense. Because Georgia's greatest asset after Walker's running was its defensive secondary—it led the nation with 35 interceptions and had given up only six touchdowns through the air all year—and because its weakest link was a bruised and battered defensive line, Dooley fully expected Paterno to first establish Penn State's running game with Tailback Curt Warner. Lion Quarterback Todd Blackledge was known to be a masterful passer, but Roverback Terry Hoage and Safety Jeff Sanchez, with 12 and nine interceptions respectively, had more thefts than all but 10 Division I-A teams. "We haven't stopped people on the ground, and Penn State will attack us there initially," Dooley said on Friday.
Abracadabra, said Paterno, turning Blackledge loose immediately. "I pulled Todd over the other day and said, 'Listen, baby. We know what got us here and we're going to take it right to 'em,' " said Paterno. So much for fear of the Georgia secondary. Four quick completions set up a touchdown run by Warner from two yards out, 2:51 into the game. It was as though Dooley had been shot with a gun he never saw.
Allowing Blackledge time enough to look for two and three receivers was something Dooley had warned his defense against, and Blackledge, standing tall—6' 4"—in the pocket and flicking bullets at his leisure, turned the first half into a near rout. He completed nine of 16 passes for 160 yards, and by then the score was 20-3, 39 seconds before halftime. Georgia's punting game, another of Dooley's potential weapons, had been all but negated by returns of 66, 24 and 10 yards by junior Kevin Baugh (rhymes with wow), which helped set up Warner's second touchdown run, from nine yards out, and Nick Gancitano's two field goals (of 38 and 45 yards).
On film Georgia had only seen Penn State return punts right or left, but, for the Sugar Bowl, Defensive Secondary Coach John Rosenberg installed a middle return, which worked mainly because Baugh is fast and fearless and frustrated, stuck as he is as the No. 2 flanker behind Kenny Jackson, Penn State's leading receiver. "I don't get to touch the ball too many times, and I don't like to waste them," said Baugh.
Just before halftime Georgia came back from the brink. "They were about to run us out," said Dooley. So he sent Walker in to receive Massimo Manca's kickoff. Walker had been given such hazardous duty only twice all season; he was called on Saturday because the regular return man—and backup tailback—Carnie Norris, had been suspended for breaking the team's 10:30 p.m. New Year's Eve curfew. After Manca kicked away from Walker—but out of bounds for a five-yard penalty—Walker surreptitiously changed sides with Keith Montgomery as Manca rekicked. This time Walker fielded the ball and returned it 23 yards. It was his most successful run of the game. Then Lastinger, given the go-ahead to start throwing for real rather than just to remind Penn State that other Georgia players besides Walker were permitted to advance the ball, connected with Flanker Herman Archie, who earlier had dropped two passes, at the Penn State 36. With Walker lined up as a flanker, Lastinger hit Split End Kevin Harris on a 16-yard out pattern. Harris caught the pass and lateraled to Walker, who was sweeping by at top speed. Walker ran 10 yards more before Robinson brought him down at the 10. Then Lastinger floated a lob to the left corner of the end zone and Archie hauled it in for a touchdown with five seconds left in the half.
Dooley had lamented his offensive shortcomings, mentioning the inexperience of Lastinger, a quarterback for only one year in high school and Buck Belue's seldom-used backup at Georgia for three seasons. With Belue gone, Lastinger had a difficult year, completing just 41.9% of his passes for 82 yards per game, the lowest average in the Southeast Conference. "Over the past few years, we've had several big cannons in people like Walker, Belue and [Receiver] Lindsay Scott," Dooley said. "Now we're reduced to one cannon and several peashooters."
But Lastinger was to have his best game of the year, completing 12 of 27 for 166 yards. Early in the second half he engineered a 69-yard drive with two clutch completions for first downs to Harris on third-and-long and finished it off with a one-yard touchdown plunge by Walker to bring Georgia within three points at 20-17.
Now Penn State was clearly in trouble. Not only because, by blitzing or showing the blitz, Georgia was closing down the Penn State passing game, which on Saturday was geared for long-in-developing deep routes, but because Warner, who had been hit hard in the left leg in the second quarter, was once again suffering the leg cramps that have plagued his career. After watching his close friend and roommate, Warner, hobble off the field in pain, Blackledge was twice sacked as Georgia stalled Penn State drives. Following his brilliant first half, Blackledge was suddenly, he says, "out of whack" through most of the second, being sacked more often (five times, all told) than in any other game this season and throwing a couple of balls to illusory targets.
After Robinson intercepted a Lastinger pass, his second of the game, as the third period drew to a close, Warner came back in to pick up 19 yards in two carries, then went limping off once more, again seeming to take a little piece of Blackledge with him. But Warner was back one play later and burst seven yards around left end for a first down at the Georgia 47. In the end he had outperformed a Heisman Trophy winner in a bowl game for the second straight year. Warner danced and darted for 117 yards and two touchdowns on only 18 carries, and caught two passes for 23 more yards.
"Sometimes you just have to forget the little bumps and bruises," Warner said. "It's a one shot deal. You're playing for a national championship maybe once in your life and you just have to play with pain."
With Warner hobbling off the field every couple of plays, then coming back in to break off big gainers, the Georgia defense seemed as confused as it had been at the start of the game. But at least that old Blackledge magic seemed to have vanished. He had completed but one pass, a screen, in the entire half. With 13 minutes remaining, Georgia was in two-deep coverage, with everybody else creeping up to play the run. Paterno sent in a play-action fake to Warner—six-43, they call it—with four receivers streaking toward the flags and the posts. "We felt most of the week that we could get something deep on them," said Blackledge. "Georgia had taken a lot of pride in not giving up any long passes. But they had played our receivers awfully tight, and I think they underestimated the speed of Jackson and [Gregg] Garrity."
Blackledge watched Garrity streak along the left sideline, giving a quick head and a hip to get a step on freshman Cornerback Tony Flack. "I pretty much just threw the ball as far as I could," said Blackledge. Which was 47 yards, because Garrity's fingers met the ball an instant after he launched himself off the ground, about six inches short of the goal line. He landed cleanly on the touchdown side and it was 27-17, Penn State.
Had Paterno been a bit more of a gambler, Penn State might have scored again. Midway through the fourth quarter, facing fourth-and-one at the Georgia 31, Paterno punted instead of trying a 48-yard field goal. It turned out to be a bad choice, the punt carrying into the end zone. No matter—or so it seemed—because the prospect of the national championship only steeled the Lion defense. Ashley thought he had locked it up with a ferocious sack on Lastinger to force a punt with a little more than five minutes left. Only Baugh fumbled the catch—the Lions' only turnover of the game—on his own 43.
Lastinger struck quickly with first-down completions and then turned a near sack on third down into a cross-field touchdown pass to Clarence Kay, who beat Robinson in the end zone with 3:54 left in the game. Now trailing 27-23, Georgia, which could have tied only with a subsequent field goal, tried a two-point conversion. "A tie wasn't going to do either team any good," said Dooley. Who got the call was no surprise, nor from the way things had been going, who won the play: Walker Lee applied the first hit that kept Walker, Herschel, out of the end zone.
"I know Herschel wanted to do well, being the Heisman Trophy winner and all," said Robinson, "but I think he got discouraged as the game went on. I could see it in his eyes. Not fear, exactly, but discouragement."
Whatever hopes Georgia still had were snuffed out when Blackledge completed a pass to Garrity for a first down that allowed Penn State to run out the clock. Warner, in agony and exhausted, will forever remember the feeling he had when he knew the game was safe. "I looked up, and right then it hit me that we're the national champion. That this is what we've been playing for, and now we've got it."
Next, pandemonium. Fans, photographers and players from both teams swarmed around Paterno, at one point knocking his glasses off. There simply cannot be another coach in America who deserves a national championship more than he, nor can there be any doubt about this Penn State team's championship credentials. "They are one of the three best teams I've seen in 19 years of coaching," said Dooley, the others being Nebraska of 1969 and Pittsburgh of 1976.
Still, Paterno insisted—"for the nine thousandth time"—that in his mind, his undefeated teams of 1968, 1969 and 1973 were champions as well, even if they weren't voted to the top spot in the polls. "Being No. 1 is important to our fans and our kids, but not to me," he said. What about the playoff system for college football that Paterno has been advocating for years?
"Next year let there be a playoff," he said. "This year let's vote."
PHOTO
The night's most spectacular performer, Baugh busts a punt return for 66 yards.
PHOTO
Penn State struck quickly, Warner scooting in from the two with only 2:51 elapsed.
PHOTO
Warner's second touchdown, on a nifty nine-yard cutback, made the score 17-3.
PHOTO
Walker Lee Ashley made a name for himself by riding herd on Walker, Herschel (34).
PHOTO
Leg pains cramped Warner's style, but not his fighting spirit.
PHOTO
With the Dawgs down, Lastinger put it up.
PHOTO
Blackledge came out throwing against the redoubtable Bulldog defensive secondary.
PHOTO
Archie's leaping touchdown catch at the end of the first half boosted Georgia hopes.
PHOTO
The polls say it's so, Joe: after 17 years as Penn State head coach, the national title.