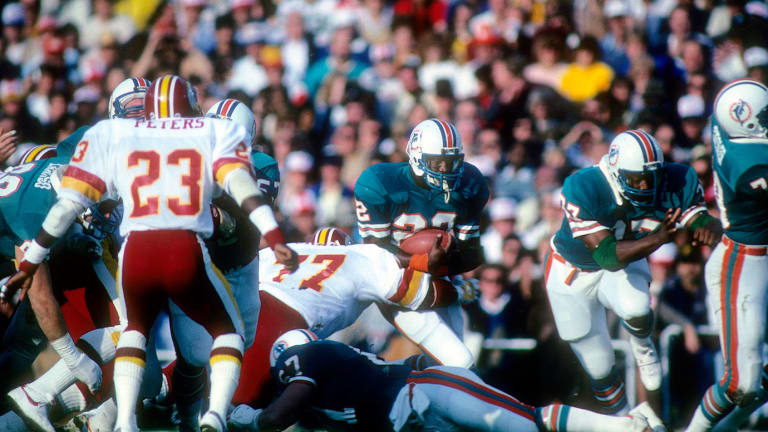 A Capital Day for the Skins
Across the 50 states, last Saturday will live as the day America's Team was exposed for what it had become, a creaking battleship that had seen its best days, its engines straining, the rifling in its gun barrels worn out. On a chill, overcast afternoon at RFK Stadium, the Washington Redskins beat the Dallas Cowboys in the NFC Championship game—roundly, soundly, as if they were Anybody's Old Team. The Republic may never be the same. But who could blame the fans in Washington, D.C. for treating the Redskins' 31-17 victory as reason for a capital celebration? It had been 10 years since the Skins had made it to the Super Bowl, and no win could be sweeter than one over the toplofty Cowboys.
Washington Defensive End Dexter Manley had predicted the outcome, but no one could have foreseen that Manley himself would have such a big hand in it. Manley, the Redskins' speaker of the house on this day, was still in football gear a full 90 minutes after the game ended. "Can I rest awhile?" he asked with a weary bow of his head. He was speaking into microphones, not to his coaches, and what the questioners wanted to hear, again and again, was how Manley had been able to predict the victory and then ensure it by knocking one Cowboy quarterback, Danny White, out of the game and ruining another's—reserve Gary Hogeboom's—visions of grandeur.
Once more, Dexter. With feeling.
"Well, it was a very emotional game for Dexter Manley," said the grinning 6'3", 250-pound second-year player from Houston by way of an outside linebacking position at Oklahoma State. "I felt someone had to make the big play." He fingered an old scar on his jaw (even it was shaped like a smile) and hissed in pain as a trainer cut tape off his left knee, which he had injured the week before against Minnesota.
"I was honestly getting mad because Dallas was moving the football," continued Manley, who had filled the air with I-hate-Dallas rhetoric all week. "My teammates had to calm me down on the sidelines. Somebody had to take charge, so I did. Broadway Joe said he'd do it and he did. Now I said it and I did it. That's all."
Manley did it to Dallas, but the Cowboys helped. Dallas' offense, under both quarterbacks, was more threatening than Washington's. The Cowboys didn't punt once after halftime. And in that second half Dallas' defense held Joe Theismann's offense to 104 yards. But the Cowboys were betrayed by their special teams, turnovers (three) and a curious new trait: Simply stated, Cowboy Cool curdled. The team got rattled.
Rookie Rod Hill muffed a punt, leading to a second-quarter Washington touchdown and a 14-3 lead. After the Cowboys closed to 14-10, Mike Nelms ran the ensuing kickoff back 76 yards to set up the Skins' third TD. Dallas still trailed by only four points, 21-17, in the final period, when Redskin Linebacker Mel Kaufman intercepted a Hogeboom (pronounced HOAG-ih-boom) pass. That was converted into a 29-yard Mark Moseley field goal. Finally, Manley and Defensive Tackle Darryl Grant turned another Hogeboom pass into the Redskins' clinching touchdown.
The Cowboys dropped passes, slipped on pass coverage, tackled politely and made themselves generally available. The Redskins stuck anything mobile and committed no turnovers. "The breaks were ours," said Manley. "We were lucky and good."
The Cowboys came out firing. White completed four passes in a picture-book 14-play drive, halted only when his pass to Drew Pearson on a slant-in pattern in the end zone was knocked away from behind by Cornerback Vernon Dean. The Cowboys settled for three. Then the Redskins, behind Fullback John Riggins, set up shop.
Washington's offensive line—the so-called Hogs, who tolerate no slop—had worked on a new blocking scheme for the Cowboys that involved double-teaming the defensive tackles, notably Randy White, and forcing Middle Linebacker Bob Breunig to bear the brunt of Riggins' tilting rushes. Sometimes the double team was accomplished with an old Cowboy ploy—putting the tight end in motion and having him cut into the line in front of the ballcarrier. Riggins thudded for 43 yards on just five carries in the first quarter, setting up Theismann for a 19-yard touchdown pass to Charlie Brown, who beat Cornerback Dennis Thurman to the post with 1:55 left. Riggins, who finished with 140 yards on 36 carries, scored himself on a one-yard run in the second after Hill's muff of a towering Jeff Hayes punt gave the Skins the ball at the Dallas 11.
The crowd of 55,045 was at full throat when White trotted out on the field with less than a minute left in the half and the Cowboys trailing by 11. Earlier, both Roger Staubach, the former Cowboy quarterback and near-deity, and John Madden, the former Raider coach who's now a CBS analyst, had decried the criticism White had received for failing to get the Cowboys to the Super Bowl in 1980 and '81. "Danny White's taken a bum rap," Madden had said. "He's a tough, exceptional quarterback. But if the Cowboys win, nobody will say it's because of Danny. It'll be the organization. And if they lose, it'll all be Danny's fault."
Staubach said, "Danny White was 12-4 in his first season as a starter [1980], and that spoiled people. He has them in the Super Bowl last year if the defense holds the lead against San Francisco. I haven't talked to him. He has a little disdain for me now. I feel terrible about it. I had lots of help and a better defense when I was back there."
Still, White had beaten the Redskins five straight times since replacing Staubach. Now, executing with a cold vengeance, White completed three straight passes to take Dallas from its 20 to the Washington 32 in 34 seconds. Who's to say redemption wouldn't have been his, but for Dexter Manley?
First down, and White faded back. Manley stunted, looping behind the defensive tackle next to him, Perry Brooks. "I lost [Cowboy Tackle Pat] Donovan, and then put a move on the guard," Manley said. Tony Dorsett (15 carries, 57 yards) drifted outside to guard against a blitz by Linebacker Monte Coleman. Manley, unchecked, was at top speed in four steps. White had cocked the ball, then pulled it down, but his left foot was still forward. He was a duck on a pond, and Manley engulfed him.
The tackle was so devastating that Manley himself feared for White. "It was definitely a good hit," he said. "I thought something was broken." Nothing was broken but White's mental circuitry. He had suffered a concussion. "I don't remember anything," he said afterward. "I'm still dizzy. The play? Hell, I don't remember the day."
White left the field walking but had to be helped inside at halftime. Hogeboom had come in to throw, and complete, one short, meaningless pass before time ran out in the first half. The crowd flat assumed there would be a Washington victory now, and so, perhaps, did some of the Skins. But Manley said, astutely, "I think it motivated Dallas when White went out."
Cowboy Coach Tom Landry made adjustments at halftime, and Dallas played a Dallas third quarter. Defensive End Ed (Too Tall) Jones pinched inside with effect, Randy White shook the double-teams, and Anthony Dickerson gave the Cowboys sound linebacking. Riggins gained only 10 yards in the quarter, and Theismann, who would throw for just 150 yards on the day and be sacked three times, tap-danced for his life.
As the Redskins stagnated, Hogeboom looked like a world beater. A fifth-round draft choice and former option quarterback at Central Michigan, Hogeboom, 24, is the Cowboys' secret weapon, much as White once was. "He can throw the football as well as anyone, anywhere," says Gil Brandt, Dallas' director of player personnel. He throws it so well the Cowboys tore up a $50,000 contract and gave him a three-year $600,000 deal to understudy White. Hogeboom had thrown only eight passes all season, but he ripped the Washington secondary to shreds on the Cowboys' first two second-half drives, both of which ended with scoring passes. The first was a six-yard out to Pearson. That was negated by Nelms's return and Riggins' subsequent scoring run of four yards.
Hogeboom came right back, concluding his second drive with a 23-yard clothesline over the middle to Butch Johnson. "They have a good defense," said Hogeboom, "but it's a defense you can read and take advantage of, if you do things right." For a time, Hogeboom could do no wrong. As the Redskins' corners softened, Hogeboom completed five straight third-down passes for first downs, most of them coming on sideline throws the Redskin defenders couldn't deflect. The manic home crowd was becoming uneasy. It sensed what Manley was sensing; something precious was slipping away.
"You relax when a backup is in there," said Dean. "We knew their blitz adjustments were outs [quick pass patterns to the sidelines], but Hogeboom got the ball there anyway. I would have preferred White. Him we know." Safety Tony Peters disagreed. "It doesn't matter who quarterbacks that team," he said. "Just get a guy who can pass and hand off. But if Danny's back there, it's more of a threat. Experience."
On Dallas' third possession in the third quarter, Running Back Timmy Newsome dropped a Hogeboom pass in the open field at the Washington 37, the first Dallas flub Hogeboom had to contend with. So much for Drive No. 3.
"We had to change defenses, blitz more, do something," said Kaufman, a second-year free agent from Cal Poly-San Luis Obispo who ordinarily gives way to Coleman in passing situations. But Coleman had strained a hamstring, so when Dallas held Washington and got the ball again early in the fourth quarter, it was Kaufman who dropped into the short outside zone in the Redskins' "Bear Man" defense on first down from the Dallas 32. Hogeboom forced the ball toward Tony Hill. Kaufman intervened, making a leaping, twisting interception, his first of the season. The disruption of Hogeboom's rhythm was more important than the field goal that followed.
So the game was on the table, 24-17 Washington, 7:12 left. On the Cowboys' first play, from the Dallas 20, Landry called a weakside screen to Dorsett, but Hogeboom mistakenly called strong side. "The play should have gone to the other side," said Dorsett. "I still felt if I had gotten my hands on the ball it would have been a long run."
Instead, there was a grand bit of defense. Hogeboom's play-action fake was good—"Too good," said Donovan. "Nobody rushed." Grant squared up, disrupting Hogeboom's sight lines, and Manley made his move.
"I faked going with Dorsett," Manley said. "That threw the passer off. Then I charged." Manley descended on Hogeboom like a bad dream.
"I thought I could get it over him," said Hogeboom.
"The ball hit my palm," said Manley. "Darryl was in the right place at the right time."
The 6'2", 265-pound Grant is a reconstructed Redskin offensive guard who had played four positions at Rice, none of them running back. But he plucked the ball from midair and stepped out of tackle attempts by Tony Hill and Dorsett, high-kicking in the best Joe Washington style for 10 yards and a touchdown. He could have run to Pasadena. "The icing on the cake," said Dorsett.
Hogeboom was, understandably, a little shell shocked. But he came back to throw two beauties to Pearson and Johnson, reaching the Washington 38. Then, however, he threw three ill-advised balls, ending with a last-ditch fourth-down pass that sailed far out of bounds as Hill watched hopelessly at the left sideline. The stadium rocked.
Last year, after losing in the championship game to the 49ers, the Cowboys were angry. They felt they had let the game get away. This year they were beaten and they knew it. Pearson said, "We were playing for the Super Bowl. The Redskins were playing for respect. They got both."
And Manley had another prediction. "Whoever I go against in the Super Bowl, I think I'll beat him," he said. "No, I think I'll dominate him." America, take note. That's from Washington, but it isn't hot air.
PHOTO
Riggins got double-team blocking on the Cowboy tackles and rumbled for 140 yards.
PHOTO
Too Tall just wasn't tall enough to cut down the passes of the Redskins' little Joe.
TWO PHOTOS
Hogeboom did his best to lower the boom on Washington, throwing for two scores, the second a rope to Johnson in the end zone.