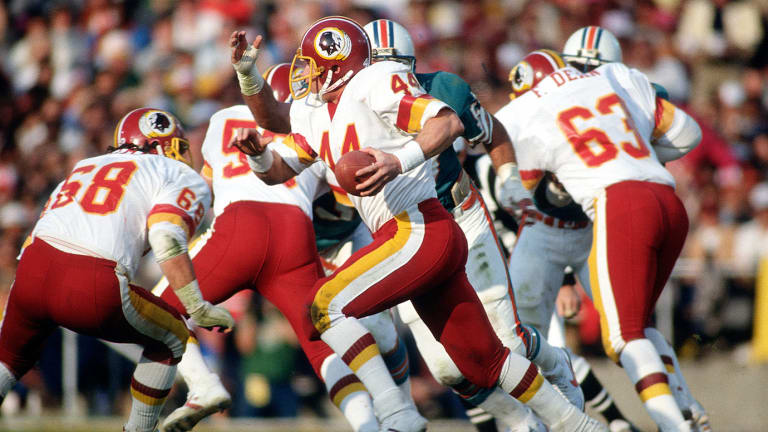 Hail to the Redskins!
Hail victory! And good grief! The whooping began after good young Charlie Brown (87) scored the clinching TD against Miami in Super Bowl XVII
Super Bowl XVII—the game, the week preceding it and its aftermath—was molded in the image of John Riggins. It bore his stamp right from the opening gun, the Tuesday Picture Day, when the Redskins' fullback implacably stared out over his sea of questioners, his eyes fixed on a distant point somewhere between Anaheim and the California coast, and it carried his signature last Sunday night when he stood on a platform in the steaming press tent and acknowledged his selection as MVP after Washington had knocked off Miami 27-17.
What he had done on that long day's journey into night in Pasadena's Rose Bowl was grab modern NFL football by the scruff of the neck and toss it a few decades back into a simpler era—big guy running behind bigger guys blocking.
First his numbers: 38 carries for 166 yards, one pass reception for 15. The entire Miami offense consisted of 47 plays for 176 yards. Both of the Riggins rushing figures were Super Bowl records; the carries set a personal mark.
He broke the 43-yard touchdown run that gave the Skins the lead, at 20-17, in the fourth quarter, and he carried on the first five plays on their next drive and on eight of the 12 snaps overall as they put the game away. And he did all this against a Dolphin defense that was supposedly set up to stop him.
He'd certainly given enough warning. His three playoff games had produced a work load of 25, 37 and 36 carries, with the yardage comfortably above 100 each time. And if those performances hadn't put Riggins firmly in the front of everyone's mind, he made sure folks knew he was around during the pre-Super Bowl week by posing for some memorable portraits: Riggins, in camouflage pants with an elephant gun belt buckle, wows a packed ballroom at the Wednesday media session, the first time in Super Bowl history a player has taken the mike for an individual press conference before the entire house; Riggins stops the show again on Thursday; resplendent in white tie, top hat and tails, he draws a standing ovation at Redskin owner Jack Kent Cooke's party on Friday night.
The game had other elements, of course. The Redskins tried a whole battery of fancy stuff in the first three quarters: a flea-flicker off a reverse, another one off a straight hand-off and pitch-back, a tight-end reverse, roll-outs and half rolls and crossfield screens, even a brand-new stunt called the Explode Package that had all five eligible receivers shifting before the snap. But all of it merely served as an appetizer for the meat-and-potatoes main course—Riggins and those big Hogs in front of him.
The Skins played superb defense. They forced young David Woodley to throw too soon, stuffed the Dolphin runners and got the Miami offense off the field in a hurry, setting up a much too long afternoon for the Dolphin defense. But in spite of all this, the score was still 17-13, Miami, in the fourth quarter, when Riggins went to work.
The crucial drive started on the Skins' 46 with 11:43 to play. Riggins hit the left side for seven yards, over the blocks of 295-pound Tackle Joe Jacoby and 242-pound Tight End Don Warren. Then Dolphin End Kim Bokamper stopped Riggins after a yard gain, and Clarence Harmon carried for a yard. Facing a fourth-and-one, the Dolphins called time out.
"I could tell the Dolphins were tired," Jacoby said of the Miami defense. They'd been on the field almost the whole second half. I could see by their breathing how tired they were, the way their chests were heaving and the steam was coming off them."
Dolphin Middle Guard Bob Baumhower was limping slightly; Bokamper, who had to be helped off the field after that stop of Riggins, now came back. "Bob had been kicked in the leg," Inside Linebacker A.J. Duhe said. "Bo had gotten a jammed neck when Jacoby stuck him one time. Maybe we were tired, but that's life. When you're put in that situation, you've got to answer the challenge. All season long, we've made big plays when we had to."
The Skins called the same play they'd called before the time-out—70-Chip, Riggins off the left side, behind the short-yardage blocking back, a chunky, little 214-pounder named Otis Wonsley, and the 240-pound extra tight end, Clint Didier. It broke cleanly. The only Dolphin who had a shot at Riggins, Cornerback Don McNeal, who had followed Didier in motion right, slipped as he reversed direction and could only attempt an arm tackle on Riggins. McNeal bounced off the Skins' fullback, and it was clear sailing for Riggins. At the end of the 43-yard run he was pulling away from Safety Glenn Blackwood, a rather astounding show of speed by a 230-pounder on his 30th carry of the day.
"John always had amazing speed," Washington General Manager Bobby Beathard said. "I remember watching him run in one of those professional track meets in the early '70s when he was with the Jets. They ran one of those special football 40-yard dashes, electronically timed, and he ran against the Broncos' Larry Brunson and the Raiders' Cliff Branch, two of the fastest men in the NFL, and the shotputter, Brian Oldfield. I'll never forget what John was wearing—suspenders, black socks and striped Olympic Speedo swim trunks. He looked like nothing you'd ever seen, pounding down those boards, big as he was. Anyway, he beat Oldfield by a lot, and he wasn't that far behind Branch and Brunson. His time was something like 4.6."
And that's something people don't remember about Riggins. In his Jet years, before then-Redskin Coach and General Manager George Allen signed him as a free agent in 1976, Riggins was a different animal than he is now. Power was only part of the package. Speed, finesse, balance, combined with excellent pass-catching ability, made the picture complete. "A white Jimmy Brown," was how one scout described him when the Jets drafted him in '71. "He'd catch that swing pass and turn upfield, and you'd see sheer terror in the secondary," said Washington Assistant Coach Dan Henning, who was on the Oilers' staff in '72.
Oddly, the one knock on Riggins was lack of stamina. He wasn't a big horse who'd pound the tackles for 20 or 25 carries until everyone got tired except him. He wasn't a blocker, either; the Jets' attack featured 207-pound Emerson Boozer blocking for Riggins, not vice versa. He was a thoroughbred, and occasionally he'd get tired.
There was a story making the rounds during the playoffs, one of those vignettes that quickly achieves classic status, about how Riggins approached Washington Coach Joe Gibbs before this year's first playoff game and requested more action. "I need the ball," he told Gibbs. "You've got it," Gibbs said. And the result was 136 carries for 610 yards, probably the heaviest four-game work load for any back in NFL history, ending in his iron-man stint in Supe XVII.
But if you'd looked carefully, you could've seen this coming. In Riggins' eight regular-season games—he missed one with a thigh bruise—he averaged 22 carries, including two in which he had more than 30. Never in his 10 previous NFL seasons had he run the ball so much. The most carries he'd ever averaged over the course of a season was 17, in his early days with the Jets.
There were other things different about him, too. He'd been a loose kid, with a puckish way of looking at things. He laughed a lot. Once he painted his toenails green before a game. On draft day, when a writer asked him to recount his No. 1 sports thrill, he said, "Watching my neighbor's pigs being born." In '73 he held out during the exhibition season, then got a Mohawk haircut and finally shaved his head completely. His explanations were imaginative and never disappointing—and never the same. The best of the two dozen or so he offered that year was: "In the off-season I got to observe quite a number of freaks, firsthand. I always wondered what it would be like to be treated like one of them. Well, this is the way I found out."
He doesn't smile as much these days; in fact, he hardly smiles at all. The sense of humor is still there, but there's more bite in it now, with an underlying layer of bitterness. He smiled once during his postgame press conference Sunday, and he came close to smiling a second time when someone asked him, "Are you doing it any better now?"
"I don't know; you'll have to ask my wife that," he said.
He smiled when someone asked him if it had worried him to go into a game knowing so much was expected of him.
"I was camping out one night with an old fella named Glenn Jenkins back in Centralia, Kansas," he said, "and I could hear the coyotes howling, and they sounded like they were getting mighty close. I asked Glenn if he felt nervous, and he said, 'I've probably killed 200 of them. It doesn't exactly raise the hair on the back of my neck.' It's like NFL games. I've probably gone through 130 of them, and they don't exactly raise the hair on the back of my neck."
The Redskins are very protective about their one-man ground attack. During the post-game TV interviews Sunday, NBC's Mike Adamle, who teamed with Riggins on the Jets, was talking to Cooke and said, "I played with Riggins. He was crazy then, and he's still crazy."
"That's not fair, Mike," said Cooke. "He's not crazy at all."
"John's contract is up this year," said a writer watching the monitor. "They'll find out how crazy he can be."
Riggins' first brush with contract inequalities came in New York in '73, when he asked for the unheard-of sum of $150,000. Joe Namath was making $250,000. No other Jet had ever gotten more than $50,000. Using a locker near Riggins' the two years before had been Matt Snell, the best running back in the club's history, whose final salary had been $47,500. Riggins watched Snell's career end with a ruptured spleen when he caught a knee while blocking as a member of the wedge on the kickoff team. "They use you until your can of gasoline is gone," Riggins said, "and then they throw you on the junk heap."
He settled for $70,000 that season. Three years later he went with the Skins for $300,000, but he paid the price in a lack of identity. Allen stationed him as the up-back, the blocking back, in an I formation in which he was responsible for blocking for Mike Thomas. Riggins was a thoroughbred who had been hitched up to a milk wagon.
Jack Pardee replaced Allen. Riggins tried to renegotiate his contract in 1980, failed and dropped out of football. Joe Gibbs replaced Pardee. Riggins returned to Washington at Gibbs's behest in 1981.
"In camp he'd finish his morning workout and strip down to shorts and track shoes," Beathard says, "and he'd run intervals, all by himself. He'd do quarter miles, run one, jog one. I started timing him. He was running 10 quarters in 75 seconds each, an incredible pace. I'm a runner and I couldn't do that. Then he'd take a shower and have lunch."
By this season's playoffs a new Riggins had emerged, a workaholic fullback who said he needed 15 to 20 carries to warm up. His rushes mounted and the Skins thrived. Washington established a new pattern that was repeated elsewhere in the playoffs: Use the pass to set up the run. Throw early, get the defensive linemen tired trying to rush the passer and then hammer them with your big back. The playoffs produced a rushing renaissance. In 14 of 15 games, the team that ran for the most yardage won. The only exception was Dallas-Green Bay, and in that one a single play tipped the balance, a 71-yard end around by James Lofton. So it was in the Super Bowl. The Dolphins had been set up by Gibbs's bag of tricks, but when it was time to win the game, the infantry took over.
It was the kind of thing no team understands better than the Dolphins. Hammer football had been their modus operandi in their most successful seasons, and when the Super Bowl was over they didn't complain that a break here or there had cost them the game or that the better team hadn't won.
They could have, for instance, mentioned one huge play late in the third quarter when the Skins were on their own 18 and Joe Theismann's pass intended for Charlie Brown in the flat was tipped by Bokamper. He settled under it dangerously near the Redskins' goal line, and threatened to do what Duhe had done in scoring a TD in the AFC title game against the Jets. Chasing his own throw, Theismann barely deflected the ball, and the Dolphins' lead remained at four points.
Afterward, Miami Coach Don Shula didn't dwell on such misfortunes. Neither did he talk much of the formations and stunts the Redskins tried earlier in the game. "Their scheme, and it's something I'm sure Gibbs brought from San Diego and Don Coryell, has been constant movement," Shula said. "I thought we were prepared for it. The bottom line is that, despite the fancy things they tried, it was the pounding, the old-fashioned stuff, that did us in."
"Their way is what we called Dolphin football," said Left Guard Bob Kuechenberg, the only holdover from Miami's Super Bowl champions of 1973 and '74. "They controlled the second half and they're fitting world champions."
"You look at the play-by-play," Theismann said, "and you'll see: Riggins off-tackle left, Riggins off-tackle left, then maybe a little Riggins off-tackle right, an occasional pass by me, then Riggins left, Riggins left, and one more Riggins left. I imagine if we were still out there we'd still be running Riggins left."
The first quarter belonged to Miami, thanks to one play—76 yards, Woodley to Flanker Jimmy Cefalo for a TD—in which the Dolphins caught the Skins in the perfect defense, a zone in which Cornerback Jeris White had the force, or short coverage, and Strong Safety Tony Peters was supposed to come off the tight end and pick up the deep zone. Cefalo caught the ball between them along the sideline at Washington's 45 and took off. "We were waiting for them to come back to that play all day but they never did," Peters said. "I guarantee you next time we'd have played it better."
The Redskins put up 10 points in the first half, and they had to work for them. The Dolphins got one drive for three points and then a quick seven on Fulton Walker's 98-yard kickoff return, a Super Bowl record. There was time for one more Washington drive and the Skins screwed it up, letting the clock run out on them on the seven-yard line when Alvin Garrett failed to get out of bounds after receiving a little hook pass. It was 17-10 Dolphins at the half, but things were looking iffy for them. The Redskins had run 35 plays to the Dolphins' 22, and during the half it was time to start computing in the fatigue factor. Miami's offense had showed no consistency, and in the second half the Redskins had the Dolphins' number.
Miami had the ball on seven possessions after the intermission, and five of them were three-and-out. They picked up two first downs and 34 yards, total. "The Skins played a stunting, gambling type of defense," Kuechenberg said."They presented us with situations we'd been in before, but it just seemed like they had our rhythm. They had us."
By the end of the third quarter the Dolphin defense was hanging on by its fingernails. Duhe cutoff one drive with an interception. Lyle Blackwood intercepted a bomb off a flea-flicker on his one-yard line. "A great interception—for us," Gibbs said. "Better than a punt."
A TD by Bokamperon the play on which Theismann knocked the ball away might have saved the game for the Dolphins—the Skins would have needed two TDs in a little over a quarter—but there's no guarantee of that, because the Miami defense was awfully tired.
Some of Gibbs's stuff had confused the Dolphins enough to keep them from overplaying Riggins.The topper was the particularly zany Explode Package, in which the five eligible pass receivers lined up in strange places, jumped into different locations and took their prescribed one-second pause. As usual, a receiver then went in motion.
"We put it in at 3:30 a.m. Thursday morning," Washington Offensive Coordinator Joe Bugel said. "It was at the end of our coaches' meeting. We were trying to think of something special. Someone would make a suggestion. It didn't click. Then someone would make another. We'd have a cup of coffee, a candy bar. All of a sudden Coach Gibbs said, 'How about moving everybody?' And one guy said, 'Now you're talking.' And the Explode Package was born. That morning at 10 o'clock we presented it to the team. Coach Gibbs diagrammed it and said, 'Men, we call this Explode!' and there was this yell throughout the room: 'Yeeahhh!' It sure got their attention."
The Skins used the Explode about five times and got two short touchdown passes out of it, a four-yarder to Garrett in the second quarter and the final TD, a six-yarder to Brown, at the end of the game. Both came out of an alignment in which the two little guys started out together, almost in single file, then split and crossed into the end zone. Both times the coverage was close. Maybe the formation provided a split second's indecision, maybe it didn't, but it didn't hurt.
Gerald Small, the right cornerback, ended up with the coverage on both touchdowns. The first one was a little fade pattern, in which Garrett ran to a spot and Theismann dropped the ball on him. The second was a crisscross in which Brown started inside and then cut for the corner. Small caught up to him the moment the ball arrived and gave him a mighty push out of bounds, but the official ruled Brown had been forced out, and the touchdown stood.
The point is that however they did it, the Redskins wound up with the coverage they wanted both times—Small on the hot receiver.
Some of the wrinkles were more subtle. Warren, the regular tight end, occasionally would go in motion. Rick Walker, the second tight end, who sets up behind the line and who had been going in motion all year, stayed put.
"It's the first time we did that all year," Gibbs said. "The idea of the reverses, the flea-flickers, the Explode, was to keep them loose, to keep them from getting after John. We wanted a situation where John could get decent yardage on first down so we wouldn't have to throw when they were expecting it. In the second half we accomplished that. Give the offensive line credit for a lot of that.
"We got fancy on a third-and-one in the first half because I made a mistake. I thought it was third-and-two, so I sent in our passing unit. By the time I realized we only needed a yard it was too late. [While rolling out Theismann got stuffed by Linebacker Larry Gordon and Baumhower sacked him.] The tricks didn't win it for us. We won it by being mentally tough, by creating the situation where our big guy could put it to them."
The final summation: The 14-0 Dolphin victory over the Jets may have hidden a few things, particularly the inconsistencies of their attack and the lingering fact that they did finish 24th in the NFL against the run. The Redskins' forward wall—the Hogs, and of course Riggins, the honorary Hog—wore them down.
Shula waited until his final possession, with 1:48 left, to replace Woodley ("I couldn't do a goddam thing") with Don Strock. Maybe Dan Fouts could have gotten something going then, but Strock couldn't get any touch on his throws in those final, desperate moments.
"Why didn't you bring him in with 9:52 left?" someone asked Shula. That was after Riggins' go-ahead TD.
"I thought of it at the end of the third quarter," he said. "But with 9:52 left I thought I'd give David one more series. Then they held it for seven minutes...."
In the press room they were murmuring that Gibbs, in his second year as an NFL coach, had outcoached Shula, that he had accomplished something against a Bill Arnsparger defense that almost never happens—he had beaten it primarily with one man, Riggins. They mentioned to Gibbs that in one three-week series he had beaten a trio of coaching legends: Bud Grant, Tom Landry and Don Shula.
Gibbs took off his glasses, rubbed his eyes and smiled. The ghosts of last year's heroes, the4 9ers and Coach Bill Walsh, might have been whispering to him to be careful. "The truly great people in this profession are great for years and years," he said. "Let's see how I am in 10 years."
"What about Riggins, Coach?" someone asked, and this time there was no hesitation.
"What sets John Riggins apart," he said, "is a champion's heart."