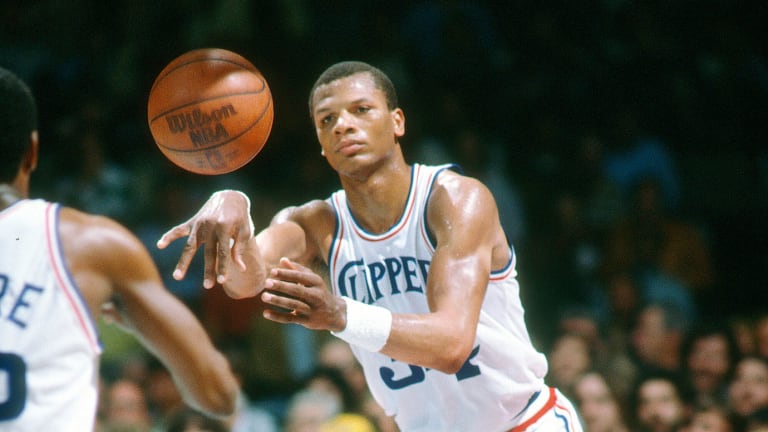 At the Head of His Class
Terry Cummings is preeminent among a trio of NBA rookies who graduated early to the pros and have more than made the grade
When seven prominent college underclassmen dealt themselves into last June's NBA draft, it was a cinch that one of them would become this season's Rookie of the Year. Considering that the 1982 seniors were a lackluster group, the younger players were clearly the cream. And it was also a good bet that the No. 1 pick—whichever of the underclassmen he turned out to be—would not win the award. No top draft pick had done so since Milwaukee's Kareem Abdul-Jabbar—Lew Alcindor then—in the 1969-70 season.
Sorry, James Worthy, but at the All-Star break of the 1982-83 season, history is repeating itself. He's having a year to match his name, and only an idiot would say the Los Angeles Lakers erred in making him the draft's No. 1 choice, but the smart money has the San Diego Clippers' Terry Cummings, the No. 2 pick, way out front in the rookie race and perhaps even the Indiana Pacers' Clark Kellogg ahead of Worthy. Not that he's doing poorly, but he had the bad/good—and unprecedented—luck to be drafted by a championship team. Cummings and Kellogg, like most top rookies over the years, were chosen by tail-end clubs that needed them as starters right away. So, the fact that Worthy's getting only 25.3 minutes of court time a game as a sub for the world champion Lakers is working against him. So, too, is the fact that Cummings and Kellogg may be just as good or better players than he is. Just who is the best won't be known for a couple of years, but two things are certain now. All three of these players are fast rising stars, and should Worthy become a No. 1 pick who isn't the No. 1 rookie, he'll be in fast company. Bill Walton, to name another notable top choice, didn't make Rookie of the Year, either, nor did Magic Johnson or Mark Aguirre.
Aguirre was the first selection in 1981, going to the struggling Dallas Mavericks in the second year of their existence. Although he averaged 18.7 points a game, he was overshadowed by another Mav rookie, Jay Vincent, the 24th pick in the draft who averaged 21.4 points a game, and New Jersey's Buck Williams, who was selected as Rookie of the Year. That may have hurt Aguirre's pride, but it certainly didn't damage his game. He's now a star in Dallas' playoff drive; through week's end he was averaging 25.1 ppg, fifth in the NBA.
So hang in there, James. That you could be one of the best players to come into the NBA in the last decade and still finish third in the rookie voting isn't as preposterous as it sounds. "When you're talking strictly about Rookie of the Year," says Indiana Coach Jack McKinney, "potential shouldn't count. It should be based on production and the impact a player makes on his team. But if you are talking about potential, Worthy could be the league MVP some day. Let me put it this way. If I had to choose one player to build a team around from among those three, I'd be happy to have third pick."
The other classy undergrads—Chicago's Quintin Dailey, Detroit's Cliff Levingston, Kansas City's LaSalle Thompson and Atlanta's Dominique Wilkins—are close to the big three in skill but lag behind them in court sense, which means they're not yet mature enough to perform well night in, night out at the pro level. Cummings, Kellogg and Worthy can all play both the big and small forward positions, and all complement their finesse games with hard work on the boards. In fact, as of last week Cummings and Kellogg were among only four NBA players averaging 20 or more points and 10 or more rebounds a game. The other two are Moses Malone and Larry Bird. Kellogg is probably the most versatile rookie and Worthy the quickest, but Cummings has the most charismatic game.
There was a time when it looked as if Cummings, like Aguirre a product of DePaul, might not play in the NBA this season. The Clippers, under the bizarre ownership of Donald Sterling, had become such a laughingstock—they held their training camp at a naval base, with players doing their own laundry—that Cummings and his agent, Tom Collins, insisted on a mere one-year contract so Cummings might be able to change teams after this season. It wasn't until a week into the schedule that a four-year deal was worked out and Cummings finally joined the Clippers. Coaches consider the training-camp period and exhibition games vital to a rookie's development, so naturally all Cummings had done through last week was score 23.0 points per game (12th in the league) and grab an average of 10.3 rebounds (12th best).
Cummings scored 19 points against Milwaukee in his first pro game, and it has been smooth sailing ever since, with one unnervingly dramatic exception. During the third period of a game with the Utah Jazz on Dec. 15, Cummings suddenly fainted; he did a genuine Gone with the Wind-type swoon right out there on the court. It was determined that he passed out because of an iron deficiency in his diet. A few iron tablets corrected that, and Cummings has been keeping his strength up since then by eating up the league's top forwards.
Cummings is a sinewy 6'9", 220 pounds, and though there was some concern at first that he might not be able to contain smaller, more mobile forwards, he has made his size work in his favor. "When I play a small forward," he says, "I have to keep my body on him all the time. Hit him, wear him down. But on the other end, with a small forward sticking me, I've got him. He's mine."
Cummings grew up on the South Side of Chicago, the fifth of 13 children, in circumstances so mean his mother had to sell Girl Scout cookies to keep the wolf from the door. For a long time he dreamed about becoming the first black professional hockey player, a sort of ebony Stan Mikita, the Chicago Black Hawk who was his boyhood idol. Then, when Cummings was 14, he sprouted up so rapidly, putting on 5½ inches and gaining 56 pounds, he was sometimes unable to go to parties because he didn't have shoes that fit. Subsequent winters found the erstwhile hockey fan playing hoops on a mixture of packed snow and sand, sometimes as long as seven hours a day.
For all his muscle, Cummings has shown he's more than just a power player. "He's really surprised me with his ballhandling," says Clipper Coach Paul Silas. "If we have problems bringing the ball up, we just clear the way and let Terry do it."
Cummings is the only ordained Pentecostal minister playing in the NBA, and no doubt one of the very few players who spend their free time studying the Bible and preaching the gospel. "A lot of great players don't have any motivation," he says. "I do. I want people to see the Christ in me."
He has also adapted to his team much faster than most rookies, particularly those in position to become instant high scorers. The pivotal game in this process was played in Dallas on Dec. 11. Cummings decided to find out if the Clippers' plays really worked and whether he'd still get his share of shots if he ran them religiously. "When I first came to San Diego I was going one-on-one all the time," he says. "Then I began to struggle with the question of when I should take my man and when I should pass off. I feel if I can't be honest with myself and be honest with God, then I can't be honest with anybody." At the end of the first half in Dallas, he had scored only three points, but Cummings remained patient. "It takes something to do that," he says, "because at that point I was saying to myself, 'I don't know if this is going to work.' But it did. We moved the ball, and I learned I can stay within the offense and still get my shots." In the third period he scored 10 points and got 10 rebounds, and he has patiently been trying to stay within Silas' scattershot patterns ever since.
Though Cummings hasn't been able to transform the Clippers, who have been last in the Pacific Division all season, into instant winners, with him they are only a couple of good players away from being a real force in the division, especially now that Center Bill Walton seems once again to be healthy and is playing every game. But even with San Diego's future looking good, Cummings finds it a struggle to abide the present. "They talk about winning here," he said early this season, "but they talk it with their mouths and not with their hearts. They got to get their hearts pumping positive." But if the Clippers can't get them pumping positive, they should at least get them pumping iron. Cummings proved that last month when he went back to Utah, remained conscious for the entire game and laid a 27-point, 24-rebound number on the Jazz as the Clippers won 122-115 in overtime. It was clearly his best performance yet.
Cummings has been such a virtuoso this season that Kellogg, who quit Ohio State after his junior season, hasn't gotten all the attention he deserves. While he's scarcely one to blow his own horn, he does allow that Cummings might not be the only first-year player of distinction in the league. "I don't think there's been anything about his year that would make him a shoo-in for Rookie of the Year," says the 6'7", 224-pound Kellogg. "In my own humble opinion, I'm as good a player as Terry Cummings."
Coming from Kellogg, that appraisal means a lot because appraisals are Kellogg's business. Before each game, for instance, he looks at things like an opposition player's shooting ability, his quickness, the size of his family, his job prospects after basketball, whether he smokes or has a history of heart disease. All the usual stuff. Kellogg can't help thinking these things because he's a licensed insurance agent. The clock is always ticking down on a basketball career, but annuities are forever, "It makes me look at everything in terms of insurance," says Kellogg, who has been hustling policies since he was 18. The insurance business has taught him a lot about human nature and life itself. "For instance, the only benefit to buying a lot of life insurance comes when you die," Kellogg says, "and it's hard for some people to relate to that."
Relating to Kellogg's slick game would be no problem for people—if people ever came to the Pacers' games, which they don't. Indiana is one of the worst draws in the league, both at home and on the road, which means that Kellogg, who was only the eighth player taken in the draft, has toiled in undeserved obscurity. Wilkins has already received far more attention than Kellogg will in a career in Indianapolis, even though Wilkins is not nearly as well rounded a player as Kellogg.
"Clark is a little bit like Moses Malone," says George Irvine, Indiana's astute assistant coach. "He'll shoot, miss, and go right back up. He has an incredibly quick second jump, which is why he's such a good offensive rebounder." Through 50 games he had more offensive rebounds than seven of the top 10 board men, and a remarkable 39% of his rebounds had been offensive. He also led the Pacers in steals with 85.
Because he plays in Indiana, Kellogg is often compared to George McGinnis, the 6'8", 235-pound forward who was probably the best Pacer of all time. But McGinnis used his strength like a bludgeon; Kellogg is more fluid handling the ball, and he seems to be floating when he's actually going hard to the basket. His teammates tease him about being a natural point guard because he loves to dribble and shoot from outside, but he's most effective when he sets up low and powers past people. "He's smoother than Cummings," says Phoenix' Maurice Lucas, who knows something about playing power forward. "He just throws the bail up, and—boom!—he goes after it."
Kellogg is just now beginning to regain some of the notice he lost by being stranded in an unimaginative program at Ohio State. At Cleveland's St. Joseph High School he had been regarded as a young Magic Johnson, but he became frustrated on Buckeye teams that were loaded with talent but had no direction. Despite leading the Big Ten in rebounding, and placing third in scoring his junior season, Kellogg had seemingly been forgotten. "Coming out of high school, I was mentioned in the same breath—even ahead of—guys like Wilkins, Cummings and Worthy," Kellogg says. "Things never seemed to work out at Ohio State and I fell off a little in the publicity. But I think it will all come out in the wash. The recognition these other rookies are getting will die down, and then I'll get my share." Kellogg isn't worried. "I guess you could say I walk that thin line between being confident and cocky," he says. And besides, he knows talent is the best insurance policy of all.
Not even talent has been enough to help Worthy crack the Lakers' starting lineup, and in the natural order of things in the NBA, that should have Worthy talking to himself, if not to his agent. There was some concern before Los Angeles drafted Worthy about how he would react to the limited playing time he was sure to be stuck with as a rookie. Would Worthy, fresh from a starring role on the North Carolina 1982 NCAA championship team, be happier headlining in Cleveland or learning in L.A.? If the Lakers wondered, they got their answer during their first meeting with San Antonio this season. Just before being taken out of the game after one of his typically brief appearances, Worthy scored a crucial basket. He exuberantly high-fived back to the sidelines, catching every teammate with some skin along the way. Finally, running out of hands to slap, Worthy turned to the press table and offered an open palm to surprised reporters. If Worthy wasn't having fun, he was hiding the pain surprisingly well.
Laker Coach Pat Riley has almost certainly lost more sleep over Worthy's meager playing time (through last week he had averaged 12.4 points and 4.5 rebounds a game as Kurt Rambis' backup) than Worthy has. "James is probably a better player than Kurt," Riley says, "but Kurt's a better power forward for this team, physically and psychologically. If James played 35 minutes, he'd score 23 points and have 10 boards a night. I think he sees what he has ahead of him, and I think it helps that he sees Michael Cooper and Bob McAdoo not saying anything, even though they don't get the minutes they deserve, either."
Riley feels that Worthy, who's 6'9", 219 pounds, is the best rookie in the league this year, whether he wins any awards or not. "One of the questions you have to ask yourself is, 'Can Terry Cummings play guard?' We know James can play big forward and small forward, and he can play big guard if we want to go with a power lineup and make it difficult for people to match up against us. I think he might be one of the most creative offensive players in the NBA. We inhibit him quite a bit." Worthy gave some indication of just how creative he can be when, on Dec. 29 against Golden State, he capped a perfect night—six of six from the floor, five for five from the line—with a move that Magic Johnson later named Dipsy-Do-360-Clutch-Skin-and-In. After taking a pass from Norm Nixon on the fast break, Worthy went into the air from the baseline for a jumper, found his path blocked by the Warriors' Larry Smith and, without bothering to come down, executed a perfect 360-degree spin and laid the ball in.
"It's going to be hard to compare the rookies this year," Riley says, "because judgments will be based on production, not on impact. But when you use impact as your gauge, you see that with Cummings, San Diego's record is just a bit better this year than it was last. We're the champs and our record is much [four games at the All-Star game break] better. And I think there's probably more pressure on James than there is on any of the other prominent rookies. The fact that he's not getting that many minutes could affect how he thinks of himself."
For his part, Worthy, who hails from Gastonia, N.C., has concerned himself mostly with tryng to fit in with his new surroundings. "L.A. has a fast, materialistic life-style," he says, "a little too fast for me. Everybody's got the Mercedes-Benzes and the big house. I like a simple life." So far Worthy, who lives frugally in his modest Westwood digs, has managed to steer clear of the hordes who swarm around the Lakers like camp followers. "I think once you let people know what you are," he says, "they're not going to keep trying to tempt you. And I let 'em know what I'm like right from Jump Street."
There's no telling where Jump Street may be, but there's a Los Angeles thoroughfare named Avenue of the Stars that Worthy, Kellogg and Cummings are all headed for, no matter who ends up as Rookie of the Year.
PHOTO
Cummings has driven himself to achieve a 20-point, 10-rebound per game average.
PHOTO
Even though he's a substitute, James has proved worthy of the Lakers' faith in him.
PHOTO
Kellogg crunched Pacer opponents for a 20.4 ppg average.