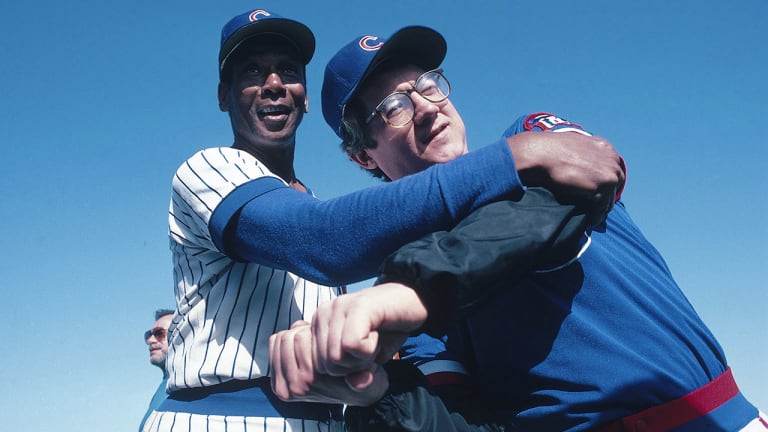 We All Had A Ball
Here's the story of how a bunch of us over-35 guys played with the '69 Cubs, and of how I hit one that would've been out at Fenway, 'cept....
I have a T shirt and two sweat shirts that say I PLAYED BASEBALL AGAINST THE 1969 CUBS. This intro lets me get on with the rest of the story. "Hello, my name is Blat, Blong, Blough—whatever, it doesn't matter—and the very fact that Ferguson Jenkins was playing me deep enough to catch a ball hit 350 feet tells you something," is how I usually begin.
"Excuse me?" people reply.
"I hit a ball 350 feet," I say.
"Where?"
"Pulled it dead to left. It was caught—over the shoulder, but still, he must have been playing me pretty deep—by Ferguson Jenkins. He was in left at the time. You know how guys over 35 are; they like to live out their fantasies, and Jenkins probably always wanted to rob a sports-writer of extra bases. Earlier in camp, he called me—just a minute, I think I have the exact wording somewhere ... here it is: 'A good hitter.' O.K., you could say that's the kind of thing he might say to his nephew, but still...."
"No, I mean where, like in, what park?"
"Scottsdale Stadium. Arizona. Which was strangely appropriate, because...."
"Oh. Thin air."
Thin air. I may have to get another T shirt that says I HIT A BASEBALL 350 FEET AND WHY IS IT THAT EVERYONE'S REACTION IS 'THIN AIR'? The whole trouble with my baseball career, and my life, is that my T shirts have to have too many words on them.
My game shirt, the authentic Chicago away uniform shirt I was wearing when I hit the ball 350 feet, has only one word on it: "Cubs." The All-Star Baseball School's weeklong camp last month for men over 35, which culminated with a game against some of the '69 Cubs, was the closest I will come to fitting myself into that word, that one round patch.
How close was that?
What? Who are you with?
This was an oft fantasized experience you had, right? So this is your oft fantasized interview.
About time.
You weren't satisfied with your press coverage at the camp?
No. TIME magazine unaccountably attributed my 350-foot shot to Art Lessel, a 63-year-old pilot.
Yeah, but what about the thin air?
I'll tell you about thin air. Thin air is when Randy Hundley, who was one of the former Cubs I played against, pops a ball incalculably high into what we call the Big Arizona Sky. Being camped under a fly in Arizona is like looking over the side of a boat after a camera you just dropped into Lake Michigan. And I'll tell you something else about thin air. Thin air is when I, the third baseman, fresh from the triumph of hitting a ball 350 feet, find myself in the position of having to come to grips with a pop-up that resembles the average person's concept of a pop-up about as much as Ralph Sampson resembles your gym teacher.
In other words, a tough chance.
But that's not all. To try to catch it, I have to drift toward the same spot where, in 1970, I had my darkest day as a sports-writer, when Leo Durocher—who managed the Cubs then and was managing them again in this game—branded me as the anti-Cub right there in front of the whole team. Anyway, I miss it.
Really? The pop-up? Why do you miss it?
I don't miss it now. I missed it then. And three days later it's on national TV. At least my friends and I think that's me we see, though I find out much later it's some other guy missing a different popup. But by then, the damage to my psyche and reputation had been done.
What were you called? You and the other 62 men over 35 who for $2,195 each lived out a boyhood dream by working out with major-leaguers?
"Campers." I would have liked "prospects" better. By the way, two or three guys under 35 slipped in. Can you imagine how far I would have hit the ball if I'd been their age? I'm 41! True, I never hit a ball that far when I was under 35. That was the longest ball I ever hit in my life. And maybe the last. What a way to go out! But what if I'm getting better? What if I have yet to come into my oft fantasized own? Baseball! You just won't let go! I might say, however, that it was never my boyhood dream to miss a pop-up in front of thousands of people.
The All-Star School, which is operated by Hundley and Chicago entrepreneur Allan Goldin usually instructs kids, right?
Yes, we were the historic first middle-aged campers. And we seem to have struck a chord. Every television network was all over us. Another Cub camp, also in Scottsdale, is planned for April, and a company called Baseball Fantasies Fulfilled has announced an April camp in Tempe featuring old Dodgers.
How did the Cub camp work?
Very well. We had the Scottsdale facilities that the Cubs formerly used for spring training, and we were drilled in fundamentals by '69 Cubs Hundley, Jenkins, Billy Williams, Ron Santo, Ernie Banks, Glenn Beckert, Jim Hickman, Rich Nye, Ken Rudolph and Gene Oliver, and by slightly later-vintage Cubs Jose Cardenal and Steve Stone. The old Cubs also played with us in intrasquad games. Nobody wanted to look like a jerk in front of them. Take away the Cubs and the camp would have degenerated into middle-aged doctors, lawyers, brokers and businessmen rolling around on the ground fighting over whose bat it was. There should be Cubs at the U.N.
And on the last day of camp, in Scottsdale Stadium—where the fences are all deeper than 350 feet—before around 4,200 fans and a host of media folks who don't really care about the longest ball a person ever hit in his entire life, the old Cubs beat us 23-6.
Does that mean you were 17 runs short of being as good as a team of major-leaguers, one of whom, Jenkins, is still active, and, incidentally, is six-foot-five and is the guy who caught your soaring drive over his shoulder?
It's hard to say. I do know that I came within about 15 inches of catching what you would call a major league pop-up. I remember thinking to myself, while drifting over toward the spot in foul territory where I first met Durocher in 1970, "Oh, well, God, I guess ... mine." Privately I hoped that Jimmy Stuart, a commodities trader in Chicago who won the plaque for Most Aggressive Camper, would hustle pushily over from shortstop and call me off of it, and I would've given him a look of annoyance and let him have it. But he didn't.
I looked up at that thing. And what struck me was, "This pop-up doesn't care who I am." Also, the sun was in my eyes. "The sun is in my eyes," I thought. "And I still don't know what made Durocher say what he said in 1970. And anyway, what in the hell am I supposed to do with this thing? I'm a writer. I'm 41 years old. And I was never all that good when I was 21. And it's not even really spring yet. The pop-ups are ahead of the third basemen. And...."
And you missed it.... Could you give us an idea of what a typical day in camp was like?
Thank you for changing the subject. First of all, we take a bus from our hotel to the '69 Cubs' spring workout fields (now used by the Giants) on Hayden Road, where we enter a dressing room and don big league uniforms. Right? Most of us would have been willing to die at that point. All right, my pants were too big. But if angels offered me a golden robe, would I say, "Only if you've got it in a 44 long"? And the old Cubs are sitting around telling stories about Durocher, their manager in '69 (as well as '70, when I met him), and how hard he was on non-regulars, whom he referred to as "the rest of you bleep." There was the time Lee Thomas went up to pinch-hit and Durocher sat on the bench saying, "Look at that bleep bleep bleep. He can't run, he can't hit, I don't know why the bleep bleep bleep I got him. Look at him! He's going to pop up." And sure enough, Thomas popped up. Durocher swore for several minutes, then turned to Ted Savage and told him to pinch-hit next. "Why should I go up there," said Savage, "and subject myself to abuse?"
Would you say you were subjected to big league baseball without the abuse?
Well, to some extent. In all candor, I would have to say that this was where the $2.195 came in. Half of that may have been for overhead and the other half for not having Durocher come in until the end of the week But there was some abuse, after all. There were all those reporters. And aerobics.
Aerobics were led by Susie Warren who is what you might call lithe. And she made us campers do terrible things with our bodies, to music. Cardenal would accompany us, using a bat as a baton and crying "No más! No más!" Otherwise, the Cubs grunted and groaned with the rest of us. I have found it possible to live a normal life without reflecting upon the fact that I have hamstrings. I did not find this possible while performing aerobics.
Hamstrings a-twang, we would leave Susie and take on the easier part of the day: playing hardball. We would divide into five squads and rotate from field to field and Cub to Cub. Williams showed me that I'd been holding a bat wrong all my life. You're supposed to hold it up in the forward, or fingers, part of the hand, not back up against the pad. Because when—or if—you hit a ball thrown at big league batting-practice speed with the bat held back up against your pad, your right pad, if you bat righthanded, turns various shades of blue. This subject arose when I asked Williams why I had developed indigo hand.
It was Santo who explained why I'd developed it on my left hand, too. That was because I've been holding the glove wrong all my life. You're supposed to hold it so that the ball always hits in the webbing, he said. This was a piece of advice I was unable to use. I feel I'm doing well when I catch a ball with any part of the leather. Playing third base, I also developed indigo shoulder, chest and thigh.
Hickman and Jenkins also explained to me that I'd been holding the ball wrong all my life. If you hold it along the seams, it veers. This is what Jenkins usually does, because as a pitcher he usually wants it to veer. This is what Hickman never did, because as a fielder he didn't want it to. This is what I, as a fielder, have often done down through the veers.
There are a great many intangibles in baseball, aren't there?
Yes, and I wonder whether I will ever get a feel for them.
What else would you do on a typical day of training, after finding out that you've always been holding everything wrong?
Go back to the dressing room. Sit around sweaty. Take a shower with a member of the Hall of Fame, Banks, who's saying, "There is a vast reservoir of potential in all of us waiting to be tapped!" Stiffen up. Walk out toward the bus like somebody who just got off a horse. Yet feel primed. Feel bodily.
And go back to the hotel and sit in the whirlpool with the Cubs. Santo tells about the time Rogers Hornsby went through the Cubs' minor league camps checking out all the hitters. Hornsby called a bunch of them together in some bleachers and went down the rows. The first guy was black. "You better go back to shining shoes," Hornsby said, "because you can't hit." And he said more or less the same thing to one prospect after another. Santo and Williams were sitting together. "If he says that to me," Santo said to Williams, "I'm going to cry."
And Hornsby came to Williams. "You," Hornsby said, "can hit in the big leagues right now." And he said the same thing to Santo.
Later Santo was up in the bigs, in the All-Star Game. "And there are McCovey and Aaron and Mays, and Ron Santo, and some photographer is taking a picture of us together!" Santo says, beaming. We beam with him. Not only campers but also Cubs are returned to their youth.
Would you say that rejuvenation was a theme of the camp?
Yes. But also fading. The '69 Cubs, you know, were the team that blew the National League East title to the Miracle Mets. The Cubs looked as if they were going to run away with it. Until September. On the first day of camp, Hundley gave Stone, who was to be our coach in the big Friday game against the Cubs, a chance to address us. "Just stay close to them till Thursday," Stone advised. "These are the '69 Cubs. They fade."
I asked Banks how he knew when it was time to retire. "You lose your quickness," he said. "And you hear whispers. Rumors. 'He used to make that play.' 'He used to hit that pitch.' Or maybe they don't say anything, but you can see it when they look at you. You can see it in their eyes."
That sounded like what I had been going through since I was 12. In my last Littie League season I was pretty good, but since then it has been only flashes. Moments. Inklings of what it feels like to be a player.
Did you have any of those inklings with the Cubs?
I had so many inklings, I may never sort them out. "You look like you've played some ball," Hundley told me, and to give you some idea how that made me feel, here's a story. A reporter at the camp overheard some of the Cubs saying that Ken Schwab, a 55-year-old Illinois grain-farm owner, looked pretty good. After asking another camper to point out Schwab, the reporter went up to another person he thought had been indicated and said, "Hey, the Cubs are saying you look pretty good." The guy nearly fainted. "My lifelong dream!" he cried. "You can't imagine what this means to me. For a big league player to say, 'Irvin Singletary looks pretty good!' " (I have changed his name.) Here's how I felt: 1) "I have played some ball! I have played some ball. I must have! All those years, some of the time, anyway, that was actually ball I was playing!" And 2) "Me?"
Then, too, there were simpler moments. Grounder hit at me, bing-bing-tapocketta, it's in my glove, I'm up with it smoothly, throwing, zip, it's over to the first baseman chest high, a couple of murmurs among the campers: "Got an arm."
"Don't throw too hard too soon," Santo tells me. And the next day he asks me, "How's your hose?"
It wouldn't have sounded much sweeter if it had been Jessica Lange asking.
How was your hose?
My hose was there, all right. My hose wasn't dead.
You sound surprised.
The irony of all this is that before the opportunity to play with the Cubs arose, I had planned to retire from organized ball. I had given Willie Stargell, who is my age, the chance to hang it up first. I didn't want to steal any of his thunder. This spring I was going to make a simple announcement.
There had been certain telltale signs. For instance, when the slo-pitch softball team that you think you belong to fails to inform you that the season is under way, you begin to wonder. That happened two seasons ago. Then, too, I had doubts about my hose.
The one thing I've had in baseball was an arm from third base. Aside from a tendency to hit, at best, singles to right and on defense to stare off into space, I've been, since Little League, a classic third baseman: too slow to run or to hide. And when the ball bounced off some part of my body, I could pick it up and make that throw. If my hose wasn't out of sorts.
Also, I could never hit slo-pitch soft-ball pitching, which was the only kind I seemed likely to face again. I don't like a pitch that goes way up in the air. When I go to bed at night and either pitch or bat myself to sleep, I see curves, sliders, screwballs and hummers. I can't hit pitching that I never see in my dreams.
You were going to confine yourself to fandom, then?
No, I thought I might go on as a sort of pitcher in the rye. Throwing batting practice to the young. You groove the ball to somebody, and he or she hits it on the nose and you both feel good. And so do people watching. It's like a comedy act. And it's interesting, because you can fail at it. In Scottsdale I threw b.p. to Santo, and I pressed too hard and didn't get the ball where he or I wanted it, and he kept popping it up. I got the feeling he was pressing, too, trying to hit pitches he should've laid off so I wouldn't feel bad. I pressed harder. It was like strained conversation. I wonder whether something like that wasn't going on between the '69 Cubs in the stretch, when they let each other down.
Do you have much experience throwing batting practice?
Ah. At the highest level of serious competition I reached, high school, that was my forte. Somebody once told me he'd run into my old high school coach, Ray Thurmond, who remembered me as a pitcher. I was, of course, a third baseman, but it was at throwing batting practice that I shone. I wore a hole in my right high school baseball shoe throwing b.p. without a pitcher's toe. Those are the spikes I wore against the Cubs.
The shoes of a congenial player, a giving player.
Many people might prefer that their old coach remember them the way Durocher remembers Eddie Stanky, as one of those "scratching, hungry, diving ballplayers who come to kill you."
That's the kind of player I wanted to be. Scrappy. I remember the only time I ever broke up a double play. I was playing intramural softball, in college. Hit the second baseman just right, flipped him up into the air. Didn't hurt him, though. I actually think he enjoyed it, too. This is a terrible thing for someone who pretends to understand serious ball to say, but my deepest desire in sports isn't to win but to share a good time. Maybe that's why Durocher seemed outraged at the very sight of me, that day in 1970.
This was the incident that occurred over in foul territory near the third-base dugout, where you missed the pop-up?
I wish you wouldn't keep harping on that pop-up. To me, if I catch a pop-up that goes as high as the Washington Monument, that's news. Or if I hit a ball 350 feet. But to my critics and friends, the idea of me camped not quite under a pop-up, and tilting slightly to the left, and tilting slightly farther to the left, and then the ball coming down well beyond my grasp—that's their idea of something worthy of comment. What people usually say to me now, if I'm unable to start the conversation off on the right note, is "I hear that you missed a pop-up."
I'm sorry. There are so many other things I wanted to ask you. Like, how did you prepare for the Cubs?
For the first time in my life, I worked out. I hate to work out. You have an angel on one shoulder saying "Go, go, go" and a devil on the other saying "Stop, stop, stop," and there you are in between, bored to death with the whole argument and wallowing in sheer, but not pleasant, kinesthesia.
I like to play ball. A ball takes you out of yourself. Of course, if you miss a ball, you snap back into yourself pretty quick, but then you have a lot to talk over with yourself. Even while you are out of yourself, you can be narrating semiconsciously. "He can still hit," you can be saying, referring to yourself in the third person. "Ball was in on him but he got that bat head out in front...." The main reason I cover sports is so I can keep the vocabulary of my semiconscious narration up-to-date.
Now looming ahead of me was a shot at living that narration. I was there to write about it, sure, but it meant a lot more to me than that. So, do you know what I did? I lifted weights. Not only do I not like lifting weights, I deplore it. However, a person doesn't get many chances later on in life to whang a well-pitched baseball or to snag a well-hit one. A person doesn't want to come back from such a chance to report to his family, "I was overpowered."
My son has 10-pound dumbbells lying around the house. I started pumping them and swinging them and going through throwing and batting motions with them, and I didn't stop even when my daughter would collapse—her prerogative—in helpless laughter. I also split two cords of firewood down to the biggest pile of kindling in Massachusetts.
When you first encountered the wily hardball in Arizona, how did you feel?
Overpowered.
A hardball is a thing that, when you have not seen one with steam on it in many years, is upon you before you know it. And in the field I was lost in the complexity of hops. Grounders were like logarithms. Also, I didn't seem to hinge in the same places I used to. And my throwing was so zipless the first day that it moved me to compose a blues song:
I used to have a rifle,
I used to have a gun.
Lord, Lord.
I used to have a rifle,
I used to have a gun.
Now that ball floats over
Like a cinnamon bun.
But you said your hose wasn't dead.
Several things happened. One is that our trainer, Harry Jordan, manipulated my arm and discovered that the tendon over the funny bone had popped out. At least that's what he claimed. He popped it back in. I've never heard of anyone being plagued by funny-bone-tendon problems before, but I know that as he worked, Harry made terrific deep crunching noises in his throat that served to keep some of the fainthearted campers out of the training room altogether, so I'm willing to believe that Jordan was a funnybonologist.
Another thing that kept me going early in camp was my chewing. I was chewing good. I talked chewing on a knowledgeable basis with Jenkins, who bites right into an open can of snuff with his lower front teeth. I could chew with the big boys. I even chewed during aerobics. This helped.
Also, nobody was yelling at anybody. The spirit of Durocher wasn't in the camp. I don't respond to being yelled at. It distracts me from yelling at myself.
Then too, I had all of my cliches working.
I thought sportswriters are supposed to eschew clichés.
Sportswriters, yes. Ballplayers use them to hone their concentration.
I was being interviewed by a TV crew. Most campers were interviewed so many times that they eventually stopped calling their wives to tell them to turn on the VCR.
"Are you feeling the pressure?" I was asked.
"Nah," I lied. "When the bell rings, the juices will flow."
And I spat. Television likes visual touches. If you want to get a statement heard and seen all across the land, remember to spit right after making it.
Then, all of a sudden, I picked up a ball the way the first caveman picked up the first good fist-sized rock. And I felt my hose start to fill with water again. I felt leaner, stronger, springier, glad to have hamstrings. The downside of this was that my pants became even baggier. But I wore a psychic T shirt that said, PLAYING MYSELF INTO SHAPE.
And then you went on a tear, right?
No. Then I reached my nadir. I thought I had reached my nadir years ago, several times, but in the very first intrasquad game I hit another new low.
Because I let the guys down. "We are here," Banks had announced one day behind the batting cage, "to ameliorate the classic polarization of the self-motivated individual and the ideology of the group."
Excuse me. Did Banks say things like that often?
Banks said things that came from the Big Arizona Sky. When someone asked him whether he felt he had come along too soon, before the days of astronomical baseball salaries, he said, "No. Wish I'd been born sooner. With the philosophers. Days of Plato, and Socrates, and Alexander Graham Bell." When I asked him what would be a thrill for him, comparable to the thrill we campers were getting, he said, "To sing in the Metropolitan Opera."
What Banks most often said was "Veez-ualize yourself hitting a home run!"
"Ernie," said a camper, "I thought we were just supposed to meet the ball, and it would take care of itself."
"No," he said. "It won't. It will not take care of itself. You have to see yourself inside the ball when it is in the pitcher's hand, and you're thinking, 'Time to take a long ride.'"
But don't change the subject. I'm ready to discuss my nadir.
You have a lot of heart as an interviewee, you know that?
Yes, but in the first intrasquad game, I made several plays of the kind that kill infield chatter. Here I was feeling, "Give me Jimmy Stuart and Bob Margolin and Bill Mitchell and Dennis Albano and Wally Pecs (best ballplayer's name in camp) and Dennis Ferrazzano and Tim Tyers and Scott Mermel and George Altemose and Dave Schultz and Steve Heiferman and the Arnold, Crawford and Patti brothers, and I could take on anybody in the world." And what do I do in the first intrasquad game? I drop a line drive hit right at me. A third baseman who can't catch a line drive at his sternum is as dependable as a frog that can't balance on a lily pad. And I let an easy grounder go under my glove. That's like letting a baby's head bob around. And Margolin, who in real life runs a vanity press but is no one's vanity catcher, whips a throw down to nip a guy stealing third, but I don't dig it out of the dirt. In Arizona a lot of thin air can get between a person and the ball—and between a person and his mates, even if they don't yell at you.
And the first time at bat, I dribble into a double play. The next time, Stone is pitching. "Can you hit a curveball?" he asks me.
"No," I say.
He throws me a curveball.
And you miss it?
No. Worse. I take it on the inside corner. And this is what I hear, from Oliver on the other bench: "That's a hanger, Roy." I've just taken a hanging curveball for a strike! What Stone has done is throw me a curve that I could hit. And I took it! That's like Jack Benny giving you a straight line and you saying, "Oh. Excuse me. I wasn't listening."
Like I say, nobody yelled at us campers, but every now and then one of the big-leaguers would give us a quiet, chastening line, like "Got to have that one" or "That's where we need you, big man." The social fabric. The ideology of the group.
The next pitch from Stone isn't a hanger. Not a curve. It's down the pipe. And I go after it. "All right!" I think.
The ball intersects with my bat about three inches from my hands. It pops weakly to the catcher. I feel as if I've reached out for a proffered ice-cream cone and found it in my armpit. "Well," I think, "I am losing my mind."
That was your nadir?
Yes. It didn't help that I had margarita tongue from the night before.
Ah, I've always wondered about the big league night life. What did you do that night?
For one thing, talked to Cardenal about creekus.
What are creekus?
"You know, creekus," Cardenal said. "Little things." He made sawing motions with his arms like a cricket producing sounds. "One time in Chicago I come to the park with my eyes swollen shut. 'Cause I couldn't sleep. 'Cause creekus was in my room all night. So I can't play. And Mike Royko in the paper, ohhh, he got on me.
"And last night in my room? Creekus again. I find seven of them behind the toilet. I kill them all. I go back to bed. I hear more creekus. I turn the light back on. I find five creekus behind the television. I call the desk. 'You got to send the exterminator!' If Royko had been there! I could have shown him creekus!"
But, you came back from that nadir, right?
Let me put it this way. The next evening I'm in the coffee shop. I eat a well-earned sandwich. I sign the check. And there's a place on the check for "comments." So I write, "I went three for five today." There not being much room, I didn't bother to add, "and fielded flawlessly."
What turned you around?
After my nadir, I talked to Stone. He told me about his Cy Young season with Baltimore in 1980, after which he had nothing left. "I threw over 60 percent breaking balls," he said. "I knew it would ruin my arm, but I was winning 15 games in a row. One year of 25 and 7 is worth five of 15 and 15." Before a game, he said, he would take a Percodan if he felt he would need it in addition to the four aspirin he would routinely take every three innings. And he kept breaking off those hooks.
"Well," I sighed, "your straight one was too tough for me."
"No, that was my forkball," he said.
"Oh!" I said. My heart leapt. "What does it do?"
"Drops off like a spitball and moves in on you. Nobody can hit it."
No wonder you didn't hit it.
Precisely. Not only that, but I'd had a real major league experience. I'd popped up a forkball. The next day, when we played our next intrasquad game, I was ready.
Would you like to tell us about it?
Single to right off Dr. Harry Soloway, the Chicago shrink who became nationally famous by telling the Today show that he wasn't giving any more interviews because the last reporter he talked to called him "the most inept ballplayer I have ever seen, man or boy." Except for his fame, a single to right off Dr. Harry Soloway is not an enduring achievement, but a solid single is a solid single. Then, off Cardenal, I ground out and single up the middle. Then, off Beckert, I fly to left. I'm pulling the ball!
A portent. For the 350....
Although I don't realize it at the time. But now we get down to the last inning. Bases loaded. Beckert, who has been moving painfully and saying "Now I remember why I retired," wants to get the game over. He's working in and out on me. This feels like actual baseball! Three and two. Comes in with a high, tight fastball. Too close to take. I foul it back. This is probably a thrill for Beckert, too: a second baseman getting a chance to work on a hitter. He delivers a funny-looking pitch on the outside corner.
And what do you do with it?
Rip it. On a line. But not a straight line. More satisfying than that. A line like a scimitar blade. Over the first baseman's head, and it bites the ground three feet fair. It goes blisteringly on its way, and I say to it, "Burn!"
A double. And such a double! I am most of the way to third when I see the runner ahead of me runnning toward me. Fortunately, he's heading back toward third, not second. He has become conservative and decided he can't score. But this is such a double that I am able to turn around and go 70 feet back into second standing up. I have hit the equivalent of a triple and a half.
That must have been a thrill.
I'll tell you the thrill. The thrill is what Beckert exclaims.
What does Beckert exclaim?
Beckert exclaims, "How did you hit that pitch?" He turns to Jenkins, who's umpiring. "Slider right on the outside corner!" he says. "And I had him set up!"
"I was looking for it," I reply.
"That's right!" says Jenkins. "That's a good hitter."
Wow! You were looking for it?
No. I lied. The truth was I had found my strength as a hitter. Which turned out to be very similar to my strength as a defensive back in football—which is that I am too slow to take a fake. My strength as a hitter, I now realize, is that I haven't got sense enough to be set up. Why do you think a person becomes a writer? It's because he can never figure anything out until afterwards. In baseball down through the years I've often been trying, during the seventh inning, to figure out what happened in the fifth. And what happened was that I wasn't paying attention because I was wondering what I did wrong in the third. And what I did wrong in the third was boot one because I was thinking, "I've got to concentrate with every fiber of my being. Hmm, interesting phrase. I wonder what all the fibers of my being in concert would look like? A nice wool shirt?" Oh, those rare great moments in sports when my mind isn't working and my body is!
Another thing I do in this game is throw four guys out with my hose. My mind is a blank then, too.
Did you talk your triple and a half over with Beckert and Jenkins later?
No, not exactly. But I will say this. In my time I'd exchanged various glances with ballplayers. And a major league manager once mistook me for a member of the Hall of Fame. That was when I called Billy Martin on the phone, and hearing my voice, he cried, "Mick? Mick? Is it the Mick?" He thought I was Mickey Mantle. When he realized I wasn't, we were both very disappointed.
But I had never exchanged a glance with a ballplayer that contained any hint that I, too, was a part of the actual ball-playing experience. One time a Venezuelan sportscaster, Juan Vené, and I told Manny Sanguillen, when he was catching for the Pirates, that we had played baseball on opposing press teams.
"Softball?" asked Sanguillen.
"No, hardball."
Sanguillen was one of the most gracious ballplayers I've ever met. But Sanguillen shook his head and said, "You guys!"
That evening in Scottsdale after the second intrasquad game, I exchanged glances with Beckert and Jenkins that, to me—and I am talking in terms of diamond experience now—contained a hint of "us guys."
Tell me. This is another thing I have always wondered about. Do you ballplayers put your pants on one leg at a time, like everybody else?
I can only speak for myself. The answer in my case is: not always. After that intrasquad game, I got tired putting one leg on, stopped for a while and worked on the other one.
But you were ready for the big game the next day in Scottsdale Stadium?
Did I tell you I hit a ball 350 feet?
In passing, but tell me more about it.
I have always gotten on well with veterinarians. Rich Nye, who won 26 games in the big leagues, is now a veterinarian. If I didn't live so far from Des Plaines, Illinois, I'd send my dogs to him. Nye threw me a good pitch to hit.
Every camper got one at bat in the big game. By the time I got up, in the ninth or 10th of many innings, it had become clear that a few winded old Cubs are better than wave after fresh wave of old brokers, law professors and salesmen. The crowd was diminished and restive.
"Representing SPORTS ILLUSTRATED," blared the loudspeaker, "Ray" and a mispronunciation of my last name. I strode to the plate and realized I didn't have on a helmet. I ran back and got one. I strode to the plate and realized that the flap covered the wrong ear. I ran back and got a left-eared one. Fan reaction indicated a doubting of my expertise. I dug in.
"Coming right down the middle," said Rudolph, who was catching.
All you selfless, unrecognized batting-practice pitchers out there, Keep it up! Your service will be repaid. Someday a veterinarian will lay one in there for you. In practice, Nye had shown me his real 80-mile-per-hour fastball, which I nearly hit. This one was a notch slower. Later he said he wished he'd thrown it harder; I would have cleared the fence. But I'll take my 350 feet, and the sound of a crowd that came to scoff and stayed to eat its heart out.
Anything else you'd like to say?
Yeah. I got my longest hit ever against a team managed by Leo Durocher.
Did I tell you about the first time I met Leo? It was in Scottsdale Stadium in the spring of 1970 that I, a cub reporter, innocently introduced myself to him. And he, standing outside the third-base dugout, pointed his finger at me and began to address, at the top of his lungs, the players who, a few months before, had been the '69 Cubs: "I want everybody to hear this! I'm not talking to this guy! I'm not saying a word!"
Just before he disappeared under the stands, he turned and added, "And he knows why!"
I didn't then and don't now. But it got to me. I loved baseball, and Durocher went all the way back through Willie Mays and Coogan's Bluff and the Gas-house Gang to Ruth. I couldn't shake the feeling that there must be something about me that didn't fit into the national pastime.
Did you ever run into Durocher again?
Not until camp week 13 years later. At the banquet after the big game, he took the occasion to make an emotional talk. He confessed why the '69 Cubs folded: "They didn't give me 100 percent."
What a thing to say at this point! Would the man never let up?
"They gave me 140 percent." Ah. The Cubs had pressed. Durocher was conceding that he'd chewed on them too hard.
He also apologized publicly for embarrassing Santo nastily in a celebrated 1971 clubhouse meeting. After the banquet, Durocher and Santo embraced.
Durocher didn't apologize to me. He glared at me once but with no hint of recognition. He had relieved me, however, of one burden. I still don't know what made me anathema, but I do know it wasn't my fault that the Cubs didn't win in '69.
"Winning the pennant that year might have been anticlimactic for the kind of love we had on that team," said emcee Gene Oliver from the podium. However that may be, in 1969 Durocher seems, oddly enough, to have forged a team that couldn't win but did learn how to share a good time.
So you have no complaints?
No complaints? No complaints? What madman built a stadium whose fences are nowhere shorter than 355 feet?
Let me quote to you the testimony of Steve Stone, and also of longtime Chicago baseball writer Richard Dozer, now of The Phoenix Gazette, who was as much of an official scorer as we had: "The ball is out in Fenway."
But...the air in Fenway isn't thin.
Yeah, and Hundley's pop-up doesn't go nearly so high, and I catch it and toss it over to Leo.