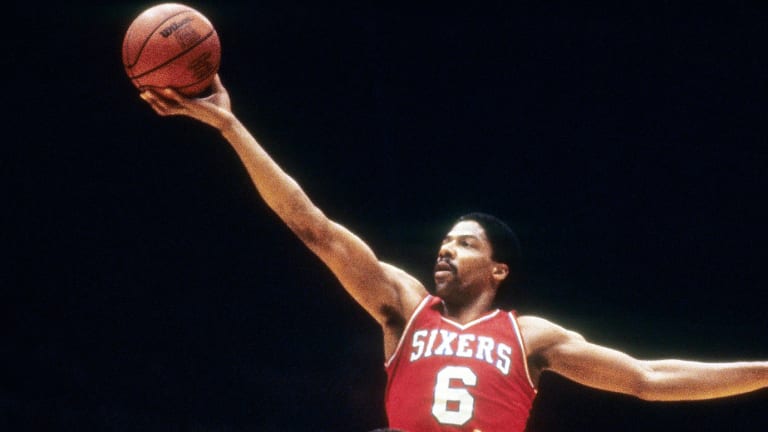 This May Be One for the Books
With Julius Erving and Moses Malone starring, the 76ers are writing a new kind of Philadelphia story
Julius Winfield Erving II stepped out into the sunlight from his car, removed his wire-rim glasses and squinted for a moment, letting his eyes—he has recently become slightly nearsighted—adjust to the glare. Looking down, he took the hand of Julius Winfield Erving III, and they headed toward the loading docks, where meat and produce were being carried onto dozens of heavy trucks that were standing shoulder to shoulder. Dr. J, a few days away from his 33rd birthday, and 8-year-old J had nearly reached the door of Norm and Lou's Restaurant when a big rig rumbled by and bleated noisily at them with its air horn. As the truck slowly rolled off toward Pattison Ave. in South Philadelphia, the driver hit his horn again and leaned out the window. "This is your year, Doc," he yelled, nearly squashing a Toyota as he did so. "Don't disappoint us again. This year the Sixers go all the way." He didn't say, "...or else," but he might as well have.
The playoff woes that have befallen the 76ers in recent years are a frequent topic of sour discussion in Philadelphia, and as Erving sipped a cherry Coke in the diner he asked, "Why is it that with us people always dwell on the past? That's where the interest genuinely is with our team, in talking about our past [failures] instead of what we've accomplished. We've taken so much crap that's unwarranted."
It's nevertheless true that three times in the past six years—1977, 1980 and 1982—Philadelphia has made it to the NBA's championship series only to be beaten in six games each time. The Sixers' regular-season record since 1977-78 has been the best in the league (327-136), and yet year after year the big prize has eluded them. "Somewhere along the line something always broke down," says Los Angeles Coach Pat Riley, whose Lakers handed the Sixers their most recent disappointment in the championship finals.
By last week, however, the question wasn't whether the 76ers were past tense but whether they would be future perfect. By defeating Denver by 21 points, Houston by 29 and New York by 15—in the process holding the Nuggets and Knicks each to just 38 points in the first half—Philadelphia ran its record through Sunday to 46-7, far and away the best in the league this season, and one that puts them on a collision course with history. No NBA team has ever won 70 games during the regular season, and the 76ers have an excellent shot at doing just that. The best regular-season record was achieved by the 1971-72 Lakers (who were also 46-7 after 53 games). They won 33 in a row and finished 69-13, surpassing the previous best record, 68-13, of the 1966-67 Sixers. Both teams went on to win championships.
Although these 76ers would have to play at a seemingly torrid .828 pace in their remaining 29 games to finish with 70 victories, that would actually represent a slight decline from Philly's present .868 clip. In the unlikely event that the Sixers collapse and become just another .500 team for the rest of the season, they would still finish with 60 wins, two more than they had last year. Moreover, the Sixers have an almost unheard-of 22-5 road record, including an astounding 11-1 against Western Conference teams. They've beaten the champion Lakers twice and have yet to lose two straight games; no team has ever gone through an entire season without losing two in a row. And the Celtics, in other years the 76ers' chief tormentors in the Atlantic Division, lay seven games back, a diminishing speck in Philadelphia's wake.
Surely the 76ers would not be so dominant this season had they not beaten Boston for the Eastern Conference championship in '82, after blowing a 3-1 lead in that series. Philly lost Game 5 at Boston and was embarrassed in the second half of Game 6 at home, where they were roundly booed. "I think the seventh game in Boston [which the 76ers won 120-106] helped us," reserve Guard Clint Richardson says in colossal understatement. "After the sixth, practically everybody had given up on us, and we had nowhere to go but to each other. It was a bad feeling and it hurt us, but it made the guys who were involved in that situation a lot closer."
In the championship series against Los Angeles, it was readily evident that although brotherhood is a virtue, a big man who can rebound is even better. Sixers owner Harold Katz decided to go after Houston's league MVP center, Moses Malone, who was a free agent, and when he got Malone for the tidy sum of $13.2 million for six years, the 76ers had the dominating center they'd lacked since Wilt Chamberlain was traded in 1968.
Malone, who led the league in rebounding last year (14.7 a game) and was second in scoring (31.1 points a game), quickly proved that he could also make the quick outlet pass necessary to trigger the Sixers' running game, get out and run on the break himself and close down the middle defensively with an occasional blocked shot. And, oh, how he can go to the boards. Last season Philadelphia's so-called Twin Towers combination of Darryl Dawkins and Caldwell Jones had a total of 232 offensive rebounds. This year Malone got his 232nd in Philadelphia's 40th game, on Jan. 23 in Milwaukee, and he leads the league in rebounding for the third consecutive season, with an average at week's end of 15.7 per game. "I've said all along that the big thing about him is his consistency," says Philly Coach Billy Cunningham. "He doesn't have any off nights." True enough. Malone has been limited to fewer than 10 rebounds only once this year; he had six in 28 minutes in the Sixers' 120-102 victory over Cleveland on Nov. 26.
"When you lose in the finals," Riley says, "it takes a tremendous toll. You lose a little bit of your basketball life. They had a lot of guys who had tasted nothing but the pain, and that's bad. Getting Moses was the best move they could have made. It rejuvenated them. They went out and said, 'With Moses, we're going to win it this year.' You can look at them and see they're more committed."
"When we got Moses our minds changed right away," says Guard Maurice Cheeks, who is having the finest season of an exemplary career as a playmaker, despite the fact that his assist average has dropped from 8.4 last season to 7.4 through Sunday. "Having him here was an important thing for us psychologically, just as important as what he brings us on the floor. Every time we walk on the court now, we think we're going to win."
As a practical matter, Malone's presence has enabled the Sixers to transform what had been a good running game into an exceptional one. "With Moses we anticipate we're going to get every rebound," Cheeks says. "So we start the break higher. And when we get a step on most teams, we're gone."
The instigator of all this, Malone, who came out of Petersburg (Va.) High in 1974 right into the ABA, has proved that if anyone is worth $2.2 million a year, it's he. He has averaged 37.5 minutes of playing time a game—he went 56 minutes in a double-overtime victory over Boston on Nov. 6—has massaged the boards and has been a timely scorer. When Cunningham has called on him to do so, Malone has also played power forward, giving new definition to that term while lending the Sixers a little versatility underneath. "It's never easy for Moses," says Moses. "Moses got to get out there every night and work hard."
Malone isn't interested in winning 70 games and then getting smoked in the playoffs. "All we got to do now is play ball and not let up," he says. "Can't take no prisoners. If we win the whole thing, that's a great team. I don't care nothing about breaking no records. Huh!"
One of Malone's greatest admirers is Irv Kosloff, who owned the team from the time of its transfer from Syracuse, in 1963, until 1976 and remains close to the 76er scene. "Moses reminds me a lot of Wilt when we won the title in 1967," Kosloff says. "Wilt hadn't won a title, and he worked hard for it. Moses hasn't won one either, and he works so hard that he makes the other players feel guilty if they don't put out as much effort."
Not everyone was convinced that acquiring Malone was such a bright idea. "I think some of the players questioned some of what we did in the off-season," Cunningham says. "But by December we had developed a clear personality and our confidence started growing. I think beating some of the better teams helped convince them." Erving, for one, had adopted a "wait and see" attitude when veterans like Dawkins, Caldwell Jones, Lionel Hollins, Mike Bantom and Steve Mix (the Doc's road roommate) were either traded or not signed to make Malone's enormous contract feasible. The Sixers started the season with four less costly rookies, more than any other team in the league carried, and gambled that the lack of depth on the bench wouldn't hurt. It hasn't. Cunningham even went so far as to put 26-year-old rookie Marc Iavaroni at the starting power forward position, despite the fact that Iavaroni had been bounced from three pro camps after his graduation from Virginia in 1978. He had spent the past four seasons playing in Italy and serving as Virginia's graduate assistant coach, which earned him playing time against Ralph Sampson in scrimmages. When Cunningham gave Iavaroni a chance, he made the most of it, diligently screening the opposition's rebounding forward off the boards so Malone could work in comparative peace.
Iavaroni did have some adjustments to make, most of them mental. On a trip to Atlanta, for instance, Cunningham told the players that the day-of-the-game shootaround would be 10 to 11. Iavaroni showed up at 10 minutes till 11 o'clock.
Besides the youth movement, another concession to Malone's contract is that the 76ers now get around out of town in rental cars, where once they traveled on more costly buses. Iavaroni was charged with the care of Erving's bags one night in San Diego, and when the Doctor was detained by reporters after the game, he instructed Iavaroni to "leave my luggage with the bellman." But instead of driving directly to Los Angeles, which was the Sixers' next stop, Iavaroni drove his car back to the San Diego hotel the team had already checked out of and gave Erving's luggage to the bellman there. The bags were eventually sent to L.A.
Obviously, the Sixers could not depend on Iavaroni to carry all the heavy load at forward, so last week they moved a step closer to the championship by filling one roster vacancy with veteran Forward Reggie Johnson, a 6'9", 205-pounder whom they purchased from Kansas City for a reported $150,000, and by trading rookie Forward Russ Schoene (and a No. 1 draft pick this year and a No. 2 in '84) to Indiana for backup Center Clemon Johnson (and a No. 3 pick in 1984). "I was ecstatic with the first part of the season," Cunningham said following the deals, "but we wanted to make ourselves stronger." Katz was overjoyed to get the two players, although both could be free agents at the end of the season. "I know Billy doesn't like to hear this kind of talk," Katz said, "but I believe this is the best team we've ever had in Philly, maybe the best team ever."
Katz has another reason to be pleased. The Sixers are doing boffo business. Though they have been an artistic success since Erving's arrival in 1976, they've been a financial failure. Attendance in 1980-81 had fallen to 11,448 a game, and though it increased to 12,362 last season, the 76ers still lost money. So the team raised ticket prices—a hefty 45% on the average. Although one can still get a seat for $6 (up from $5), the top ticket went from $11 to $16 and, taking a cue from the Lakers, the Sixers moved press row from the sidelines to behind one basket and installed a VIP row at $50 a seat. Nonetheless, as a result of the Sixers' superlative record, attendance has soared 25%, to a league-leading average of 15,229 a game. What's more, ticket revenue has zoomed by 72%.
But success has added a new problem. "We're expected to win every night," Assistant General Manager John Nash says. "Some people say there are only a couple of teams that can provide us with competition, so why come out? But that's a marketing problem."
If the Sixers prove to be the best team ever, they will have earned it. "The aggressiveness we have is consistent every night," says substitute Forward Bobby Jones. "I've never seen a team that had it like this team does. Every night our opponents know what they're going to face for 48 minutes, and we don't let up."
"I think they're a great team, but I think they've been great," said Doug Moe, coach of the Nuggets, after their 116-95 trouncing by Philly last week. "I don't believe that because they haven't won a championship they're failures. I happen to think the regular season is more meaningful than the playoffs. Hell, anybody can get up for the playoffs, but the regular season is a grind. If they win 70, yeah, they're a great team."
Philadelphia probably would have been a better team this season even without the addition of Malone, if for no other reason than the emergence of third-year pro Andrew Toney, formerly just a spectacular shooter, as a complete player. Toney was a substitute most of his first two seasons in Philadelphia; he became a regular in the playoffs last spring when Hollins was injured and he's still starting. Through Sunday he was scoring 19.6 points a game, third on the team behind Malone (24.2) and Erving (22.6), while playing sound defense. He also has learned to hit the open man even when he has a shot he thinks he can make, which is virtually all the time. "He sees things out on the court that other players just don't see," says Erving, who has become something of a mentor to Toney. "Andrew has such strong wrists that he can throw the pass off the dribble, sideways, behind his head, any way. He came into the league with the shot, but Billy stayed on him and saw to it that Andrew was not a one-dimensional player."
Erving awaits the stretch run with keen interest. "I think we've proved we're a good team, potentially a great one," Erving says. "We're probably hungrier than the Lakers or the Celtics, and that helps. The last time I experienced a championship was in 1976 [with the ABA Nets], and seven seasons is a long drought. Moses hasn't won one ever. Bobby hasn't. Maurice. Andrew. We haven't had the ultimate success, and we've got guys this year who really want it.
"The pain that was suffered, the feeling of having backs turned on us, that's still with this team. But the positive side is carried with us, too. We have the scars, but we also have the glue. I don't feel incomplete or inadequate in any way because I haven't won an NBA championship. I don't lie awake nights and think about it. I know I've given my best to the public, and the rest is really out of my hands. I can accept that."
This year the Doc may not have to accept anything but a championship trophy. Couldn't happen to a nicer guy.
[originallink:10623411:43724]
PHOTO
Malone is the dominating center the Sixers haven't had since Chamberlain skipped town back in 1968.
PHOTO
Toney, Philly's erstwhile shooting specialist, has taken a fancy to passing fancy.
PHOTO
Jones is so adept on defense he's capable of blocking shots even with his eyes closed.
PHOTO
In a neat reverse, floor leader Cheeks blasts in for a layup against the Rockets.
PHOTO
These days in Philly even the mascot can dunk.