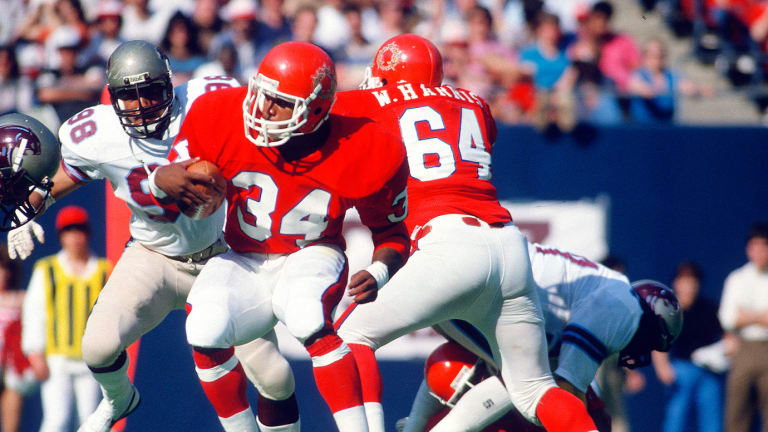 A New Round of Star Wars?
By signing Heisman Trophy Winner Herschel Walker to an out-of-this-world contract, the U.S. Football League put a lot more kick into its debut this week
Shortly after the news hit the national wires last week that Herschel Walker had signed an umpteen-zillion-dollar contract with the New Jersey Generals of the U.S. Football League, a strange, almost unnoticed, mock protest took place on the Generals' practice field at the University of Central Florida in Orlando.
Most of the defensive backs wore a single strip of white tape on a sleeve of their jerseys, high up near the shoulder pad. Why? "Because," one General said, "they realized that the starting defensive backfield would only make about one percent of what Herschel signed for. That was their protest."
They probably got the numbers a bit wrong. They were going with one of the earliest and wildest estimates of Walker's package, the $16.5 million figure that made the rounds for a while before settling down to a more reasonable $3.9 million, three-year contract, with incentive bonuses that could push the total up to $4.5 million. But the message was clear nevertheless. Walker, the most famous college football player since Red Grange, represents the fledgling USFL's hope—but, as we shall see, he also poses a dilemma.
Will the USFL make it? The issue is not only the survival of a league, but of a brand-new concept: football in the spring and the early summer. Football vs. the NBA playoffs and the Stanley Cup, the Indy 500 and the Kentucky Derby; football while you're sniffing the spring blossoms with your best girl; football while sailboats are on the bay and runners are on first and second; football while the beaches beckon; football, football, football; Herschel Walker in a funny uniform during a funny season. Is America really ready for this? Are we a nation of football junkies, ready to be hooked by one superstar, a few notables of lesser magnitude and 500 guys named Marvin?
Can one man grab an entire league and force it into our lives, never mind the season or the reason? The early headlines regarding the USFL after Walker's signing—INSTANT CREDIBILITY, INSTANT SUCCESS, etc.—seemed to say so. But let's look at the history of new leagues and their superstars.
Sunday, Nov. 22, 1925: Grange, after having played the day before for Illinois in its final game of the season, against Ohio State, appears on the Chicago Bears' bench for a game with Green Bay. There are 7,500 spectators in the Wrigley Field stands. Four days later, Thanksgiving Day, he plays his first game for the Bears, against the Chicago Cards. Some 36,000 fans jam Wrigley to watch the redhead rush for 36 yards in a 0-0 tie. Ten days after that a pro football record crowd of 73,000 shows up at the Polo Grounds in New York to watch Grange and the Bears beat the Giants 19-7. This has officially been described as the day pro football escaped from the dark ages, made it, established itself in the U.S.A. Not entirely true.
All in all, Grange played in eight games for the Bears in 12 frantic days and drew 218,000 fans. Take away that Giants game and you've got an average of 20,713. His final outing, in Pittsburgh against something called the Barney Dreyfuss All-Stars, attracted a meager 5,000 fans, which was about the NFL average in those days.
The next year Grange jumped to the New York Yankees of the new American Football League. The NFL bulked up to 22 teams. Twelve of them died after the season. Four AFL teams went under before their schedules were completed. The rest of the league followed at the conclusion of the season. Almost everyone lost money. So much for the savior.
Joe Namath didn't save the latter-day AFL when he signed his $427,000 contract with the Jets in 1965. A year before that the league had made a five-year, $36 million NBC-TV deal that ensured its survival. Namath raised the salary structure throughout pro football and he put more people in the stands, but with or without him the AFL would have made it. The World Football League failed to last even one season after Larry Csonka, Jim Kiick and Paul Warfield came to play.
Then there's the case of the Cosmos in the NASL. The theory was to pack the world-renowned soccer superstars into the league's keynote franchise, backed up by its wealthiest owners, Warner Communications. Pelé, Franz Beckenbauer, Giorgio Chinaglia—they all came for the big bucks—and the fans came too, for a while. The Cosmos had the big attendance numbers, while the rest of the league lagged behind. The NASL is now barely hanging on.
A two-class system in pro sports, especially in football, where hogs must clear the way so that racehorses may gallop, has always been a tricky concept. Now we have it in the extreme—Herschel Walker and his multimillion-dollar package and a bunch of defensive backs with tape on their arms—and that's a major dilemma facing the new league.
The USFL is 18th-century France before the revolution. There are the Bourbons and the masses, and not much in between. And maybe there's a guillotine at the end. Maybe when all those $20,000-and $30,000-a-year guards and tackles and cornerbacks who have been sweating through their two-a-day workouts on $5-a-day expense money realize that they've been had, that the league's early pronouncements about how it was building from the ground up and avoiding the high-priced-star route was so much nonsense, there will be a great uprising.
The big packages for Walker and the likes of rookies Tim Spencer, Trumaine Johnson, Craig James, Kelvin Bryant, Reggie Collier and Anthony Carter have shown low-paid players that the money was there all along, enough for a few guys to get salaries bigger than anything the NFL, with its $2 billion television contract, was likely to have come up with. Don't forget that most of those USFL contracts are guaranteed, too, another concept the NFL has drifted away from.
There isn't much that the players who make up the bulk of the USFL's work force can do now except gnash their teeth and cast envious eyes. They're already locked into contracts, pinned down to minuscule numbers by the league's original prospectus—regional appeal through territorial player rights, boundless enthusiasm generated by under-priced field hands eager to prove that you don't need a big paycheck to knock someone on his behind, and all the rest of the p.r. baloney.
But next year, when those one-year contracts expire, that's when the fun will start. Or as Dwight Sullivan, Walker's blocking back on the Generals, says, "Right now I'm a $30,000 player. Next year I'll be worth $60,000."
"That's in the future; the point is that so far they've done everything right," says a former WFL official who went down with the ship in '75, when the league collapsed before finishing its second season. "Just look at what they have that we didn't have.
"They've got the big cities and the big stadiums. We had places like Shreveport. They've got big-name college stars, and they've got the biggest one right where they want him—in New York. They've got a two-year national TV contract, which gives them instant exposure. They've got some big-name coaches. Balance that off against the most pressing question: How many people will watch a football game in the spring?"
Hold on a minute. How about the credibility factor—the lies, the double-talk, the bylaws the USFL guys break every 20 minutes, such as their rule against signing college underclassmen?
Many schools are already saying they'll shut their doors to USFL scouts, despite Commissioner Chet Simmons' constant drumbeat that the Walker signing was a "special case" and his reiteration that now the rule against signing underclassmen is back in effect. There will be no more testing or timing or measuring of prospects. No more vertical jumps for USFL tape measures.
How important is all this? "Damn important," says the New England Patriots' director of player development, Dick Steinberg. "This year a lot of USFL people were fresh from the NFL and they took their syndicate scouting books with them. Now you can bet that security is going to be a lot tighter in the NFL. Very few people are going to have access to our information."
Well, yes, but does anyone really doubt that George Allen of the Chicago Blitz will find a way to get hold of the Blesto and United syndicate books next year? No.
National TV will be around for at least two years, guaranteeing each USFL club $1.21 million per season, but then what? It's a tricky business, tying your hopes to the whims of TV, which kills a new series every 20 minutes. "They have to have the live gate," Jim Finks, Chicago Bears general manager, says. "You don't make it as a studio show in this business. Nothing looks worse than a game played before empty stands."
The latest USFL figures show an average season-ticket sale of 17,000. Some clubs have sold fewer than 10,000. The Generals say they sold 6,900 season tickets in the 72 hours after Walker's signing, but Walker can play in only one stadium at a time. How many people are going to watch a late-season game between the Boston Breakers and the Arizona Wranglers? Pete Hadhazy, the USFL's director of operations, set the break-even attendance figure at 30,000 to 35,000.
How strong is the USFL's ownership? How many years of losses can it take? "Plenty," says Simmons. "I'll match our ownership against the NFL's any day." There are some fancy pedigrees: real estate millionaires, a cardiovascular surgeon, a noted judge, a former ambassador to Switzerland. According to one league official, Michigan Panthers owner A. Alfred Taubman is "the richest man in the state and one of the richest in the country." How about oil magnate J. Walter Duncan Jr., who signed Walker? "He's got $300 million—above ground," says a USFL source. Of course, the WFL had a few of those, too, but when they had to come up with some ready cash, rather than sell off a few assets they crumbled.
Then there's the matter of the commissioner's office. It began with something the WFL never had, instant credibility. The WFL's Gary Davidson was suspect from the start. He sold some of the franchises for $200,000 or whatever the traffic would bear. Others he gave to his friends for free. There was always the air of a hustler about him. Simmons, a former TV exec, had no such shortcomings. His knowledge of running a football league was minimal, but at least people liked him. He was straight. There were some nice little concepts in the USFL, like the money the league would give a kid to finish his college education. The USFL was like a baby alligator you bring home as a pet, a cute little thing that wriggles in your hand. But as it grows it's another matter.
Now the USFL has lost that friendly image, at least to people who are bothered by things like lies. The commissioner's office has become a joke. Rule: Salary structures will be held to $1.6 million per club. Then the big-money signings began—Spencer, James, Collier. New Rule: $1.6 million per club, but you can shell out for two higher-priced players. More big packages. Newer Rule: Do what you want, but keep it reasonable.
Rule: We won't touch underclassmen. Then Herschel signs. New Rule: We won't touch any more of them, honest.
Simmons said the fear of a lawsuit pushed the league into the Walker signing, and he isn't worried about the Marcus Duprees and Mike Roziers of this world storming the gates, because "Herschel was a special case. He was ready to play pro football. He had the maturity." Which would be one swell defense in court. "Your Honor, we are prepared to prove Herschel Walker is more mature than Mike Rozier."
Many of the USFL's own people don't buy this nonsense, and at least one of them, Philadelphia Stars General Manager Carl Peterson, is disturbed about the league's handling of the Walker incident. "I have very mixed emotions about it," says Peterson, the chairman of the USFL's College-Pro Relations Committee. "College coaches have been our life-blood. I'm not excited about trying to defend our position with these guys."
Last year Walker's attorney, Jack Manton, hinted at a legal challenge against the NFL prohibition on signing undergrads, and nothing came of it. The NFL was—and is—sticking by its policy of keeping away from them. "If we have to take a lawsuit, then we'll take it," Pete Rozelle said. The reason no one ever sued is that a football player wants to play football. He isn't about to spend two of the most important years of his career in a courtroom.
"I looked into challenging the system after my junior year," SMU Tailback Eric Dickerson said. "The lawyers tell you court settlements could take three years, and by that time you're out of college anyway."
Simmons' credibility has evaporated, and the feeling among many NFL people is that he's merely a figurehead, that the real power in the USFL is wielded by Chuck Fairbanks, the Generals' president, coach and part owner. "Around our place we call him the commissioner," Finks says. "George Allen is deputy commissioner and [Oakland Invader Coach] John Ralston is the secretary."
"Just look at their Competition Committee," another NFL official says. "Chuck is the chairman. Three of the other six people on it worked for Chuck in New England—Pete Hadhazy, who was his assistant general manager, Denver Gold Coach Red Miller, who was Chuck's line coach, and the Boston Breakers' part owner, Randy Vataha, who played for Chuck. Chuck orchestrated this whole Walker thing. Why else do you think he stayed so far in the background?"
What a nice scenario has emerged from the Walker signing. Herschel says he might well have been ineligible for college football—because of earlier contacts with pro teams—long before he signed his first Generals contract, the one he tried to disown. The day following that first signing, the USFL says, its legal counsel, Steve Ehrhart, told Georgia Assistant Coach Mike Cavan that Walker had indeed signed. This happened right after Walker's Feb. 18 press conference, at which he and his coach, Vince Dooley, had denied there had been any ink on paper. Dooley says Cavan told him nothing about it, presumably because he didn't believe it. The NCAA, which will investigate everything from an illegal sweat suit to an extra campus visit, stonewalled. The USFL panicked. Was their prize catch going to wriggle off the hook? So on Feb. 21 Ehrhart showed Cavan the actual document, to get the hook more firmly planted. Dooley says it was not until the following day, four days after Cavan had first received word of Walker's signing, that Cavan told him about it. Meanwhile, Manton—who had placed Walker with the team he wanted, at the price he wanted; who'd shaken hands with that nice old Mr. Duncan and assured him that Herschel would make him proud to have him on his team—had one more piece of business left. He tried to sell Walker to the NFL. "He called on Tuesday night [Feb. 22] and then once again an hour or two before the signing on Wednesday," NFL attorney Jay Moyer says. "When we told him we weren't changing our rules he said, 'O.K., see you in three years. You can count on it.' That was the last phrase, 'You can count on it.' "
Well, time cures many things, and the first time Herschel rushes for 200 yards in the USFL people will start forgetting how he came into the league. "We ran Herschel out of the I formation and the pro set and the slot, and he did everything perfectly," the Generals' backfield coach, Mike Stock, said after Walker's first practice, last Saturday afternoon. "He picks things up fast."
Three of the Generals' offensive linemen, Center Kent Hull, Right Guard Wayne Harris and Left Tackle Bryan Millard, are rookies whom the NFL scouts liked for their run-blocking potential. Sullivan, a 5'10", 210-pounder who was drafted by the Cowboys in the eighth round out of North Carolina State last year, spent his last college season as an I formation blocking back. Quarterback Bobby Scott is an 11-year NFL veteran who won't let his ego get in the way of 40 handoffs a game.
Fairbanks has predicted a brief appearance for Walker against the Los Angeles Express on national TV this Sunday, but that statement was probably for L.A.'s benefit. "Herschel will carry 25 times and I'll carry 10," says Sullivan.
The opening game that had loomed as the best on the board BW (Before Walker) was Allen's return to Washington—the Blitz against the Federals. League officials are worried about the possibility of a Blitz blowout, which doesn't bother Allen in the slightest. The Blitz and the Generals are the USFL powers, but blowout football is not what will send the fans to their wallets or TV sets in the springtime.
Elsewhere? The Michigan Panthers are an interesting team, if only because they have the multitalented Carter. The Philly Stars have Kelvin Bryant. The Denver Gold is the league's anomaly—poor signing record and few name players but 30,000-plus season tickets. The Boston Breakers, with the league's smallest stadium, Nickerson Field, capacity 20,000, look like the league's poor boys. As for Washington, L.A., Oakland, Arizona, the Birmingham Stallions and Tampa Bay Bandits, only time will tell.
How will Walker do in the USFL? Just fine. How much is he really worth? "I guess we won't know," says Philly Wide Receiver Rodney Parker, "until somebody hits him and we see how many thousand-dollar bills fall out of his pants."
Will the USFL survive? Maybe, but only if it can overcome the Rites of Spring.
PHOTOPHOTOAt Walker's first USFL practice, Fairbanks gave him a general intro to the offense.PHOTODuncan (left) made a five-star money offer, which Manton later tried to top in the NFL.PHOTOSimmons called Walker an "exception."PHOTOWith Johnson, the Blitz should be able to bomb.PHOTOAt least at quarterback, the Stallions have a true thoroughbred in Collier.
\n\n\n\n\n\n\n\n\n\n
THESE PICKS WON'T BE AROUND FOR THE PICKING
How badly did the USFL hurt the National Football League draft? Substantially in the first round, according to a cross-section of NFL scouts. Much less so after that. Here are the 15 top rookies signed by the USFL and their projected draft status in the NFL (Herschel Walker, ineligible for this year's draft, would have been a sure No. 1 in '84):
FIRST ROUND:
Kelvin Bryant, RB, North Carolina (Philadelphia Stars)
Trumaine Johnson, WR, Grambling (Chicago Blitz)
Reggie Collier, QB, Southern Mississippi (Birmingham Stallions)
Tim Spencer, RB, Ohio State (Chicago Blitz)
Anthony Carter, WR, Michigan (Michigan Panthers)
Craig James, RB, SMU (Washington Federals)
SECOND ROUND:
David Greenwood, DB, Wisconsin (Michigan Panthers)
Irv Eatman, T, UCLA (Philadelphia Stars)
Mark Keel, TE, Arizona (Arizona Wranglers)
Frank Minnifield, DB, Louisville (Chicago Blitz)
THIRD ROUND:
Tom Ramsey, QB, UCLA (Los Angeles Express)
Bart Oates, C, Brigham Young (Philadelphia Stars)
FOURTH ROUND:
Bobby Hebert, QB, Northwest Louisiana (Michigan Panthers)
FIFTH ROUND:
Roger Jackson, DB, Penn State (Philadelphia Stars)
SIXTH ROUND:
Ken Lacy, RB, Tulsa (Michigan Panthers)