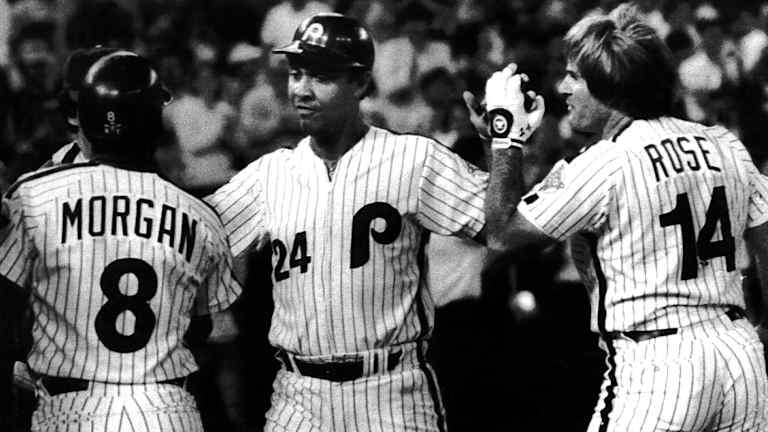 In Philadelphia, They're the Wheeze Kids
Former Reds teammates Pete Rose (left), Joe Morgan and Tony Perez are together in Philly, where they'll play at aptly named Veterans Stadium
Rose on third, Morgan on first and Perez standing in the batter's box. "You've seen this before, Doggie," Rose calls to Perez.
Haven't we all? Of course, nobody has seen this situation for more than six years, not since Pete Rose, Joe Morgan and Tony Perez were mainstays of the world champion Cincinnati Reds. But the scene was played once again last Saturday at the Philadelphia Phillies' spring training complex in Clearwater, Fla.
The three of them were teammates in an intrasquad game in which the managers were coaches Dave Bristol and Bobby Wine—the Bristol Stomps versus the Wine Stewards. In the first inning, Rose, batting second for the Stomps, tripled down the first-base line off Larry Christenson. Morgan, hitting third and flapping his left arm as always, then wangled a base on balls. And, just as in the old days, clean-up man Perez déj√† flew out deep to right to score Rose from third with the team's first run.
In the fifth, with the score tied 2-2, Morgan singled off Porfi Altamirano, and Perez followed with a double down the third-base line, driving in the winning run and keying a three-run rally that carried the Stomps to a 5-2 victory and a free dinner, courtesy of the Stewards.
O.K., it was only an intrasquad game. But this was precisely what the Phillies had in mind when they acquired Morgan, 39, and Perez, 40, in the off-season to go with the 41-year-young Rose. "I did not come here for a reunion," says Morgan. "The Phillies got me to help win them a world championship."
Besides the members of the Big Gray Machine, the Phillies also have Ron Reed, 40, Bill Robinson, 39, Steve Carlton, 38, and Tug McGraw, 38. Twenty-two of the players on the 40-man roster are more than 30 years old. No wonder Philadelphia President Bill Giles likes to call his team The Wheeze Kids.
Stop me if you've heard any of these: What else could the Phillies call their home park but Veterans Stadium? When Philadelphia has men on, will announcers say the Phils have the ducks on Golden Pond? Will every game be an Old-timers game? To celebrate this, their 100th season, the Phillies conducted a search for their oldest living former player. No, they didn't discover him on the bench. Actually, they found former Pitcher Johnny Enzmann, 93, of the 1920 Phils living in Fort Lauderdale, where he bowls twice a week and averages 133. Sign 'im up! They could use another good righthander in the bullpen.
The Phillies needed a second baseman to replace Manny Trillo, whom they packaged in a deal for Cleveland Outfielder Von Hayes, so they went out and got Morgan, the National League Comeback Player of 1982, in a five-man deal with San Francisco in December. They needed a righthanded pinch hitter with punch and someone to spell Rose at first, so they signed Perez, whom Boston had released, to a single-season contract in January. "You caddied for Yastrzemski," Rose said to Perez last week. "How does it feel to be caddying for a real ballplayer now?"
That was typical of the former Reds' repartee. "They kept replaying the '75 World Series during infield drills," said Third Baseman Mike Schmidt. "Perez said they wouldn't be wearing world champion rings if he hadn't hit Bill Lee's let-up pitch out of the park. Morgan said they wouldn't have rings if he hadn't had two game-winning hits, and Rose said he hit .370 in the Series." Schmidt got into the spirit of things by rolling his sleeves up to his shoulders and pretending he was Ted Kluszewski, the former Reds slugger and coach.
Phillies Manager Pat Corrales, who didn't make the majors till '64, remembered the first time he became aware of each of the trio. "The Yankees came in to play us [the Phillies] in spring training in '63," Corrales says. "All Mickey Mantle could talk about was this kid for the Reds who ran to first base after a walk.
"First time I saw Perez was in '63 when he was with Macon and 1 was with Chattanooga. He was six-two, about 165 pounds, and he could hit. 'Where the hell did they get this guy?' I said to myself.
"First time I saw Morgan, we were playing in the Astrodome, and this five-foot-seven individual walks up to the plate against Chris Short in the ninth inning and hits a homer, and we go inside. I guess we were inside already. Anyway, Gene Mauch, the manager, says, 'Who the hell ever heard of Joe Morgan?' Well, we heard about him for a few more years."
Rose on Perez: "We started the same year, 1960, in Geneva, New York. Reno DeBenedetti was our manager. I came to play second, and Doggie had to move to third. He was built just like Davey Concepcion is now, really skinny. He was just out of Cuba, didn't speak much English, but he was a good guy in the clubhouse even then. Then he filled out. It's funny because he never had the big forearms power hitters have, he was just strong in the bottom. But I never saw a better power hitter than he was in the first half of 1970. He must have had 90 ribbies. He was the whole team."
Perez on Rose: "I was playing second base at Geneva, if you can believe it. Petey was signed in the middle of the season, so they moved me to third. He was an aggressive type of player, but he was not that good an athlete. Three years later I watched him in spring training and couldn't believe it. He'd worked so hard he made himself a ballplayer."
Morgan on Rose: "It wasn't until '65 that I got to know him, but just like everybody else, I became a Pete Rose fan. Even back then, when I was still with Houston, a bond developed between us. We were both second basemen—actually, I was a real second baseman and he just happened to play there—and when he was running the bases, he would try to knock me over at second. Then I would try to knock him over at second. I remember about 1965 he told me that in seven years I was going to make a $100,000 salary, which was big, big money in those days. That tells you how long ago that was."
Rose on Morgan: "He was an incredible player at Cincinnati. Still is."
Perez on Morgan: "He was a good player when he came to Cincinnati, but then he put everything together. Two MVPs in a row [1975-76]; you couldn't ask for anything more. I did my part, supplied the home runs and RBIs, but he was doing everybody's part, stealing bases, driving in runs, hitting for average, hitting homers, getting on base. He was doing things he wasn't supposed to be doing. Now all of us are doing something we're not supposed to be doing—we're still playing."
Morgan on Perez: "He could do it in the clutch. Johnny Bench, Pete, me, we got the MVPs, but Tony was just as valuable as we were. He was important in the clubhouse and on the airplanes, too. When they traded him before the '77 season, I got upset. I told the front office, 'Did you think that we might not be able to win without Tony?' The first month and a half of that season, we kept getting into situations that he had always come through in. We kept waiting for him and waiting, but there was no Tony. Tony was in Montreal. There's no doubt in my mind that if he'd played for us in '77, we would have won our third straight World Series."
But they broke up that old gang of Rhine. Perez helped make contenders out of the Expos and Red Sox, Rose went to another world championship in Philadelphia, and Morgan brought his winning ways to the Astros and Giants. Among them, they've played 7,925 games, had 8,711 hits, scored 4,729 runs and won seven World Series rings.
Morgan is coming off a .289 season with 14 homers, 61 RBIs, 24 stolen bases in 28 attempts and one big assist in knocking the Dodgers out of the pennant race—with a game-winning home run against them on the final day of the season. Two years ago he looked as if he was through.
Morgan on Morgan: "I felt old, and I thought about quitting. I lifted weights before I went back to Houston and picked up a lot of bulk, and I felt sluggish. I was up to 176, 177 pounds, and I'd slowed down at bat and in the field. At San Francisco, Frank Robinson suggested I lose eight pounds. I felt good, and I lost six more. Everything was back to normal again, and I want to lose a few more pounds before the season starts, get down to 160."
Paul Owens, the Phillies' general manager, wouldn't have wanted Morgan two years ago. "We really thought he was over the hill," Owens says, "but I read reports on him last season that said he was quick at the bat and showing more range in the field. I was at Candlestick Park one day, walking toward the clubhouse, when I ran into him. I said, 'Joe, you look terrific' He said, 'It's funny, but for four years people have been telling me to lose weight. It took me a while to wake up.' "
"He looks 25," says Corrales, and in fact Morgan does look great. "We've got some amazing bodies on this team," says Gus Hoefling, the strength, flexibility and kung fu coach of the Phillies, "and Morgan's is right in there. I've got this special five-step sit-up I make the guys do, and some players can't do five. First day, Morgan cranked out 25."
The Phillies aren't fooling themselves that Morgan can take Trillo's place defensively, but they know they'll get more offense with him. He and Hayes give Philadelphia two lefthanded bats it didn't have before. "We got righthanded to death last year," says Owens. Morgan is also holding the fort until Juan Samuel, a heralded 21-year-old second baseman from the Dominican Republic, is ready.
Owens tried to get Perez from Boston last year—Rose says he had suggested it—but the Red Sox wanted one young prospect too many. At the end of the season, Boston didn't exercise its right to renew his contract, and the Phillies called. Perez received a few other offers, but he wanted Philadelphia all along and signed on Jan. 31.
Perez, who got the name Dog back in 1963—"Lee May gave it to me because I looked like a mean, angry, grrr, dog when I stared at the pitcher"—did well in a limited role for the Red Sox in '81 and '82, and he's only three seasons removed from a 25-homer, 125-RBI performance. The same rumors follow him that follow Luis Tiant; estimates of his age run as high as 45. He's also a bit overweight at 220, and he's aware of that. "But I know I can still swing the bat," he says. He certainly showed that in the intrasquad game.
Rose is trying to come back from a .271 average in 1982, the second lowest of his career. Morgan believes he can help Rose. "I know Pete as well as I know anybody," says Morgan. "I know when to kick him in the rear, and I know when to pat him on the back. People don't think he needs that stuff anymore, but he does." The two of them are like kids rolling around together when they do their calisthenics.
The most frequent suggestion as to how Rose might raise his average—take a break every once in a while—doesn't sit well with him. "I'll rest plenty when I'm dead," he says. "They didn't talk about resting me in '74 when I hit .284 or three years ago when I hit .282 and we won the world championship. I came back and hit .325 the next season. I know I'm the one who hit .271 last year, but it was kind of a luckless year for me. I was up 634 times, and I struck out 32, same as always, so doesn't that tell you something? Pitching was better all around the National League last year, too."
Rose takes so much pride in his ability to play every day that he refuses to use physical excuses. He played the last month and a half of the '82 season on a sore right heel, but all he says is, "What am I supposed to do, sit out the pennant race?
"You know what bothers me? Air conditioning, that's what. You come in for a rain delay, and the clubhouse is air-conditioned, and your muscles get tight. The tunnels are air-conditioned, everything's air-conditioned. No wonder I get stiff."
Corrales says he's going to have to talk to Rose on the subject of reduced playing time this week. "Somebody's going to have to do it sometime," says Corrales. It had been suggested that maybe Morgan could be a go-between, but Corrales dismissed that notion, saying, "It's my job as the manager to tell him; I'm not going to let somebody do it for me."
Rest or no, Rose is happy to have his chums back, and they are happy, too. "We're going to have a lot of fun this year," says Perez. Adds Morgan, "This could turn out to be the most enjoyable year of my career. It was great the first time around, but I didn't appreciate it as much as I should have. This time I'll be able to stop and smell the roses."
Another nice thing, says Corrales, is that "the younger players see them on the field, and it just makes it easier for the kids to develop good working habits." Rose has taken a speedy young outfielder named Jeff Stone under his wing, and Stone is beside himself. "Petey Rose, Hall of Famer," says Stone, one of 15 children from a Portageville, Mo. family. "He's helping me. You have to pinch me. And Joe Morgan came up to me today and said hi."
"I like talking to young players," says Rose. "When I came up to the Reds, nobody would associate with me. I was taking Don Blasingame's job. I remember what it was like. It doesn't take nothing to be nice to people."
On the bulletin board of the Phillies' clubhouse, there's a little notice that seems to suggest what Perez, Morgan and Rose can do for the Phillies. It's an advertisement for a firm called Hire-A-Grandpa:
"Our mature, experienced people can help you! Hand-picked and screened, responsible persons are available on a part-or full-time basis. Each is selected for his special skills and experience that make life easier for you. Tell us what kind of help you need and how many hours or days are needed. Some of our specialties are...."
Among the specialists that are listed are tutors, handymen, maintenance men and gardeners. The Phillie Grandpas should fill the bill.
PHOTOPHOTOPerez proved in his first intrasquad game that his bat still packs a bunch of punch.PHOTOMorgan, Mr. Comeback of '82, regained his old form when he sacrificed some pounds.FOUR PHOTOSIn spring old men's hearts turn to fantasy: McGraw pretends to be a hitter, Carlton acts like Smilin' Jack, Robinson makes like Mays while jogging around the outfield, and Reed thinks he's as limber as he is gray.