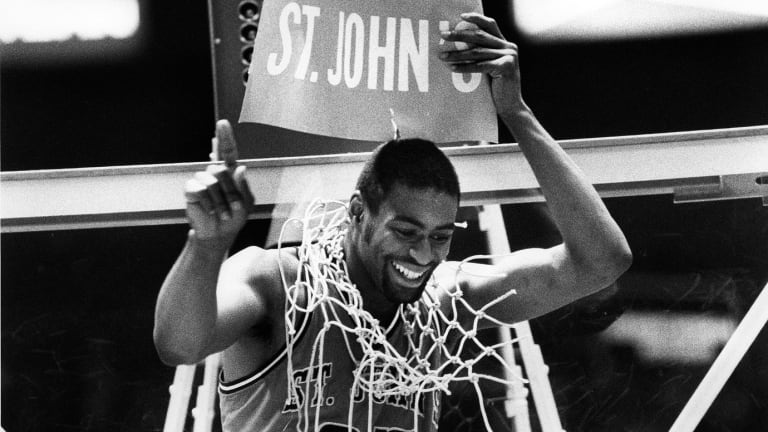 Garden Party for the Redmen
Inspired by a familiar setting, St. John's defeated nemesis Boston College for the Big East championship
We...are...St. John's. We...are...St. John's.
The Redmen's mascot shook his headdress while sounding his war chant, and the students in the Madison Square Garden seats, responding in kind, wore their faces painted up in horrid graffiti that resembled, somebody said, "New York subway cars." The Redmen's star players, Billy Goodwin and Chris Mullin, Ebony and Ivory themselves, lofted their balloons over the zones, while their craggy little antistar coach, Lou Carnesecca, skidded on his knees and blew kisses to the crowd. What other team could possibly wake up in the city that doesn't sleep and find itself king of the hill, lord of the Garden and on top of the Big East heap? Drums along the Hudson. We...are...St. John's!
Anyone on hand for Carnesecca's rambling discourses on such diverse topics as Italian violinists, Portuguese wines and circus logistics—"For chrissake, this is where they bring the elephants," he said one day upon entering the Garden's interview area—not to mention the Redmen's three impressive get-back whippings of folks who had previously beaten them (Pittsburgh, Villanova and Boston College) might well have concluded that the Garden, the tournament and the entire surrounding metropolitan area as well were St. John's.
And why not? The campus sits hard by the Grand Central Parkway, just beneath the airport flight patterns in charming Queens. Goodwin lives in the Bronx, two blocks from the famous zoo, and Mullin hails from Flatbush, Brooklyn. Little Looie himself grew up over a delicatessen on the West Side of Manhattan. And the team commuted to the Garden every day from a suburban hotel in Glen Cove, Longuyland. That just about covers the waterfront.
Putting as much sincerity as possible into his tiny, street-sly smile, Carnesecca kept insisting that St. John's had no home-court advantage in the Big East tournament. But by the Saturday tournament finale the conference's alleged chalk, Villanova, was gone; the league's most dominant center, Georgetown's Patrick Ewing, was long gone; and only the underrated overachievers from Boston College, who had tied St. John's and Villanova for the regular-season Big East title, were left to challenge the drums and the war paint and the non-home team.
After St. John's won the championship game rather routinely 85-77, with Mullin, a 6'6" sophomore, and Goodwin, a 6'5" senior, mixing and matching for 43 points, the Redmen owned 27 victories—a school record—and Carnesecca finally ditched the con.
"It's not just that we won. It's that we won the thing here," he croaked in that Don Corleone rasp of his. He spread his arms to the 19,591 seats that had been sold out for every session. "To win it in this place—ah, that is something very special."
The Redmen themselves were never more special than in the second half of their semifinal game against Villanova on Friday night. Every St. John's starter had missed the basket (seven shots in all) as the Wildcats had taken a 12-0 lead. A few minutes before the end of a half in which Mullin and Goodwin had combined to shoot three for 15 from the floor, they had stood side by side at midcourt exchanging furtive smiles and nonsensical chatter.
"Actually, we were talking fast so that we could avoid looking at the coach," said Goodwin, whose team trailed 39-29 at the half. "You ask yourself can it get any worse and you think, yeah, if we keep playing like this."
But the Redmen didn't. At least after they missed their first three shots to begin the second half, they didn't. Then David Russell, a 6'7" senior leaper who had gone scoreless in the first 20 minutes, finally connected from the baseline to make the score 39-31. A few minutes later, following Villanova Point Guard Gary McLain's three-point play that gave the Wildcats a 46-39 lead, St. John's struck back for 12 straight points, including three baskets by Mullin. Next the Redman outscored Villanova 17-12, getting nine straight points from Goodwin. With 5:07 left the Redmen led 68-58, and Mullin, Goodwin and Russell had scored all 29 of St. John's points in the turnaround. By then the game was all but over because the Big East 45-second clock goes off at the five-minute mark and the Redmen are a splendid free-throw shooting team (77.4%, second in the NCAA going into the conference tournament).
But the game may have been decided much sooner, with 15:07 to go, when Villanova spark plug McLain left with a sprained ankle during the first St. John's rally. With McLain out, Stewart Granger had to move to the point, where he caused some mindless turnovers, while burly Center John Pinone forced shots, hitting just three of 13 from the floor, and Wildcat all-conference Forward Ed Pinckney became all-invisible—attempting only five shots and sinking only two down the stretch.
Mullin, who uncharacteristically had missed a free throw at the end of a Villanova-St. John's game in Philly last month, enabling Pinone to bury a game-winning prayer at the buzzer that cost St. John's the Big East regular season title outright, felt vindicated this time. He scored 29 points, 25 in the Redmen's 62-point second half, which Carnesecca summed up as "surgery" or "hands in the pie" or "like Paganini playing with one string—paradise," depending on when a listener caught his monologue.
If all these teams and coaches and players and mascots—would there were time to describe the cuddly, furry, repulsive Syracuse Orange—sound familiar, it may be because the Big Beast, as conference wags are fond of calling their baby, undoubtedly has come wandering down the cable brick road into the confines of your own home this winter.
The fact is, the fervent atmosphere and SRO crowds at the Garden along with the TV exposure and gobs upon gobs of dollars (league officials predict a cool $1.4 million windfall for the schools and the conference from last week's event) all melded to create a spectacular climax to the conference's four-year pursuit of that beacon of intercollegiate marketing, the ACC. BIG BEAST BITES APPLE; JUICE FLOWS, is how Variety might have bannered it.
Big East Commissioner Dave Gavitt admittedly used the ACC tournament as a model, and he proudly measured its success in New York. "How about this?" Gavitt said one day, surveying another full house. "First time Frank McGuire [the former coach at North Carolina and now director of intercollegiate athletics for the Garden] has passed up the ACC tournament in 29 years."
Unlike many of college basketball's nouveau riche, those alphabet-soup and hyphenated leagues that are inhabited by institutions of higher learning previously sniffed out only by police dogs, the Big East from the git-go incorporated a bunch of traditional powers sitting there just panting to group-boogie. The result was that after Villanova and Pitt joined the seven charter members, the Big East not only possessed immediate credibility—every conference school except Seton Hall has been to the NCAA tournament at least six times and the Hall has made merely nine visits to the NIT—but enormous clout, too.
The Big East now rears its massive head in five of the top 12 national TV markets and can claim an audience estimated at 30% of the nation's TV homes. This season 69 of the 72 Big East regular-season games were televised somewhere in America, usually four nights a week and on Saturday afternoons for the kiddies as well. And you thought Richard Simmons was impossible to escape.
But, then, no true hoop aficionado would want to miss the Big East show. In its first three years seven of the conference's current teams appeared in postseason play, and everyone recalls how Georgetown, Villanova and Boston College stayed alive a year ago into the NCAA final eight and how the Hoyas came within an errant pass of winning the whole shebang.
Last Sunday the NCAA selection committee confirmed the league's high standing by naming five Big East teams—the only conference besides the Big Ten so honored—to the 1983 tournament field. Those five—St. John's (seeded No. 1 in the East), BC (No. 4 in the West), Villanova (No. 3 in the Midwest), Georgetown (No. 5 in the Midwest) and Syracuse (No. 6 in the East)—have won a total of 114 games.
The sagacious Gavitt had previewed this postseason carnival out of town for three years—Providence, Syracuse and Hartford were the off-Broadway warmup spots—before selling it for three more to the Garden. Each conference school received an equal allotment of tickets to sell, Amtrak operated what amounted to a Big East Express from Boston, Providence, New Haven, Washington and Philadelphia right into Penn Station, which is conveniently located in the bowels of the Garden, and all four of the main sessions were practically sold out months ago. The Big East's only bomb was an ill-fated Wednesday night game (free with the rest of the package) between eighth-place Providence and ninth-place Seton Hall, which, competing against the Nets and Knicks in New Jersey, Bette Midler at Radio City and other enticements, drew roughly 5,500 friends and relatives. The Pirates got the tournament off to a zany start by upsetting the Friars 73-64 and then taking a shocking 10-point halftime lead against Boston College before losing 79-56.
Fratricide was the game the Big East played in the regular season, four of the top five teams pitching shutouts against at least one of the other top five. St. John's twice beat Georgetown, which twice beat Syracuse, which twice beat BC, which twice beat St. John's. Villanova split with all of the above, and then barely survived lowly Connecticut in the Garden, winning 69-68 only after Wildcat Coach Rollie Massamino finally figured out how to handle the Huskies' three-midget backcourt of 6'1" Earl Kelley, 5'11" Vern Giscombe and 5'8" Karl Hobbs. "What is this, a casting call for the Gary Coleman story?" asked the New York Daily News.
Meanwhile, Syracuse avenged its two losses to Georgetown, after which Boston College avenged its two defeats to Syracuse, after which BC Coach Gary Williams, recalling his team's two victories over St. John's, said, "It doesn't look good for us in the final."
The tournament's first surprise was that Coach John Thompson's usually reclusive Hoyas stayed a few blocks from the Garden rather than in downtown Conway, N.H. Surprise No. 2 was the popularity of the Ewing look. Syracuse freshman Wendell Alexis out-Ewinged Ewing by wearing a T shirt under his uniform that was even dingier than Pat's old gray mare, and Connecticut's Kelley featured a snappy "T" himself. Available at fine menswear outlets, downtown and on the mall.
Thompson was disappointed that his team, which had limited Syracuse seniors Leo Rautins and Erich Santifer to three baskets in an 80-75 regular-season victory three nights earlier, allowed the pair 13 this time. It was also disconcerting that Ewing seemed vaguely distracted and didn't score until 8:48 into the game, by which time Syracuse was well on its way to a 79-72 upset. While another Orange freshman, a future monster named Rafael Addison, was scoring 17 important points, a Hoya freshman named David Dunn, a former high school football player from Georgia, was casting a couple of implausible mortars during clutch time, guaranteeing Georgetown would finish, well, un-Dunn.
"I knew I'd get caught in a hornet's nest up here," Thompson said. Uh, oh. Next year's Big East lodgings: Halifax, Nova Scotia.
Syracuse was less than a clockwork Orange in the semis against BC; the Orangemen were unable to sustain a quick pace mainly because the Eagles refused to press, as is their wont. Syracuse had abused Boston College by 20 and 17 points during the regular season, but this time Williams ordered patience. So BC fell back on defense and engaged Syracuse in a half-court duel in which Guard Michael Adams and Forward Jay Murphy combined for 48 points, and the Eagles won 80-74.
And so once again the scarlet-lettered BC, the enigma of the litter, the basketball team from the hockey school, had snuck up on another opponent. This is much the same team that came within seven points of the 1982 Final Four; it's minus John Bagley but has more balance, depth and versatility. Do not be stunned if the Eagles cause a major commotion in the big show again this year.
Still, they usually get no high ranking and nobody knows them—for some very good reasons. Center John Garris, he of the ferocious offensive rebounds, was as deserving of being Big East regular-season MVP as Mullin, who won it along with the tournament honors, but Garris was a total bust at Michigan before transferring, and he didn't start a game last season. Murphy is 6'11" of skin and bone, and shoots from so far outside he might as well be at Dartmouth; his counterpart in the other corner is Martin Clark from the legendary mean streets of Folkestone, England. Then there is the exciting Adams, barely 5'9", who is quicksilver between the foul lines but whose ugly shotput J, erratic ball handling and hangdown trunks combine the worst of George McGinnis, J.C. Watts and Joe Frazier. But let's hear it for the Eagles, 24-6 as the NCAA tournament began, whose lightning-quick press had caused 44 turnovers in their two previous wins over media darling St. John's.
That pattern quickly changed in the Big East finals because Carnesecca switched defensive assignments, ordering Russell to guard Murphy outside and the rest of the Redmen squad to fill the key, prohibiting Adams access to the passing seams. "We didn't want another rat race," Carnesecca said.
Murphy, who had previously scored 49 points against St. John's, sank only six of 15 shots. Adams, the cousin of the rising welterweight fighter Marlon Starling and a former boxer himself, was TKO'd along about the fifth round. "One for 13," Adams said after staring at the stat sheet. "I was like a ghost out there."
What St. John's did against the BC press was break it with long passes. The Redmen led 40-37 at the half and stretched the margin to eight points (53-45) with 12:48 left. What the Redmen did against Adams' offense was, as Goodwin later explained, "All head for the paint and spread out. If he wanted to penetrate, we were there, waiting."
Were it not for a courageous inside performance by Garris—32 points, 10 rebounds—Boston College would have been embarrassed. As it was, the Eagles bravely hung in close—at 61-57 and 63-59, when Garris made two free throws and a layup. But St. John's was shooting 68.3% from the field, and Russell (19 points on the day) was throwing down some dazzling slams off the transition game.
When BC reserve Terrence Talley missed a leaner in the lane and Garris fanned an off-balance tip rebound that would have made it a two-point game, Goodwin broke loose with the ball and passed to Mullin, who was hacked. The clock was off, and now it was a foul-shooting contest. Mullin made both of his, 65-59—over and out.
"It's a reward to play in the Garden," Mullin said. "There's a special excitement," said Goodwin. Then, an admission: "We are used to playing in this gym." Gym?
"Dear God, this was important for us," Carnesecca was saying. And saying. "That we not blow it here. Not important for world conditions, you understand, but in our little world, yes. Sweet. So sweet. Now in the NCAAs we may be a raving fiasco. You got to check the moon, the stars, the time of the month. All the other guys got bullets, too. But this week we walked with kings. Joe Lapchick used to say that. That reminds me.... Say, you guys get paid piecework for all of these interviews? Jeez, there's a lot of questions."
But by now the questions have long since ceased. All those of good cheer should hope that the little laughmaker with the best and most interesting St. John's team of all doesn't stop with the answers until Albuquerque. He...is...St. John's.
PHOTO
Undeterred by Boston College defenders like Adams (left) and Murphy, Mullin scored 23 points in the Redmen's 85-77 win in the title game and was named the tournament's MVP.
PHOTO
On your marks! In the race to the championship, Russell and the Redmen left Talley and the Eagles back in the blocks.
PHOTO
Adams didn't lie down on the job against Syracuse. He rose up to pour in 25 points.
PHOTO
Pinckney made himself visible against UConn.
PHOTO
An Orange crush on Ewing helped Syracuse beat Georgetown 79-72 in the quarterfinals.
PHOTO
For Looie the Garden was no picnic until the end.