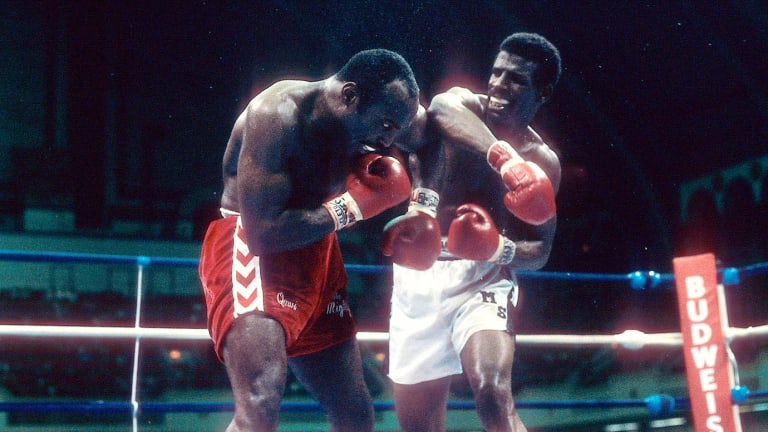 A Crowning Achievement
Michael Spinks reigns over all the light heavies after defeating Dwight Braxton
Michael Spinks rolled out of bed, walked across the room in his suite at the Claridge Hotel in Atlantic City and deposited his angular frame into an easy chair next to the window. Twelve stories below and half a block away, as the Atlantic Ocean broke against the beach beyond the boardwalk, a few hardy strollers leaned into the gusts of wind and driving rain as they headed for their hotels.
Spinks glanced out into the darkness and stretched in the chair, his bare feet on the floor. He was wearing a cap bearing the inscription I'M THE BOSS above the bill. His eyes were only half open, his voice a groan. "Ohhh, I'm sore," said the new undisputed light heavyweight champion of the world, his left cheek resting in the palm of his hand. "I stayed until they closed the party down this morning; I was still dancin' going out the door. My waistline is sore from the dancin' and my neck is tired and sore from the fight. I was hiding my head and Braxton was hitting me in the neck with those roundhouse punches. I'm achin'."
It was nearing 11 last Saturday night, almost 24 hours after Spinks, the WBA's titleholder, had taken away Dwight Braxton's WBC crown, winning a unanimous 15-round decision in Atlantic City's Convention Hall. He had kept Braxton at bay with his jab and off balance by making himself a highly evasive target. Each man earned a guaranteed $1.2 million—a record purse for the division—and Spinks was now the first undisputed light heavyweight champion since Bob Foster retired in September 1974. Spinks and Marvelous Marvin Hagler, the middleweight titleholder, are now the only such champions.
Spinks appeared to be recovering as much from the festivities as from the fight. He and his brother Leon, the former world heavyweight champion, hadn't left promoter Butch Lewis' party at Resorts International until 6 a.m. Michael had been mixing champagne and soft drinks with Heineken beer at the party, and later he tossed off a whiskey or two in a bar at the hotel. By then the sun was up.
"Leon fell asleep at the table so I drank his Crown Royal," Michael says. "I laughed all night, listened to arguments and told stories." The party ended up in Michael's suite, where he finally crawled into bed at 2:30 in the afternoon. By 11 p.m., when he was fully awake, the fact that he'd won the most important fight in his life had only begun to sink in.
"I was laying in bed," he said, "and I was thinking, I won more than $1 million last night! And I won the prize!' I kept saying it to myself, over and over again, i got him. I got him! I beat that bum. I beat him!' I looked at the headlines in the papers and I kept saying, I won. I won!' "
Spinks removed his hat and gave a thought to the inscription. "I psyched myself to believe I was going into a very, very hard match," he said. "I overestimated him perfectly. I respected his punching ability. When I saw something coming, I moved. He couldn't touch me. The strategy worked very easily." Spinks pointed to his hat. "I'm the boss," he said. "That I am."
Precisely who was the real light heavyweight boss had been a matter of no small debate since Braxton, a graduate of New Jersey's Rahway State Prison (armed robbery, 5½ years), had TKO'd the WBC champion, Matthew Saad Muhammad, in the 10th round of their fight in December 1981. Braxton had had no amateur experience—Spinks, of course, had won an Olympic gold in 1976—and he whipped Saad in only his 18th pro fight. Five months earlier, Spinks had seized the WBA title on a decision from Eddie Mustafa Muhammad.
What made the prospective Spinks-Braxton match so attractive was their contrasting physiques and boxing styles. The 30-year-old Braxton, blocky and muscular at 5'6¾", with a 19-1-1 record, including 12 knockouts, comes in low and rolling, working off a hard jab while looking for a chance to launch his damaging, if not devastating, right hand. An elusive bobber and weaver, he's also tough to hit, but what distinguishes him is the relentlessness of his attack.
"Braxton reminds me of me," said Archie Moore, who held the light heavyweight title from 1952 to '61. "Something in his style. He carries his aggression with a defensive mechanism built in. It's called scientific locomotion. He also employs the art of escapology, which is the art of evasiveness. Are you looking at my face? Am I marked up?" asked the man who had 234 fights in a 30-year career.
The 26-year-old Spinks, who was undefeated in 22 fights and had 18 knockouts going into the Braxton bout, is lean and tall (6'2½"). He's a stand-up fighter whose jab sets up crushing punches with both hands—hooks and uppercuts. He's regarded as one of the true bangers in the sport today.
"Braxton will swarm at me for as long as he can, if he can," Spinks said before the fight. "But he's human. He don't run by batteries, either. Punches affect him. In the process of swarming, he's got to get hit. I'll do all I can to keep my distance and hit him when he comes in." Asked about his jab, Spinks said enigmatically, "Ask me about my jab after the fight."
Braxton's plan was to exert pressure and wear down Spinks with a take-it-to-'im attack. "He can fight either one, two or three ways," Braxton said of Spinks. "The question is whether he's going to run, grab and hold or fight me back. I can see him trying to hold on. Whichever way he fights, I'll be there. I know what I've got to do. I'm the champ. Both titles are on the line. I guess you can call me the underdog; but I like that. The little guy beating up the big guy. That's some people's fantasy. And I welcome the challenge."
In fact, Spinks was the 7-5 favorite by fight time, and that undoubtedly stemmed from reports that Braxton was still suffering from a severe cold he'd caught two weeks before while training in Myrtle Beach, S.C. At a time when he should have been working out rigorously, he had to ease up. At a press conference three days before the fight, Braxton spoke in distinctly nasal tones, but denied he was still ailing. "I was sick," he said. "But I'm through the worst of it. I sweated it out. I'm strong. I'm ready."
He had been fighting the cold for almost two weeks. "We kept him off his feet as long as we could," said co-trainer Quenzell McCall. "We loaded him up with grapefruit and orange juice and gave him aspirin and plenty of rest. And a doctor gave him penicillin. We were concerned that he might develop a fever, but fortunately he didn't."
Meanwhile, Spinks trained hard, sparring ferociously, pounding the heavy and speed bags and jumping rope. If there was any concern about Spinks's condition, it had to do with his emotional state. Since last January, when his common-law wife, Sandy Massey, was killed in an automobile accident in Philadelphia, leaving him to care for their 2-year-old daughter, Michelle, Spinks has been walking a psychological tightrope. Four days before the fight, when a reporter asked him about Sandy, he broke down and wept. At a press conference the next day, promoter Lewis beseeched writers not to raise the subject. No one did.
"That has nothing to do with the fight," Spinks told a reporter later in the week. "As far as that goes, only God knows. I wish you would all stop bringing it up to me."
But the most jarring incident of all, the one that most disturbed those around Spinks, occurred in the dressing room just before the fight, when Spinks was waiting to be called to the ring. With 10 minutes to go, Sandy Massey's sister, Sibby, brought Michelle in to see her father. "I was just so stunned to see my baby," Spinks said later. To make matters worse, the first words out of her mouth were, "Where's Mommy?"
"I couldn't hang on," recalled Spinks. "I couldn't say nothing. I couldn't take it. What can you say to her when she asks that?"
"Michael went to pieces," said one of his trainers, Eddie Futch. "You knew it was hard for him to get his mind on the fight."
But Spinks did just that. He knew exactly what he was going to do from the opening bell and for as long as he could. Futch and Spinks and Spinks's regular trainer, Nelson Brison, had devised a strategy weeks before. It was all the veteran Futch's idea—and a simple one at that. He'd used it successfully years before, in December 1958, when his fighter, Don Jordan, beat hard-hitting Virgil Akens for the world welterweight title.
According to Futch, the plan had three parts:
1) "Jab and move to the right and throw left hooks.... When he starts to corner you, you cut back left. Then go right again."
2) "Stay off the ropes and out of the corners. This is where Braxton is the most effective. If he can stop you along the ropes or in the corners, he can put good combinations together. He throws punches in bunches in there."
3) "Don't throw right-hand leads, even if he tempts you by dropping his left. That's the best thing that Braxton does, rolls that left shoulder and catches the other fighter's right with it and counters with a right."
Spinks followed the Futch plan closely enough. Moving to the right, he nullified Braxton's right cross; moving left, he took away Braxton's straight right hand. Almost never did Spinks give Braxton a target. Spinks jabbed and jabbed and jabbed again, round after round, keeping the swarmer from swarming. Spinks had gotten to know a lot about Braxton's tendencies when he was a Spinks sparring partner in 1980, and Spinks was confident that Futch's plan, with Spinks adding a wrinkle here and there, would work.
"It was just right," Spinks said Saturday night. "I knew it was perfect for Braxton's style. I knew that as long as I moved left as well as right, there was nothing he could do. Once, when I was sparring with him, I shut him out for eight rounds—jab, jab, move!"
Spinks won six of the first seven rounds on all cards by doing just that. "I wanted to be like that guy on the TV program, Elliott Ness. Untouchable," he said. "When he tried to swarm me, I was catching him with jabs and hooks. My left hand is awfully sore now, but I was going to work it till it fell off. I beat him with one hand."
Whether he was cautious of coming in on Spinks's right or sapped by the cold, Braxton lacked the fire that had been his hallmark. "The cold cleared up, but it didn't go away," he says. "I felt weary. I had a couple of spurts but no fire. My arms felt weary. I was tired, not like 'I can't go anymore,' but I had a drained feeling. He didn't beat me. It really wasn't me. I wanted him to mix it up with me, but he just didn't. He really ran like a chicken. It was like he had a lot of dog in him."
What Spinks had in him, says Futch, was a plan that he understood thoroughly and executed well.
Braxton's best round was the eighth, which he won on all cards. It was also the oddest round of the night. Spinks went down three times, but referee Larry Hazzard ruled only the second descent a knockdown. "The first time Michael went down, it was a slip," says Hazzard. "He was off balance and did not get hit. The second time was from a punch in the stomach. As he was going down, it appeared as though Dwight sort of stepped on his foot. The third was a slip."
No damage was done to Spinks, but Braxton seemed to gain strength. He pursued Spinks, landing two good rights and an uppercut, and then Spinks appeared to tire as he began pushing out his jabs. "Make that jab sharper," Futch told him in the corner after the eighth. "You're laying it out there. You can't do that with this guy." And when the action resumed, Spinks's harder jab was back.
A touch of comic relief was provided by Leon Spinks, who wore a big cowboy hat askew as he urged his brother on between rounds. "Double jab, then the right!" Leon yelled at one point. Glancing over, Michael shouted back, "Leon, straighten out your hat!" Leon grabbed the brim. "Oh, yeah," he said, adjusting it.
Braxton would occasionally put together a flurry of punches, but he couldn't sustain an attack with Spinks jabbing, hooking and moving on him. "I didn't press the issue like I should have," Braxton said.
The fight produced no more in the way of injury than a backyard scuffle among school kids. Braxton had a minor nosebleed, starting in the eighth, but no fighter was ever really in trouble. "Dwight hit me good a couple of times, but I didn't get dazed up at all," Spinks said. "I kept jabbing and moving."
Which is what prompted Braxton to say that Spinks had "a lot of dog in him." Told of the remark by a reporter, Spinks thought at first that Braxton was complimenting him. "I thought he meant I dogged him," Spinks said. No, no. Braxton meant he was running scared. Spinks shrugged. "It doesn't pay to be a gutsy fighter in a fight like that," he said. "You wind up with cuts everywhere. You wind up getting knocked down. You work harder than you really have to."
It was a good fight, but not the great one that the crowd of 9,000 and the HBO television audience had expected. It lacked the dramatic shifts and turns of epic matches, and it hardly did for the light heavyweight division what it was ballyhooed to do—lead it from the shadows to the showcase. All it really did, for now, was demonstrate that Michael Spinks is indeed the boss.
PHOTOPHOTOSpinks employed a simple and successful strategy of jabbing continuously to set up his right and keep Braxton off balance.PHOTOBraxton figured if he couldn't hit Spinks, he'd still find a way to stick it to him.PHOTOThe shorter Braxton frequently lunged to get within range to throw his fearsome right.THREE PHOTOSThe eighth, Braxton's best round, was nearly Spinks's downfall. First, he slipped down.TWO PHOTOSLater in the eighth, this Braxton left to the stomach—and some foxy footwork—sent Spinks to the canvas for a knockdown.PHOTODown, but not for a count: the ref decided this third Spinks tumble was also a slip.PHOTOTwo big belts for a big belter: Spinks is the first fighter to hold the undisputed light heavyweight title since Bob Foster retired in 1974.PHOTOBetween inserting his dentures and adjusting his hat, Leon was as busy as Michael.PHOTOTo Michelle, Michael is the world champion dad.