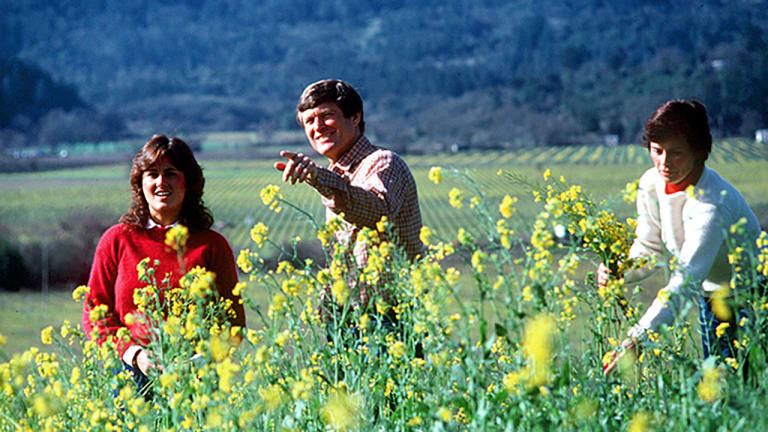 A New Life
Dick Vermeil burned himself out as coach of the Eagles. Now he's learning to enjoy living and his family, to smell the flowers
Every glass of wine ages on its table. Every chair and every Kawasaki dealer in the ball-room is turned toward the podium. At a front table, a small, gray-haired Japanese man, the emperor of Kawasaki, listens with his upper body tilted forward and his eyes narrowed. He has never heard of the speaker before, but in his country they once asked men like this to pilot Zeros down the smokestacks of enemy battleships.
"You got players who won't perform up to their level, don't keep them on your roster!" Dick Vermeil cries. "Get them selling! Give them time to think your way, and at the end of the year, if they don't, then cut 'em or waive 'em!"
His jaw is thrust out challengingly. Everything about him seems to have just burst out of a three-point stance, except his hair, which many years ago agreed to lie perfectly in place for the rest of his life. Now the jaw swivels from one side of the ballroom to the other.
"There's not a man in this room who works as hard as his dad," Vermeil declares. "Limits are self-imposed—there's no limit to human energy!"
He pauses. This speech was written and memorized back when coaching football was still his life, back when certainty was still his comrade. The jaw loses some of its jut.
"I found my limit," he admits.
He plunges back into the speech, and the fire catches inside him again. "My kids say to me, 'I'd never work as hard as you.' I'll tell you, one day there's going to be a wide-eyed awakening in this country when the young people see the results. There are seven days in a week and 24 hours in a day. If you're working a 40-hour week, you've got a helluva lot of hours at your Kawasaki dealership that you're wasting. I never gave a damn if it took 20 hours a day. I had a sign in our locker room that said, THE BEST WAY TO KILL TIME IS TO WORK IT TO DEATH."
He pauses. He's too honest for this. "Instead of 17 to 19 to 20 hours, I should have moderated it. I should have kept it to 14. I worked time to death . . . and it killed me."
He returns to the script, and the fanaticism returns to his voice. "People in management have got to learn to handle the negatives," he preaches. "People that interpret temporary setbacks as failure allow frustration to blind them."
Pause. "I've been guilty of this. You're looking at a failure. I licked 90 percent of the problems. The only problem I couldn't lick was myself."
The speech ends a few minutes later, and an ovation erupts. The motorcycle dealers stand in line to meet him. Some will go home talking about the football coach, some will go home talking about the human being.
Vermeil puts on his overcoat and steps into winter, still uncertain which he would rather be.
Every morning of his life as a football coach, Dick Vermeil would pull a yellow legal notepad from his office desk and make lists. With a first-grade teacher's neatness, he would write a number, circle it and then print the task to be performed. Exclamation points, as if by a zest all their own, would spring from his pencil at the end of his sentences.
One of his lists would be for his wife, Carol; he would call her in mid-morning and read it. One would be for his administrative assistant, one for his personnel director. The longest would be for himself. In recent years, before starting his lists, he would listen to the small tape recorder he kept beside his bed to transcribe the ideas that awoke him during the night.
It seemed all his life would be like this. List it. Do it. Check it off. He was one of a generation of sprinters, of young American males shot down a straightaway out of the starting blocks of the Depression, neither their feet nor their eyes ever leaving their lanes. Vermeil's sprint would simply be faster and straighter and more dramatic than the others'.
The sprint began on the Calistoga (Calif.) High cinder track, upon which he walked, alongside his football coach, on a spring day during his senior year. The school counselor had glanced at Vermeil's grades and recommended a future in his father's garage. Vermeil saw himself coaching football. "If I'm going to do it," he vowed to Coach Bill Wood that day, "I'm going to do it right."
It was as if, upon parting with his coach that afternoon, he had sat down and written a list.
1. EARN COLLEGE DIPLOMA AND MASTERS DEGREE! BECOME HIGH SCHOOL HEAD COACH!
1.1 BECOME HIGH SCHOOL COACH OF THE YEAR!
1.2 WIN LEAGUE TITLE!
He wanted Carol to stay at home with the children, and so when he was finished with his hours of coaching at Hillsdale High in San Mateo, he would change clothes and work some more. At various times he had a job at a food warehouse, dug swimming pools, drove an ice-cream truck, pumped gas, fixed cars under a single hanging light bulb in a silent garage at midnight. "That man's going places," people would say. They had no idea how fast.
2. BECOME JUNIOR COLLEGE HEAD COACH!
2.1 BECOME JUNIOR COLLEGE COACH OF THE YEAR!
He was 27 and personable and handsome, and the coeds at Napa College, a J.C. in Northern California, wished he would stand still long enough for them to flirt. He couldn't. He was busy bullying a wreck of a football program to a 7-2 season in his first and only year there (1964). His reputation began to spread.
3. BECOME MAJOR COLLEGE ASSISTANT COACH!
4. BECOME NFL ASSISTANT COACH!
5. BECOME MAJOR COLLEGE HEAD COACH!
5.1 WIN ROSE BOWL!
5.2 BECOME PAC-10 COACH OF THE YEAR!
The new head coach of UCLA was 37. Not a wrinkle crossed his clothes or face; even his charisma was crisp. "Men," he told his staff as the first day of practice approached in 1974, "I want to get off to a good start. We'll meet at 6 a.m."
His assistants blinked and nodded. They should have known their lives would change when Vermeil interviewed them between midnight and 3 a.m., after his day as a Ram assistant coach was done. That first work day, they adjourned at 1 a.m.
No one could sprint with Vermeil. He led his assistants onto UCLA's 5½-mile cross-country course and strung them out for miles, crying at the finish, "That was great, let's do it again!" Three assistants moved into the local Holiday Inn three nights a week.
The whip came down and left the same quick welt it had everywhere else. The Bruins finished 6-3-2 in Vermeil's first year. On two separate occasions Assistant Coach Lynn Stiles's family awoke to discover him asleep in his car in the driveway. A friend drove Vermeil home each night so he would not be found on the side of the road, dead asleep or just dead.
One day in his second season at UCLA, Vermeil had his staff peering at a film of the previous year's game against Oregon State. Suddenly he punched a button, froze the picture on the screen and blurted, "My God!" The assistants leaned forward, but all they could see was a sideline shot of Vermeil's second-oldest son, David. "God," he said, "has David ever grown a lot in a year!"
"He said it as if the only time he ever saw his kid was on the sideline," recalls former Assistant Coach Carl Peterson, now president and general manager of the USFL's Philadelphia Stars. "Not during the game, when he was there with him, but on film a year later."
Vermeil's oldest son, Rick, who was in high school at the time, was growing his hair to his shoulders, skipping classes and stretching out on the beach. "It's tough to walk a middle road with a dad like him," says Rick, now 25 and an athletic-equipment salesman in the Philadelphia area, "I rebelled. I resented him because he could work so hard and was so driven and so successful—the whole ethic and image he portrayed. He'd say be home at 10; I'd come home at 3. He never pushed me into sports; he just wanted me to be the best I could at whatever I did."
UCLA went 9-2 that second year. Vermeil shocked Woody Hayes and Ohio State 23-10 in the Rose Bowl.
6. BECOME AN NFL HEAD COACH!
The phone rang in Vermeil's UCLA office: Mr. Leonard Tose, owner of the Philadelphia Eagles.
"Tell him I'm not interested," Vermeil called to Peterson. Now the sprint was accelerating even faster than Vermeil had charted it: he had planned to win a national championship before moving on to No. 6 on his list.
Peterson remembers the moment. "Dick said to us, "I can't go now. I want to be an NFL head coach someday, but if I go now, I won't be able to take all of you. I'd need veteran pro coaches up there.' He's absolutely the most loyal man I've ever met. We said, 'My God, Dick, this is financial security. You've got to talk to him.' "
Finally Vermeil agreed to meet Tose on a Friday morning, assuring his assistants beforehand. "I'm not going to take it." He went home that Thursday night and asked his family to vote on whether or not they should move. Carol: No. Rick: No. Dave: No. Nancy: No.
At noon Friday he called Peterson. "Well, I took the job," he said.
Before he could draw in a deep breath, he was standing in front of the Philadelphia media. He told them his emotional approach would not change. "I think people basically are the same from 18 years old to 32," he said. "I think football players play because they like the game, not because they make money."
On July 4, 1976, Vermeil already had his assistants gathered at his first pro training camp. Darkness enveloped Widener College in Chester, Pa., and all was quiet in the dorm room except for the whir of a projector.
Suddenly there was a staccato burst of loud pops and then an explosion. Vermeil bolted to a window and looked out into the night. "What the hell's going on?" he shouted.
Peterson blanched and said, "I forgot to tell you, Coach. There's a fireworks display at Widener's stadium."
"What the hell for?"
"It's July 4, 1976, Coach, the 200th birthday of our country."
"I don't care whose birthday it is! Go tell 'em to turn it off!"
The team that reported to Widener a week later was fragmented by losing, drug rumors and the '74 NFL players' strike. First-and second-round draft choices for the next three years had been traded away. "It was the most forlorn franchise in football," says San Francisco 49er Coach Bill Walsh, who was then an assistant with the San Diego Chargers.
Vermeil dug in. He wallpapered the locker room with slogans. He ordered the Eagles to keep their helmets on and chin straps buckled during the agony of two-a-day practices. Then he ordered wind sprints. Then he ordered the players to lie down on benches and pump pig iron in puddles of their own sweat.
Doubters were dismissed with shocking abruptness. When starting fullback Mike Hogan was arrested on drug charges, Vermeil cut him without waiting for advice from a judge or jury. A free agent named Mike Siegel was sent packing in mid-practice for missing three blocks; he stripped and dropped his uniform on the ground piece by piece before disappearing from the field wearing only his shorts.
But believers felt an honest arm coil around their backs as they trudged away from a three-hour practice. They shared beef and beer in his house, and tears in his locker room. Vermeil cried when he had to cut them, and sometimes, even when logic demanded it, he refused to. They hated him for his toughness and loved him for his compassion and sincerity, and somehow, in the midst of this emotional jackknifing, their Sundays became holy war and they gave up everything for him.
"As athletes," says former Eagle Linebacker Bill Bergey, "we all want to achieve something for ourselves. But with Dick, you go way beyond that. You play for The Cause."
"I always thought he'd have made a great priest," says Monsignor George Sharkey, the team chaplain.
For Vermeil, The Cause began each Monday at 8 a.m. and lasted until one o'clock the next morning, until between 4 and 6 the next, and 2 the next. He would sleep on his office pull-out sofa bed during what remained of those three nights and finally leave his little world at 7:30 p.m. Thursday to go to WCAU-TV to tape his weekly show. "Thank God for the TV show," his assistants would sigh.
Common suffering and Vermeil's loyalty kept the staff from rebelling. But after the 1981 season. Offensive Coordinator Ed Hughes left, telling friends he feared a heart attack.
By Vermeil's second year, the out-manned Eagles were coming within a touchdown of far superior teams. But already Carol Vermeil could see the sprint dehydrating her husband. At last she and Eagle General Manager Jim Murray persuaded him to visit the team psychiatrist. He entered the house a few hours later, his jaw set.
"Well?" said Carol.
"It would take me a week," said Dick, "to straighten the guy out."
7. BECOME HEAD COACH OF A SUPER BOWL TEAM!
By the third year, Vermeil was UPI's NFC Coach of the Year and the Eagles made the playoffs as a wild card team. He buried his head on Tose's shoulder in the locker room and sobbed after the game that sewed up the playoff berth. He hijacked Cornerback Herman Edwards' Super Fly hat at the team party, put it on and danced.
He opened Christmas presents a week late at home so there would be no disturbing his preparation for his first playoff game. His team lost. "If I described what it felt like inside me to lose," he says, "you would write me off as a lunatic. They'd call me one-dimensional, but when I lost, it was the only dimension that people evaluated."
But the Eagles were winners now, and winning only made the tension worse. He set curfews for himself and broke them. He canceled vacations. He gulped coffee for breakfast, ate a Carnation Breakfast Bar for lunch and sometimes had a hoagie, while sitting on the toilet, for dinner. He'd try sleeping pills or hot chocolate or a glass of wine to get to sleep, and still he'd awaken wondering what Shula and Landry and Noll were doing. When he went home, his mind did not, and once dinner ended he'd plug himself into stereo headphones and a Neil Diamond tape and collapse on the couch. He lectured his players that their families were their No. 1 priority.
His sense of responsibility was overwhelming him. He personally redid an entire section of the playbook after an assistant coach drew the circles and squares representing offensive and defensive players freehand, instead of tracing them with a stencil. He accommodated virtually every media and charity request, speaking at up to 50 functions a year. He became frightened—but only for a moment—when long spasms shot through him as he gaped at films. On occasion he seemed to be asking for release from something he could not control. "Sometimes I wish Leonard Tose would fire me," he said.
Al Davis, the Raiders' owner, would phone him at 3 a.m. EST, perhaps to escalate his fear of not working hard enough. Some coaches and executives squirmed at the work standard Vermeil was setting for the league and some of them resented it. "Vermeil got under my skin by making a big deal of sleeping at the stadium and saying that he worked 16 hours a day," groused Dallas Cowboy General Manager Tex Schramm. "I know what other coaches do, and they just don't talk about it."
Because Vermeil heaped so much blame on himself for everything that went wrong, criticism was more than he could bear. Once he had to be tackled to prevent him from climbing into the stands after a heckler at the Vet in Philadelphia. On another occasion he said he felt like decking his wife for second-guessing a play call. "He put on this air as this tough little French sonofagun," says Peterson, by that time his personnel director, "but underneath it he was more sensitive than anybody knew. He'd say he never read the papers. Bullcrap. If he didn't read them, he'd say, 'What'd they say, Carl?' For all his success, his confidence level wasn't always strong enough to pull him through."
By his fifth NFL season, 1980, Vermeil was a Super Bowl coach. "That was the best coaching job in the NFL in the last seven years," says Walsh. "There are other great coaches, but they had great organizations around them. Vermeil beat them with his own guts and a few people who followed him. Players of his he'd brag to me about, I wasn't that impressed with. He convinced himself and them they were great. He lived their lives."
The Raiders ran off the Eagles in the '81 Super Bowl 27-10. Instead of receiving praise, Vermeil was criticized for burning out his team with long practices and meetings.
Vermeil returned to Philadelphia, to a quandary. He had dragged 45 over-achievers to Super Bowl status in an emotional sports city ravenous for more. More? Vermeil added an hour to his daily work schedule.
8. BECOME . . . ?
I'd loveto spend more time with the kids, the husband says. God, they're adults now.
There are so many things we should have talked about all those years, the wife says.
I'd love to go deer hunting in Colorado or Montana. I could sit in a goose pit or a duck blind for hours and freeze and enjoy it.
Sure. And maybe take some time to read, Dick. Maybe play some cards.
I'd love for the two of us to get in a car sometime and drive cross-country. I'd love to go to Italy and see where my great-grandfather came from.
I'd like that. I'd like to have some nice conversations.
I'd like to see our friends. Hell, I don't know half our friends. I'd love to try broadcasting and get the whole family involved so we could work together.
Why can't we, Dick? Why can't we . . . ?
January 1982. A car plowed into Carol Vermeil's Ford on the driver's side, fracturing her right elbow and her pelvic bone and sending 50 stitches' worth of glass into her head, just missing her left eye. "They said she could have easily been killed," Stiles says. "You could see the effect on Dick. For the first time, it really hit him: How important is anything compared to life?"
Vermeil went to San Diego to coach in the Olympia Gold Bowl and had his team of college all-stars hitting so hard during his first day of practice that there was nearly a mutiny. "I'd promised the players a light week, a vacation," says former Kansas City Chief Running Back Mike Garrett, who was player coordinator for the game. "His first day he has them killing each other and they're pulling me aside, saying, 'This guy's crazy. You've got to cut this out or we're leaving.' My teammates called me Mr. Intense at USC, and this guy was two octaves higher than me or anyone I've ever seen. He was personable, but I'd have been terribly afraid to play for him. You couldn't even drink a glass of water slow around him."
April 1982. They thought it was seasickness. The Vermeils were on a sailboat in the Caribbean, taking the vacation they had fantasized about but postponed for years. They felt terrible. They came home to a diagnosis of hepatitis.
For 45 years Vermeil had made unreasonable requests of his body. A remarkably accommodating machine with a pulse rate of 48, it had occasionally protested but in the end had always submitted. Now a doctor was telling a man who had missed just a half-day of work in his life—for Nancy's birth—to live on his back for three weeks. Before a week had gone by, the Eagles' film man was seen staggering out of the office under a huge box of paper work and film, heading for Vermeil's house.
A few weeks later Carol's blood count had improved, and she received permission to break quarantine. Dick's hadn't; he was told to go back to bed. "He called me," recalls Peterson, "and he was angry. He said, 'Goddamn, she beat me getting well.' He was even competing with his wife to get better!"
Draft day came, and Vermeil could lie still no longer. Against his doctor's advice he left his house for the Vet. When he walked into the draft room, every Eagle coach and scout was wearing a surgical mask.
By now Vermeil's sense of humor had shriveled. "You sons of bitches," he growled. "I don't think that's real funny."
Training camp began, and Vermeil did not ambush the mistake-makers the way he once had. Part of it was a conscious effort to pace his team, save more of its frenzy for the end, and part stemmed from the hepatitis hangover he could not shake.
July 1982. Charlie Johnson, 30, perhaps the quintessential creation of Vermeil's labor pains, asked to be traded. Too soft in the body, two years behind his football-playing contemporaries because of a stint in Vietnam, he was not chosen until the seventh round of the 1977 draft. He agreed to do it the Vermeil way. He became a locker-room leader and weightlifting fool. He became a Pro Bowl starting noseguard three straight years. And "He became tired of waking up with a headache from head-butting every day," says Philadelphia Quarterback Ron Jaworski. "He didn't mind the headaches on Mondays, after a game, but he decided his career wasn't going to last very long having full contact in practice the way we did."
Vermeil took it like a slap from his firstborn son. He realized Johnson was not alone. Veterans who had accepted the relentless repetitions and long practices in the program's formative years found them self-defeating now that the Eagles were a playoff team. In seven years under Vermeil, one player insisted, he had fresh legs in just one game.
Once, after three straight losses, the Eagles' staff had polled the players for theories. Frank LeMaster, a friend of Vermeil's as well as one of his linebackers, responded that the players were mentally and physically burned out. At the end of the season, LeMaster got a two-page letter from Vermeil, saying the reason he was tired was because he thought he was tired. LeMaster, who had placed No. 1 on the squad in camp-opening conditioning tests, swallowed hard.
"We didn't always agree with Dick's methods," says Jaworski, "but when we were celebrating victories on Sunday nights, we didn't complain. I never remember seeing a defense I wasn't completely prepared for. But everybody dreaded Mondays, even after we won."
At the end of July, Vermeil shipped Johnson to Minnesota for a second-round pick. After that he ached every time he walked past the picture in his house of Johnson carrying him off the field after a victory over the Vikings.
September 1982. Gene Upshaw declared that the NFL players' strike was on, and Vermeil finally had to accept the possibility that a football player's primary pursuit might be money. He continued to go through the mechanics of addiction even during the strike, popping game films for placebos. Tose ordered him to go home on Thursdays, but he came back every Monday.
His players? Surely the Eagles would work longer and harder on their own than any NFL team, wouldn't they? Instead, they decided that full-scale workouts would be a signal to the owners that they were chafing to return, and with the headmaster's whip removed, they scattered like schoolchildren at recess. A fearful thought struck Vermeil: His commandments hadn't been internalized.
The weekends came, and in the stillness Vermeil heard himself think another disquieting thought. There was no pressure, no Sunday judgment on the floor of the 70,000-seat cement bowls . . . and he enjoyed it. Carol and he would drive three and a half hours to a cabin he had recently bought in the mountains of Pennsylvania. She was shocked when he began pulling off to the side every few miles, stepping from behind the wheel and calling, "Look how red the leaves are. Look how yellow."
"I'm saying, 'Right, Dick, this is the East Coast, and they get red and yellow every year,' " Carol remembers. "He'd take five steps and stop and point again. You can't believe how many rolls of film he used up on trees."
At the cabin they would start dinner and a fire, and pour each other wine. And when the sun broke the next day, he'd hike with his Labrador retriever, or if his boys had come along, they'd hop on motorcycles and hit the trails, the boys grinning and gunning ahead to spray rooster tails of dirt back into his face.
In the middle of November the strike ended. Vermeil felt bad that that didn't make him feel good.
He tried to hurl himself back into the same work schedule without the same illusions. It didn't work. He watched film at 2 a.m. and saw nothing. He began to cry during routine locker-room speeches. His neck was so tense that when driving he could not turn it to see in the left lane. At home, he was farther away than ever. "I'd say, 'Dick, I cut off my arm today, but I don't think it's too bad,' " says Carol, "and he wouldn't even blink."
The first Sunday after the strike, the Bengals manhandled an Eagle team whose players were still grumbling about the new union contract. The second week Vermeil hit bottom. At Wednesday's practice, while his team walked through the plays installed for that Sunday's game at Washington, he sat red-eyed in the parking lot. The most powerful motivator in the NFL could not motivate himself to get out of a car.
On Saturday, while his daughter, Nancy, was graduating from Penn State, her father faced a team bus ride to Washington. As the bus filled up in the Vet parking lot, he sat in his car, once again immobilized.
He dined that night with Monsignor Sharkey. The priest had given Vermeil a book entitled Burn Out two years earlier, and Vermeil had dismissed it. Now he had read the sections of it underlined by his wife and finally admitted it was happening to him.
After dinner he gathered his team for his ritual night-before oratory. Crying, he told them that if he could not find a way to inspire them, he would "waive Dick Vermeil." At 9:30 p.m. he sat down for a snack. He looked over to a table where his veterans sat, expecting to find them quietly preparing for the game. His crusaders were hunched over copies of the new contract. The next day the Eagles lost again.
"Some guys had started turning Dick off," Jaworski says. "He'd get emotional, and it was 'Here we go again.' The bang effect was gone. And we were so much more programmed than other teams, we couldn't just come back after eight weeks and start winning."
When the Eagles lost their third straight game the next Sunday, Tose was waiting for them in the locker room. "You might as well go back on strike!" he raged at the players.
Vermeil was—and is—a friend of Tose's, but he knew he must act. He took Tose by the wrist. "You men know what I think of Mr. Tose," he rasped. "That wasn't Leonard Tose saying that."
The season was torpedoed; the Eagles sank into last place. "I was afraid we'd get a phone call in the night," says Vermeil's brother Al, until recently an assistant with the 49ers, "saying he'd gone to sleep and hadn't woken up. Cardiac."
In other NFL cities, men were living in hells similar to Vermeil's. Last year seven other head coaches—Marv Levy of the Chiefs, Leeman Bennett of the Falcons, Walt Michaels of the Jets, Chuck Knox of the Bills, Jack Patera of the Seahawks, Ray Malavasi of the Rams and Ray Perkins of the Giants—were either fired from or quit what has become professional sport's most distorted job. In a mobile society in which the fabric of community and neighborhood is unraveling, sports more and more are becoming the synthetic replacement, football more and more the favored thread—and head coaches more and more the paranoid victims.
A ninth coach, Bill Walsh, nearly fled, too, just a year after winning the Super Bowl. The last month of the season Vermeil and Walsh volleyed phone calls back and forth, trying to motivate each other. The reasons the job has become so preposterous over the last decade, Walsh says, are these:
• Communications. "The media bring every little detail to the public's attention now, which puts more stress on the ownership to win and builds the fans' expectations higher each year."
• Increasing salaries. "In a lot of cases, as the salaries grow the returns we're getting from players are diminishing."
• Rules changes. "The way they've changed the passing rules, a good team can't dominate the line of scrimmage anymore. The more passing there is, the more variables there are—and the more chance the lesser team will win."
• Parity. "The way the talent is spread in the draft and the way the scheduling is set up, you can go from first to last [as the 49ers did in '82] just like that."
• Drugs. "They have a dramatic impact on the performance of your athletes. They stop sleeping and eating right. In three weeks a great athlete becomes a shell of himself. The coaches who brag the most about their lack of drug problems usually have the biggest problems."
• The USFL. "It's just going to add one more thing for the coach to worry about, and spread the talent even more.
"You have to take the Noll and Landry and Shula approach," Walsh concludes. "Delegate authority to your assistants, relax and breathe deeply. Then we'll probably have assistants burning out. What it all comes down to is that there are now more factors than ever that an NFL coach cannot control."