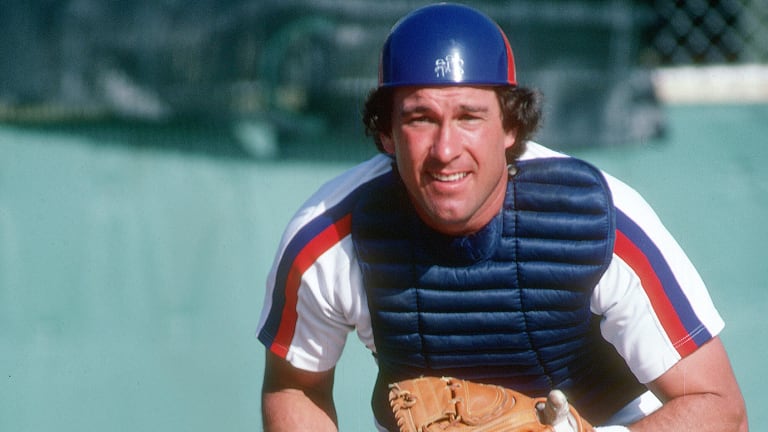 His Enthusiasm Is Catching
One reason for National League superiority is Montreal's Gary Carter, who talks a good game and plays a better one
A catcher is by nature a garrulous sort. His very accessibility inclines him toward chattiness; he is, after all, the only player on the diamond who can converse at will with the plate umpire, the batter, the pitcher, the infielders, the coaches, and the players and managers in both dugouts. If he puts his mind to it, a fast-talking catcher can sustain a running patter with all of these parties at once. As the anointed leader of his team's defense and the caller of pitches, the catcher is also obligated to hold "conferences on the mound," and even when he is not meeting with his pitcher face-to-face, he must continually exhort and lecture him. It's an unusual catcher who can hold his tongue under these circumstances.
Catchers have been chirping away for the better part of a century, from the time of Wilbert (Uncle Robbie) Robinson right on through Gabby (what else?) Hartnett, Birdie Tebbetts, Yogi Berra, Roy Campanella and Johnny Bench—Hall of Fame talkers all. Still, it's unlikely that in this long and honored history of loquacity there has been a catcher the verbal equal of Gary Carter, the brilliant Montreal receiver and monologist. Carter's nonstop commentary behind the plate has been known to drive even the most single-minded and level-headed hitters to distraction. Ted Simmons, then with the Cardinals, once stepped back from a Carter soliloquy, leaned on his bat and inquired with more than a trace of irritation, "Look, are we going to talk or are we going to play?"
Carter doesn't confine his garrulity to the ball field. He's beloved by fans for his willingness to converse with them at length outside the ball park. At the Expos' spring training camp in West Palm Beach, Fla., Carter set aside time each day to chatter with the multitudes who lined the fence along the leftfield foul line. He posed for scores of amateur photographers, happily embracing the cameraman's wife or children, talking all the while. He estimates that he signs somewhere between 75,000 and 100,000 autographs a year.
With the press, he makes even Reggie Jackson seem taciturn. He's the interviewee ideal, one who gathers up a head of conversational steam whenever he sees a tape recorder or notepad about to be activated. He's what is known in the trade as a "self-starter." His less voluble teammates are sometimes scornful of Carter's readiness to consort with the enemy. And they never cease to be amazed. Carter was in full sail at the approach of the Los Angeles Times' Bill Shirley once last year when fellow Expo Warren Cromartie cried out, "Gary, at least wait until the guy asks a question."
Carter even talks to his car, a Chrysler. The automobile is equipped with a computer device that informs the driver in one of those eerie monotone robot voices heard with such annoying frequency in airports these days, "Your door is ajar" or "Your seat belt is not fastened." Carter talks back to it, saying, "I know, I know, you don't have to remind me." Because the car was purchased in Quebec, the voice at first spoke only in French—"Votre pone est entre ouverte." Carter had taken some Berlitz courses in the language but was not yet adept enough to reply in kind. He had the dealer replace the French computer with one conversant in English, so that a proper dialogue might be joined.
Carter is so dismayingly cheerful, so relentlessly positive about all things, so uncompromisingly friendly that the more cynical of his contemporaries in baseball question his sincerity. He has been painted in some clubhouse circles with the same broad brush that darkened Steve Garvey's otherwise snow-white image. Carter is sure that there are those who consider him, in his own words, "too good to be true." It bothers him not a whit. "I've always had this personality," he says. "I've always been smiling. I might get ridiculed for it, but it's just me. You can't fake being nice, you know." Naturally, Carter considers Garvey a friend—which is also what he considers most everyone else—but he feels that any comparison between the two Jack Armstrongs is off-base. "We're both clean-cut individuals," he says, "but we're different. Steve's more laid-back and more political. His emotions are all at one level. I'm much more demonstrative." Those who know Carter best agree. "They're not at all alike," says Expos Pitcher Steve Rogers. "Gary wears dirty underwear."
Although he will turn 29 on April 8 Carter is still called The Kid by his teammates, even those who are years younger than he. His telephone answering service assures the caller, "The Kid'll get back to you," and he wears T shirts labeled KID. The nickname dates to his rookie year, 1975, when indeed he was, at 21, a kid who was not afraid to act like one. There was no phony sophistication masking rookie terror for him. Carter came on to the older Expos as an Andy Hardy, effusing boyish ardor for everything from batting practice to calisthenics. Some found his gee-whiz manner grating. "I thought I was all grown-up," says Rogers, who was then 25 and only a few years out of the University of Tulsa. "I was at the point where I considered all that youthful enthusiasm misguided. But with Gary, it was as genuine then as it is now. Sure, he had a major league ego, but no great talent comes up from the minors without that deep-seated belief in self. All that enthusiasm was simply a personality trait. We couldn't see that then."
Carter may be that rarest of humans—a truly happy man. And with good reason. He's at the top of his profession and still climbing. He's tall (6'2"), powerfully built (215 pounds) and handsome, with a dimpled smile and acres of curly light brown hair. He is surrounded by loving females—his wife, Sandy, who was his high school sweetheart ("Ron Howard can play me, Cindy Williams her"); his daughters, Christy, 4, and Kimberly (Kimmy), 2, who greet his arrivals home with a round of applause; and his golden retriever, Tina, 6, "the first baby in the family." He's extremely close to his father, Jim, a Fullerton, Calif., aircraft parts inspector, and his brother, Gordon, 32, a former USC and minor league outfielder, who's now in the restaurant business in Southern California. He lives in a house on a golf course—golf is a favorite pastime—in Palm Beach Gardens and he's planning a new and larger house nearby. He loves to play baseball—"I heard about a survey that said 93 percent of Americans don't like their jobs, so that makes me part of the fortunate seven percent."—and he's well compensated for playing it. His current contract guarantees him approximately $1.7 million a season through 1989, when he will turn 35. And in the opinion of Expos President John McHale, he's worth it. "He's a franchise-type player," says McHale. "If you can ever justify paying that kind of money, he's one who earns it."
Carter does back up his words—numberless though they may be—with deeds. He is generally conceded to be the best catcher in baseball now that Bench has packed up the tools of ignorance, a master finally of the subtleties that distinguish the great catchers from the merely good. "I get a feeling of confidence just by seeing him behind the plate," says Scott Sanderson, one of his pitchers.
Carter works harder and more often at catching than anyone else. Since 1977, he has caught 838 games, setting a National League record by leading the league in games caught six consecutive years. Even including the strike-shortened 1981 season, when he was the receiver in 100 of the Expos' 108 games, he has worked an average of 140 games a season for those six years. Take away '81, and he has averaged an amazing 148. Because of this back-breaking schedule, Montreal's new manager, Bill Virdon, plans to spell Carter this season in the outfield and perhaps at first base.
Carter, who rarely complains, is prepared to accept a lighter work load, citing Bench's experience—a record 13 seasons of 100 or more games—as an example of catcher's burnout. "I'm on that burnout pace," he says. "I'm not old, but John was burned out at 33. I don't want to cripple myself. I don't want to be just hanging on at 35.1 feel it in the mornings. Sometimes, it takes me a half-hour to get out of bed. There are days when I can't walk down the stairs without stretching and popping my legs back into shape."
Bench, who played a not particularly adept third base for the Reds last season, diagnoses burnout, a popular disease these days, as both a mental and physical disability. "For two years in a row, Gary's been in a tight pennant race," Bench says. "He knows that every pitch he calls can make a difference. That sort of pressure can exhaust you mentally. And then, suddenly, it's your turn to hit and you haven't had time to think about that. Physically, the telltale signs are in the knees and the arm."
By dint of those old reliables, determination and hard work, Carter has developed into an approximation of the compleat catcher and a winner of three consecutive Gold Gloves for defensive excellence. "There's no question now about his all-round ability," says San Diego Manager Dick Williams, who was Carter's skipper at Montreal for 4½ years. "He's established himself as the premier catcher in baseball." Adds Pete Rose, "I don't think he has any weaknesses defensively. He's worked on his game. Like me, he thinks he's the best."
Carter has a strong arm and an extraordinarily quick release. "The [Omar] Morenos get their 70 or 80 stolen bases somewhere else besides Montreal," says Expos Pitcher Dave Palmer. Backup Catcher Tim Blackwell says Carter "frames the ball," that is, catches it with such a smooth movement of the mitt that every close pitch appears to be a strike, a technique he learned from former Expo Coach Norm Sherry. Though Carter realizes how important his continued health is to his team, he will fearlessly block the plate, surviving over the years thudding collisions with such giants as Dave Kingman and Dave Parker. "If I get that baby in my glove," he boasts, "very seldom will you see me drop that puppy."
Through experience, he has learned to call pitches so well that Rogers, a onetime detractor, can now say, "He's like my twin out there. He's calling exactly what I want. He's thinking what I'm thinking. If I throw six changeups in a game, he's called five of them."
Carter himself rates the importance of calling a game well "nine-plus on a scale of 10. It takes a worry away from the pitchers. It leaves the mental side of pitching with me. I don't want my pitchers to think too much. I really study the scouting reports. I now know every hitter in the league, what pitches he can hit and what he can't. I think I have great rapport with my pitchers. Scott Sanderson, for example, is proud of his fastball, but for it to work, the hitter must be set up with the breaking ball. That's my job."
Such talk ordinarily comes from a catcher who hits about .210. But last season, Carter came within a homer, three RBIs and four base hits of becoming only the fourth catcher in history—after Hartnett, Campanella and Walker Cooper—to bat .300, hit 30 or more homers and drive in 100 or more runs in a season. Carter would probably have done it easily had he not been stricken with tendinitis in his left elbow the last month of the season, an injury so painful, he says, "that I couldn't pick up a carton of milk." At the end of August, he had 27 homers and 88 RBIs. He finished with 29 and 97, and with a batting average of .293, numbers that would gladden the heart of an outfielder, let alone a catcher.
Carter is the Expos' career home-run leader with 171 and Montreal's single-season record holder with the 31 he hit in 1977, a year he also batted .284. His batting average in five All-Star Games is a cool .444, and in the '81 game he tied a record with two homers and was named the Most Valuable Player.
Carter works as hard on his hitting as he does on his catching. He has reduced his strikeouts from a high of 103 in '77 to only 66 last year, the second straight season his strikeouts have not exceeded his walks. "I've learned to be more disciplined," he says. "If you want a sacrifice, I'll do it. If you need someone to go to rightfield on the hit-and-run, I'll do that. Sandy makes videotapes of our televised home games, and I study them at home. I'm trying to be the best at this game. I like being called the best catcher in baseball. Nobody remembers Number 2."
Rain clouds scud across streaky Florida skies. It's windy and humid in West Palm Beach, and Carter, taking a breather from a three-hour spring workout, is awash with sweat. It's a rare break in his day. In a few minutes, he will film a series of Pro-Tips, baseball instruction spots for the Canadian Broadcasting Corporation. The spots are the idea of Carter's agent, business partner and friend, Jerry Petrie. For a full 20 minutes after the practice, Carter cheerfully signed autographs for and posed for pictures with adoring onlookers. Now he's strangely in repose, this hyperkinetic, talkative man. He's off stage.
"I've been a positive guy most of my life," he says quietly, "but there was a bad time. It's been almost 17 years since my mother died. That was on May 21, 1966. I was 12. I've spent a good portion of my life without her, and I'd give up my contract now to have her back. It's still hard for me to believe. I was devastated at the time. I remember when she went into the hospital, I said to her, 'Mom, I love you and I'll see you soon.' Six months later she was dead. Leukemia. She was only 37.
"After that, my father became my father and my mother. He was also my first coach. He was always ready for us kids—to play catch, go to ball games. So sports became my outlet and my older brother was my motivator. Whatever he did—and he was a good athlete—I wanted to do better. I was a member of the Fuller-ton Boys Club from the second grade on. We had great facilities, great coaching and great weather. My first coach there was Pete Liapis in basketball and flag football. He'd drive that team bus right up to my front door to make sure that I got on it. I've always wanted to give something back to that Boys Club, so now I have a benefit golf tournament for it. I'm also involved in the Leukemia Foundation of Canada. I'll always have a place in my heart for anybody who loses a parent."
Carter was a magnificent all-round athlete at Sunnyhills High in Fullerton—captain of the football, basketball and baseball teams, a high school All-America quarterback and a star pitcher, shortstop and third baseman—and a student who finished in the top 50 in his class of 600 and was elected to the National Honor Society. In short, the All-American Boy. On graduation, he pored over nearly 100 college football scholarship offers, eventually signing a letter of intent with UCLA. But a serious football injury, torn ligaments in his right knee, in his senior year convinced him that baseball should be his sport. "Dr. [Robert] Kerlan looked at my knee," he says, "and told me that if it got hit again, it would be the end of my athletic career." On June 23, 1972, he signed for bonuses totaling $42,500 with the Expos, who had drafted him in the third round. To his immense surprise, the Expos wanted him as a catcher, a position he had played perhaps a half-dozen times. "The scouts thought I could do it," he says. "They thought I had the athletic ability and the leadership qualities. But at first I was the worst catcher you've ever seen, a real joke. It was very frustrating and discouraging."
Carter spent 2½ years learning the rudiments of catching in the minor leagues and in winter ball in Puerto Rico. He was so raw that his Double A manager, Karl Kuehl, charged him a quarter for every ball he dropped, "and I dropped 10 to 15 a game, which added up to pretty big money for a guy making $600 a month." Carter was still something of a novice when he joined the Expos full-time in 1975, but he was already being acclaimed by the front office as the catcher of the future. Declarations of this nature didn't sit well with the team's veteran pitchers, who were quite content with the catcher of the moment, Barry Foote, a rookie in 1974 who had played like a veteran. "I was one of the more staunch pro-Foote men," says Rogers. "What's most important to a pitcher is someone who can call a good game. So now we have a converted infielder, and none other than Gene Mauch, the manager, is quoted as saying that the Expos will never win without Gary Carter behind the plate. He was touted as our savior. He was being portrayed as the guy who could do what none of the rest of us had been able to do. There was a certain resentment, not with Gary as a person but with the reputation they were giving him. And Gary wasn't ready. He had to grow up in the major leagues. The organization's talent was so shallow that he was forced to come up too soon." And the gabby, sometimes boastful, rah-rah Carter personality only added to the gathering resentment.
Carter felt it. "I could hear them talking in the clubhouse. Then I'd come in and it would suddenly get very quiet. There was no sense fretting about it. I just had to prove myself on the field." But not, immediately, as a catcher. "Lo and behold," says Carter, "I'm a right-fielder." The Expos had decided to stay with Foote behind the plate and use Carter as a backup there and as an outfielder. They wanted his bat, not his glove.
Carter played 92 games in the outfield in '75 and caught in 66. Foote caught in 115 games, but his batting average slipped to .194 while Carter hit .270 with 17 homers and was elected the Expos Player of the Year, the first of three such awards he would receive. He finished second to Giants Pitcher John Montefusco in the Rookie of the Year balloting and played in the All-Star Game—Carter calls it "the mid-season classic."
He was stricken with the sophomore jinx in '76. In spring training, he banged his head into an outfield fence, and in the regular season, he broke his left thumb in a collision with Centerfielder Pepe Mangual and his right hand in a run-down play at the plate. His batting average dropped to .219, and he played in only 96 games, 60 of them as a catcher. Carter spent the winter putting that dreadful season behind him and plotting for a rosier future. "In 1977, Mr. Dick Williams took over as manager, and our general manager, Charlie Fox, announced that Gary Carter would never play the outfield again," he recalls cheerfully. "I was healthy again and ready for a challenge. That spring, I went head-to-head with Barry. I had a phenomenal spring, and he just kind of curled up and died. In June, he was traded to the Phillies."
Pro-Tips (Les Secrets du Baseball in French) are shown during televised Expos games as a sort of refresher course for Canadian fans on the U.S. national pastime. Carter will film his segments with two of the Montreal broadcasters, in English with his old boyhood favorite from the Dodgers, Duke Snider, and in French with Claude Raymond, a native of Quebec who pitched in the big leagues for 11 seasons. In addition to those Berlitz courses. Carter and his family lived year-round in Montreal for five years, so French is not entirely unfamiliar to him. "I can address an audience in French," says Carter, "for three or four sentences."
One segment is filmed on the main diamond of the Expos' West Palm training facility. In it Carter will demonstrate how a catcher fields bunts. This is a taxing exercise because Carter must show how bunts are handled on the right and left sides of the infield and how throws are made to first and third. He hustles on camera with game-face zest—"I don't do anything halfway"—and gets a real workout over the next hour. When the last bunt is dropped and filmed, a now perspiring Carter gives the crew a thumbs-up gesture. "Nice going, guys," he says, in all sincerity.
Another Pro-Tip has Carter in the on-deck circle, ad-libbing glibly about the uses of the rosin bag and the weighted bat and about how he sizes up the pitcher while awaiting his turn at the plate. "This is an integral part of the game," he tells the camera, smiling. "This mental preparation before your time at bat." Big smile. "Forty-five seconds on the button," shouts the director. "And in one take. Perfect, Gary. Just perfect."
"Gary's got a social calendar that I couldn't breathe in," says Rogers. "Gary's public image is important to him," says Shortstop Chris Speier. "You've got to hand it to him, he lives what he talks."
From the day the 1982 season ended to the day spring training started, Carter was as active as he has ever been behind the plate. He sold his house in Montreal and moved his office from one suburb to another. He spent 12 days in Japan filming a segment on The World's Greatest Athletes, and while he was there, he donated a uniform to the Japanese Baseball Hall of Fame and watched a couple of Japanese World Series games. He attended sales conventions in Montreal, Buffalo, Toronto, Calgary and Winnipeg. He spent a week in Hawaii as a guest of the Nike company. He visited a children's hospital in Winnipeg. He conducted the Gary Carter Invitational Golf Tournament. He signed autographs at auto shows for Chrysler in Toronto and Vancouver. He was in Las Vegas for the Consumer Electronics Show. He held business meetings with Petrie in Montreal and with his accountant, Bob Engel, in Buffalo. And he shut down his condo in Fullerton and flew to West Palm Beach for spring training. "The winter," he says, "just flew by for The Kid."
Carter's home for now is in the PGA complex at Palm Beach Gardens. By millionaires' standards, Gary and Sandy live simply. Prints of Norman Rockwell's Saturday Evening Post baseball covers hang in the family room and Gary's office, and in a hallway there's a poster advertising "Charlie Chaplin's New Motion Picture—'The Kid.' " Binders containing Carter's 40,000 baseball cards line his office wall. He's a compulsively neat man—"The better you look, the better you play"—who will stoop to collect stray dust balls or food particles left by his children. "I call him Felix," says Sandy. "You know, the neat one in The Odd Couple." There's a pool and a Jacuzzi out back. Beyond the backyard fence is the second hole fairway of the Haig golf course, so Carter can step out his back door and play a few holes when the mood is upon him.
Sandy is a slender brunette a year older than Gary. She was the Homecoming Queen at Sunnyhills High when she met him—"The queen and the jock," Carter says. They have been married eight years, a marriage of two talkers apparently made in heaven. "When we met in high school, I was just as outgoing as he was," she says. "Our first telephone conversation lasted six hours. On Gary's off days, we all come into the bedroom to wake him up. Kimmy will carry the sports page and Christy will bring the orange juice. Tina will jump on the bed first, then we'll all follow. Gary says it's a nice way to wake up. Home is the one place Gary will let down a little. At first, I wondered why he couldn't push the button for me, too. Then he told me that if he couldn't relax at home, where could he? The traveling is sometimes a little rough on the family, but he loves his job so much. And I love it, too. How often does a wife get to watch her husband at his work? I go to 95 percent of the home games and I take a few West Coast trips to visit my family, so I don't really have to ask him how his job is going. I know because I'm there, too. We sit right behind home plate, and when Gary comes out, he'll wave at us. The girls love it. 'Daddy, Daddy,' they'll shout, and he'll wave some more. Oh, it's great to see your husband so happy."
Carter's sunny disposition cannot conceal a fierce ambition. He wants to win the MVP award. He wants to win the World Series. He wants to do the .300, 30, 100 trick. He wants to be in the Hall of Fame. He has kept a record of every game he has played. He can recite the starting lineups and pitching rotations of every team in both leagues. He can glance at a scouting report and within five minutes conduct a team meeting on it. He's not merely competitive; he's aflame. "I can't stand to lose at anything," he will say. "When I was a kid, I'd turn over the Monopoly board if I lost."
For all of his chipper manner, he can get angry in a game. Last summer, he shattered a startled Bill Buckner's bat in retaliation for an earlier incident when Buckner kicked Carter's mask. The two finally came to blows. "He's one of those players who irritate you," says Buckner, adding, "but I'm sure I irritate him, too." "He's a fiery, forceful, aggressive player," says Bench, who is himself a motivating force for Carter. Although he is a Bench admirer, he bristles at the inevitable comparisons. "I don't want to be classified as another Johnny Bench," he says. "When I catch my last pitch, I want people to remember me as me."
Carter is, as most of us are, several persons in one. The one out front, the affable nonstop talker, is no less real than the one inside, the one who burns to succeed. Not long ago, a person meeting Carter for the first time was moved to remark in wonder, "My God, he may actually be what you see—a believer in the American dream." Carter sees no conflict in his personality. Both parts of it make up a significant whole. "We're all human beings who've been put down here for a purpose," he says. "For me that purpose is playing baseball and bringing some happiness to people, to keep a smile on my face and put one on theirs."
There are worse things.
PHOTO
RONALD
C.
MODRAPHOTORONALD C. MODRACarter wants to be the fourth catcher to hit .300 with 30 homers and 100 RBIs.PHOTORONALD C. MODRATina, Christy, Kimberly and Sandy are always anxious to make room for Daddy.PHOTORONALD C. MODRACarter signs up to 100,000 autographs a year.PHOTORONALD C. MODRAA favorite card from Carter's collection of 40,000.