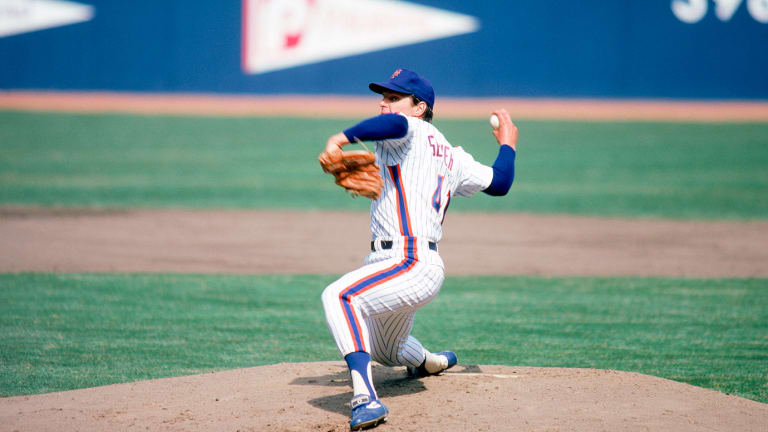 It Was a Terrific Homecoming
Ending a six-year exile from the Mets, Tom Seaver delighted an Opening Day crowd by pitching six strong innings in a 2-0 win over Philadelphia
On Opening Day at New York's Shea Stadium, Tom Seaver's right knee got dirty, and all the world was young. There was a little more to the day than that, of course, but as Seaver fans are well aware, when he gets a dirt smudge on the right knee of his pants, it means he's sharp. For the first time since June 15, 1977, Seaver, the symbol of the Mets' greatest successes, was in a New York uniform. The largest Opening Day crowd at Shea in 15 years, 51,054, came out to see his return against the Phillies, and the crowd, the weather and Seaver were better than anybody could have hoped.
At 10:30 a.m. Seaver left his house in Greenwich, Conn., having said goodby to the women in his life: wife Nancy, daughters Sarah and Anne and mother Betty. "Take your time," said Mom. "Don't rush and don't fall off the mound. Don't swear and don't spit."
Seaver arrived at Shea at 11:15. "He usually comes late on days that he pitches," says Herb Norman, who's in his 17th and last year as the Mets' equipment manager. "That way he can cut down on distractions. Kooz [another erstwhile Mets ace, Jerry Koosman] used to get on him about it, told him he should treat every day the same. When Tom's not pitching, though, he's one of the first players to arrive."
When Seaver walked in, the clubhouse boys were sitting around a table, working on a special baseball contest in the Daily News. There were 20 questions and five tiebreakers, and the fifth tiebreaker was "How many batters will Tom Seaver strike out this season?" Doug Montana, who would become the Mets bat boy once the game began, yelled, "Hey, Tom, help us win a trip to the World Series. How many batters are you going to strike out this year?"
Seaver, now wearing a USC T shirt, walked over to the table and said, "Let me see this." Then he took the pen and wrote a number on the entry blank.
"Four hundred and thirteen!" wailed Montana. "You've never had three hundred before. One hundred is more like it." With that, Seaver grabbed Montana around the chest with one arm and began pounding him in mock earnest with his free hand.
Meanwhile, banners were beginning to appear over the railings in the upper deck: WELCOME BACK, TOMMY TERRIFIC, and WELCOME HOME, TOM and GT CAME HOME (George Thomas is Seaver's full handle).
At about one o'clock, Seaver went out to the rightfield bullpen to begin warming up. Ed Lynch, the swingman on the Mets staff, was also asked to get ready, in case Seaver hurt the left thigh that had bothered him in spring training.
It wasn't until the Sunday before the Tuesday, April 5 game that Seaver committed himself to his 14th Opening Day. He'd pulled the quadriceps muscle of the thigh during a spring-training game against the Phillies 11 days before, and he'd missed one warmup game and cut short another tune-up. But on Saturday he'd thrown fine.
As Seaver started warming up, Lynch was pacing back and forth. "All these people were here to see him pitch," said Lynch, "and if I'd had to start, I could just hear the boos. No, actually, I'd have heard a lot of whos: 'Who the hell is Ed Lynch?' "
Gene Dusan, the bullpen coach, was standing next to Seaver as he loosened up. "Terrific says to me, 'Watch this,' " said Dusan. "After his next pitch, he starts holding his left thigh as if he's in real pain. Lynch just about died."
"My mouth is open," said Lynch, "and my heart is pounding out right over my tongue. Then I hear him laugh and say, 'I got you good.' "
Fifteen years ago Lynch was just another kid from Brooklyn, sitting in the stands at Shea. "I was a fanatical Mets fan even when they stunk," he says. "Of course, I remember Tom's near-perfect game against the Cubs in '69. Here they were in a pennant race and he retires 25 guys in a row. Then Jimmy Quails gets a single to left center. And what does Seaver do? I'll never forget this because I was so impressed. He motions to the shortstop. Buddy Harrelson, to ask who'll be covering second in case the ball is hit back to him. If it was me who had just lost a perfect game, I'd be crying out there on the mound.
"I remember the first game of the '69 Series, too, when Don Buford of the Orioles led off against Tom with a home run. I was so mad at Ron Swoboda because I thought he should have caught the ball. I remember the day in '70 when Tom struck out 10 Padres in a row, 19 for the game. Al Ferrara was the first and last of the 10 in a row, and he hit a homer off him earlier. Now I'm in an unbelievable situation. I dress next to his locker."
Some of the same memories were running through the minds of the fans at Shea on Opening Day, and in fact, as Seaver was finishing his warmups, the Diamond Vision screen was showing highlights of his career.
Usually when Seaver finishes his warmups he walks back to the dugout underneath the stands. But the night before, at the Mets' Welcome Home banquet, Tim Hamilton, the club's promotions director, asked him if he would mind walking out on the field, and Seaver said he would be glad to.
The introduction of the starting lineup was made at 1:20. After the eighth batter, Catcher Ron Hodges, was introduced, Public Address Announcer Jack Franchetti said simply, "Batting ninth and pitching, now warming up in the bullpen, Number 41." No name, just the number. The cheering began.
At 1:29 No. 41 finished his warmups. His catcher, rookie Ronn Reynolds, asked him if he kept his warmup ball or took it to the mound with him. When Seaver asked why, Reynolds explained that there was a handicapped boy near the railing in the rightfield corner who'd asked him for a ball earlier, and maybe Seaver could give the kid the ball.
"I thought it might make his day," said Reynolds. "Heck, maybe it'll make his life." The fans were already on their feet and cheering when Seaver walked over to the stands to give the ball away. "That showed me so much," said Reynolds. "I had a tear in my eye."
Seaver then began his procession to the dugout. In the crowd were his wife, children, three sisters, mother and father. He tipped his hat, placed it back on his head, tipped it again, waved it twice, put it back on, tipped it once more, this time thrusting it skyward, and disappeared into the dugout.
"I knew it would be emotional," Seaver said later, "but I didn't think it would be that emotional. I had to block out a lot of it because I was pitching, but if I wasn't, I would have cried. I know my mother lost it."
The time came for first-ball ceremonies, and New York Governor Mario Cuomo, the former Pirate farmhand, did the honors with New York City Mayor Edward Koch beside him. Seaver would outlast both Koch, who left in the first inning, and Cuomo, who didn't make it past the fourth.
Just before the game started, Seaver went the length of the Mets dugout, shaking hands with everybody on the bench, wishing each of them luck, pumping them up. "That was what really gave me the chills," said Hamilton. Then Seaver sprinted to the mound.
The first batter was Pete Rose. The first pitch was a strike. The second pitch was a 1969 fastball that Rose missed. "I didn't know he could throw that hard anymore," said Rose. Four pitches later, Seaver struck him out on a slider, detonating the Shea faithful.
In one of his last appearances as a Met in 1977, Seaver had struck out Rose three times. That was six long years ago. Dave Kingman, who was traded on the same day as Seaver, has been with four different clubs since then; he, Hodges, Craig Swan and John Stearns are the only current Mets who were with New York when Seaver left for Cincinnati.
In 1981 Seaver was 14-2 in the strike-shortened season, but last year he was Tom Terrible, 5-13 with a 5.50 ERA. That also made him Tom Available, and at the winter meetings the Mets agreed to a trade that sent the Reds Pitcher Charlie Puleo and two minor-leaguers. The teams had to get Seaver's permission, and he was happy to oblige. "I wanted to be closer to my family," he said. "I remember my days with the Mets fondly, but my family was my first consideration."
The Mets wanted him for his promotional value—he's living, breathing proof of the team's two National League pennants and one world championship—and because of his knowledge and attitude; he still looks and acts 25. They don't expect him to win his fourth Cy Young Award. And unlike Montana, the bat boy, they don't expect him to help them win a trip to the World Series. "I can still give some good starts," says Seaver. "If we can get consistent starting pitching, if we can keep the team in the game, every part of this team will improve. It's tougher to hit and field when you're down 7-2 than when the score is close."
Seaver kept them as close as he could on Opening Day. His only real trouble came in the first after he walked Joe Morgan. Morgan went to second on a pickoff throw that Kingman couldn't catch, and although Seaver got the error, it should be pointed out that Kingman's fielding grace approximates his social grace. Morgan went to third on a groundout, but Seaver got Mike Schmidt to fly out.
Seaver gave up a single to Tony Perez in the second, but a double play killed the threat. He retired the Phillies in order in the third and fourth. Perez singled again in the fifth, but Seaver got the next three batters. In the sixth he struck out Steve Carlton, but in doing so he felt a twinge in his left thigh. He caught the eye of Manager George Bamberger and pointed to his thigh. The bullpen was alerted.
He struck out Rose again, this time on a changeup. "I can't remember the last time I struck out twice in a game," said Rose. "I must have missed only two balls all spring." Morgan singled, but while trying to stretch the hit into a double, he was thrown out by his old Cincy teammate George Foster. Seaver's knee was good and dirty now.
In the bottom of the sixth, Wally Backman pinch-hit for Seaver, and though the crowd booed lightly, the fans could not have asked for more: Seaver and Carlton in a scoreless duel after six. Seaver's line was six innings, three hits, no runs, one walk and five strikeouts.
Rookie Doug Sisk came in and pitched three fine innings. In the seventh the Mets nudged home two runs off Carlton, thanks to RBIs by rookies Mike Howard and Brian Giles, giving Sisk the victory.
Even though the game belonged to the rookies, the day belonged to the oldies. Rose was starting his first game in rightfield since September of 1971. With Perez at first and Morgan at second, it could've been the early '70s. What really made the game seem timeless, though, was Seaver versus Carlton. It was their fifth Opening Day matchup, the third as Mets vs. Phillies, and Seaver had won the other two. The Mets hold a mysterious spell over Carlton, whom they have beaten in 32 of 59 decisions. For Seaver, it was his 14th Opening Day assignment, breaking Robin Roberts' National League record and tying Walter Johnson's major league mark. Seaver's Opening Day record is 6-1.
After Sisk struck out Perez to end the game, Seaver was at the clubhouse door, serving as the official greeter and congratulator. There was even some happiness in the Phillie clubhouse. Tug McGraw, who was on the same staff with Seaver for seven years and was the last Met pitcher to lose on Opening Day, in 1974, said, "I just got a very nice feeling. I felt terrific for Terrific. The warmth the fans showed him, and the way he gave it back to them, was really nice. A couple of years ago, they had that The Magic Is Back' campaign, but that was just a Madison Avenue creation. Today, the magic was back."
The money was also back. Seaver went a long way toward paying off his $700,000 salary on Opening Day. The paid attendance was almost 8,000 more than it was last year, which means approximately $80,000 more in revenue. Shea had its largest concessions day in history, with an estimated gross of $300,000. That included a frankfurter for each person plus 48,000 beers, 18,000 sodas, 11,000 scorecards, 7,500 yearbooks, 9,000 bags of peanuts, 5,000 pretzels and 2,000 popcorns. The good feelings Seaver generated cannot be quantified, however.
"The whole day was very warm and moving," he said. "I always thought that kind of reception was reserved for other people. The only thing I can compare it to was in '69 when I lost the perfect game. All I can say about Opening Day is that it was a perfect day."
PHOTO
GEORGE
TIEDEMANN
His sober mien aside, Seaver was tickled by the standing ovation he received at Shea.
PHOTO
GEORGE
TIEDEMANN
En route to the dugout, Seaver stopped to give his warmup ball to a young fan.
PHOTO
GEORGE TIEDEMANN
Wife Nancy and daughters Sarah and Anne are the main reasons Seaver came home.
PHOTO
GEORGE
TIEDEMANN
Carlton, now 27-32 against the Mets, was foiled again.