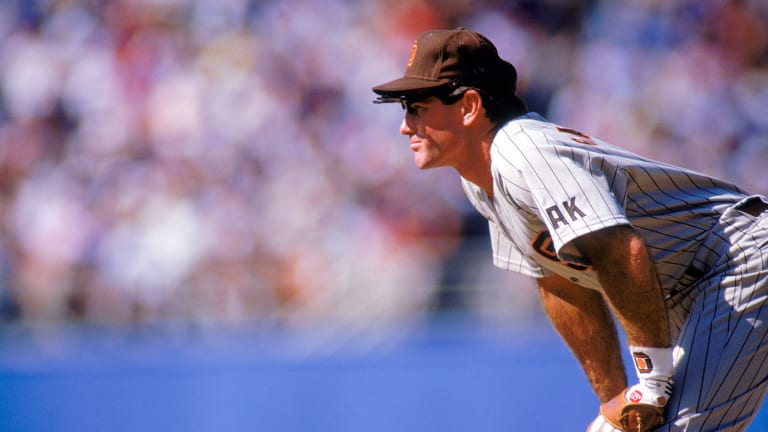 Publish date:
It Was Too Good To Be True
Incredibly, Steve Garvey's return to L.A. as a Padre coincided with his breaking of an endurance record
Steve Garvey pointed to the Great Dodger, sorry, the Great Padre in the Sky. He hoisted his Louisville Slugger aloft, blew fervent kisses across the greensward, waved tenderly at the throng, all the while turning clockwise to make sure he thanked every section, indeed every fan, in Dodger Stadium. For one minute and 22 seconds, he bathed in the warmth of the crowd's affection, and then he bowed like a seasoned stage player and took his place in the batter's box. If all this sounds a little hokey, well it was—hokey and Hollywood and hammy and cheesy and wonderful. There's only one person in the whole world who could have pulled off the grand entrance Steve Garvey made at Dodger Stadium last Friday night.
Actually, it was Garvey's 1,117th entrance in a row at Dodger and other stadiums, tying the National League record for consecutive games played set by Billy Williams of the Chicago Cubs between 1963 and 1970. That the milestone should be reached on the same night that Garvey returned to Los Angeles for the first time in a San Diego uniform was a coincidence almost too good to be true. But then Steven Patrick Garvey, past superstar, present franchise and future senator from California, has always been too good to be true.
In the next few months, television stations across the land will be showing Return To Dodger Stadium, a Steve Garvey Production in association with Trans World International. Check your local listings. Throughout the homecoming weekend he was filmed, interviewed and wired for sound by his own production company. But given the outpouring of devotion by Dodger fans and taking into consideration the favorite film of the Academy of Motion Picture Arts and Sciences, a better title for the docudrama might be "Garvhi."
The flowers began to arrive Friday before Garvey did. They would come in all manner of arrangements—Tony Orlando sent a particularly beautiful one. Garvey also found, waiting in his locker, balloons, gifts and a chocolate fudge cake sent by Jerry and Terri Reuss. The inscription on the cake box read SLUGGO, AT LEAST 1,117 CALORIES IN EVERY BITE. 'CAUSE WE LOVE YOU.
Garvey showed up at 4 p.m. Friday. "Riding to the stadium was very strange," he said. "I saw a kaleidoscope of memories, of games and people I remember as a Dodger. When I got here, I had to remind myself to turn right to the visitors' clubhouse instead of left." When he got to the clubhouse, he discovered that Manager Dick Williams had written out a phony lineup card, with Kurt Bevacqua batting third and playing first base. "I thought I'd give Steve a rest," said Williams. "That's one game in a row for me," said Bevacqua.
When Garvey came out onto the field to cries of "Steve!" Reuss, his closest friend on the Dodgers, was one of the first to greet him. "Come to bless the loaves and fishes?" asked Reuss. Garvey's first meeting with Dodger Manager Tommy Lasorda was cordial, no more than that—"Good to see you, Tommy," "Good to see you, Steve"—although Lasorda later orchestrated a few hugs for the cameras.
Everywhere that Garvey went the media lambs were sure to go, and he later said, "The one thing that might prevent me from setting the record is tripping over one of you guys." Padre Catcher Terry Kennedy came up to Garvey at the batting cage and, using his bat as a make-believe microphone, asked, "Steve Garvey, can you tell me how many times you went to the bathroom today?" At the cage Garvey ran into Greg Brock, his replacement as the Dodger first baseman. "Hi, slugger," said Garvey. Some fans behind the Padre dugout unfurled a banner reading THE DODGERS BLUE IT. WE [LOVE] YOU, STEVE.
Before the game Garvey promised that he would do something very special for the fans before the weekend was over. The 52,392 fans didn't wait to do something very special for him: It was their standing ovation when his name was announced with one on and one out in the first. The ovation could have gone on longer, but Garvey decided it was time to play, so he bowed and walked up to face Fernando Valenzuela.
The first pitch was a ball, the second a screwball that Garvey popped high in the air in front of the plate. And who should call for it and catch it but Brock. "Believe it or not," Brock said later, "when I caught it I was not thinking, 'Oh, wow!' " The play was filled with little ironies. The first base umpire, for instance, was one Billy Williams, although a different one.
The Dodgers, and Brock, proceeded to upstage Garvey. While the returning hero grounded back to the box, hit into a double play and flied to left, Brock hit his fourth homer in five games, singled, stole a base and started a 3-6-1 double play as Los Angeles won 6-2. Garvey was the only Padre regular who didn't get a hit off Valenzuela.
If his return was sweet, his parting with the Dodgers last year had been bitter. "I was disappointed and disillusioned," he recalls. "From the time I was a bat boy until last year, I spent 28 years of my life as a Dodger. I gave and I gave and I gave to the organization, and I wasn't given anything in return. My relationships are based on personal reciprocity. Being a Dodger was a matter of heart, but in the end I felt they didn't want me."
Garvey wanted a new contract negotiated as early as last spring, but that isn't The Dodger Way. The Dodger Way is to wait until a player's contract runs out before negotiating with him. With that weighing on his mind and his home life in turmoil, Garvey got off to a terrible start in '82. In the meantime, Brock was tearing apart the Pacific Coast League.
It became clear to Garvey that the Dodgers didn't care if they lost him to free agency. The club began contract talks with him last July, but cynics said this was probably done to light a fire under Garvey. Whatever the Dodgers' motives, the play worked because he got hot, and the Dodgers turned the Western Division race around, losing the title by only a game.
The one person in the organization who was willing to sign Garvey to a new contract was Peter O'Malley, who, as president, has some clout. But Garvey insisted on a five-year contract. The best the Dodgers could come up with was $5 million for four years, which was very good indeed. The rub wasn't only that the contract was too little but that it was too late. There's a certain parallel between Garvey's relationship with the Dodgers and his relationship with his estranged wife Cyndy. She, too, wanted a reconciliation last year, but Garvey decided it was too late for that.
Contract talks broke off on Nov. 3 and Garvey became a free agent. The Dodger Way is not to compete in the open market for one of their own players, so they didn't exercise their option to select Garvey in the reentry draft. On Dec. 21, one day before his 34th birthday, Garvey signed with the Padres. The contract was for a base of $6.6 million over five years, with various bonus provisions.
The Dodgers are a very generous organization, but they don't let sentiment interfere with important business decisions. "The Dodgers think they're living in Camelot," says Garvey, "but they're letting the knights get away." Garvey maintains that he's as happy as he could be outside of a Dodger uniform: "I used to look like an American flag. The Padre uniform makes me look like a taco.
"Actually, the transition has been great. I've made 25 new friends, and I never thought I wanted to be anything other than a Dodger, but this is fun."
The Padres have welcomed him with open arms, not only as a first baseman but as a person. In spring training he got a head start on his political career by being named Chief Justice of the Padres' Kangaroo Court.
Garvey has conducted a one-man crusade to dress the team in Ralph Lauren Polo clothing. He took Tim Flannery, a 25-year-old second baseman, to the Polo Shop in San Francisco to buy him a suit as a thank-you for giving up uniform No. 6, Garvey's career-long numeral.
Oddly, Garvey always seems to gravitate toward the certified flakes on a team. On the Dodgers his best friends were Reuss and Jay Johnstone, and on the Padres he has become friendly with Bevacqua. "I tried to figure it out," says Bevacqua, "and there are two possible reasons. Either he hangs around with us because we're something he can never be, or we hang around with him because he's something we can never be."
Garvey's box-office appeal has already been felt in San Diego. Season ticket sales have increased by almost 6,000 this year, and he's been tireless in promotional work. The Padres will be happy even if he doesn't return to his old hitting form. "We don't expect him to hit .330 or 30 homers anymore," says General Manager Jack McKeon. "We just want somebody the young players on our ball club can emulate. We'll be happy if he does what he did last year." Despite his slow start in 1982, Garvey batted .282 with 16 homers and 86 RBIs. At the end of last week he was hitting .286 with one homer and five RBIs.
In the meantime, the Dodgers are very happy with Brock. Two things he can do that Garvey couldn't are: 1) bat left-handed, which balances out the batting order, and 2) throw. But Garvey can do at least one thing Brock can't. That's give an interview. Brock is nice enough, but his charisma quotient is low. And the Dodgers may very well miss Garvey at the gate. The Dodgers probably have a higher percentage of female fans than any other team, and Garvey is a great favorite with women. When it appeared certain he was leaving last fall, some Girl Scouts picketed the stadium.
"I've heard from many fans who have told me something is missing at Dodger Stadium this year," says Garvey. "Something is missing," said Mark Rothman, a fan with a HELL NO! GARVEY CAN'T GO! T shirt. "I know it was a business decision, but they should have let the fans' feelings enter into it. I think the contract they offered him was just to save face." His friend Louise Ellison, whose T shirt read the same, said, "I cry almost every time I read his name in the papers now."
Dodger attendance has been off this year, some 6,000 a game before the Padre series, although part of the dropoff can be traced to bad weather and bad opponents. Still, Friday's game was the first sellout of the year since Opening Day, and Saturday, when Garvey would break Williams' record, brought the third sellout.
The Dodgers were nice enough to hold a "night" for Garvey on Saturday when he was presented with various plaques and scrolls and gifts. Billy Williams, the one who played for the Cubs, was also a guest, as were Joe and Millie Garvey, Steve's parents, whom the Padres flew in from Tampa as a surprise. In an emotional speech, Garvey again thanked the fans. "I consider you the 10th player," he said. "There aren't many words to describe how I feel, but there are three, and I love you." Garvey still trails the No. 2 man in the iron-man sweeps, Everett Scott of the Red Sox and Yankees, who played in 1,307 consecutive games from 1916 to 1925. And he's a long, long way away from Lou Gehrig's major league mark—it would take him until the 54th game of the 1989 season to surpass Gehrig's total of 2,130—but he's fast approaching Gehrig in tear-jerking speeches.
Nonetheless, Garvey's record is an astounding achievement, a fact that was brought home when he posed with a banner covered with the box scores of the 1,117 games. It all started on Sept. 3, 1975 when Garvey came back against Cincinnati after a two-day bout with the flu and doubled in three trips to the plate. "Only he and I know what you have to go through," said Williams. "Playing hurt, staying lucky. I don't think he has a chance to catch Gehrig. But then Garvey's kind of special."
Garvey was a little more successful at the plate Saturday night, singling and doubling off Reuss, who retaliated by accidentally stepping on Garvey's foot while running to first. However, Garvey was still outdone by Brock, who doubled twice and singled to drive in a run as the Dodgers won 8-5. On Sunday, Garvey got two more base hits and drove in a run as San Diego won 9-1. By then, most of the fans had probably seen the full-page advertisement he had taken out in the sports section of Sunday's Los Angeles Times. He would not reveal how much he paid for it, but the standard page rate is $15,000.
Headed A SPECIAL MESSAGE TO ALL, the ad said, in part, "It is nineteen eighty-three and the uniform is no longer the same, nor are the colors or the name. But the man inside remains simple, dedicated, principled and with the same realization that you have been with me through the good times and bad for thirteen years now.... You taught me the power of hope, the virtue of patience and the strength of dignity. I would like to dedicate the National League consecutive game record to you, not only for the past but the present and future. With love and dedication, Steve Garvey."
Hokey, yes. And there's only one person in the whole world who could have gotten away with it.
PHOTO
Surrounded by the media, Garvey greeted Brock, the rookie who replaced him.
TWO
PHOTOS
Garvey has always been a wow with the women fans, and they came out en masse for his return to get some things off their chests.
PHOTO
Garvey answered the cheers with a bow before batting.
PHOTO
Lasorda's embrace was considerably warmer than his actual relationship with Garvey.
PHOTO
After being held hitless in four at bats on Friday night, Garvey ripped a pair of hits in each of the next two games at Dodger Stadium.
PHOTO
Garvey has an affinity for the game's flakes, including Reuss.
PHOTO
Garvey's streak began in 1975, but to match Gehrig's it must last seven more years.