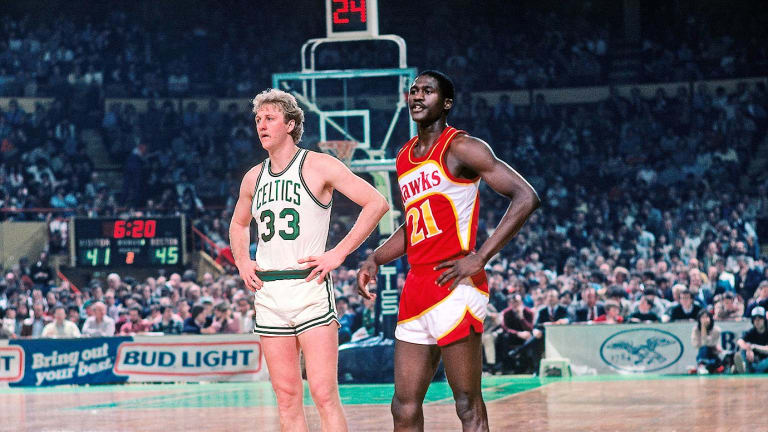 The Celtics' Fight for Survival
After a lackluster season and a slow start in the playoffs, Boston showed Atlanta some muscle
At first glance, the Boston Celtics' 98-79 victory over the Atlanta Hawks last Sunday in the third and deciding game of their Eastern Conference miniseries was one of the ugliest in NBA annals. Bodies were strewn about the Boston Garden court. In the centerpiece brawl, Atlanta Center Tree Rollins bit the right middle finger of Boston Guard Danny Ainge, causing a wound requiring five stitches. Rollins wasn't unprovoked. The normally peaceable Ainge had elbowed Rollins and then had put a takedown move on him that might have made Dan Gable proud. Ainge was ejected, but not Rollins. There were 38 turnovers and 46 personal fouls. All in all, not a pretty picture.
But to Celtic Coach Bill Fitch, the victory, which advanced Boston to the conference semifinals against the Milwaukee Bucks, was merely picturesque. "We may not always play well," said Fitch, "but we play hard."
That wasn't strictly the case during the regular season, but on Sunday the Celtics were as mean, snarly and unattractively effective as ever. Perhaps, as Hawk Coach Kevin Loughery said afterward, the brawl was a minor matter. "Stuff like that used to happen twice a game in the old days," he said. But, for the Celtics, that bristling scene—in fact, the entire stick-it-to-'em game—may have been just the jolt they needed.
That Boston found itself in a miniseries for the first time in six years speaks volumes about its frustrating 1982-83 season. When you regularly win Atlantic Division titles, as the Celtics had the past three years, you get accustomed to the respect—and week of pre-playoff rest—that go with finishing first. So although its 56-26 record was the third-best in the league, Boston entered the series against Atlanta with something of an inferiority complex.
During the regular season, as the gap between the Philadelphia 76ers and the Celtics widened—it would be nine games as the season ended—that old green magic seemed to diminish.
This view was hotly disputed last week by Boston's magician-in-chief, Larry Bird. "The bottom line is that we're still the Celtics," he said. "Ask L.A. and Philadelphia who they fear, and I'll bet they say us."
And, indeed, the Celtic record against division winners wound up at 10-6: 3-3 against Philly, 2-0 against L.A., 3-3 against Milwaukee and 2-0 against San Antonio.
However, according to one Boston player, "We had been winning just because we're the Celtics, but now teams are saying, 'That's bull,' and coming at us hard. And this team doesn't handle losing very well. Everyone—the players and the coaches—acts differently when we don't win."
Some Celtic watchers foresaw problems even before the season began. By trading the rights to Dave Cowens, who retired in 1980, to Milwaukee for Guard Quinn Buckner, Boston had acquired a quality "Celtic-type" player, but also had created a glut in a backcourt that already included Ainge, Tiny Archibald, Gerald Henderson, as well as swingmen Charles Bradley and M.L. Carr. Everyone but Carr started at least five games, resulting in a hodgepodge of combinations, reduced playing time for some individuals and bruised egos.
The frontcourt, already perhaps the best in the league, became even deeper in mid-January when Boston traded bench-warming rookie Center Darren Tillis to Cleveland for Forward Scott Wedman, a career 15.3-points-per-game scorer. Now it appeared for sure that the Celtics had too many able bodies, which can be almost as deadly as having too few. "What you want is eight really good players and four mediocre ones," says one really good Celtic. "Before, guys like Eric Fernsten and Terry Duerod [subs on recent Celtic teams] really had no aspirations of being great players and didn't demand playing time. Now, with so many good players on the team, it's easy to get disgruntled."
Fitch says that's hogwash. "Too much talent is when you have players who are ready to and can go for 48 minutes," he says. "Take Tiny, for example. He's 34 years old, and he can't play 48 anymore. He got mad at first; hell, I'd get mad if someone told me I was 34 and couldn't do everything anymore. But he still gets his quality minutes [an average of 27.4 per game]. It may seem like there's been a lot of juggling, but back in October and November I was looking ahead to April and the playoffs."
Bird, for one, thinks Fitch did an excellent job of maneuvering the troops but also concedes that all the shuffling probably cost the Celtics in terms of continuity. "We never really got a string going," he says. "It seemed like we'd win four, lose two, win four, lose two. There were so many changes in the lineup that there were times when we didn't move the ball around like in the past; the flow and timing were a step behind."
During the regular season there was never a compelling reason to get that step back. By the end of January it was obvious that Boston wouldn't catch the 76ers and also that Central Division-leading Milwaukee wouldn't be able to bump the Celtics out of the second-best record in the Eastern Conference. As a result Boston became, according to Center-Forward Kevin McHale, "an average team. If we won five games in a row it didn't matter; if we lost five in a row it didn't matter. So what was the point?"
A flurry of What's Wrong With The Celtics? newspaper stories appeared in Boston and across the country. Some described the players as bickering incessantly with each other. Others said that General Manager Red Auerbach had demanded that Buckner be made a starter in order to justify the trade. Still others implied that the players were tired of Fitch's drill-sergeant coaching methods.
While the first two assertions were false, there was truth to the suggestion of some player discontent with Fitch. Ironically, it came during a season in which Fitch wasn't the martinet he had been made out to be in the past. "I think he recognized what a difficult year it was for all of us, and he eased up quite a bit," McHale says.
Not that Fitch totally abandoned his biting manner. "The man has a lot of good things to say, he just has some awful ways of saying them," says one Celtic. "You can only call someone dumb or stupid for so long." Adds another, "Everyone rebels in his own little way. I can't get into someone yelling about why I didn't get over a double pick. I wonder if someone in a normal business gets yelled at for not getting over to the Xerox machine the right way." Says McHale, who isn't as obsessed with basketball as Fitch might like, "I long for the day when something I do out on a basketball court affects Wall Street."
During a road trip just after the All-Star break, something happened that might have brought the players and Fitch closer together. In Seattle one evening, he lost about $400 to a pickpocket in a bar. When the team assembled the next day, all the players had jokingly taped shut their jacket pockets. Fitch wasn't amused, and the gulf widened.
Regardless of Boston's problems, hardly anyone gave Atlanta a ghost of a chance in the miniseries—except the Hawks themselves. Although Boston had won five of the six regular-season meetings between the clubs, Atlanta players were among those who no longer regarded the Celtics with awe.
Despite an offense that averaged only 101.6 points per game, 19th in the league, the Hawks made the playoffs, sneaking into the sixth and final Eastern Conference spot by winning 18 of their final 28 games.
Indeed, Atlanta felt it had more than a fair shot at toppling Boston. Said one Hawk official before Game 1, "With the Celtics, the whole is definitely greater than the sum of the parts. It's just that you freeze a little bit when you think about playing the Celtics. I'll concede that Bird is one of the two best players in the league, but Cedric Maxwell can be beaten, can't he? Is it stupid to say that Archibald has reached the end of the line? Is it inconceivable to feel that Ainge isn't ready yet and that Henderson is a pretty ordinary guard?"
As the Celtics' 116th straight sellout crowd of 15,320 watched Game 1, for a while it appeared that those were pertinent questions. A year ago in their opening miniseries game against Philadelphia, the Hawks had been embarrassed 111-76. This time, instead of having his team try to run stride for stride with a more talented club, Loughery had Atlanta attack with a variety of spread offenses, clearing out two, three and sometimes four players in an effort to put his outstanding scorers in head-to-head encounters with Celtic defenders.
More often than not, the Hawks' best offensive weapon turned out to be Forward Dan Roundfield, who would finish the game with 24 points and 20 rebounds as he controlled both the boards and the Atlanta attack. On defense, the Hawks swarmed and trapped, double-teaming the ball whenever it went down low and forcing Boston to score from the outside, where the Celtics guards shot 14 for 36. The game plan worked so well that a 15-9 spurt in the fourth quarter put Atlanta up 85-81 with 6:55 to play.
Things continued to go the Hawks' way when Maxwell—who, in the upset of the evening, had been given an award for good sportsmanship by The Boston Globe, even though he hasn't spoken to the press all season—was called for an offensive foul with 6:38 left, and Boston called what seemed a desperation timeout. As the Celtics returned to the court, the crowd noisily rallied behind them, and now for the first time the Hawks appeared to be asking themselves, "What are we doing here?" For the remainder of the game the answer was nothing much. Buckner, who isn't known for his shooting, hit three key jumpers as Boston outscored Atlanta 22-10 and won the game 103-95.
Although Atlanta had done most everything right but win in Game 1, it was generally assumed that the series would end in Dixie on Friday night. After all, the reasoning went, the Hawks couldn't play any better, and Boston wouldn't shoot a measly 45.7%, as it had in the opener. That turned out to be right. The Celtics shot 40.4%. Atlanta led by as many as 17 points en route to a 55-42 halftime margin. Forward Rudy Macklin, who'd had a cold hand in Game 1, huddled before the game with Dale Brown, his coach at Louisiana State, and came out sizzling, scoring 10 points and adding seven rebounds in the first half.
Macklin got another five points in the third period, but the biggest basket for the Hawks came with one second remaining in the quarter. Having frittered away the halftime lead via seven turnovers and numerous bad shots, Atlanta found itself tied at 66. Inbounding the ball at midcourt, Randy Smith hit Dominique Wilkins, who calmly sank a 40-footer from just across halfcourt, putting the Hawks back up by three. Atlanta hung on from there to win 95-93. "That was really the ball game," Fitch said of Wilkins' shot afterward.
Perhaps a more decisive factor was the defensive job Wilkins did on Bird, denying him the ball and hassling him all the way. Nique, as he is called by his teammates, held Bird to four-of-18 shooting from the floor. Bird wound up with just 15 points. In Game 1 he had scored 26 points, but he made only nine of 20 shots and had scored only 10 points when Wilkins was in the game. "Of this season's rookies, Terry Cummings and Clark Kellogg got all of the ink, but neither one had to compete under playoff pressure and neither had to play defense," said Atlanta General Manager Stan Kasten after the game. "It's obvious how far Dominique's come."
When asked if he thought Wilkins had won the battle between them Friday, Bird snapped, "I didn't know me and him were playing one-on-one. I thought this was a team game."
Previously he'd said, "In the playoffs, teams are keying on me more, and I feel it's more important to the Celtics that I work harder in areas other than shooting, like rebounding and passing. There have been some great defensive players on me, but sometimes I really believe that no one can guard me."
The rubber match between Bird and Wilkins almost didn't materialize. Wilkins stubbed his left foot on the television stand in his Boston hotel room Sunday morning and got a nasty gash on his little toe. The bleeding stopped, and Wilkins was given an injection of novocaine and cortisone before the game.
Bird knew none of this and it probably wouldn't have mattered anyway. He came out firing, scoring 10 first-quarter points and harassing the hobbling Wilkins into poor shooting (1 for 6 for the game) from the outside. "I took him completely out of his game, which is what I set out to do," Bird said. During the bench-clearing melee, which occurred at 6:15 of the third quarter, that meant a little one-on-one jawing. "I told him to go back to the bench and sit down and that I hoped he had a nice summer," Bird said. "He's just a rookie, so you got to take your shots wherever you can get 'em."
Unfortunately for the Hawks, they didn't make enough of the shots they got. Boston double-teamed the ball up high, forcing Atlanta to chew up too much time before letting go some improbable-looking shots. Wilkins and Roundfield were only six of 21 from the field and combined for a mere 18 points. "Anytime you get into the playoffs, the whole thing comes down to defense," Fitch said. "Our guys took their pride and their intensity and came right out and did it." The guy who did it best was Bird, who had 26 points, nine rebounds and nine assists.
And if the Celtics got scuffed up a bit, O.K. "If teams were smart, they would play us very gently," McHale said. "They'd come out and say, 'Hey, how ya doin'?' and just leave us alone. We don't play well until we get jolted out of complacency."
Well, consider the Celtics properly jolted.
PHOTO
Conceding eight inches in height to his opponent, Ainge (44) resorted to wrestling to cut Tree down.
PHOTO
Robert Parish scored a team-high 17 points in Game 2, but Boston still fell short by two.
PHOTO
Maxwell saved his best for last, canning 19 in the Celts' clincher.
PHOTO
A Celtic posse couldn't round up Roundfield, who had 24 points in the first game.
PHOTO
In the second game, Davis dished out assists—he had 10—left and right all night.
PHOTO
Hawk owner Ted Turner was his usual demure self during Game 2.