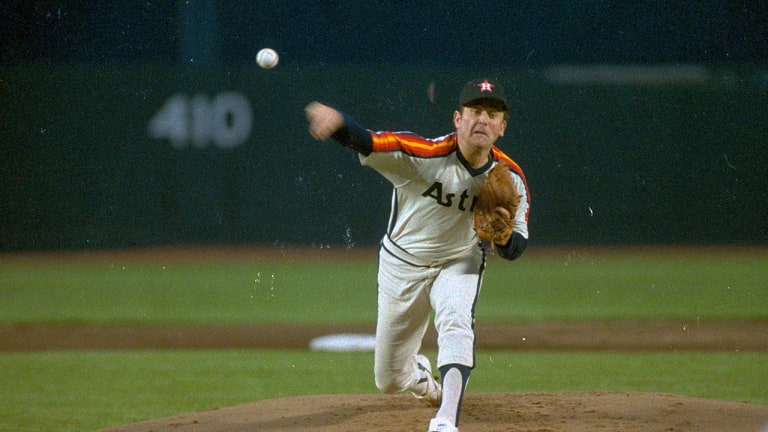 For Ryan, It Was A Very Special K
Houston's Nolan Ryan became baseball's leading strikeout pitcher, surpassing Walter Johnson, whose record had stood for 56 years
It was a perfect setup for a strikeout record: a dominant pitcher against an outmatched hitter. On the mound at Montreal's Olympic Stadium the afternoon of April 27 was Houston righthander Nolan Ryan, just one K away from replacing Walter Johnson as baseball's alltime strikeout leader. The sainted Senator had assumed the lead in 1921, with 2,820, when he passed one Denton True (Cy) Young, and had 3,508 when he retired six years later.
At the plate was Brad Mills, a substitute infielder with 154 at bats in the big leagues. Expo Manager Bill Virdon had summoned the lefthand-hitting Mills to hit for the righthanded Doug Flynn. Mills had singled off Ryan in their only previous encounter, last season in Houston. But Mills was struggling now, and Flynn had never struck out against Ryan. So much for baseball's book of percentages.
Ryan walked around behind the mound, telling himself not to rush his delivery. He braced on the rubber, raised his hands over his head, tucked his left knee under his chin and threw with his simple and fluid motion, leading with his left foot, shifting his weight and releasing the ball with his right arm at an 11 o'clock position. In came a fastball over the outside corner for a called strike. Now a curve, low and inside, but Mills couldn't stop his swing. Strike two. Ryan wasted a fastball outside. One and two. Tugging at his cap, Ryan walked off and on the mound and shivered like a dog shaking off water as he looked in for the sign. A big, sidewinding curve over the outside corner. Called strike three!
In the crazy quilt of activity that followed, no two characters seemed to mesh. Mills stood forlornly. "I was looking for a fastball, he threw a curve and I got vapor-locked," he said later. Umpire Bob Engel was animated. He turned and threw a hard right jab—a memorable thumb for a record-breaking strikeout. As the 19,309 fans at Olympic Stadium rose to cheer, Ryan hesitantly raised his hat. Meanwhile, stoic as monuments, giant likenesses of Ryan and Johnson appeared on the electronic scoreboard in centerfield.
Like Johnson before him, Ryan is a modest and clean-living young man from rural America who has pitched uncomplainingly for generally mediocre teams. He was born in 1947, the year after Johnson died. As Johnson did, Ryan relies primarily on big heat. Johnson was the celebrated Big Train; Ryan—Nolie or Tex to his teammates—throws the Ryan Express. Oh, there are differences. Johnson threw almost nothing but a sidearm fastball, which all but blinded the hitters of his day. "You can't hit what you can't see," former American Leaguer Ping Bodie marveled. Ryan goes over the top and throws a nifty curve about 30% of the time. But Johnson and Ryan will forever be linked as the most overpowering pitchers of their time.
Still, baseball men debate the importance of the strikeout record. "Three thousand strikeouts is the equivalent of 3,000 hits," says Seattle Pitcher Gaylord Perry, who at week's end was just 42 short of Ryan's 3,509. "Strikeouts are important if you need them to win a game, but I don't know if they're a measure of how good a pitcher is," says Hall of Famer Bob Gibson, one of seven members of the exclusive 3,000 Strikeout Club. "Wins and losses are the important thing," says Atlanta's Phil Niekro. But Cincinnati's Frank Pastore counters, "With wins, you're dependent on your team. You can get the strikeouts yourself."
The record could not have come at a better time for both Houston and Ryan. The Astros went 3-16 in spring training and lost their first nine games of the season, in part because Ryan missed three weeks with prostatitis. "When he plays, Nolan always has a positive effect on the team," says Houston General Manager Al Rosen. "He's like Joe DiMaggio—not a holler guy, but a leader. You respond to him. There's a sense of majesty, like Affirmed at the post."
Ryan's first 1983 start didn't come until the 12th game of the season. He set down the Expos 6-3, getting seven strikeouts in six innings. The Astros responded by winning six of their next nine. With Ryan eight short of the mark, 32,130 fans—nearly 2½ times the average Astrodome crowd this season—lined up for his April 22 start against the Phillies. Ryan was so nervous before the game he put on his jersey backward. Then he admittedly tried too hard, walking six, striking out only three and losing 6-3. "People expected him to get eight strikeouts when he'd hardly pitched at all [8'Öì innings] in spring training and just one game in the season," says his wife Ruth. "That was really a lot to hope for."
The conditions and premonitions were better in Montreal. The Astros awoke Wednesday out of last place for the first time all year. "We're not Lastros anymore," said Pitcher Joe Niekro. The previous afternoon Bob Knepper had shut out the Expos 2-0, although he walked the leadoff batter in five different innings. "Not your basic game plan," said Knepper. On the bus to the park Wednesday morning Ryan kidded Knepper about his win, but recalled that he himself had walked eight batters in one of his record five no-hitters. "I knew you'd find a way to get your no-hitters into the conversation," Knepper said. Ryan laughed. This time he was plainly at ease.
Ryan was following his game-day routine: an early pancake breakfast and then a lengthy rubdown from trainer Doc Ewell. An hour before game time, with a Willie Nelson tape playing "All of me, why not take all of me?" Ryan stretched and strengthened himself in the weight room: a few seconds hanging from a bar, some elevated sit-ups, a little weight training on his legs and arms and, above all, much limbering of his massive thighs like a runner. "Just to stay loose," he said. "Nobody lives a better life," says Ewell, who has been in baseball 45 years.
As the game started, Ryan had the advantage of pitching out of a crescent of sunlight to hitters standing in shade. In the second inning he whiffed Tim Wallach and Tim Blackwell on fastballs to move within two of Johnson's record.
It wasn't long, though, before the shadows crept out past Ryan, and he lost his rhythm. Over the next five innings he struck out just one more batter, Shortstop Bryan Little. Fortunately, the Astros had a 4-2 lead, so Manager Bob Lillis wasn't looking to his bullpen. Unfortunately, Ryan developed a blister on the middle finger of his pitching hand in the seventh. He popped and cleaned it, but he doubted he could go more than one more inning.
There have been many dramatic moments in Ryan's career. As a Met in 1969, he produced the last out of the third game of the World Series by fooling Paul Blair on a curve after throwing two fast-balls for strikes. The night before the 1981 strike began, Ryan faced Pete Rose, who needed two hits to break Stan Musial's National League record. Ryan yielded Rose a single and then fanned him three times, throwing so hard that, in his second at bat, Rose didn't even bother to swing. Later, Ryan tipped his hat and Rose nodded back—two splendid gestures of mutual respect before play stopped for eight weeks. On Sept. 26 that year, against the Dodgers, Ryan threw his fifth no-hitter. "We were white-knuckled in the dugout," says Astro Reliever Dave Smith.
They were almost as tense in the eighth inning at Montreal when Ryan suddenly had his rhythm back. He threw two dazzling called strikes and a ball to Blackwell, who then fouled off a fastball and took two more balls. Finally Ryan fanned him with a fastball to tie Johnson's record. Mills followed to become Ryan's reluctant partner in history.
"This will probably have to rate as my third-best record," Ryan says. "The five no-hitters stand alone, and I like 383 strikeouts in one season [1973 with California] because I did it without facing any pitchers. But this record will call attention to me that hasn't come before. Once they've studied the record and seen that I did it in less than 16 seasons, when it took Johnson 21, people will realize how durable I've been. A lot of people haven't found many positive things to say about me. They talk about Nolan Ryan being a wild .500 pitcher who just goes for strikeouts."
True, Ryan's lifetime record is only 207-187, but in 15 full seasons with the Mets (1968-71), Angels (1972-79) and Astros (1980-82) he has been 20 games over .500 while, without Ryan's stats, his teams have been 14 games under. During the past 11 seasons, he has had nine winning records.
"I definitely beat myself sometimes with walks," admits Ryan, who has given up a record 1,933. But he has cut down on bases on balls over the past four years since learning to get ahead of hitters and to use his curve as an out-pitch.
It's also true that he tries to overpower hitters rather than finesse them. But who can blame him: He throws almost as hard (97 mph) at 36 as he did a decade ago (100.9), and he's faster in late innings than in early ones.
"Nolan's not a pitcher like Seaver or Sutton," says Knepper. "He's a thrower, but it works for him. His modes are different, his thinking is different. He just comes at you. But give him credit. You can't imagine how determined you have to be to throw your hardest fastball every time. It takes incredible concentration."
Some experts attribute Ryan's durability to weight control (he never gains more than five pounds, even during the off-season); others, to his legs (through six years of Army Reserve duty he was undefeated at Indian leg wrestling); others, to his delivery ("He always takes the strain off his arm," says Seaver). Ryan rarely gets arm trouble because he shuns winter ball and applies ice to both his shoulder and elbow after pitching. But all the explanations seem irrelevant in the face of Ryan's pure physical prowess. "It's just amazing," says Montreal Centerfielder Andre Dawson, "that he can throw so hard at his age."
Ryan's latest record should erase any doubt that he belongs in the Hall of Fame. Then why was the celebration in Montreal so subdued? The cheering lasted less than 90 seconds, and Third Baseman Phil Garner and Catcher Alan Ashby were the only teammates to shake Ryan's hand before he came off the field. Asked how he would celebrate, Ryan said, "Go to Philadelphia." On the plane en route, the co-pilot at first announced that Ryan had set a home-run record.
One reason the celebration was brief was because Johnson's record will fall again and again. Perry and Philadelphia's Steve Carlton should both pass Johnson this year, and Carlton should also pass Ryan. The 44-year-old Perry, who's averaging 2.5 strikeouts per start this season and, like Ryan, pitching every fifth game, will break the Johnson mark by Aug. 1 if he lasts that long. Carlton (3,488), who's averaging nine strikeouts and pitching every fourth game, should leave Johnson behind on May 13 against Chicago and Ryan on May 22 against San Diego—unless Ryan picks up his five strike-outs pace.
Six of the top eight alltime strikeout leaders—Ryan, Carlton, Perry, Seaver, Ferguson Jenkins and Don Sutton—are still active. Certainly this is the era for strikeout record-breaking. Back in 1930 there were 9.17 strikeouts per 100 at bats; last season there were 14.72. The Lau school of contact hitting may eventually cut into the K-ration, but by and large modern hitters aren't the least bit reluctant to swing from the heels.
"There's not a moral victory in not striking out anymore," says the legendary Bob Feller, who had a 98.6-mph fastball and would probably have broken Johnson's mark if he hadn't missed nearly four full seasons during World War II. The facts support Feller's thesis: The top 20 strikeout victims all started their careers after 1950. Furthermore, relief pitching widens the gap between eras even further, because starters now throw as hard as they can for as long as they can. And yes, expanding from 16 teams and 400 players to 26 and 650 put more patsy batters on major league rosters. No wonder Ryan's unprecedented lifetime average of 9.44 strikeouts per nine innings is far ahead of Johnson's (5.33) and Feller's (6.07).
Though many a modern pitcher has a chance to crack Walter Johnson's record, the alltime mark will almost surely reside with Ryan or Carlton. "I expect Carlton to get it," says Ryan. "I'm two years younger than he is, but he pitches more often than I do. He's just signed a four-year contract, and I don't anticipate pitching for four or five more years." But Ryan didn't anticipate pitching until he was 36, either.
The race could boil down to one of heads as well as arms. Philly Strength and Flexibility Teacher Gus Hoefling says Carlton, who's even more fanatical than Ryan about physical conditioning, wants to pitch another 10 years, though six would seem more realistic. Carlton will make any adjustments necessary to keep pitching.
Ryan, who hopes to negotiate a two-or three-year contract after his current one expires this year, admits his plans are subject to change. A quietly macho man, he prefers going mano a mano with sluggers to working on contact hitters; he says he'll never throw relief or develop a new pitch to prolong his career. When his Express becomes a local, that will be all. "But when will he slow down?" asks Knepper. "When will he?"
TWO
PHOTOS
After Mills had become victim No. 3,509, Ryan traded salutations with the Montreal crowd.
PHOTO
After a 16-year haul, Ryan's Express pulled even with the Big Train when Ryan struck out Blackwell for the second time, in the eighth.
PHOTO
The Astros' subdued celebration consisted of glad hands from Ashby (left) and Garner.