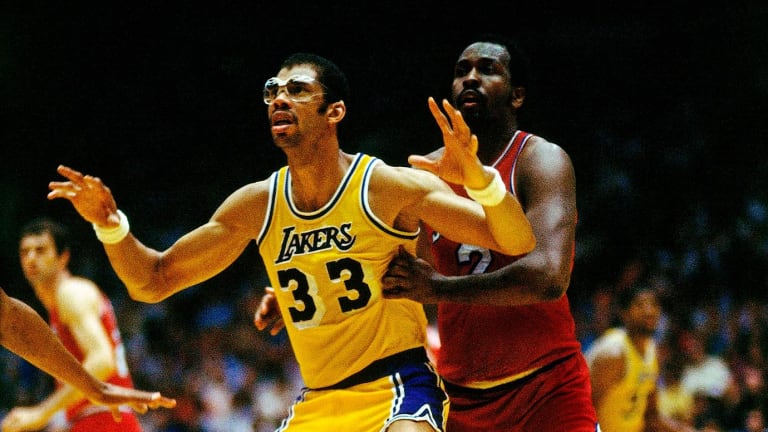 The Force Ran Its Course
Invincible Kareem Abdul-Jabbar and a fierce fast break gave L.A. a 3-1 lead over Portland in the NBA playoffs
I believe a little bit in the forces that we can't see," said Pat Riley, coach of the Los Angeles Lakers. "It's nice to know that the force is with you." Fair enough, but last week the Lakers' force was decidedly visible to one and all, seeing as it came in the towering form of Center Kareem Abdul-Jabbar, who led Los Angeles a three-games-to-one advantage over the Portland Trail Blazers in the NBA Western Conference semifinals. Down 3-0, the Blazers beat L.A. 108-95 on Sunday, but they still were in a deep hole, because no team in the league's 36 seasons has ever won a best-of-seven series after losing the first three.
It has been perhaps five years since Abdul-Jabbar has been the destroyer he was last week. However long it may have been, "the main difference in me is that back then I didn't need a hair weave," Abdul-Jabbar says. Indeed, though he's 36 now and balding, hair seems to be the only thing he has lost. Against Portland he played an average of 40.3 minutes, scored 33.3 points a game and blocked 5.3 shots. "When you start making concessions to age," he says, "age will take over." When the Lakers needed him most, Abdul-Jabbar conceded nothing to the Trail Blazers and their center, Wayne Cooper. "They have some great players," said Cooper, "but when you speak of the Lakers you speak of Kareem."
In the first game of the series, Abdul-Jabbar played only 34 minutes because of foul trouble, but when he was in the game Los Angeles outscored Portland 89-60. When he was on the bench, the Blazers outscored L.A. 37-29. And while those numbers illustrated Abdul-Jabbar's importance to the Lakers, they also indicated how shallow the Lakers' bench—which had been one of the deepest in the league—has become.
Three weeks ago the Lakers looked highly vulnerable. They had lost five of their last 10 regular-season games and were hardly the same team that had fashioned a Pacific Division-winning 58-24 regular season. Reserve Forward Bob McAdoo, who contributed mightily to L.A.'s title last year, dislocated the fourth toe on his right foot on Feb. 16 and has been sidelined ever since. But as substantial a blow as McAdoo's injury was, the Lakers could absorb it because rookie Forward James Worthy was playing so spectacularly in McAdoo's absence. But then Worthy was lost for the season when he broke his left leg in a game with Phoenix on April 10. "James's injury had a big impact on the team psychologically," Riley says. "It was disruptive because suddenly guys were having to play more minutes and play different positions, and our whole substitution rotation had to change."
Los Angeles had worn teams down with its bench all season, getting nearly 30 points a game from just Worthy and McAdoo. Without those two, the edge the Lakers had enjoyed over most teams had been drastically reduced. Many observers wrote Los Angeles off as a threat for the NBA title. "We had grown very dependent on Bob and James," says Forward Jamaal Wilkes, "but the injuries and then people's reactions to them drew us closer together because all we had was us. Our feeling was, 'Don't send us roses. We're not dead yet.' "
If the Lakers were to become the first team since the 1968-69 Boston Celtics to successfully defend a league championship, they would have to do it with Mark Landsberger as their first forward off the bench. Landsberger had played in only 39 games during the season—he logged all of 25 minutes during January—and averaged just 2.5 points a game. Not since the 1979-80 season, when he was picked up from Chicago in midseason to help in the Lakers' championship drive, has Landsberger been a factor.
"For us to win in the playoffs," says L.A. Guard Norm Nixon, "we have to string the game out and make teams run with us." They did exactly that, roaring off to a 29-12 lead in Game 1 as Portland, which had gotten to the semis by upsetting Seattle 2-0 in their miniseries, made repeated ball-handling errors. "If you turn the ball over," said Portland Forward Mychal Thompson after the final buzzer, "their eyes get as big as silver dollars. And when they get it, it's like somebody let go a rubber band." The Lakers' break was usually as devastating in the first and fourth quarters against Portland as it had been when they won the title with it last season, but in the middle of each game it bogged down. "Our guys come in eager to run," said Riley, "then fatigue sets in and they settle for going in to Kareem."
And you don't have to be a coaching genius to tell your team to feed the ball to the second-most-prolific scorer—33,169 points through Sunday—in NBA history. But by the eve of Game 2, the Los Angeles papers had just about decided that beneath Portland Coach Jack Ramsay's shiny dome lay the fount of all basketball knowledge. Ramsay was variously credited with having invented the fast break generally and the one the Lakers were using specifically. Riley got into the spirit by labeling Ramsay "a coach's coach" and "the master," all of this after Ramsay's team had just been smoked by 21 points, 118-97, in the first game, with Abdul-Jabbar getting 32 points.
Riley still didn't get much credit when he decided to stay with his regulars—except newly acquired Steve Mix, who replaced Forward Kurt Rambis—at the start of the fourth quarter of the second game, while Ramsay rested his starting guards, Jim Paxson and Darnell Valentine. "When I saw them coming in with subs, I told the players this was the time to make our run," Riley said later. "Hey, this is winning time. The players can rest in the summer."
The Lakers came from four down at the end of the third period to go ahead by three points early in the fourth, while Paxson and Valentine were on the bench. Abdul-Jabbar played 44 minutes, including the entire second half, and hit 15 of 20 shots for 37 points while leading the Lakers in assists with seven and blocks with three. "It wasn't only that he got a lot of points," said Wilkes, "it was when and how he got them. Everybody was banging on him, but he was determined we weren't going to lose." Portland still had a chance to win at the end, but when Valentine traveled and dribbled the ball into Nixon's hands on successive plays, the Trail Blazers ran out of time and lost 112-106. "Kareem was just incredible," Ramsay said. "I don't know if I've ever seen him play as well, and I've seen him have some great games."
Ramsay took solace from the play of Forward Calvin Natt in the second game. Natt, whose beard and flattened nose give him a Zeuslike look, seldom gets attention. The Blazers' second-leading scorer behind Paxson this season, with 20.4 points per game, Natt is a gun enthusiast who owns between 70 and 80 firearms—"I don't collect 'em, I just shoot 'em," he says—and he was asked last week what kind of weapon he'd fire to stop the Lakers. "I'd just use my slingshot to hit Kareem in the back of the head and give him a migraine," he said, referring to the sort of headache that periodically afflicts Abdul-Jabbar.
Unfortunately for Natt, after Game 3 the Blazers were the ones in pain. Finally playing at home in front of one of their high-decibel sellout crowds—their 271st straight of 12,666, dating back six years—the Trail Blazers continued to double-and triple-team Abdul-Jabbar, just as they had in the previous game, and it finally began to pay off. During regulation time, Cooper and Thompson held, pounded and did everything but dance with Abdul-Jabbar, and after four quarters the game was a 98-98 standoff. But in overtime Abdul-Jabbar scored nine of the Lakers' 13 points and L.A. won 115-109. He shot three times from the floor and hit twice—the second basket being the most crucial of an evening that throbbed with excitement—and added five free throws to complete a 30-point performance.
The Lakers had built a modest lead in the first half by running at every opportunity, but this time Portland countered with a break of its own. Los Angeles went ahead 42-37 on a Coop-a-Loop lob pass from Nixon to Michael Cooper in the second quarter. The ball was thrown several feet behind Cooper's head, and he had to reach back to haul it in and throw it down. It was a miraculous play, and it seemed to galvanize the Lakers and quiet the crowd. But they were back in full cry during the third period when Paxson hit two quick baskets and gave Portland the lead, 73-72. The Blazers quickly widened that to nine in the fourth quarter, 89-80, and appeared to have the game under control until Riley went to a pressing defense that got L.A. back into its running game. After a short rest, Abdul-Jabbar came back in with 7:03 to play, and the Lakers then went on a 14-2 tear for a 94-91 lead with 2:35 left.
Nixon and Valentine exchanged pressure jumpers in the final 63 seconds, before Cooper found Wilkes alone in the corner on an inbounds play. Wilkes stood for a moment, measuring the distance, and then flipped up a jumper with seven seconds left in regulation to put Los Angeles ahead 98-97. Valentine was fouled by Abdul-Jabbar almost immediately and had a chance to clinch a victory with a pair of free throws at 0:03, but he missed the second, forcing the game into overtime. Portland was within three points with less than a minute to play in OT, but with 41 seconds left and just one second showing on the 24-second clock, Abdul-Jabbar canned a 16-foot skyhook. "I came out there so I wouldn't be under a lot of pressure," he said later. "Sixteen feet is my range. If I shot it any deeper than that, Riley's hair would fall out." The ball touched nothing but net, giving the Lakers a 111-106 lead and locking up victory No. 3.
The next morning at breakfast, Riley was feeling cocky enough to question some of "the master's" tactics and to look ahead to a conference-final series with San Antonio. "I really think a team makes a mistake by showing so much respect for one player that they don't respect the other players," he said. "It breaks down your defense. Besides, I don't think anybody has really worked Kareem in this series. Cooper has been a stationary target, so Kareem has actually rested on defense. They might as well put Cooper on the side of the court. With him matched against Kareem, their offense really became obsolete."
Wilkes had scored 28 points while holding Paxson, who had 22 in the game, to just two in the fourth and extra periods. And Landsberger had come through with seven rebounds in 10 minutes of the first half. "These seven or eight guys are starting to become a unit," Riley said. "And people forget that with the exception of Rambis, this is basically the same group that won the championship three years ago. It's not a bad team."
Commenting on the Trail Blazers' insistence throughout the series that they could defeat the Lakers, Riley said, "Any time I hear a team say, 'We know we can beat them,' I like that, because that's the mark of a very insecure team." A moment later he was talking about San Antonio, a team the Lakers swept 4-0 on the way to the championship last season. "We humiliated them last year," Riley said. "And I believe quickness, in the long run, will beat size and strength." Then Riley paused for a moment and added almost absentmindedly, "We know we can beat San Antonio. We know we can."
But Riley still had a game to extract from Portland, and after the Blazers won Sunday to stay alive, he was incensed by what he claimed was defensive mugging of Abdul-Jabbar—who nevertheless shot 13 for 19 from the field, scored 34 points and blocked eight shots. "It's a sad thing when a great player can't play his game," Riley said. "I don't mind aggressive defense, but they're wheeling four and five guys in there whose goal is to foul."
Ramsay, resplendent in pink pants, shirt and forehead, turned purple when he heard of Riley's complaints. "If I ever send a hit man to get somebody—and that's not my style—I'll tell the coach first," Ramsay said. "If Pat has something to say, he should say it to my face, if he has the courage."
Abdul-Jabbar himself took the fussing in stride. His actions were speaking quite a bit louder than words.
PHOTO
ANDY
HAYT
Johnson showed the Blazers he still had the Magic, dishing out 43 assists in four games.
PHOTO
ANDY
HAYT
Wilkes, here avoiding an onrushing (Kenny) Carr, chipped in with 28 points in Game 3.
PHOTO
ANDY HAYT
Nixon shot below his norm (.475) but made up for it with 10 assists in the third game.
PHOTO
ANDY HAYT
Rambis was productive, if never pretty.
PHOTO
ANDY
HAYT
Valentine's jumper with 10 seconds left in Game 3 gave Portland a 97-96 lead.
PHOTO
ANDY
HAYT
Lafayette Lever's ambition and drive in Game 2 were anything but tongue in cheek.