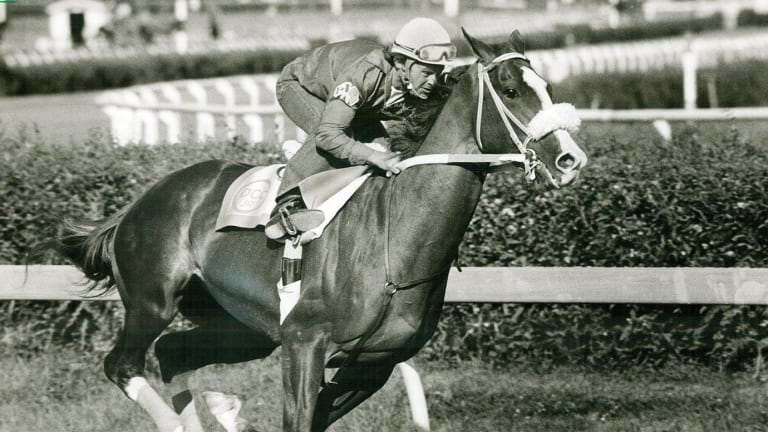 The Grand Gamble Paid Off
Trainer David Cross bet the stable that Sunny's Halo would win the Kentucky Derby. And he did
In the rush of victory, while living out the sweetest moment of his professional life, the culmination of his dreams, David Cross Jr. had a vivid remembrance of things past that took him back more than 25 years. "It's just something that enters your mind at a moment when you're on a high," said Cross. "You think of something that happened years before in your life. It's funny what things go through your mind."
And when. It was only minutes after Cross, a 48-year-old trainer who's a veteran of large and small circuits from Suffolk Downs in Massachusetts to Turf Paradise in Arizona, saw his Sunny's Halo win the 109th running of the Kentucky Derby last Saturday. No man had gambled more on this Derby than Cross—he had staked almost everything he had on bringing this horse to this race. Following the ceremony in the winner's circle, Cross started back for the clubhouse, crossing the racetrack.
"All of a sudden, as I crossed the track, it struck me," he said, standing in front of Sunny's Halo's stall two hours after the race. "It was the winter of 1957-58. I was at Turf Paradise, sitting on a bale of hay on Christmas Day and talking to myself and eating carrots—a punk-assed kid with three broken-down horses. If I hadn't been intimate with the feed woman. I wouldn't have had the carrots."
There was a brief pause. Sunny's Halo's groom. John Sears Jr., slipped past and flicked off the light in the colt's stall. The hour was growing late, and the party at the barn was nearly over. The leggy young chestnut with the white face stepped to the back of his stall, dissolving in the darkness.
Cross smiled, thinking. "I'll tell you what I did." he said. "I looked at those three horses, all sore. One sucker is layin' there upside down. Another one has his leg stuck out underneath the webbing of the stall. The other is standing in a tub of ice. I thought to myself. "Jesus, three months ago I had all the money in the world! I was doing good. And here I am." You know—chicken one day, feathers the next. I couldn't even go out and knock some s.o.b. up side of the head and rob him, because you couldn't get enough for a Christmas dinner that way. And Christmas dinners were only $1.75 then. You could turn the whole barn area upside down and not get $1.75.
"At least I had carrots. I been hungry many a time. Yeah, I sure have a beautiful memory today, tell you that. It was a bonus even getting here to the Derby. It wasn't like coming in with a piece of garbage or something. I came in here with a legitimate horse. Then seeing him become one of the favored horses. This is a wonderful day, believe me."
This Kentucky Derby, more than any other in recent memory, belonged to one man, to Cross, who a) bought Sunny's Halo's dam. Mostly Sunny, for owner David Foster out of a sale for $3,900; b) trained her, raced her and finally retired her to stud; c) suggested breeding her to Halo, a beautifully bred son of Hail to Reason, which mating produced Sunny's Halo; d) conditioned the offspring from the fall of his yearling year, in 1981, through the Derby; e) had all but given up a stable of 30 other horses to focus his energy on Sunny's Halo, gambling his career on this one horse; f) followed a course to the Derby that defied conventional wisdom in two important particulars, which would have opened him up to sharp criticism had he failed.
Cross has known little but racetracks all his life. In fact, he was born at one, old Willows Park in Victoria, British Columbia, to a family involved in the game. Over the years, he groomed and walked horses, worked as a jockey's valet and even rode briefly, if badly. "I always wanted to ride in the Kentucky Derby," he says, "but I was such a bad jockey, that never came about." In 1957, the year he had carrots for Christmas, Cross turned to training and knocked about here and there, hitting the tracks with mostly cheap horses.
He started training for Foster, the president and senior partner of Durham Securities Corporation, a stockbrokerage in Toronto, 14 years ago. One of the first good things they did together was buy a daughter of Sunny, a well-bred son of the extraordinary American stallion, Princequillo, at a sale of yearling culls in 1972. Foster called her Mostly Sunny. She won six races and $30,162, running mostly in claimers, but Cross still speaks of her with reverence.
"She was the sorest, gamest thing I'd ever seen in my life," he says. "You name it, she had it. Knees, ankles. She was a cripple. Not worth nothing. Maybe $10,000, $12,000. She'd run a race and be so sore she'd lie down for three days. But a game hussy." Which is why, when Mostly Sunny could no longer go on. Cross suggested to Foster that he breed her. Today she makes up Foster's broodmare band of one. "That's it." Foster says. "My breeding establishment."
At Cross's suggestion, they eventually sent Mostly Sunny to Halo, a good grass-running distance horse of a few years ago. "Queen Elizabeth sent a mare to him that year, too," Foster says. "If he was good enough for her, he was good enough for us." So, in February of 1980 Mostly Sunny foaled the chestnut with the high, bold-going action in front. Cross liked Sunny's Halo right off and last spring decided to devote all his time to him. After spending years hacking about with claimers, he thought this was the colt he had been waiting for. Like mother, like son. "I liked his determination, his will, his desire." Cross says.
And his way of moving, the way he carried himself and his ability to run. Sunny's Halo broke his maiden in his first start at Woodbine in Canada, winning by a head. He finished second in two stakes and then crushed nine other babies in the Colin Stakes, winning by 10. Emboldened, Cross hit the road for New York, where his horse finished third last July in the Tremont Stakes at Belmont Park, and then to the Sanford Stakes at Saratoga, where Sunny's Halo wrenched an ankle, ending up fifth, beaten by 7½. In treating the ankle, Cross paid too little mind to small stress fractures on the colt's left shin, a common sort of injury among 2-year-olds.
"They flat got away from me," he says, it was my own fault." Not that they stopped Sunny's Halo from whipping the colts back in Canada. He wore gauze bandages painted with latex for support and flexibility and crushed the best 2-year-olds in Canada in three stakes at Woodbine—the Swynford by 7¼, the Grey by 6½ and the Coronation Futurity by 7½. "He beat nothing in Canada," Cross says. "Absolutely nothing."
Despite Sunny's Halo's sore leg, and with earnings for the year already at $235,829, Cross shipped the colt across the border again. He promptly got buried twice. In the Laurel Futurity on Oct. 23, he finished ninth, beaten 16 lengths, and 12 days later took a bath in the Young America at The Meadowlands, finishing sixth. Why did Cross run a sore horse in either spot? "The greed got to me," he says. "We've all got it."
Cross got over it in time. He shipped the colt to California last winter, for R&R, and that's where he began serious therapy to undo whatever damage had been done. To take pressure off the sore shin but keep the colt working, he alternately exercised Sunny's Halo in the swimming pool at Hollywood Park and galloped him on the course's half-mile training track. Although California was cursed with bad winter weather, from his arrival at Hollywood on Jan. 7 Sunny's Halo never missed a day of work.
"Everything was beautiful there," says Cross. "Swim three or four days, gallop a couple of days, swim three or four more, gallop a couple more. You can't swim him every day because you're building muscle you don't use racing."
All the while Cross was aiming for the Kentucky Derby, sort of swimming Sunny's Halo up to it. It was always orthodoxy be damned. The stress fractures were almost healed in January, Cross says, and by March, he figured, they had healed completely. It was time now for him to make a move. On March 18 he shipped Sunny's Halo to Arkansas, with two races leading to Kentucky in mind—the Rebel Handicap at a mile and 70 yards on March 26 and the 1'⅛-mile Arkansas Derby three weeks later.
Cross ignored prevailing wisdom on two counts. No horse had ever won the Derby after traveling through Arkansas, and none in recent memory had won it off only two prep races. "I went to Arkansas because I love Arkansas," Cross says. "Oaklawn Park's a good, deep, soft racetrack—a nice, safe racetrack. I did it for the horse. I knew he was fit when he came out of California. I've gotten criticized here because all these trainers have run all over the place to get money to qualify to run here, and I had just two stakes in Arkansas. But that was my plan since January."
Sunny's Halo won the Rebel by three. "Like taking candy from a kid," Cross says. In the Arkansas Derby, Jockey Eddie Delahoussaye raced to the front and hit the cruise control. While the colt never completely relaxed, he won by four in racehorse time. It was on to Churchill Downs. Sunny's Halo worked splendidly for the Derby, and in the week before the race he looked the part of a favorite. He shone like a new shoe, but he moved without a squeak—a tall, powerful animal whose every move seemed against the bit.
Sunny's Halo had become Cross's grand passion. By Derby week, the colt was one of only three horses remaining in Cross's care. The second was a $20,000 claimer, the third an unraced 2-year-old.
The stakes were the highest that Cross had ever played for. Foster had promised him 10% of Sunny's Halo—not just 10% of his earnings on the track, a trainer's standard fee, but also on his sale as a breeding stallion. No victory has a greater impact on the value of a stallion than the Kentucky Derby.
This arrangement, like all others between the two men, was sealed by a handshake. "He'll wind up with 10% of anything I've got," Foster says. "I've committed myself. We have nothing in writing, but he's safe. I know a lot of people have changed their minds when they've seen big money, but I wouldn't do that to him."
"Sure it's a gamble," Cross said on the morning of Derby Day. "But life's a gamble. How can I ask for anything better? I can't stay away from a horse like this. I've got to devote all my time, everything, to him. What else can you do? You just don't leave something like this alone. The longest I've been away from him in 14 months is four days. I'm at the point now where, if something happened to him, I would have to start back over again. I've put all my eggs in one basket."
Twenty horses, the maximum allowable in the Derby, came to the post, and the crowd of 134,444 sent off the three-horse entry of Marfa, Total Departure and Balboa Native as the $2.40-$1 favorite, with Sunny's Halo second choice at $2.50-$1. It had been sunny most of the day, but a downpour struck as the Derby horses were walking from the stable to the paddock, leaving the course sloppy but fast. Cross's only concern was whether Delahoussaye could get his colt to relax, whether Sunny's Halo was too sharp.
He wasn't. Total Departure raced to the lead out of the gate, with Sunny's Halo lapped on him through the stretch the first time and into the clubhouse turn. Desert Wine and Chris McCarron raced next to Sunny's Halo. Delahoussaye sat still around the turn and into the back-stretch. "My colt relaxed so good around the turn, I thought, 'I'm on my way,' " Delahoussaye said later. "He was a little more relaxed today than he was in the Arkansas Derby."
And he wasn't hard-pressed early. The clocking for the opening quarter was 23[4/5] seconds, moderate time; the half-mile was 47⅕ picking up the pace. Down the backside, Sunny's Halo passed Total Departure, who would fade to finish dead last. Desert Wine stalked Sunny's Halo toward the bend. Going around it, Desert Wine moved to within a head-bobbing nose of him, and then took a short lead. Neither rider had asked for reserves. "I said to myself, 'I know I have a horse left,' " Delahoussaye said. "I don't want to try him yet. I knew I had a lot left."
He had enough. The two colts turned for home at each other's throat. The bulky field and the moderate fractions weren't working for the stretch-runners—Marfa, Caveat, Play Fellow and Slew O' Gold—but the two front-runners made it a horse race through the stretch to the eighth pole. There Delahoussaye went to the whip and Sunny's Halo dug in, edging away from a game Desert Wine. He drew off in the last 200 yards to win by two, finishing the mile-and-a-quarter in 2:02⅕ respectable time. Caveat, the Derby Trial winner, passed wet sails to finish third.
"Ain't nothing to it," Delahoussaye said. It was his second straight Kentucky Derby victory—he was up last year on Gato Del Sol—making him the first rider since Ron Turcotte (Riva Ridge, 1972 and Secretariat, 1973) to win two in a row. "Now I know how Ronnie felt," he said. "I'm in good company."
Good things come in bunches, and Cross's wife, Patty, is one of the bunch. Two days before the Rebel Handicap, she bet $200 to win on Sunny's Halo in the Kentucky Derby in the Las Vegas winter book at 100 to 1, giving her a $20,200 payday of her own. "She's got to go to Las Vegas to collect it, so she probably won't have it when she gets back," said David.
But it was David Cross who had staked his livelihood. "Hooray for California, Canada and Arkansas!" he said. And here's to carrots at Christmastime.
PHOTO
The Downs was drenched, but the Derby was Sunny's as he hit the photo-finish light.
PHOTO
A herd of horses—(from left) Caveat, Marfa, Slew O' Gold, Desert Wine, Play Fellow—vainly chased Sunny's Halo to the finish line.
PHOTO
Cross, who devoted 14 months to Sunny's Halo, appeared calm on Saturday morning.
PHOTO
Delahoussaye flashed the victory sign after winning his second consecutive Derby.
PHOTO
In the face of the sudden showers, these fans bagged themselves, rather than the Derby.