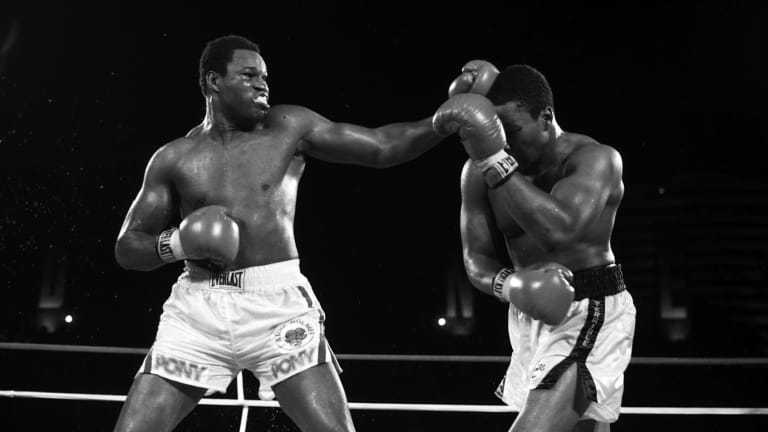 Holmes Really Had a Spoonful
Larry Holmes (left) is talking about hanging 'em up after unheralded Tim Witherspoon just missed taking away his WBC heavyweight championship
Larry Holmes relaxed in his hotel suite Saturday morning and spoke wearily of the possibility of retirement. The evening before, in a parking-lot stadium behind Las Vegas' Dunes Hotel, he had spent his every reserve in eking out a split decision and preserving his WBC heavyweight championship against a young turk named Tim Witherspoon. The fierceness of the 12-round struggle against the 25-year-old Witherspoon was written in braille upon Holmes's 33-year-old face: a sizable swelling under the right eye, a pinkish and raised abrasion across the lid of the left.
This was expected to be one of the easier of the 15 championship defenses Holmes has had in the five years since he won the crown from Ken Norton. Although eight years younger than Holmes, Witherspoon had had only as many pro fights as Holmes had had title fights, which helped to account for his status as a 6-1 underdog.
Besides, Witherspoon, although ranked No. 3 by the WBC, hadn't fought since his dismal 10-round decisioning of Renaldo Snipes on June 5, 1982. A jaw fracture he suffered while sparring last summer with Lightning Bob Smith had kept him out of action. During those 11½ months Holmes had stopped Gerry Cooney in 13 rounds and won decisions over Randy Cobb (15 rounds) and Lucien Rodriguez (12).
In spite of his high ranking, Witherspoon was a relative unknown who hadn't launched his pro career until he was almost 22—which is relatively late for a boxer—and after only six amateur fights, the last of which he lost. Nothing in his short career gave any indication that he would be anything more than a bit player in another exhibition of Holmes's extraordinary talents.
In the rating of heavyweight champions, prime against prime. Holmes falls short of only Joe Louis, Muhammad Ali, Sonny Liston and Rocky Marciano. All of the rest of the best, from John L. Sullivan through Floyd Patterson, would have come up short, some for no other reason than that their antiquated styles would have been no match for the science of Holmes.
Against this came Witherspoon, a pleasant young man who only took up boxing because he was angry at the medical fraternity in his native Philadelphia. After a semester at Lincoln University in Missouri, where he played tight end, Witherspoon found employment as a waiter in the doctors' dining room at Pennsylvania Hospital, where his mother, Shirley, works as an electrocardiograph technician. "Those doctors treated me like dirt," he said. To work off his frustrations, he began punching bags at a local gym. From there, he fought in the amateurs, losing only to Marvis Frazier, son of former heavyweight champ Joe.
In his 15 professional fights, Witherspoon displayed remarkable power (11 knockouts); two of his four wins by decision were workmanlike if undistinguished performances. His absence from the ring while his jaw healed didn't figure to enhance his endurance. Nevertheless, Witherspoon was confident. "People are ignoring the fact that I have fought the best," he said before meeting Holmes. "After I sparred with Ali, he gave me the nickname Terrible, meaning I was a bad dude." Witherspoon also worked with ranked heavyweights Greg Page and Trevor Berbick as well as light-heavyweight champion Michael Spinks, Eddie Mustafa Muhammad, a former light-heavy king, and James Scott. But the sparring he remembers most fondly was against Gerry Cooney.
"With him I lasted just three days," Witherspoon says. "Then they ran me off. He had 12-ounce gloves; I had 16s. He was nothing. He'd lean to his left to throw a hook and I'd step away, leaving him hanging there like a dummy. When I bloodied his nose they told me to take a walk."
Witherspoon's greatest asset besides the power of his punches is his veteran trainer. Slim Jim Robinson. A former bounty hunter—he worked for a bail bondsman—who had more than 70 pro fights as a middleweight, light heavyweight and heavyweight, Robinson was the strategist behind Mike Rossman's stunning victory over light-heavyweight champion Victor Galindez in 1978. Now he was sure he had the plan that would upset Holmes.
"You take away his jab and he's just another fighter," Robinson told Witherspoon. "You catch it, you slip it, you trap it. Step into it and smother it, then you can punch. And you bang right hands to his left ribs to slow the jab down. And I want you in so close to him it will look like you're chewing on his chest, and from there you'll bang to the body. Back him up, make him use his old legs."
Holmes, the master of the counter-punch, has as his trainer Eddie Futch, the master of the counter strategy. One afternoon Futch slipped into the gym where Witherspoon was working. Within a few moments he had seen all he needed to know. He reported back to Holmes: "He's working on stopping your jab and your right hand. He looks like Archie Moore: His right arm is up and jack-knifed across his face, and he'll pick off your jab with his right glove. You're going to have to use your hook. As soon as your jab touches his glove, turn the hook over. The whole side of his head will be open."
Holmes's most destructive punch, the one set up by his lightning jab, has always been his chopping right, which has given him the majority of his 30 knockouts in 42 fights. But his hook had been working well in his rigorous training for Witherspoon, which Holmes embarked on immediately after his March 27 defense against Rodriguez in Scranton, Pa. And Holmes had managed to work himself into a white heat that was fanned by a growing animosity between the two fighters.
One day several weeks ago, as the two camps met coming to and going from the gym. Holmes had called Witherspoon a punk. Then he had thrown a towel at him. When Witherspoon's brother Anthony, an undefeated light heavyweight, hurled the towel back, the two camps erupted into a mini-war.
Two nights before the fight, the battle was rejoined. That day Witherspoon's daughter Lenette, 3, her mother, Linda, and Linda's mother had arrived from Philadelphia. They were put in room 1411. Holmes was in suite 1420, and his people were in rooms all around him. That night two of Witherspoon's brothers, Bernard and Anthony, went up to the 14th floor to see Lenette. By mistake, they said later, they knocked on the door of one of the Holmes rooms, which led to a shouting and shoving match. Someone on the floor called hotel security.
Witherspoon, Robinson and five compatriots were in the lobby. Noticing the security people rushing for an elevator, one of them asked what was wrong.
"There's a battle on the 14th floor," a security man said.
"My God, my baby's up there," Witherspoon yelled, running to the elevators. The other six men followed him.
Arriving upstairs in Linda's room, Witherspoon was relieved to find his daughter safe. Then there was a hammering on the door. It was Holmes. "I want you and all your people off my floor," he said.
"It's my baby and her mother," Witherspoon said.
"I don't give a damn. You got a half hour to get them off my floor," barked Holmes.
The two groups began to exchange curses. The milling in the hall turned to pushing and shoving. In Witherspoon's arms, Lenette began to cry. "Damn you," he shouted at Holmes. "Let's get the ladies out of here and you and I will go downstairs and settle this."
Witherspoon started out the door of Linda's room. One of Holmes's security men reached under his jacket, as though going for a gun. Witherspoon was pulled back into the room by one of his own security people.
"Let them go," Holmes ordered.
After Witherspoon and his people had returned to the nonviolent setting of their quarters on the sixth floor, to which mother, child and grandmother were soon moved, Witherspoon told Robinson, "You should have let me fight him. I wanted to fight him right there."
Robinson shook his head. "You're a professional," he said. "When you fight you get paid for it."
Assured of a $2.1 million payday—to Witherspoon's $250,000—Holmes came in weighing 213 pounds, just as he did when he beat Norton for the title on June 9, 1978. Later, Holmes would admit that at 213 he was too light for Witherspoon, who proved much stronger than the champion expected. And it certainly didn't help that after Thursday's weigh-in, Holmes ate "a lot of corn and rice and steak." Friday morning he awoke with a bad case of diarrhea. It left him not only light but slightly weakened.
When the fight began. Holmes, ignoring Futch's advice, threw two jabs and a chopping right, all of which the 219½-pound Witherspoon picked off cleanly. As Holmes stepped back, Witherspoon grinned at him. Near the end of the round, Witherspoon landed a solid right hand to Holmes's left ribs.
From that point until the ninth round, it was mostly Holmes's jab, still as lethal as ever, against Witherspoon's crablike defense, with the edge, however slight, going to the harder-working, if at times frustrated, champion. "He was picking off some of the jab," said Holmes, "but not all of it."
"I was having fun," Witherspoon said of his defense. And amid the gaiety, he all too frequently forgot to punch back. When he did, he punished Holmes's left ribs savagely. But while those offensive bursts were impressive, they were limited in number.
But in the ninth. Holmes made a costly mistake. Coming out of a clinch, he turned to Referee Mills Lane to complain that Witherspoon was hitting on the break. Before he could speak, Witherspoon hit Holmes flush with a right. Stunned, Holmes backed away until he could find a corner. With Witherspoon firing from both sides. Holmes covered up. "I just wanted to stay there until he punched himself out," Holmes said later. "I just wanted to punch enough so Lane wouldn't stop the fight."
Slipping punches as he moved to his right, Holmes retreated gracelessly across the ring until his back hit the far ropes. "Tie him up," Futch screamed from the near corner.
Instead, Holmes, his head cleared, fired a right that caught Witherspoon on the forehead. Then Holmes launched a savage attack of his own. Witherspoon met him gamely. Suddenly, as though a switch had been thrown, both men stopped firing. In center ring, they leaned into each other, left arms locked. Each was waiting for the other to budge and, at the first sign of movement, to fire a savage counter right. Both seemed to decide to break at the same instant, but it was Holmes who got there first with the right, and then two more before the bell. It was a champion's round.
After that, Witherspoon hung in gamely, but mostly it was all movement. "He was trying to con the judges," Futch said.
He didn't. Judges Chuck Hassett (118-111) and Chuck Minker (115-113), who seemed to have the fairest score of all, voted for Holmes. Herb Santos gave it to Witherspoon 115-114.
On the morning after the fight. Holmes was hard-pressed to explain his performance. "Maybe it's an indication I've gone down," he suggested. "Maybe he's too strong. Maybe I overtrained. In the last two fights I put together so much so fast it took a lot out of me. I was capable of doing what I wanted to do, but I was always a second off. I just left my damn fight in the gym."
Make that a hotel, the Larry Holmes Commodore Inn in Phillipsburg, N.J., to be exact. He purchased the hotel last year and has been fighting to pay for it and its renovation ever since.
Even at 33, Holmes is, or could be, every bit as good as he was. But he'll always be "a second off" unless he can separate the fighter from the hotel owner. There are too many young gun-slingers out there waiting, people like Page, whose unanimous decision over Snipes on last week's undercard puts him in line for a shot at Holmes's title, and Michael Dokes and, yes, Witherspoon again.
"I'm not ashamed of my fight," Holmes said. "I'm 43 and 0, with 15 title defenses, and I'm the champion of the world. Now maybe that's enough. I don't know. I'm going to go home and think about it. I've been thinking about retiring for a long time. Now I'll think about it some more. I'll let you know."
PHOTOPHOTOThis was one of the few instances Holmes was able to connect with his vaunted right.PHOTOWitherspoon was able to pick off many of Holmes's jabs with his crablike defense.PHOTODuring the ninth, Witherspoon had Holmes against and on the ropes.PHOTOThough he looked the part, Spoon wasn't a winner...PHOTO...but Holmes looked a bit washed up.