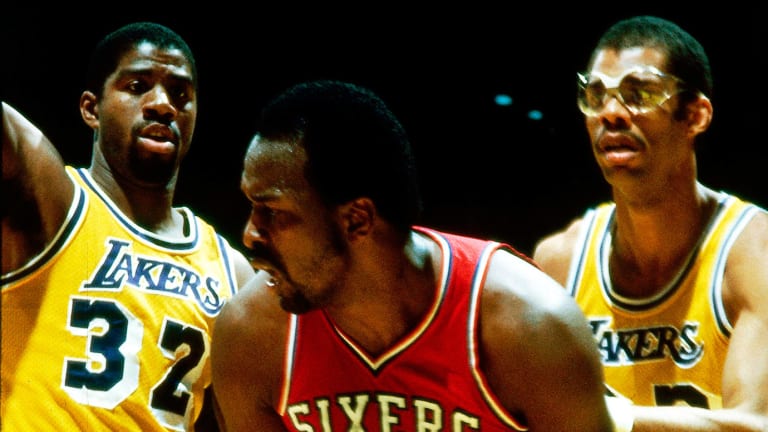 Better by Leaps and Bounds
Julius Erving and the other 76ers had a high old time in taking a 3-0 lead over L.A. in the NBA finals
They stood there for a moment, gazing at each other as bodies wheeled around them through the lane. Moses Malone of the Philadelphia 76ers cradled the ball in his relatively tiny hands, and as he looked into the goggled eyes of the Los Angeles Lakers' Kareem Abdul-Jabbar, it was as if both centers knew that what was about to happen in the Inglewood Forum would somehow change the existing order.
L.A. had just cut the Sixers' lead to 90-84 with 4:40 to play in Sunday's third game of the NBA championship series, and now victory was in danger of slipping away. Philadelphia had faced these moments before, having been to the finals in 1977, 1980 and 1982 without winning a title. Even in 1977 with a 2-0 lead in games, just as they had now, the 76ers had found a way to lose.
Now Malone slowly moved to his right, gathering speed as he attempted to pass Abdul-Jabbar and reach the basket. "We're just like a little train," Malone would say later, describing the new Sixers. "Once we get our motor going, we just get more aggressive."
Malone, now under a full head of steam, chugged by Abdul-Jabbar, who was forced to foul as Malone canned the shot. The resulting three-point play gave Philadelphia a 93-84 lead. A minute and a half later, Malone went rumbling past Abdul-Jabbar for another three-point play, and on the 76ers' next possession he converted on a five-foot scoop shot. Malone had made all eight of his team's points when the Sixers needed them most; his spurt preserved the victory—the final score was 111-94—that gave Philadelphia a seemingly insurmountable 3-0 lead in the series.
In the most important game in the team's recent history, Malone not only carried the 76ers with 28 points and 19 rebounds, but he also removed any doubt that may have lingered about who the league's dominant center is. For a span of 31 minutes and 32 seconds, from late in the first quarter until deep into the fourth, Malone pushed and shoved and clawed at Abdul-Jabbar, who is perhaps the best offensive player in the sport's history, and kept him from scoring a field goal. It was an astounding display of muscle and will, qualities the 76ers had always seemed to lack. By going on to win the championship trophy for the first time in 16 years—and no NBA club has ever come back from a 3-0 deficit in a best-of-seven series—the Sixers could surely claim to be one of the best teams ever.
When Philly signed Malone last summer, he was expected to end all those years of frustration. But, of course, he was never part of all that and never cared much for the questions asked him about the 76ers' past disappointments. It was the veterans of the previous campaigns—starting with the devastating loss to Portland in Julius Erving's first season with the Sixers, 1976-77—that Philadelphia Coach Billy Cunningham was thinking about last week. "They've been knocked down a few times, but I think it shows great character that they've always been able to pick themselves up and come back," he said of his players. "In business you can be No. 2 and still be considered pretty successful. Look at Avis; it has built its whole advertising campaign around being second. But in sports, winning is everything, and sometimes it can get a little cruel."
Past failures were never far from the 76ers' minds this season, and sometimes that seemed cruel, too. They won 65 games in the regular season, the fourth-best record ever, but they weren't able to enjoy the ride. "We didn't want to feel we'd achieved anything," Cunningham said. "All we wanted was to be back in a position to win the championship." When Erving was asked Sunday how it felt to finally be on the verge of the championship he has chased for seven years, his response was typical. "I don't think it's appropriate to talk about it now, because it hasn't happened yet," he said. "I mean, I may leave here and get hit by a truck or something."
It was the Lakers who felt they'd been run over by something last week, and the destruction typically occurred in the second half. In the three games they were outscored 173-130 after halftime. "If you don't get us early," Cunningham said, "you're in trouble. The second half has been ours."
If the Lakers were alarmed at being down two games to none after two losses in Philadelphia, they had good reason, because the 76ers had yet to put together an exceptional game of their own. Philly had controlled crucial stretches of the first two games on the boards and with its defense, but until Sunday the Sixers were never able to get their offensive game cranked up. "We're not playing as fluidly as we did earlier in the year," acknowledged Reserve Guard Clint Richardson after a 103-93 76er victory in Game 2. "I really don't think we've reached our peak yet." Most of the Sixers seemed to concur with that on Saturday as they prepared for the next day's Game 3. "We haven't played a full game yet," Point Guard Maurice Cheeks said, "but we've been able to come up with the big plays at big times. Out here we may have to play a full 48 minutes."
Going into the series, the Lakers thought the 76ers would find a way to self-destruct, as they'd done in playoffs past. This was the third championship match between the two teams in four years, and especially in 1982 the Sixers had allowed themselves to be bullied in the backcourt. The 76ers suffered from inexperience and lack of depth at guard, and the Lakers made them pay. A year ago it was a scythelike trapping zone that prevented Philadelphia from getting into its offense. "They've always had the confidence, the arrogance when they've played us," Richardson says. "I think some of their guys in the backcourt are a little surprised now when they push us and we push back."
The Lakers were more than just surprised. "I think," L.A. Point Guard Norm Nixon said, "that we were shocked by their physicalness and their overall aggressiveness."
The Sixers asserted their strength from the beginning of Game 1. In the first two minutes the Lakers reeled off five fast breaks, trying to crack Philadelphia's defense with early speed. But Los Angeles was able to pick up only a pair of Magic Johnson free throws from the early flurry and turned the ball over eight times in the first period. Near the end of the quarter the Lakers trailed by 12 points.
Philadelphia had lost the first game of last year's finals when it allowed L.A. 41 points in the third quarter, most of them on fast breaks. But this time the 76ers were determined to choke off the Laker attack, and so every time Malone shot from the low post, three Philadelphia players backpedaled to Los Angeles' end of the floor. The Sixers were particularly eager to stop the 6'9" Johnson from taking rebounds—as a guard, he's the Lakers' rebounding leader—and going end to end with the ball, and this they did. L.A. scored a meager 23 points off its running game, compared with 36 for Philly, and though the Lakers did take a brief five-point lead in the third period, they faded badly in the fourth quarter and lost 113-107.
Abdul-Jabbar, who had been a dominant force throughout the earlier rounds of the playoffs against Portland and San Antonio, suddenly looked like the 36-year-old man he is. In 22 second-half minutes, he left short all five of his skyhook attempts and had no rebounds. In the four games Abdul-Jabbar had played against the Sixers this season through Sunday (he missed one regular-season encounter because of a migraine headache), he had had only 25 rebounds in 142 minutes, compared with Malone's 78 in 187 minutes. In Game I of the finals, Malone led the Sixers with 27 points and 18 rebounds, and Erving added 20 points, 10 rebounds, nine assists and five blocked shots. But if one 76er could be designated as the hero of the first game, it was Richardson, who came off the bench and contributed 15 points, four steals and a superb defensive job on Johnson in the fourth quarter. Meanwhile the Sixers exploited the Lakers' zone trap, slicing through it for easy baskets. "We worked on the trap pretty extensively," Cheeks said. "When they trapped, we tried to use it to our advantage."
L.A. played Game I without Bob McAdoo, its best big man off the bench, who had suffered a deep bruise of his left thigh in the clinching sixth game of the Western Conference finals against the Spurs. Also, Swingman Michael Cooper had so painfully bruised a rib in that game that he passed out later in the locker room. The Lakers were beaten up in their series with San Antonio and beaten down by the fact that the first game of the finals was only 40 hours after their last game against the Spurs. In Philadelphia they were just beaten—like a drum. It didn't help that Nixon was briefly knocked unconscious less than three minutes into the first game in a collision with Sixer Guard Andrew Toney. Both players were woozy for a while, but both came back and played well. Toney scored 25 points, and Nixon, who could barely raise his left arm the rest of the day, responded with a remarkable 26.
The Lakers had attributed most of their shortcomings in Game 1 to fatigue, but after Coach Pat Riley had gone over the videotapes of the defeat, he sounded a cautionary note at a team meeting the next day. "Their disposition to dominate has been better than yours," Riley warned. "You can't let them feel that way. They're taking it [the championship] away from you." Later that day, Abdul-Jabbar stopped by the newsstand outside the Lakers' hotel and bought several martial arts magazines, perhaps to help prepare himself for the resumption of his war with Malone.
Riley opened Game 2 with Forward Kurt Rambis guarding Malone, hoping to keep Kareem out of early foul trouble. Whatever advantage the strategy might have offered, the Lakers were conceding that the Sixers now dictated the matchups and that Los Angeles would have to react to Philadelphia's strength. It was a psychological watershed, and after the 76ers had won the game, Malone could not seem to let this matter alone. When Abdul-Jabbar had gotten in foul trouble in the previous game, Malone had ridiculed the Lakers for putting 6'8" Forward Mark Landsberger on him. "Landsberger's like a little grinding machine they put on your knees," Moses had said. Rambis had been more effective fighting Malone for position under the basket, but still Malone couldn't comprehend how L.A. could come at him with anything but its best. "I don't understand why they got Rambis checking me; ain't no 6'8" guy going to check me," said Malone, who is 6'11" and at least 255 pounds, compared with Rambis' 215. "He can't guard me. They keep sticking that little guy on me like that, I might have a field day. The thing is, they've got to adjust to us now; we don't adjust to them. They know I've got to check Kareem, because nobody else on our team can, so that's not going to change. They put Rambis on me, if I get it down low it's over with. I ain't going to shoot no jumpers over him, I'm just goin' up."
Through 6:41 of the second quarter, Rambis had actually outscored Malone 7-2, and with 1:24 left in the half the Lakers led 54-45, largely on the strength of a 26-17 rebounding edge. But Abdul-Jabbar had spent enough time on Malone to pick up his fourth foul with 6:17 to go in the third quarter, and as soon as he went to the bench, Philadelphia brought the ball right to the heart of the L.A. defense, scoring three straight layups to go from five points behind to one ahead. The Sixers held a four-point lead by the time Malone drew his fifth foul with 7:58 left in the game, and as Cunningham sent in 6'9" backup Earl (The Twirl) Cureton, he was "very concerned." But during the next five minutes and 34 seconds something remarkable happened, and Cureton, who played Abdul-Jabbar very well in last year's Game 2, deserved some of the credit. Not only did Cureton throw down a skyhook over the shot's creator, but he presented an irresistible target for the L.A. offense. Soon the Lakers were funneling everything into Abdul-Jabbar, who at 7'2" has a five-inch advantage on Cureton, and before long the rest of Los Angeles' glittering offense had shut down. No Laker other than Abdul-Jabbar scored while Malone was on the bench, and no L.A. starter except Abdul-Jabbar scored a point during the fourth quarter, the lot of them going 0 for 9. Nixon, who was 4 for 13 in Game 2, later conceded, "In the fourth quarter I was nowhere to be found."
The Lakers' 13 possessions after Malone went to the bench resulted in three baskets, and they turned the ball over eight times. The 76ers played a swarming, help-out defense in the middle, and with Cureton batting two balls loose, Bobby Jones two others and Cheeks a fifth, the Sixers had a 95-87 lead when Malone returned. By then the game was, in effect, over. "We were probably so intent on getting Kareem the ball that it took us out of what we were trying to do," said Forward Jamaal Wilkes, who shot only 8 for 21 from the field. "Over the years, that's been a habit we've fallen into, trying to ram it in there while the rest of us stand around letting him do all the work."
The Lakers weren't just upset with themselves after Game 2. Referee Darell Garretson, the league's chief of officials, and John Vanak, another veteran ref, sent the 76ers to the free-throw line 32 times, and Philadelphia converted 23 of its foul shots. Los Angeles shot a championship-series-game-record five free throws—none in the second half, when NBA games tend to be their roughest—and made three. Afterward, Riley claimed that Garretson was responsible for the 29-16 disparity in fouls called.
"Realistically, if they're not getting layups and they're only taking jumpers, how are they going to get to the foul line?" asked Erving. "Who was driving for them tonight? Not Magic. Not Nixon. Not Kareem."
Riley's complaints about Garretson seemed to have the effect of giving the Lakers another excuse—to go along with Game 1's fatigue—for losing to the 76ers. L.A. found it difficult to give Philadelphia its due, even after being outplayed twice. "They didn't want to win those first two games," said Nixon. "You could see they didn't really want to win, but we just couldn't take advantage of it."
Game 3 made it evident that the Lakers weren't able to adjust to the Sixers' aggressiveness even though Abdul-Jabbar grabbed 15 rebounds. "Through the pain of losing four of the last seven years," Riley said, "the 76ers have conjured up an emotional level that is probably more significant than ours. It seems like, at the appropriate time, they were always able to take their level of aggressiveness to another level."
Up is a place particularly familiar to Erving, who levitated his game on Sunday with 21 points and 12 rebounds. And when the Doctor, who has been most often identified with the 76ers' long struggle for the championship, was asked what he would do with the NBA championship ring he has chased for seven years, Erving, who already has a surfeit of rings, said, "I probably won't even wear it. They can give it to me in any size." Just so long as they give it to him.
PHOTOPHOTOMalone towered over Abdul-Jabbar, outscoring him 79-66, outrebounding him 49-23.PHOTOCheeks's aggressive play was typical of the improvement in this season's Sixer team.PHOTOThis Game 2 dunk was one of the few instances in which Magic got to pull his tricks.PHOTOThe Lakers whined at Garretson when they got a meager five free throws in Game 2.PHOTORiley was saying, come on, guys, give me a break.