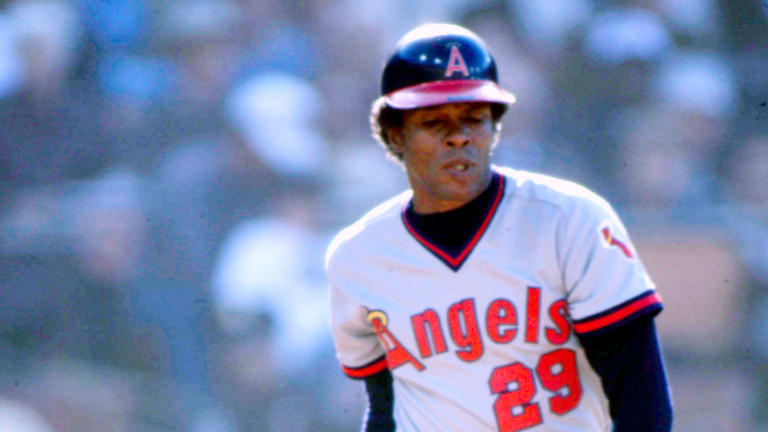 Portrait of the Artist as a Hitter
The man behind the camera is Rod Carew, part-time photographer, full-time batting star, whose phenomenal .435 average has made him the focus of unwanted attention
Rod Carew, who was hitting .476, nonetheless was taking a little extra batting practice at Anaheim Stadium three hours before a mid-May California Angels game with the Minnesota Twins. Carew was concerned about a sudden and unwelcome proclivity he'd developed for pulling the ball to right-field. He is a batter who earns his keep—about $900,000 this year—by spraying his hits to all fields, by using, in baseball vernacular, "the whole ball park." He hadn't played, save for one pinch-hitting appearance, in nearly a week, having aggravated an old knee injury, and was worried about regaining his whole-ballpark stroke. It was a pleasantly warm afternoon in Southern California, and aside from Carew and his batting-practice pitcher, Angels Coach Bobby Knoop, there was scarcely anyone on the field. The circumstances were made to order for Carew, a man who treasures his solitude. There he was, alone with his bat and someone to throw baseballs to him, an artist with his brush and canvas.
For the first few minutes Carew whacked screamers down the rightfield line, frowning at this unwanted consistency. Carew is a handsome man, but not in the conventional sense. The most arresting features on his face are a tiny turned-up nose and a mile-wide mouth that can exaggerate the mildest emotion. When he smiles, the light can be seen as far away as Newport Beach. When he's downcast, there's an eclipse of the sun. This unusually expressive face, as much as anything else, is the source of Carew's reputation for moodiness. Now, his face took on a studious look. Carew stopped the proceedings long enough to place a ball on the outside corner of the plate. "Bobby, would you try to throw it right here," he said in his precise manner, indicating a spot directly above the ball on the plate. Knoop obliged. Still Carew hit the pitch to right.
Knoop offered some unsolicited advice, speaking respectfully, as would anyone proposing to give hitting pointers to a man with a career batting average of .331. "Rodney, it looks like you're breaking your wrist too soon," Knoop said. "You're breaking it right at the plate, instead of afterward." Carew nodded. He stepped into his familiar crouch, which actually isn't really so familiar, because he has half a dozen different variations on his stance to select from, depending on the circumstances and the opposing pitcher. Only his hands, large, yet delicate like a pianist's, remain the same—the bottom, or right, gripping the bat lightly, the top providing an open cradle for it. Not until the pitch is on its way does that top hand grasp the bat. These are quick, strong hands. They are the source of Carew's magic. "He has his own style," says Carew's teammate Bobby Grich. "I call him a hands hitter. You rarely see him pop up because he turns that left hand over."
Carew accepted his coach's counsel, and, as if on command, the line drives started moving from right-to leftfield. Carew smiled luminously. But darkness descended upon his face as he left the batting cage, for he could see a phalanx of cameras and tape recorders awaiting him at the dugout steps. His solitude was broken.
For Carew it was starting all over again. His astonishing early-season hitting had thrust him once more into the glare of publicity he so deplores. There was talk again of his becoming the first .400 hitter since Ted Williams in 1941. He had been through it all once before, in 1977, when he ended up hitting .388, and it nearly drove him to distraction. Another early surger, George Brett, who had his own flirtation with the magic mark in 1980 (he hit .390), had taken some of the heat off Carew in the first weeks of this season, but Brett cooled off and Carew kept going. In late April he had 12 hits in one four-game stretch, a feat all the more remarkable because he went hitless in one of those games. By May 6 he was at an even .500—48 hits in 96 times at bat.
Even his illustrious teammates were stunned. "I've never seen anybody hit like that for so long," said Reggie Jackson, who has had some streaks of his own. "I was like that in the '77 World Series, but that was only six games. We're talking about a hundred at bats here. And of all those hits, there were only a couple of bloopers or infield hits. He was hitting .450 on line drives alone. And he hasn't even started bunting yet." This last was a reference to Carew's exceptional bunting prowess, which has gotten him as many as 25 hits in a season. "The man never wastes a time at bat," says Grich. "I don't care if the score is 16-1 or 2-1. And he makes hitting look so effortless. You watch him and you say to yourself, 'Boy, that looks easy.' Then you get up there and pop one up."
"The difference between this guy and the rest of us," says another Angel, Doug DeCinces, "is that when we get hot, we go up to .300. When he gets hot, he goes up to .500."
Carew is of two minds about celebrity. On the one hand, he feels he merits recognition as one of the best hitters ever. He's the active player with the highest career batting average. He has won seven batting championships and put together 14 consecutive .300 seasons. Only Ty Cobb, with 12 titles, and Honus Wagner, with eight, have won more batting crowns than Carew (Stan Musial and Rogers Hornsby have won as many), and only Cobb (23), Wagner (17), Musial (16) and Cap Anson and Ted Williams (15 each) have had longer strings of .300 seasons. To be mentioned in the same statistical breath with such bona fide immortals should be worth something, Carew logically concludes. Actually, because he isn't a power hitter, doesn't have a flashy personality and has never played in a World Series, he's comparatively unrecognized. He's a little wistful about this.
On the other hand, Carew is an exceptionally reserved man who abhors the trappings of fame—the constant theft of his time, the invasion of his privacy. Carew can be short with impolite strangers, be they autograph seekers or microphone wielders. "He's too sensitive for his own good," says Jackson, Carew's friend and personality opposite. "Rod is relaxed outwardly, but not inwardly. George Brett, Pete Rose and I get a lot of positive press. Rod can turn writers off. I tell him he only needs to reinforce his career through the media to get the recognition he deserves."
"He's an introvert," adds Marilynn Carew, Rod's wife of nearly 13 years. "He's not loud and vivacious. He's deep. He's just a private person. There's nothing wrong with that. The whole world can't be made up of extroverts. You can't make a quiet guy into something else."
Carew is a man of ordered habits, of personal fastidiousness. He has his own rules about talking to the press—not after batting practice and, preferably, not after a defeat. If the rules are properly observed, he is invariably charming, because he is a man of wit and intelligence. Still, he has said both publicly and privately that he's so disenchanted with being on stage that he will seriously consider retiring when his contract with the Angels expires at the end of this season. He will have just turned 38. "Financially I can do it," he says. "I still enjoy playing baseball and I know I can do it for a few more years, but sometimes you have to give up things you enjoy. I know I can walk away from it and not worry. It wouldn't make any difference to me if I hit .400 this year. Marilynn, I know, wants me to go for 3,000 hits [he had 2,749 as of June 5 and was hitting .435], but I don't even think about that. People just don't realize the things you have to go through. I get tired of it all. I could be happy away from it. I love photography. I'd like to do more of it."
Carew is a skilled, self-taught photographer whose eye is at its most sensitive with seascapes and in portraits of his family and teammates. He has invested nearly $20,000 in photographic equipment and has his own darkroom in his beautiful home in Anaheim. His favorite photographs hang on the family-room wall, including a remarkable portrait of his 7-year-old daughter, Stephanie, that makes her appear to be a Polynesian beauty. "She hates it," says Carew. "She thinks it makes her look too old." He brings his cameras to the ball park and shoots his teammates at play. He brings his gear on the numerous off-season Carew family treks in California, Hawaii and Mexico. And he takes it with him on the road and wanders the streets in search of material. He gives his photographs as Christmas presents, and he is organizing a show of work by himself and other camera buffs among the Angels. A most solitary pursuit, in many ways photography suits Carew better than hitting line drives before 40,000 people.
Baseball would definitely be the loser if its most scientific hitter should pack it in. And Marilynn isn't so sure it's the right thing to do. "I don't want to see him retire prematurely," she says. "I think if he stays healthy [she raps on a wooden coffee table] and can still contribute to a club, he should continue playing. Naturally, you can't get inside someone and see the degree of pressure there, the degree of tired. I think he's got three more good years left. He's got a young body, and those hands are still quick. But you do get fed up. Only he can decide if he's had enough."
Carew is capable of such contrariness that he just might quit at the top. He said as much when he first signed with the Angels in 1979. All his life he has been a sort of storm center of conflicting influences. He was born in Panama of parents whose roots were in the West Indies, so that he grew up as a linguistic hybrid whose first language was Spanish and whose second was broken English with a calypso lilt. He speaks English today with the barest suggestion of a West Indian accent but with not a trace of Spanish. His English is precise and, for a ballplayer, remarkably free of slang or profanity. That alone sets him apart from most of his fellows. When Rick Adams, a rookie Angel infielder, joshed about not having been invited to the Carew family "pad," Carew looked up from the stool in front of his locker with an expression of mock horror. "Pad?" he asked incredulously. "Did you say 'pad'?" He looked about the room, conveying his shock. "What have we here? Some kind of Valley Boy?"
Carew was a sickly child yet such a superb athlete that at age 11 he was playing baseball with men in their late teens and early 20s. He has lived in the U.S. for 23 years but retains his Panamanian citizenship. In Panama he remains a national hero, although he hasn't set foot there in more than three years. Still, keeping his citizenship "gives the children there someone to look up to," he says. "They need that." He was raised an Episcopalian, but Marilynn is Jewish, and so he now observes the Jewish holidays and, like Sandy Koufax before him, will not play on Yom Kippur.
Carew is a steadfast hit-'em-where-they-ain't disciple in an era that rewards the long ball, patiently lining his artistic little shots to all fields, only occasionally muscling up for a home run. When asked to describe Carew's hitting, Gene Mauch, his manager both at Minnesota (1976-78) and California (1981-82), once remarked with rare humility, "It would be presumptuous of me to describe what an artist does. It would be like asking an art student how Michelangelo paints." Carew has a word for what he does at the plate: "soft." He says, "I relax the upper part of my body. I don't squeeze the bat. If you do, you lose flexibility. When the pitch comes I can direct my bat in many ways."
Carew is a hard worker who will come unbidden to the ball park a good four hours before every game to hone both his batting and first-base fielding skills. And yet he's such a graceful athlete that to unknowing observers he sometimes looks as if he's not trying. Early in his career, when he was with the Twins, this rap was an often repeated and largely unfair one. "He does things people take for granted because he's so smooth," says Angel Shortstop Tim Foli. He has another rare gift, says Foli: "Guys who hit .260 may make adjustments at the plate in the course of a few days. Guys who hit .300 will make them during a game. Guys who hit .400 will make them during a time at bat. That's Rod Carew."
Foli and the other Angels often speak of the "subtleties" in Carew's game. They are fond of describing a duel Carew had with Boston Reliever Luis Aponte on a chilly evening in Fenway Park in early May. Carew appeared as a pinch hitter (he was nursing the knee injury) in the ninth inning with the score tied 5-5. He fouled off the first pitch, a slider—purposely, it turned out, because he didn't think there was much he could do with it. The second pitch was a ball, and the third he fouled off. Next Aponte threw a forkball, which he later described as the perfect two-strike pitch to lure a batter into a swinging strikeout. Carew started to swing, but then, realizing the ball would drop out of the strike zone, he checked himself. Aponte said later that Carew might be the only hitter in the league with that kind of bat control. After fouling off four more pitches, Carew got the fastball he wanted, and he lined it into the gap in left center for a double. He scored the winning run when the next hitter singled.
Stephanie Carew, wearing No. 9 on the back of her yellow uniform, seems distracted as she plays first base for the Ms. Pac-Man team in Anaheim's Mini Bobby Sox league. The softball game is going on in front of her, but she's obviously preoccupied with her famous father, sitting on a grassy incline down the rightfield line taking pictures of her. "Stephanie," Rod shouts, "pay attention. Honey. Watch the game. Be ready with the pitch." These injunctions aren't issued in a commanding voice, but in gentle, fatherly tones. Stephanie turns back to the diamond, but between pitches she fusses with her uniform, pulling up her socks, adjusting her waistband, fiddling with the brim of her cap.
Rod laughs. "She's like me," he says. "I'm very fussy about my uniform. If it gets dirty, I change it. I've always been that way about my appearance. I had very little as a kid, but I made sure I was presentable." He looks back out onto the field. His daughter is fiddling with her shoes. "Pay attention, Stephie," he calls. He laughs again. "She may be even worse than I am."
The Carews—Rod, Marilynn and daughters Charryse, 9, and Michelle, 5—are sitting on a blanket away from the other parents and friends of the players, who are clustered near home plate at the Peralta Canyon Park playground. "The first time Rod came to one of these games, the whole team left the field to get his autograph," says Marilynn. "That's why we stay out here in right-field." The youngest daughter is now importuning the oldest to take her to the snack bar. Rod hands Charryse some money and sends the two of them off. "Charryse is a real hot dog," he says, watching them. "She loves to hit. I'll come home and she'll ask me how I did and I'll say I got four hits and she'll say, 'So did I.' I figure there are only so many hits in a family, so one of us will have to slow down."
Stephanie is at the plate now. "She bats left, throws right, just like her dad," says Marilynn. And just like her dad, she singles sharply to the opposite field—that is, to the left side of the infield. Rod is elated. Stephanie turns back from first base to smile at the family. Rod snaps her picture, and then, noticing that she's tugging at her jersey, he beseeches her to pay attention.
"I try to come to every one of the kids' games, but I miss a lot because of my traveling. When I'm here I yell for them, but I don't want to get too involved," he says, changing camera lenses. "I want them to just go out and enjoy themselves. Kids are so aware, they can surprise you. There is pressure on them. When they first started playing softball, the other kids would expect too much of them because they were my daughters. And if they'd do something well, the other kids would say, 'Well, you're Rod Carew's daughter.' Charryse would come to me and say, 'Daddy, because you're a good player, does that mean I have to be?' No, I'd tell her. The idea is to have a good time. I tell them that I make errors and I strike out, too. Everybody does. I want to encourage my daughters to do a lot of things. I want them to be careful with their schoolwork, make sure they do it right. We're very strict with them. We don't allow them to go places by themselves. We don't want them accepting rides from strangers and we don't want them bringing strangers to the house. We want to instill certain things in their minds about taking care of themselves. We're not trying to hurt them, just stop them from being hurt."
Stephanie is tagged out trying to score from third on an infield grounder. Carew disagrees with the call. "She missed her with the ball," he says quietly. The autograph seekers are now upon him—little boys and girls with caps, gloves and balls, convoyed by embarrassed mothers and fathers. Carew tries to appear busy with his camera equipment, but he dutifully signs all of the items proffered. One father, a mustachioed man in shorts, risks conversation, although Carew hardly seems the type who would engage in idle chitchat with strangers. "I've got a daughter in each one of these leagues," the man says. "All three of them." Carew looks up beaming. "I've got three daughters too," he tells the stranger. "Wonderful, isn't it?" Encouraged now, the man ventures, "Sure is. The way I look at it, a son will leave you eventually, but a daughter will love you all your life." Carew nods thoughtfully. "That's really true, isn't it," he says. The man walks off, waving. Carew calls after him, "Good luck, and take care of those girls."
It's nearing noon now and getting hot. The game is over, and Stephanie's team has lost. It isn't something she broods about. In fact, as a joke, she stands in line with the autograph seekers. Her father playfully pushes her away. The Carews then stroll past several diamonds that make up this playground complex. Rod carrying his cameras and camera bag. They live only a few minutes from the playground and only 10 minutes from Anaheim Stadium. They reach the Wagoneer, and he piles his stuff in the back. The children will ride back with their mother in another car; he'll take the Wagoneer.
Later Carew says, "I'm glad I don't have a son. I wouldn't want a boy to go through the pressure of following in my footsteps. I see these other players bringing their sons into the clubhouse. The kids grow up around big league ballplayers. They get to be big in school because of it. Then they have too much to live up to. It's too much. The kids should be able to do whatever they want to do. It's bad enough, as it is, with my daughters. I've had kids ask my oldest daughter for my autograph. That's not right. I tell her, 'You're your own person. You don't have to do that.' "
Carew was born on a train transporting his mother, Olga, from the rural community of Gatun, Panama to the no less rural community of Ancon, which at least had a clinic. When Mrs. Carew went into labor, she was attended at first by a black nurse named Margaret Allen, who then sent the conductor to the white section of the train to bring back an American physician, Dr. Rodney Cline. The nurse became the boy's godmother, and the doctor was honored in another way: Mrs. Carew named her baby Rodney Cline Carew.
Carew's father, Eric, worked on the canal as a painter; his mother, now a hospital therapist in New York, was a maid. Carew, his older brother and three sisters all slept in the same room. He learned to hit with a broomstick and a tennis ball when he was seven, but soon developed more sophisticated skills under the tutelage of his uncle, Joseph French, a physical education instructor. "I always had a talent for baseball," Carew says. "I was a superstar at 11." But not for long. That year he was stricken with rheumatic fever and hospitalized for six months. The illness may have widened the already wide breach between him and his macho father.
"I never felt close to my dad," Carew said one day while icing his sore knee. "I was very sick as a kid. There was always something wrong with me. I was timid and quiet. All that time I was in the hospital, my dad never came to see me. I don't know why. I was always very close to my mother. I've searched all these years to find out what was wrong between my dad and me. I never understood why it should be that way. I was a good student. I always did what I was told. I never bothered anyone. There wasn't a teacher in school who could say I was a bad kid.
"My older brother, who was bigger and stronger, was a holy terror. Maybe the reason my dad was so hard on me was that I wasn't healthy. My brother would fight in a minute. I'd always walk away. Once when I did walk away, my father beat me and told me to go back and fight and not come home until I had. I went back. What could I do? If I stayed home, my father would beat me some more. Well, the other kid knocked me down four times, but I thought, 'Better here than at home.' Eventually I got the better of him. Then the principal of the school called me in and hit my hands with a heavy belt. It looked like I was getting it everywhere.
"I ran away from home many times, only to return and get a whipping. I got so tired of it. It seems like there was always something. Some days I'd see my dad coming home and I could just tell by the look on his face that something had gone wrong and that I was going to get whipped. I used to tell myself that one of these days I'll get out of this situation. I almost never see my dad now. I sent an invitation and an airline ticket for him to come from New York for our wedding. He never came. He met my wife and his grandchildren for the first time last year. It was awkward. Sometimes I feel for him. He's got a son accomplishing a lot of things that he can't share in."
When Rod was 15, the Carews moved to New York City to join his mother's younger brother, Clyde Scott. It was Scott who instilled a sense of family in a boy who was becoming increasingly alienated. "He told us that we had to stick together as a family in this country," says Rod. "We had to try to help each other in this strange place."
Carew had never been outside of Panama, and the sight of the huge city both fascinated and intimidated him. His English needed work, and he knew nothing of life on the streets. He developed a taste for movies, one he has never lost. Carew will still sit up past 3 or 4 a.m. watching television reruns of old Cagney films. In New York, the already lonely youngster turned further inward. "We didn't have any friends," he says. "The relatives all did everything together. I couldn't go back to my old neighborhoods—at 144th and Eighth and 151st and Amsterdam—and say to anybody, 'Hey, I know you.' I went to school and came home. I didn't get involved. Nobody on the block knew us. But then I was always a loner, even in Panama. My brother had more friends than I did. He was that kind of guy. I never really hung out."
With encouragement from his New York uncle, Carew continued playing baseball, although not at his high school, George Washington, because an after-school job in a grocery store took up his time for extracurricular activities. He played in sandlot games at Macombs Dam Park, next door to Yankee Stadium. He was spotted there by an unpaid scout for the Twins. The next time Minnesota came to New York, Carew was given a tryout. The immaculate batting stroke had Twins officials gaping. A month later, he was signed and given a $5,000 bonus. He spent three years in the minors, and then, in 1967, at the insistence of owner Calvin Griffith, he became the Minnesota second baseman. He had another ardent supporter that year in a Twins coach named Billy Martin. "I first saw him in spring training in Orlando," says Martin, "and I told Sam Mele, the manager then, that we had our second baseman. We knew even then that we had one helluva hitter." The faith was justified. Carew hit .292 and was named Rookie of the Year. Two years later, with Martin as his manager, he led the league in hitting for the first time, with a .332 average, and tied a major league record by stealing home seven times.
But Carew's rise was not without its dark side. His parents separated during this period, and though he was hardly attached to his father, the notion of a split in the family was difficult for him to accept. Martin recalls one occasion when Carew simply walked off the field after grounding out in the middle of a game. "I followed him into the clubhouse and found him there crying," Martin says. "He told me about his mom and dad. I'd had some experience with that, coming from a broken home myself, so we talked." Their personalities may be disparate, but Martin, like that other opposite, Jackson, is one of Carew's best friends. "He was my teacher," Carew says of Martin. "He was like a second father to me. I was young back then. I was quiet. People thought I was moody. Billy tried to get me to joke more with the guys, to take things less seriously. He'll always have a special place in my heart. He's Stephanie's godfather."
Carew wasn't a popular player in Minnesota during his first few years. He was criticized in the media for his temperamental outbursts and was booed by the fans for what they considered his lack of hustle. His right knee was torn up in June 1970, when Milwaukee's Mike Hegan slid into him trying to break up a double play. He underwent surgery for torn ligaments and played only 51 games that season. The rap against him after the injury was that he avoided contact and, therefore, was ineffective on the double play. Then, in October of '70, he married a white woman.
Marilynn Levy, born and raised in Minneapolis, was the youngest daughter of Morry Levy, a local businessman, and his wife, Selma. Marilynn was raised to be a nice Jewish girl, an upbringing that assumed she would someday marry a nice Jewish boy. "We were middle class," Marilynn said one day, seated under her husband's trophies, which include seven silver bats for the seven titles. "But my father worked 20 hours a day to keep us that way. For a while he owned a hand laundry, then a tavern and a clothing store, before he finally went into real estate. I got an associate of arts [two-year] degree from the University of Minnesota, but all I ever wanted was a husband and to stay home and raise children."
On her 23rd birthday, Marilynn and a girl friend went for a drink at a Minneapolis bar called King Solomon's Mines. Carew, the newest star of the Twins, was there. "What happened," Marilynn explained, "is that this friend of Rod's wanted to meet my friend. I guess he thought that might be easier if he brought Rod Carew over to impress her. The trouble was, neither of us knew who Rod Carew was. 'Who's Rod Carew?' I said. 'If Tony Curtis is in here, bring him over.' Rod just looked at me and said, 'God, are you flaky.' Well, I didn't know what that meant, so I said, 'Look, I don't mind being sworn at, but I at least like to know what the words mean.' He asked me for my telephone number, and I gave it to him. So we started going out. I knew nothing was ever going to come of it, so I didn't say anything to my parents. I didn't want to put them through any unnecessary changes. Other girls Rod had gone out with had been proud to be seen with him. But I thought more about my parents' feelings than I did about his. Then when it got serious, I was ashamed that I hadn't said something."
This odd couple, the lively Jewish girl from the American Midwest and the quiet young black from Panama, separated for a time and then reunited. They announced their engagement at the Levy's Passover seder in 1970. Both families accepted the romance without protest. "My little nieces put up a sign on the wall at the seder, GUESS WHO'S COMING TO DINNER?," said Marilynn. "It was a popular Sidney Poitier movie of the time about mixed marriages. I took my mother to see it to prepare her." The families may have accepted the union, but some elements of the local community didn't. "We got death threats," said Marilynn, "threats from people who felt what we did was their business. My mother got calls from people saying, 'How could your daughter do this?' They were going to shoot Rod at second base." She stirred on the couch. "They must have thought we were trying to prove something. We weren't. We weren't crusaders. We were just two people who met in a bar and happened to fall in love."
Race and religion weren't problems for the newlyweds. Carew agreed to have his children raised in the Jewish faith, and though he has never converted, he has done the reading, observes the holidays and, in Marilynn's opinion, is more religious than she is. The problem they did face in the early days of the marriage was caused by baseball. "And that," said Marilynn, "would be the same if we both happened to be white Anglo-Saxon Protestants. When I got married, I never thought I'd have to spend so much time alone. I knew Rod had to travel, but the way I was brought up, my dad came home at six every night and we had picnics on Sunday. When the kids came, I found myself alone with them so much. I don't know if I could ever be considered a fan. When you're living the game, it's not the same. There are so many negatives to go with the positives. You never really feel your husband is your own until he walks in the house. That's when I see Rod, the family man. Otherwise, I have to share him. A lot of the time I don't want to, but you also have a responsibility to those people out there. He's a big part of their lives, after all. Once when the kids and I went down to spring training after he'd been gone three weeks, we had to wait by the car outside the ball park for all the autograph seekers surrounding him to go before we could finally see him. It's the celebrity part that's difficult. Now we've got a balance. I have a role, he has a role. We both put a lot of trying into this marriage. We've worked hard to get where we are. And yes, if I had to, I'd do it all over again." She laughed. "Look, I've got a nice house, four dogs, three cats, three kids and Rodney. Put 'em in any order you want."
Marilynn realizes that baseball life was made easier for her because her husband was at least playing in her hometown. And as Carew's batting titles accumulated—in 1969, '72, '73, '74, '75, '77 and '78—his popularity rose. In 1976, he was shifted from second to first base, a move that would spare his injured leg from hard-sliding base runners and spare him the jeers of fans who accused him of avoiding those runners too readily. Carew hit .331 that year.
Then in '77 he had one of those unforgettable seasons. He hit higher than .400 for much of the season and finished at .388, with a league-leading 128 runs scored, 239 hits and 16 triples. He drove in 100 runs for the only time in his life and hit 14 homers, tying a career high set in '75. He also suffered mightily from the pressures of the .400 quest. "I just couldn't do anything or go anywhere without being approached by somebody," he says. "It's hard to give up your privacy like that. You can give up just so much of your time. I don't think you should be bothered wherever you go."
Carew led the league in '78 with a less attention-grabbing .333. He also arrived at a crossroads with the Twins. Carew had found a home in the Minneapolis area. "I enjoyed playing there," he says. "I had family and friends." But by the dizzily escalating major league pay scale, at $170,000 a year he was woefully underpaid by Griffith, and he could not convince the old man to give him a five-year contract. Carew and Griffith had already reached the pay-me-or-trade-me impasse when Griffith delivered his now infamous oration to the Waseca, Minn. Lions Club on Sept. 28, 1978. Griffith was quoted as telling the Lions that Carew was a "damn fool" for signing a Twins contract when he could make so much more elsewhere. The capper, however, was Griffith's assertion that he had moved the franchise from Washington, D.C. because "I found out you only had 15,000 blacks here.... We came here because you've got good, hard-working white people here." Carew had always been on friendly terms with his boss. "I was moody and temperamental when I first came up, but Calvin really stuck by me," he says. "He was honest with me. I could talk to him." But the Waseca speech was more than this intensely proud man could endure. "I'm not going to be another nigger on his plantation," he told newsmen when they sought his response to Griffith's unfortunate remarks.
Carew and Griffith patched up their differences shortly afterward. "We talked about it," says Carew. "It was just an unfortunate thing. He meant it one way and it came out the other. He'd always signed black players, and he always treated us well. I told him that as far as I was concerned it was all forgotten. I kind of regretted making any comment at all about what he said." But money was still a problem. "He couldn't pay me and I knew he couldn't." On Feb. 3, 1979, Carew was traded to the Angels for pitchers Paul Hartzell and Brad Havens, Outfielder Ken Landreaux and Infielder Dave Engle. He signed a five-year contract that would pay him upward of $4 million.
Carew was leaving a team on which he was the only real star for one with a galaxy of them. Alas, the Angels have also been a star-crossed team, and like so many luminaries before and after him, Carew got hurt—torn ligaments in his right thumb—in his first year at California. He played in just 110 games and hit "only" .318. He was up to a more normal .331 in '80, but he found now that he was being criticized for not driving in more runs—he had only 59 that year. There was also talk of a players strike. Fan reaction to that point had been decidedly antiplayer, and there was booing from the grandstands. On May 22, 1980, when asked by reporters in Texas what he thought of the fan response, Carew replied undiplomatically, "The fans are as bad as the owners. They're fickle. They can't yell at their wives, so they come out to the ball park and yell at us." If he had heard booing before, he heard it for fair now. Carew issued a formal apology, but he had difficulty shaking a new image as a spoiled modern ballplayer. In fact, Carew is about as modern as Willie Keeler. He simply doesn't take criticism lightly. "I'm a very outspoken person," he explains. "If I'm yelled at, I think I should be able to express my opinion."
The players did strike in '81, a year in which Carew hit .305, his lowest average in 13 years. In 1982 he played most of the year one-handed, after his right hand was stepped on in an April 16 brawl with the Twins. Three bones were chipped, and, as Carew says, "If my hands hurt, I'm going to hurt at the plate." Still, he hit .319. Unfortunately, he also made the last out of the 1982 league playoffs—a hard shot straight at Milwaukee Shortstop Robin Young with one on and two out and the score 4-3 Brewers. Milwaukee went on to the World Series, in which Carew has never played.
Aside from his knee, he's fit this year, and his popularity with fans and teammates has never been higher. Carew has always been gracious with advice to younger players, and it's not uncommon now to see him step aside during batting practice to help a youngster like Rick Adams with his swing. He has a running wager (for Cokes) with Foli, a lifetime .251 hitter, on who will get the most "hits" in batting practice, and he cheerfully allows Foli to change the rules on him. "What am I supposed to do?" protests Foli. "The guy's hitting .440. I've got to have some advantages." Carew is immensely popular with his teammates, although the normal clubhouse horseplay is beneath him. His great season, says Foli, "couldn't happen to a nicer guy."
"I'll tell you what I think," says Jackson. "I think Rod Carew is a better person than he is a hitter. And not too many guys are better hitters."
Certainly not this year. Carew had had 24 multiple-hit games by the end of last week. And for those who say he doesn't hit in the clutch, the numbers in the box on this page show that he is having his best year ever with the Angels in pressure situations.
Carew is convinced that, after his 1977 experience, he will be able to deal with the tension of the .400 struggle. This time he will set the rules on his availability. Indeed, Carew has always seemed to play his own game, one slightly more purified than the grubby one his colleagues practice. In Carew's game there is fluidity of motion, not herky-jerky action. There is grace and artistry, not mighty swings and misses. And the uniform is clean.
Carew is loading his camera equipment into a cab that will take him from the Angels' hotel in Seattle to the Kingdome. "If I bring along enough of this stuff, my hands will be too full to sign autographs," he says. He takes his seat beside the paraphernalia. He seems concerned. "Did you read the paper this morning?" he inquires of a fellow passenger. "This columnist is writing about Gaylord Perry not talking to the press. He says something to the effect that Gaylord better watch it because the reporters are the people who are going to decide whether he gets into the Hall of Fame." Carew's face clouds over. "Now see, that's the sort of thing that gets me. There should be only one way of judging whether a player belongs in the Hall, and that's on what he does on the field." He stares out the window for a moment. When he turns back, he's smiling. "But that's something that doesn't worry me at all, because I don't think about the Hall of Fame or anything like that. Honors don't mean much. I think people will remember me for the things I've done. Not that I care about statistics." He laughs. "When I want to find out how I'm doing, I just ask Reggie."
He's doing just fine, Reggie would be sure to tell him. As for the Hall of Fame, why ask?
[originallink:10625116:43685]
PHOTOPHOTOThe secrets of Carew's hitting include his quick, strong hands and his "soft" grip on the bat.PHOTOSeven silver bats—one for each balling title-adorn Carew's trophy-room walls in Anaheim.PHOTOA slew of Carews—Stephanie, Rod, Charryse, Michelle and Marilynn—at home with Sam the cat.TWO PHOTOSThese two by Carew, who owns $20,000 worth of photographic equipment, were taken on a vacation in Hawaii.PHOTOReluctant autographer Carew obliges Pitcher Bert Blyleven's son, Todd.PHOTOCarew wiped up the '67 American League Rookie of the Year vote.PHOTOMartin gave fatherly advice to an unhappy Carew.