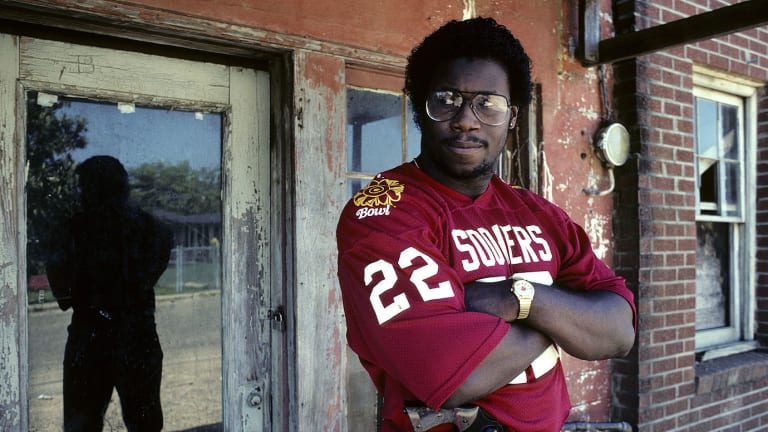 New Philadelphia Story
Oklahoma's Marcus Dupree stews at home over Coach Barry Switzer's slights
People who live in Philadelphia, Miss. love to sit on their front porches. To do so is sensible, because a porch is a great place to catch the breeze. It's also a place where one can get involved in the town's social life. A Philadelphian sits on his front porch and waves to and visits with the folks who drive by. Then, after a while, the people who have been sitting on their front porches get in their cars and drive around town and wave at and visit with the same people who a bit earlier had been doing the driving and waving and visiting.
Life in Philadelphia is gently lived. Remember that. People sit on front porches and take joy in the little things. The mailman stops. The school bus brings the children home. The birds chirp.
On the front porch at 274 Davis Street one recent afternoon sits Marcus Dupree, sophomore tailback at the University of Oklahoma, blowing up and then popping his bubble gum. Also on the porch are a rusty green glider, a rickety wooden chair, Dupree's fishing pole and, behind the glider, a saw. There are lots of plants, too, including elephant's-ear, mother-in-law's tongue, red princess, schefflera, palm, English vine and airplane plant. The sweet smell of magnolia blossoms fills the air.
"That you, Marcus?." says a youngster from the street.
"Yup."
"How you?"
"Good."
That's the way a typical conversation goes with Dupree, who uses one word only when he can't get by with none. He doesn't need to talk. Dupree has earned his considerable reputation with his powerful legs and shoulders, his dazzling speed and shifty feet, not with his mouth.
Dupree is the odds-on favorite to win the Heisman Trophy next fall, the one phenom in a 1983 college crowd that figures to be unphenomenal. "If I rush for 2,000 yards and we win the national championship," he says of two things that might well happen, "they'll have to give me the Heisman." He's probably right, although whether he should be saying so is another matter. Despite not starting until the seventh game last year, Dupree, who is 6'3", is listed at 240 pounds and runs a 4.4 40, rushed for 1,144 yards to become the first freshman ever to lead the Sooners in this department. He was All-Big Eight; he was the conference offensive newcomer of the year; he had nine runs of more than 48 yards, as well as 13 touchdowns. Not long ago five of the eight conference coaches said if they were choosing up sides, Dupree would be their first choice. Nebraska's Tom Osborne didn't vote because, he said, he didn't want to offend his players.
Indeed, after one glorious performance, Dupree's coach, Barry Switzer, went completely around the bend and said, "Marcus Dupree came here with E.T. He's from a different world." And there's evidence that Dupree operates at a level unfamiliar to other players. "Ever since I can remember," says his mother, Cella Dupree Connors, "Marcus has been doing things that nobody else could imagine."
Already a song has been written about Dupree, and Willie Morris is putting together a book on the recruiting of Dupree. It's all terribly exciting—and it's all threatening to turn sour.
The awful truth is that Dupree, 19, hates it at Oklahoma, and his relationship with Switzer, which was barely cordial to begin with, has seriously deteriorated. Whether the situation can ever be improved is uncertain. "I had the impression before I went to Oklahoma from just watching Coach Switzer on TV," says Dupree, sitting on his front porch, "that he's a hard guy and that he treats his players hard. That turns out to be true. I think I'll play this year, but it could be my last. Coach Switzer says I don't practice that well. The problem is, it's not like high school when Coach [Joe] Wood made it fun. At Oklahoma, it's not fun. I don't know...."
The bespectacled Dupree—he wears contact lenses in games—stares out at the street.
"Hey, Du," someone calls from a car. Dupree waves but doesn't speak.
What has happened is that Switzer, college football's winningest active coach (98-17-3), either can't or won't understand that Dupree does come from another world, and that world is Philadelphia, Miss. "Dupree is lazy and he's not mentally tough," Switzer has been grousing of late to friends. "It has all come too easy for him. We have a team that can be pretty good this year, but right now, because of Dupree, the vibrations aren't very good." They're not. This spring Switzer had to quell an uprising of backs who didn't like all the attention Dupree was getting. Nor are they amused that Dupree doesn't practice with what they consider appropriate vigor.
The player's uncle, Curly Connors, says of Dupree and Oklahoma, "Right now, he's toughing it out. From Day 1, Switzer picked on him. I don't know why. If he doesn't think Marcus is in shape, well, it's up to the coach to get him in shape. If Marcus ain't in shape, then the coach ain't doing his job. But I'll tell you this: If you scold Marcus, he'll withdraw and he'll resent the hell out of it."
Resentful or not, Dupree tends to eat not just too much but way too much. He loves squash and hates peas, but more than anything, he looks for chances to wade into hamburgers, ribs, French fries and chicken nuggets. He comes by his appetite naturally. Says Cella, a ninth-and 10th-grade English teacher at West Kemper High, "In our family, nobody eats breakfast. But after noon, the kill is on. We just sit and eat until we go to bed."
Hardly had the heated recruiting battle, during which Dupree was all but signed at one time or another by Texas, Southern Mississippi and UCLA, ended in Oklahoma's favor than Switzer said that Dupree, at 233, was at least 13 pounds overweight. The smile disappeared from Dupree's face. When he turned in a brilliant performance in his first scrimmage—six carries for 154 yards and three touchdowns—Switzer waved off the performance as "just freshman luck." Following the Fiesta Bowl, in which Dupree rushed for a record 239 yards against Arizona State—despite a sore left hamstring that prevented him from playing half the game—and was named outstanding offensive player, Switzer lambasted him for being caught from behind twice and for being out of shape. Dupree, who denies Switzer's contention, says, "I don't think nothing of what he said, 'cause I know how Switzer is."
What set Switzer off most recently was Dupree's pulling his hamstring again on the first day of spring practice and sitting out all the drills thereafter. The talk around Oklahoma was that if Dupree had been in top condition, if he'd worked to rehabilitate the hamstring he'd originally hurt in the Fiesta Bowl, and if he were gutsy enough, he'd have been out there. Dupree has been plagued by hamstring pulls since he was a sophomore in high school. Says Wood, "It's like putting a 409 engine in a Volkswagen. The muscle is just too big for the bone structure."
Whatever, Switzer these days is telling friends, "If he isn't ready to play, I promise you I'll sit him down. Besides, he can't do anything unless his teammates help, and it's still a team game, don't forget." Understandably, Dupree's teammates are hoping for the best from and for him. Says Offensive Lineman Brent Burks, "I think Marcus will be fine if he starts producing. I saw him get mad a few times last year, and it was something. I wonder if there is any way to make him mad every play?"
A possibility, of course, is that Switzer's constant criticism will do it. Still, the idea of sitting Dupree down is a terribly empty threat, and everyone knows it, especially Dupree. For the cold, hard truth is that with Dupree, Oklahoma is a formidable football team capable of making an assault on a national championship. Without Dupree the Sooners could fail to win the Big Eight for the third straight year.
Switzer's attitude is strangely negative toward a player who may be the coach's ticket back to the top after very un-Oklahomalike seasons in 1981, when the Sooners were 7-4-1, and in '82, when they went 8-4. During one stretch, Oklahoma lost four of seven games, which prompted a blistering editorial in Oklahoma City's Daily Oklahoman. Among other things, the editorial said, "As a winner, Switzer was tolerable to many. As a loser, perhaps it is time for him to move on." Then in January, Ted Phillips, publisher of The Seminole (Okla.) Producer, joined the call for Switzer's head, writing that the coach "has outlived his usefulness at the university.... We lost our admiration of the present Sooner head coach over his personal code of ethics. His conduct off the football field is cause for shame for all Sooner football fans."
Switzer certainly has never ducked a good time nor met a party he didn't like. And in recent years, a lot of little things—and a few big ones—have made people close to the Oklahoma team wonder about his judgment. For instance, in March 1980 a flap erupted over Switzer's participation in a then popular—albeit illegal—pyramid scheme. Then in July 1980 he got caught soliciting business on Sooner football stationery for a new company he had formed.
Far more damaging was a falling-out between Switzer and Assistant Coach Larry Lacewell. After a stormy confrontation with his boss, Lacewell, a longtime friend of Switzer's, resigned from the Sooner staff. Other personal problems followed. Subsequently, Switzer and his wife, Kay, got a divorce. Then in 1982 came the aforementioned Daily Oklahoman editorial, which also said, "Switzer has never set the best of examples in his personal life for the young men on the Sooner football team."
Switzer also raised eyebrows in March 1982 when it was revealed that he'd bought about $92,000 worth of stock, 880,000 shares, in an Edmond, Okla. drug company. That purchase increased his holdings to more than two million shares. Sooner fans wondered how a football coach could come up with that kind of money. Switzer's salary is only $56,000 a year, but he has numerous outside sources of income. For example, by a 1973 contract arrangement with the university he receives the rights fees from delayed cablecasts of Oklahoma games.
Potentially the most serious scrape involving Switzer developed last February, when the Securities and Exchange Commission filed a suit against him and 12 others, charging them with using insider information to buy stock in an energy firm called Phoenix Resources Co. The group allegedly made about $700,000 on the stock, with Switzer's profits coming to $97,900. Last month a federal judge ruled that Switzer and eight of the 12 other codefendants would have to stand trial. Whatever the outcome, Switzer didn't improve his public image by explaining that he picked up the tip on the stock when he inadvertently overheard a conversation while sitting in the bleachers at a track meet.
Understand that Switzer has long been the most popular man in Oklahoma. And when he wants to be charming, as when he's in pursuit of a Billy Sims or a Dupree, he can persuade wallpaper to leave the wall. Therefore, while he was winning big, including two national championships after becoming the Sooner coach in 1973, Switzer could do anything he wanted to do.
In fairness, also note that, as so often happens, many of Switzer's troubles began when he started losing. Several years ago Switzer was driving down an Oklahoma highway with a companion, and talk turned to a coach in trouble after an 8-4 season. Said Switzer, who was then riding high, "People who don't think 8-4 is a good season have lost all perspective." Problem is, Oklahoma fans lost all perspective eons ago. They consider 9-3 a poor season. They routinely expect 10-2, and they believe that with one or two breaks they could go 11-1 every season. And if everything falls into place: 12-0.
Thus the picture emerges in Oklahoma of a coach who may have good-timed too much, who may have devoted too much time to lucrative outside interests and not enough to coaching and who, finally, has gotten crosswise with his star player. Should Dupree up and quit or should other things go sour with the Sooners this fall, it could very well spell big changes in Norman. Switzer senses it. That's why it was no surprise that during spring drills he no longer left practice early, as had been his wont.
Switzer finds himself in the position of needing Dupree desperately. Although the coach is normally at his best with temperamental athletes, he seems to have met his match in the young man who was brought up sitting on his front porch. Switzer knows as much. He says, "Dupree has such a big ego, but hell, why not, he's better than everybody else."
But while Switzer deserves a lot of the blame for Dupree's becoming disenchanted, Dupree, too, has had a big hand in creating the situation. He's unaccustomed to following orders; after all, nobody had ever tried to give them to him—until Switzer.
Dupree was born to then unmarried Cella Dupree in 1964, the same year that Philadelphia hit the front pages of the nation's papers when three civil rights workers were murdered there. Martin Luther King once said of Philadelphia, "This is a terrible town, the worst I've ever seen." Recently Sid Salter wrote in the Jackson (Miss.) Clarion-Ledger/ Daily News, "For a time in the late 1960s, the world withdrew from Philadelphia and Philadelphia from the world. Both seemed to prefer it that way."
Growing up in such turmoil had little effect on Dupree, who had other difficulties because he was always bigger, stronger and faster than other kids. In Little League he was banned with one year of eligibility left because he pitched too hard. Says Leon Baxtrum, director of the Westside Community Park, "He was just too good." A few years later, pitching in a league for older boys, Dupree delivered the ball so fast that, in mid-inning, the catcher stood up, took off his gear and threatened to quit rather than endure the pain of receiving any more of Dupree's hummers. Dupree settled matters by donning the catching equipment, and the erstwhile catcher pitched. No big deal. By the sixth grade, he had become such a sports star in Philadelphia that then City Schools Superintendent Hal Reese summoned Marcus to his office just so he could meet the young phenom.
His grandparents, the Rev. and Mrs. Major Dupree, raised him while his mom finished going to school and later worked. Rather, Marcus raised himself because his mother and grandparents were preoccupied with caring for his brother, Reggie, now 10, who has cerebral palsy and has had nine operations. "I had an instinct for doing what's right," Marcus says. "All I ever wanted was to be great."
Dupree took a giant stride toward that goal the first time he touched a football in a game as a ninth-grader at Philadelphia High. He returned a punt 75 yards for a touchdown against Southeast Lauderdale. "I guess I'm good because I don't want to be tackled," he says. Doesn't want to be and, in an amazing number of cases, can't be. Indeed, after Dupree simply ran over a Missouri defensive back last year, Mizzou Coach Warren Powers was asked if his players were talking about Dupree. "Yeah," said Powers, "especially the one who has cleat marks all over him."
As Marcus' high school years rolled on—and 5,283 yards passed under his feet—the recruiters came to Philadelphia in droves. Former Oklahoma All-America Noseguard Lucious Selmon proved the most persuasive, although what ultimately swung Dupree to Norman was the appeal of one game: a meeting next season against Hawaii—in Honolulu. "The only place Texas goes," says Dupree, "is Arkansas." But when Switzer showed up in Philadelphia to visit, Cella was in a bad mood. "I treated him a little cold," she says. "Marcus pulled me aside and asked, 'Mom, why are you being so mean?' But Coach Switzer just kept smiling and talking right on."
All the losers, naturally, say Oklahoma cheated to get Dupree. Oklahoma, naturally, denies the charge. That Dupree drives around in a 1982 Oldsmobile Toronado doesn't help matters. He says he got a $9,000 loan while at Oklahoma to buy the car. "But people did offer me money and cars," he says.
Through the hundreds of visits by recruiters—"If a stranger shows up in this town," says Dupree's mother, "they ain't lookin' for nobody but Marcus"—Dupree kept crashin' and dashin' through the opposition in high school games. Contrary to rumors, Wood says Dupree practiced every day, was mentally tough and a great team player, all qualities Switzer finds lacking in him now. Dupree defends himself by saying he played his junior year at Philly High with a hip pointer and most of the '83 Fiesta Bowl with a broken finger. As further evidence of his mental toughness and determination, Dupree entered his final high school game needing five touchdowns to surpass Herschel Walker's national schoolboy record of 86 career TDs. Dupree scored five. This three-year mark was achieved, Wood says, at a cost of $480—60 tear-away jerseys for Dupree at $8 apiece.
"There are three kinds of backs," says Wood, "those real fast but not big, those big but not fast and then the third kind, the Marcus kind. He has an ungodly knack for finding the hole. People just can't judge how quick he can move. He'd break it down the sideline here for a touchdown and outrun everybody and people would say, 'He's loafing.' I tell you, he wasn't loafing; he was moving on. He played hurt and he took his licks."
One afternoon Dupree told Wood, "Coach, I just run the bleachers twice." Said Wood, "A winner would run 'em five times." Without a word, Dupree turned and ran the bleachers three more times. Dupree very much wanted to rush for 2,000 yards his senior year, a modest goal because he actually could have gained 4,000 or more had he not sat out huge chunks of games against outclassed opponents. He ended up with 1,955. Wood says, "I just couldn't rub it in."
Sitting in his office one spring afternoon, watching a videotape of an Oklahoma highlight film of Dupree, Wood says softly, "I wish I had him back one more time. I just love to watch that joker run. Some people like to look at art. I like to look at him. Some of our game films look like this highlight film. Marcus doesn't know how fast he can run." Later, Dupree wanders into the office, pulls up a chair and stares at himself in action on the RCA XL-100. Mostly he smiles and shakes his head. The film's narrator says, "The dream can be real when you're good enough."
Suddenly kids fill Wood's office. The word is out around Philly High that Dupree is there. The unspoken adulation sweeps over him. Asked about his celebrity status, Dupree says, "I like it when I walk in someplace and somebody asks me for an autograph. It makes me feel good. When people don't ask, I start getting worried. I want to be noticed, and I want to be good. But I'm really just a regular guy trying to get through life."
Wood finally changed from the wishbone and the wingbone to the I formation four games into Marcus' senior year to utilize his talents better. (In the wishbone and wingbone, the defensive movement determines who will get the ball; in the I, it's predetermined in the huddle.) Switzer junked the wishbone after only three games in 1982. Dupree didn't run for his first touchdown until the fifth game, but it came at an opportune moment—63 yards against Texas in a 28-22 victory. Without Dupree, the Sooners very likely would not have won, and in a dismal year, it was only the triumph over the Longhorns that kept the Oklahoma season from being completely bent out of shape. As Phillips, the Seminole newspaperman, wrote, "A freshman by the name of Marcus Dupree is all that saved the head coach this year."
Although Switzer sometimes likes to talk of Dupree as being "very sharp, he has a great mind," in truth neither the facts nor Dupree himself support that contention. At Philadelphia High, he graduated 55th in a class of 77 with a 2.03 average. At Oklahoma, he has a 2.23 cumulative average. Dupree himself admits he studies little. Yet, remarkably, the university named Dupree, along with basketball star Wayman Tisdale, co-winner of the Jay Myers Award, which is given annually to the freshman athlete who best combines excellence in scholarship with potential excellence in athletics. Sitting on his front porch, Dupree is candid. "I don't really like school," he says. "College isn't for everybody, and I guess it's just not for me. All I want is to try to make life simple, mind my own business and try to make things fun."
It's not much fun at the moment, but maybe, Dupree thinks, things will get better. So while Switzer continues harping on Dupree's weight and want-to, Dupree says, "As long as I get across the goal line, I don't think anybody will care." And while Switzer assails Dupree's poor practice attitude, Connors points out, "What does he want, a practice player or a game player?"
Both Dupree and Connors are right and Switzer knows it, which gives Dupree the upper hand in his relationship with Switzer. For example, for the last three years Switzer's fullback was Stanley Wilson, an exceptionally talented ball carrier who much preferred to play tailback. Switzer had several heart-to-hearts with Wilson, who continued to play fullback—a.k.a. blocking back in the Sooner scheme of things. Upon arriving at Oklahoma, Dupree announced he was a tailback and would not, repeat, would not, line up at fullback. Switzer and Dupree haven't had a heart-to-heart.
It further aggravates Switzer that because of Dupree's presence he had to junk his famed and beloved wishbone—four times in 10 years Oklahoma's version of that offense led the nation in yardage—for the I. And finally, Switzer is upset because he knows Sooner fans are thinking 12-0 this fall. Should he give them another 8-4 season, well.... On the other hand, if the Sooners do go 12-0, Switzer could be excused for thinking maybe everyone will get off his back about things like insider trading, delayed cable TV rights, a few pieces of crummy stationery and his inalienable right to party as he wishes.
Back in Mississippi, Dupree promises he'll run two miles three days a week this summer, lift weights twice a week and think, from time to time, about football—and Switzer. "Sometimes it can be kind of hard getting through to Coach Switzer," says Dupree. "But I noticed when I started running those 60-and 80-yarders, it got easier."
On the front porch on Davis Street, there's a feeling that maybe things will work out. If not today, tomorrow. Or the next day. Whatever. Take it easy. Don't yell. Don't pressure. Don't threaten. Wave at the school bus. "It's real peaceful here, ain't it?" says Dupree.
PHOTO
While porch sittin', a popular Philadelphia pastime, Dupree can mull over his future.
PHOTO
Too fast for opponents: Dupree rushed for 1,144 yards.
PHOTO
Too fat for Switzer: The coach last year told Dupree to shed 13 pounds.
PHOTO
Cella Connors, here catching a cool porch breeze, was downright chilly to Switzer.
PHOTO
Dupree helps out at the Philadelphia store owned by Uncle Curly, who evidently shares the family fondness for anything that's edible.
PHOTO
A word from Wood once sent Dupree running up and down these bleachers five times.