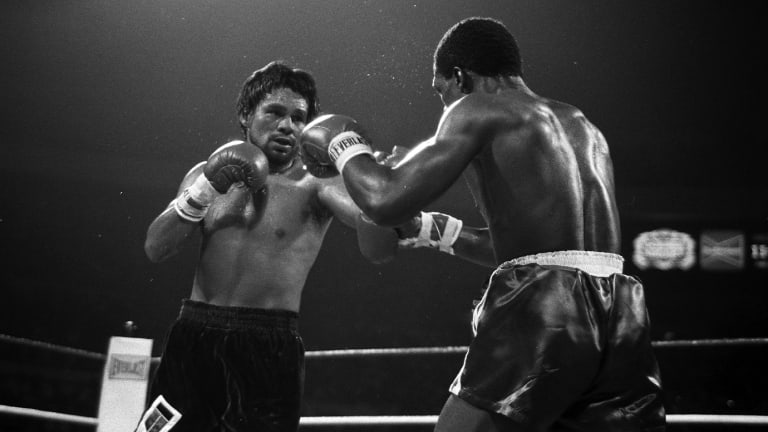 He That Was Lost Has Been Found
By beating the WBA junior middleweight champion, Davey Moore, Roberto Duran won his third title and recaptured his good name
Forty-five floors above Manhattan Island, in his room at the Sheraton Centre Hotel, Roberto Duran shifted in his chair and threw a quick left uppercut, and another, muffling a cry with each flash of his hand. "!Ay! !Ay!" Then up came the right. "Pow!" A second right. "Pow! !Duro! [Hard] !Duro!"
It had been a long day of celebration, and Duran was still flying. Almost 24 hours earlier, before an aroused, near-record Madison Square Garden crowd of 20,061, Duran, a former lightweight and welterweight champion of the world, had won the WBA junior middleweight title by stopping Davey Moore at 2:02 of the eighth round. Now, sitting in his room, sipping from a glass of Moet & Chandon champagne, Duran was watching a tape of the fight, witnessing for the first time—and with evident relish—this sublimely crowning moment of his professional life.
"Ah, he was an artist," his former trainer, 83-year-old Ray Arcel, had said after the fight. "That performance could be compared to that of any great fighter who ever lived. It was masterful."
Now here was Duran slipping Moore's punches, there countering with lefts and rights, here spinning off the ropes, there digging uppercuts to Moore's head and belly, here feinting and moving, there smirking through his mouthpiece, snarling behind his jab, like the Duran of old. "It's like looking at a tape of me five or six years ago," Duran told the 15 friends and family members gathered in the room to watch the replay.
As he watched himself elude a punch, Duran said, "I let the blows come by me so close."
"Just like the bullfighter lets the horns pass by so close," said a friend, Pepe Acosta Jr.
"Exactly!" Duran said. "That's the way it was. After the fourth round, I knew he couldn't hurt me."
At the end of the seventh, Duran dropped Moore with a crashing straight right hand. "Ohhhh!" the group in the hotel room gasped, as Moore flew back, landing on the seat of his pants.
"He's dead," Duran said. "This fight took a lot out of him. He'll come back, but it will be a while ¬°Una derrota brutal!" A brutal defeat for Moore, to be sure, but one that represented redemption for Duran, a return to grace after his humiliating surrender to Sugar Ray Leonard 2½ years ago, and an ascent to a special place in history.
"Three titles," Acosta said, as the tape played itself out.
"¬°Sí!" Duran said, flashing three fingers. "Tres títulos...." Only six other men have won as many.
What happened in the Garden last Thursday night had about it a magical quality rarely felt at a sporting event. Most, but not all, of it could be attributed to the quest of this apparently spent bullet, a man seemingly with a future no màs. Here he was, a discredited, aging—he turned 32 on the day of the fight—5-2 underdog who had come back to New York insisting that it believe in him again, as it had when he swaggered into the Garden on June 26, 1972—almost 11 years before—and separated Scotland's Ken Buchanan from his world lightweight title.
"I can't find words to express how I failed in the past," Duran said before the Moore fight. "There are no excuses. Once I thought I was a man; now I am a man and I know it. In truth, I have such enthusiasm, like it was the first time I came to New York to fight for the title and the people were with me all the time. I've prepared very hard for this. I'm the old lion. I don't fight for the money. I want to show myself that I'm a champion. I do this in search of glory."
That Duran was even getting another chance to search for it—not to mention an opportunity to win his third title in the same ring in which he won his first—would have seemed as remote early last year as Moore having a title to defend.
Since Duran, then the defending champion, walked out on Leonard in their welterweight title rematch in New Orleans on Nov. 25, 1980—saying "No màs.... No more box"—he had been a sorry spectacle, a man who had compromised his place in history with a single reckless act. For months he spoke only about the day when he would get the chance to redeem himself against Leonard. But Duran could merely talk. Leonard always had livelier, more attractive crabs to steam, so another rematch was not to be. As he passed 30—boxing's traditional line of demarcation—Duran seemed on his way to oblivion, overweight and out of shape, overindulging in food and life in the fast lane. When he got a title shot against WBC super welterweight champion Wilfred Benitez in January 1982, he had to lose 30 pounds to make the weight. Benitez easily outpointed him.
Duran looked finished then. His longtime manager, Carlos Eleta, who had been urging him to retire since the second Leonard fight, renewed his appeal. "He was not living an athlete's life," Eleta said last week in Panama. "He was drinking a lot. He did not exercise. He was growing fat. I told him better to retire. He got upset and resented it."
There was an unpleasant parting with Eleta. One of Eleta's former associates, Luis Spada, took over as Duran's manager. Arcel, who had come out of retirement to handle Duran against Benitez, slipped back into retirement. Last Sept. 4 in Detroit, Duran hit bottom. Looking sloppy and slow, he lost a 10-round decision to one Kirkland Laing. Next Duran and Don King, his promoter, had a falling-out, and King dumped him.
It had been a long tumble in the 22 months since New Orleans. Having been abandoned even by his old friend and interpreter, Luis Henriquez, Duran began to feel sorry for himself. "I felt sad," he says. "I said to myself, 'Duran, you must demonstrate to the world that you're not finished.' "
A few days after the Laing fight, Duran visited King's archrival, Bob Arum, the head of Top Rank, Inc., in his New York office. "At the time, he was finished," Arum says. "Everybody told me he had nothing left." Arum discussed signing Duran with his matchmaker, Teddy Brenner. "Teddy told me the only thing wrong with him was upstairs," Arum recalls. "There was nothing wrong with his reflexes. He had gotten lazy and sloppy."
This was Duran's last chance, and he knew it. He told Arum, "I will work hard, be more serious, be a man, dedicate my life to it." Arum agreed to take him on, offering him $25,000 to fight Jimmy Batten on the Aaron Pryor-Alexis Arguello card on Nov. 12 last year. At Duran's insistence, he fought after the main event—appearing in a prelim would have been too humiliating—and while he won a 10-round decision, he weighed 157 pounds, the heaviest of his career. He looked awkward and unfit, at times pitiable. "People were telling me, 'You've got to be crazy!' " Arum says. "Half the audience walked out on him. But I knew he was trying."
More important, Arum had a fight in mind that he knew would make the turnstiles sing in Los Angeles: Duran against Mexico's Pipino Cuevas, a former WBA welterweight champion himself who, until he was knocked out by Thomas Hearns in August 1980, was looking toward a title-unification bout with Duran, who had won the WBC title from Leonard six weeks earlier. Now, three years later, they were both on the skids, but it was still a natural for L.A., with its heavy Mexican population. Knowing that this was it and that he would be fighting before a pro-Cuevas crowd, Duran trained with a fury.
They sold out the Sports Arena, and Duran, the fittest and sharpest he had been since beating Leonard in Montreal, caught his man in the fourth round, wobbling him with a right, and then chased him up and down the ropes. Under the relentless attack, Cuevas didn't last out the round. Duran was nowhere near fully fit, but there was no mistaking the crackle of the old fire. So Arum signed him to fight Moore.
Moore, who's 24, had no idea what he was getting into, and nothing possibly could have prepared him for it. He grew up poor in the Bronx, a child set adrift by a working mother to fend for himself. A bright lad, he did especially well at Adlai E. Stevenson High School, where he was an honor student with a 90-plus average. At 15 he started boxing at the Morrisania Recreation Center under Leon Washington, a former pro, and became one of the best Golden Gloves fighters in New York. By the time he turned pro in 1980, after the U.S. boycott scuttled his dreams of an Olympic gold medal, he had won four Golden Gloves titles and 96 of 102 fights.
Moore's professional career began on Nov. 1, 1980, and his lift-off was phenomenal. Moore signed on with Arum, who at the time was well connected in the WBA, and after only eight pro fights—Moore won them all—he took Tadashi Mihara's junior middleweight title by knocking him out, in the sixth round, in Tokyo. He then stiffened three more opponents—including a South African white hope, Charlie Weir, and a club fighter named Gary Guiden. Moore (12-0-0 with 9 KO's) figured he was ready for Duran (75-4-0 with 56 KO's).
In training, Duran looked as trim and agile as a puma, and the suspicion arose that he was doing it with mirrors, as Muhammad Ali had before Larry Holmes knocked him all over the ring 2½ years ago in Las Vegas. Duran laughed at the notion and said, "People think I've been in the sauna because of the way I look. What they don't understand is that I've been working out for four months. Forget about those fights before I defeated Cuevas. I'm not the same person."
The crowds came hoping to see the reincarnation, and the evening became electric. Ali himself set the current humming. As Alfredo Escalera and Gene Hatcher pounded each other in a preliminary, he entered the arena, and the chant began: "Ah-LEE! Ah-LEE! Ah-LEE!" By the time Duran entered the ring, dancing—after former middleweight champ Jake LaMotta had kissed his wife, Vicki, at ringside—the place reminded some in the crowd of old Garden fight nights. "It had the flavor of the Joe Louis nights," said veteran boxing writer Barney Nagler. "The exuberance, the sound and the fervor were old-fashioned."
And so, in a sense, was the way Duran fought, using every move and trick he knew. Duran made the attack from the outset, taking the fight where he wanted it to go, slipping punches deftly while beginning his work on Moore's body. Near the end of the first round, he struck the most telling blow of the fight—a thumb poked in Moore's right eye. It closed gradually in the next few rounds as Duran made a target of it with his jab. Duran shook off whatever Moore landed and continued to press the issue inside and to the body. In the second round, he began pounding Moore's body with uppercuts. Then, coming over with a right, he bloodied Moore's nose. "I wanted to keep up the pressure," Duran said. He did just that. With Duran's back to the ropes, after Moore hit him with a right, he spun Moore around, putting him on the ropes, and ripped back at him with a flurry. "I hit him back in payment for what he'd hit me with," Duran said.
Feeling sluggish, Duran relaxed his attack in the third and fourth rounds, and Moore became the aggressor. "Then I began to get air and began to box, and the boxing renewed my speed," said Duran. He never stopped punishing Moore's body, but now he went after the head, too. By the fourth round, the right eye had' closed, and Moore was bleeding from the nose and lip; by the seventh he was all target. Duran buckled Moore's legs with a combination to the head. As the champion backed up, Duran dropped him with that hard right hand, sending him to the floor with his back on the ropes. There he simply sat with his lower lip puffed out, dazed and helpless. "That punch came from nowhere," Moore said later. He gamely climbed to his feet at the count of eight, and then the bell rang.
At ringside, Moore's mother and girl friend had fainted, slumping in their seats, and now there were cries to stop the bloodbath. But the referee, Ernesto Magaña of Mexico, appeared blind to what was going on. He kept looking at Moore's closed eye, as if waiting for it to fall out before he would stop the fight. Leave it to the WBA to hire a turkey to run a cockfight. That is what it had become, and Duran had all the talons.
"Finish him off now," Duran's trainer, Nestor Quiñones, told him before the eighth. It took Duran two minutes and two seconds to convince Washington to throw a blood-splattered white towel of surrender into the ring. If Magaña saw it, he ignored it. Finally Jay Edson, a Top Rank representative, clambered into the ring and called a halt to the proceedings. "The worst ref I've looked at for a long time," Arcel said. On top of that, the WBA's two Japanese judges, Kasumasa Kuwata and Tashikawa Yoshida, apparently were content to spend the night looking at Magaña looking at Moore's eye. They both called four of the seven rounds even.
Down in Panama, where Duran had returned in disgrace after the fiasco against Leonard, there was rejoicing in the streets. Schools and offices had closed early on Thursday to allow students and workers to watch the fight live on television, so Panama City was ready to play. When the bout ended and Duran had won, rockets exploded over the city and firecrackers popped everywhere. Estrella De Panama was promptly being hawked with the banner headline GRANDIOSA NOCHE DE REDENCIÓN/DURAN REINA NUEVAMENTE (Grand Night of Redemption/ Duran Reigns Again).
"I don't believe it," Moore said before going into seclusion. "I thought I was stronger. I thought I was a better puncher."
"We were inexperienced, the fighter as well as the trainer," said a subdued Washington.
Duran had joined Arguello, Benitez, Bob Fitzsimmons, Henry Armstrong, Tony Canzoneri and Barney Ross as triple titleholders and he partied that night at Victor's Café on 52nd Street, his favorite haunt. The celebration went on far into the morning. The place was jammed with familiar faces. Ali came by. So did the retired Leonard, who embraced Duran. "I'm proud of you, champ," Leonard said. Even Rodney Dangerfield showed up. "At least you Ye going to get some respect," he told Duran. Of course, not all the old familiar faces were there. "I am proud of him," Eleta said in Panama. Duran was mum on the subject of Eleta, but not that of his former promoter. "After what I did, Don King is probably choking on a glass of water," he said.
Arum was now drinking champagne and talking of grander designs for his new champion. "The fight everyone wants to see," Arum said, "is Roberto Duran versus [undisputed middleweight champ] Marvelous Marvin Hagler. If he beat Hagler, it would be the greatest miracle in the history of boxing."
So far, one miracle is quite enough. "I was born again," Duran said. "I've returned to be Roberto Duran. It's been a longtime."
PHOTO
TONY
TRIOLOTWOPHOTOSTONYTRIOLOMoore was floored (left) by a wicked Duran right in the seventh, but got up at eight and staggered on for nearly another round.PHOTOTONY TRIOLODuran was particularly adept at giving the relatively inexperienced Moore the slip.PHOTOTONY TRIOLODuran's victory suddenly gave Hagler (right) a big-payday opponent.