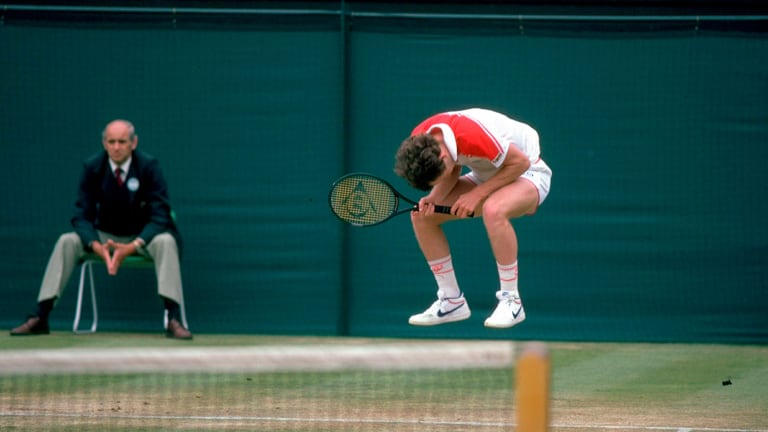 A Giant Stride Ahead of the Field
Both John McEnroe and Martina Navratilova walked right through Wimbledon
After a fortnight that included Trey Waltke's flannel pants, Chris Evert Lloyd's stomach virus, Kevin Curren's machine-gun aces, Carling Bassett's Valley Girl lines and a new African noble who answered to the splendid title of Duke of Odizor, a thoroughly whacked-out Wimbledon finally righted itself. Just when the tournament threatened to plunge into utter chaos, John McEnroe and Martina Navratilova, Spin and Marty, came to life and proved that they're the best male and female players on earth. If Wimbledon is to remain the game's premier event, the All England blazers obviously must invent some ultra-skill, unisex bracket and make McEnroe and Navratilova play each other. Grant Spin but one serve, give Marty the doubles alleys and let them bray and preen across the tape from one another until the Tower Bridge crumbles into the Thames.
On Sunday in the men's final McEnroe brought a sensible conclusion to fantasies that had been bubbling everywhere. In three immaculate 6-2 sets of serve-and-volley tennis, the once (1981) and present champion overwhelmed New Zealand's Chris Lewis, the last of the mystery guests who gave this Wimbledon its special flavor. Mac lost only nine points on serve all afternoon. On the receiving end, he was just as impenetrable, repeatedly blistering returns to places where Lewis' quick feet could not carry him. The fifth game of the second set was a prime example. Lewis got his first serve in on all six points, but at 30-15 Mac blocked a backhand return winner and then whipped twin forehand passes within an inch of each other for the break. He had stretches of 12 and 13 straight points and won 24 of the last 30 points in the match.
Lewis, ranked 91st in the world, was the first unseeded player to tread the Wimbledon greensward in a final in 16 years. Like his countryman Tony Wilding, who won four straight Wimbledons from 1910 to 1913, Lewis is a romantic figure, with his high-cheekbone charm, his long hair and his gypsy bandannas slapping the breeze. Wilding was the sport's first matinee idol. If Lewis were a movie star he'd be a welder from Pittsburgh, and they'd call the flick Sashband.
Before last week Lewis, who won the Wimbledon junior title in 1975, had advanced beyond the semis in only three pro tournaments. He has a lot of time to think about his defeats because he fears flying and regularly drives to work on the U.S. and European circuits. Fortunately, he needn't suffer these journeys alone, an exquisite girl friend named Tammy Sayers being his latest passenger.
"Let's face it, this was a great opportunity for me to win easily," said McEnroe. "This guy wasn't Borg or Connors. But it's not my fault he got to the final."
McEnroe and Lewis weren't the only examples of the familiar mixing with the unfamiliar at this Wimbledon. Outrageous novelty concessions from the Colonies such as Baskin-Robbins' 31 flavors and Chipwiches cluttered up the food village, along with—my word, Jeeves!—that old English plebeian favorite, chips themselves. Then Waltke showed up in his nifty white flannels with turnups (Lilywhites of Piccadilly Circus, ¬£14) and his crisp, roll-sleeve white disco shirt (Fred Segal of Hollywood, ask for a deal), and the lawns of SW19 suddenly had been whisked back to the 1930s. Ted Tinling, couturier to the stars, sewed belt loops on the flannels so Waltke, an elegant L.A. boulevardier long before this episode, could tie a striped cravat around his waist—just as the oldtimers did—before he took Centre Court against Ivan Lendl. Waltke was the first player to appear there in longies since Yvon Petra in 1946. "Nice pants," said Lendl, who won in straight sets. "I should have gone with the Tilden racket," said Waltke.
Meanwhile, lucky losers, those non-qualifiers who get into a tournament only when an accepted entrant withdraws, seemed to be hurtling about the place as if they really belonged. One was Chris Bradnam, a local wild card. Bradnam wasn't an official lucky loser, but he gave the term real meaning when he became the father of a baby girl just hours before losing to Charlie Fancutt. Moreover, Fancutt was the fellow who had beaten John McCurdy 9-7 in the fifth set in his final match of the qualifying tournament. Subsequently, McCurdy, a former Australian-rules football player from Yarrawonga, almost penniless and giving tennis a last try, was about to "break my rackets" when he was notified that 10th-seeded Jimmy Arias had pulled out of Wimbledon and that he, McCurdy, could play. McCurdy promptly won three matches while issuing such statements as "my favorite shot is the short smash with the opponent lying on the ground." He was the first Wimbledon lucky loser ever to reach the round of 16. "I've never played Tim Mayotte before," said McCurdy of his opponent in that round. "Come to think of it, I've never played anybody before."
The fourth round was when the fortnight took on the look of an NCAA champions' reunion. Eight former collegiate titlists made the last 16. That made all the more implausible the official program notes, which one day spelled Stanford, the distinguished university that supplied three of those NCAA winners, "Stamford." "Listen," said Sandy Mayer, Palo Alto 73, "I know a lot of guys who graduated and spelled it that way."
An erstwhile NCAA semifinalist who made the final 16 was Lagos, Nigeria's own Nduka Odizor, who had preceded his countryman, basketball star Akeem (The Dream) Olajuwon, at the University of Houston before joining the tour last year. Presumably Houston's African Extension Program is available to non-athletes as well. Odizor became the Duke on Fleet Street by upsetting Guillermo (Guarantee Willie) Vilas; by bouncing balls on his head during tense moments in matches and then catching them behind his back; and by exhibiting such insouciant charm that he could clear up the week-long confusion over whether his father was a "chief" or a "chef" with a simple grin. "It really doesn't matter," said the Duke. "He's dead anyway."
Alas, Lewis concocted a Duke sandwich, spreading Odizor thin over three easy sets between his surprising defeats of the missile-serving doubles partners, ninth-seeded Steve Denton and Curren, the 12th seed. Curren, remember, had blown off the premises one James Scott Connors with 33 aces in the fourth round. Curren also had survived Mayotte's self-acclaimed "best two sets of my life" in the quarters. In retrospect, because Curren was 2-1 in the three best matches of the tournament and delivered a total of 80 aces, perhaps Wimbledon Highlights '83 will belong as much to him as to McEnroe and Navratilova.
Against Connors, for instance, Curren not only rendered useless the best return of serve in the game but outwitted the defending champion in the rallies and ignored Jimbonian psychological chicanery as well. Connors deployed all his macho fist shakes, glares, mimicry and verbal outbursts. "He doesn't even know where the serve is going," Connors cried. Once when the umpire announced, "Advantage, Curren," Connors called out, "Advantage, Bum-bo." Nothing worked. The rockets continued to scorch the turf, and Curren fought off three set points in the fourth to win 6-3. 6-7, 6-3, 7-6.
But Curren, from Durban, South Africa by way of the University of Texas—hook 'em, Springboks—was hardly finished. In his marvelous quarterfinal with Mayotte, during which smiles and sportsmanship were resurrected for the moment in the main arena, Curren was never in control, never able to steer his ace machine in the proper direction. Mayotte served for both the second and fourth sets—and lost both. He saved three match points in the fourth-set tiebreaker. Yet Curren emerged with a 4-6, 7-6, 6-2, 7-6 victory. Such perseverance and fortitude! Gentleman Tim applauded Curren as they approached the net to shake hands and clasp shoulders. It was a fine moment.
The same spirit characterized the Lewis-Curren semi, which was an undulating contest of wills and spills. Whenever one of them pulled off a feat of rare athleticism, the other would dive him one better. A Curren get would be countered by a Lewis sprawl. A Lewis attempt at a behind-the-back retrieve would be followed by a Curren forehand drive from his knees. In the crucial sixth game of the fifth set, with Curren leading 3-2 after having been up 3-0, 40-15, both men played short side-to-side angles and fell to the sod on the same point, which Curren won. Then Lewis, gasping audibly on every stroke, won the next point, thrashing a winner while in midair. An astonished Curren applauded with his racket. Oh, what grand stuff it was, and it continued right up until Lewis caught chalk with a serve on match point to win 6-7, 6-4, 7-6, 6-7, 8-6 in three hours and 45 minutes. "Nobody cuts off volleys like this guy," said Curren. "Chris's anticipation was unbelievable."
Similar encomiums greeted Navratilova's every result in the women's draw as she wafted to her fourth Wimbledon championship in five hours and 32 minutes. That's seven matches in 5:32, or an average of 47 minutes a match. She lost just 25 games.
"This isn't a team; it's an entourage," said Navratilova of her various and sundry caretakers. So let's hear it for Entourage Navratilova: Robert Haas, who kept punching up the minicomputer to scout alleged opponents; Nancy Lieberman, who kept the media at bay ("Sure, I know where the press room is," said Agent Orange. "I just look for where they throw the dog meat"); and the anonymous personal cook who kept preparing, as Navratilova put it, "Czech dumplings, great with sugar, butter and cheese." Ummm, yummy. Oh, and let's hear it for Sherry Acker, the only dumpling to stay on the grass more than an hour with the champ.
Of course, as Navratilova said, "Everybody else took the big guns out for me." Evert Lloyd fell to a bug and Kathy Jordan, Hana Mandlikova to Jennifer Mundel, Tracy Austin to an ailing back and Pam Shriver to Iva Budarova. Red Rova, Red Rova. Could Billie Jean King come over? No she couldn't. As she did last year, King, now 39, took her battle-scarred knees to the semifinals even though few people saw her get there. King was constantly shunted to the outside courts, while "the cutie pies" (her term) such as Bassett and Andrea Temesvari were granted Centre Court privileges. "Like it's great in there," Bassett, 15, said. "Like you don't hear any noise or anything. Then the seagulls fly over." What? Earth calling Carling.
The cutest of the cute, 1983 NCAA champion Beth Herr, an Olivia Newton-John with a forehand, had King beaten in the second round before getting scared and losing 8-6 in the third set. But Andrea Jaeger took no prisoners, viciously passing and lobbing King into 6-1, 6-1 oblivion to become, at 18, the youngest women's finalist since Mo Connolly in 1952. Or the youngest sacrificial lamb. Navratilova gave Jaeger the what-for 6-0, 6-3.
Jaeger, Bassett and a few others caught the Super-tramp concert at Earl's Court on Thursday night, but Lendl, who was sporting a new semi-Mohawk/punk haircut, loathed the music and walked out after 20 minutes. The next afternoon McEnroe sent Lendl packing from the tournament. Lendl converted 30 of his 37 first deliveries in the first set, but he still lost it. He failed to capitalize on break points in two games, and then at 3-2 in the tiebreaker, he muffed a shoulder-high backhand volley. McEnroe, who never dropped his serve, wasn't in trouble again in the 7-6, 6-4, 6-4 victory in which only one rally extended more than six shots. Once Mac drilled a ball at Lendl—"perfectly all right," said Ivan—but his deportment toward officialdom was impeccable, as it was most of the final week.
Earlier in the tournament, while McEnroe was edging toward a serious confrontation with the All England Club, several players had criticized his on-court shenanigans publicly for the first time. In a second-round encounter with Florin Segarceanu, McEnroe dug a divot with a petulant racket throw, insulted umpire Malcolm Huntington, thumbed his nose at referee Alan Mills and threatened to quit. The players were enraged. Waltke: "McEnroe's not penalized enough. We're sick and tired of it." Hank Pfister: "...a habitual complainer. He detracts from the game." John Fitzgerald uttered the un-kindest cut of all when discussing the potential of Mats Wilander. "I'd like to see Mats be Number One," he said. "We'd all like to see a nice guy at the top again."
Could it be that peer pressure struck a chord? Mac hardly let out a peep the rest of the way. After his victory on Sunday he even shook hands with Huntington and Mills. "I think I've made a conscious effort to get along," said McEnroe later, before Peter Ustinov joined him at the champion's Chelsea flat for a celebratory cocktail. "I'm glad I was able to win the way people want me to. If I can harness my feelings now in the correct way...." Then: "But don't take this too seriously."
On the other hand, if these All England championships happen to be the occasion when McEnroe turned the corner regarding both behavior and his shimmering tennis wand, then 1983 will be remembered not so much as a wacky Wimbledon but a momentous one.
PHOTO
In winning his second Wimbledon, McEnroe lost but one set in the entire fortnight.
PHOTO
The acrobatic Lewis became the first non-seed to reach the title match in 16 years.
PHOTO
Lendl's improved grass play didn't cut it against McEnroe.
PHOTO
Curren, who got to the semis, was involved in the tournament's three best pairings.
TWO PHOTOS
Navratilova, who dropped only 25 games, never came close to losing a match. She did, however, nearly lose her skirt on two occasions.
PHOTO
King made the semis for the second consecutive year.