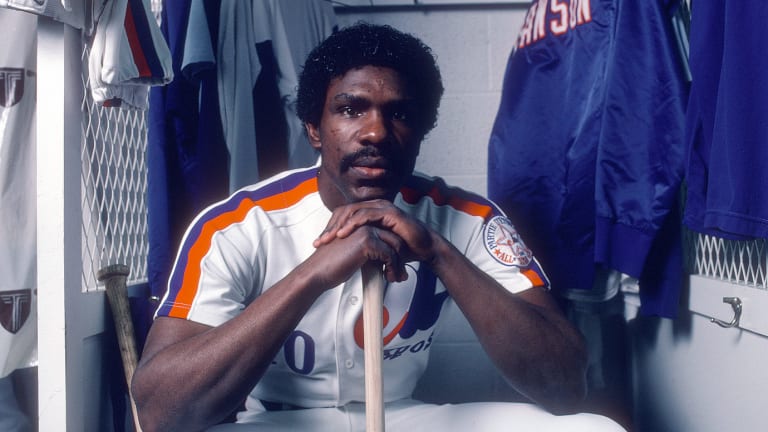 Publish date:
A Tale of Two Cities
For division pacesetters Montreal and Toronto, it is the best of times
G'day. How boot dose Jays, eh? Like dair in first place, eh, in de Mare Can League East, and like it's already halfway through de season, eh? So, O.K., if dey take off onde other hosers and nobody ever ketches dem, dey cud be playing de Series in Tronna, and dat wud be a beauty, eh? Can I have another Labatt's?
Ah, les Expos.Ils sont au premier rang, mais ils have been l√† before, ne c'est pas? Dawson,il est magnifique, et Rogers est le meilleur lanceur dans la ligue Nationale.Mais on only ésp√®re que l'histoire will not répéter itself. Passez moi une O'Keefe.
For the benefitof those south of the border who are unfamiliar with these playful takeoffs of Canadian speech called Canajan, eh? and Franglais, hein? here are the rough translations:
Good day. How about those Blue Jays? They are in first place in the American League East at the midway point of the season. Wouldn't it be something if they could hold on,and we end up having the World Series in Toronto? Can I have another of the beers from the brewery that owns 45% of the Blue Jays?
Ah, the Expos.They are first, but they've been there before. Andre Dawson is terrific, and Steve Rogers is the best pitcher in the National League. One only hopes that history doesn't repeat itself. Pass me a beer from the brewery that owns the Expos' TV rights.
Last Friday night, for the first time in history, all four of baseball's division leaders were in Canada at the same time. The Texas Rangers were in Toronto for at hree-game series, and the Jays swept to increase their divisional lead on Sunday to three games over Baltimore, Detroit and New York. The Expos lost two of three to the Atlanta Braves but still clung to a one-game lead over the Cardinals. So there they were, Montreal and Toronto, in first place, with the possibility of a World Series in the Great White North looming in the distance.
That would not please everybody. Some jingoists think the National Pastime should be played in these here United States, but don't they know that George (Twinkletoes)Selkirk, Ferguson Jenkins and The (San Diego) Chicken were all born in Canada?Some think the game is more suited to the tropical climes of Seattle and Minnesota, which are, incidentally, at a higher latitude than Toronto. The Canadian Farm & Home Almanac has encouraging news on the weather front. It predicts mild temperatures for the division playoffs. The World Series will have cool, cloudy weather to start with and then clearing skies and frost at night.
The people at ABC Sports, who are televising the Series this year, also won't be overjoyed if the Blue Jays and Expos represent their leagues. Given the teams' lack of appeal to the U.S. audience, ABC is already muttering, "Uh, oh, Canada."
But the people at the Ex and the O (Toronto's Exhibition Stadium and Montreal's Stade Olympique)would be ecstatic. Blue Jays attendance is already 250,000 higher than last year after 41 dates. The Jays tied for last place in '82, so the turnaround is dramatic. But they aren't all that big a surprise. After the All-Star break last year, they were 41-37, and the 17-game difference between them and the Brewers was the smallest between a first- and last-place team in the American League since the majors went to the division format.
Toronto is not built on stars but on sound fundamental baseball, adept platooning by Manager Bobby Cox and excellent front-line pitching. At the end of last week, the Blue Jays were first in the league in slugging percentage, second in batting,pitching and fielding and tied for second in homers. And they had one player,Pitcher Dave Stieb, on the All-Star team. The Expos had five.
"I didn't expect us to be this good this soon," says General Manager Pat Gillick of his 7-year-old expansion team. "I figured we wouldn't be contenders until at least Year Eight or Year Nine. The best analogy I can think for the way we built this team is that childhood game, Mother, May I? Instead of trying totake giant steps, we decided to take little bitty baby steps."
Two of the baby steps were the off-season acquisitions of Cliff (Soupbone) Johnson and Jorge Orta as the right handed and left handed designated hitters, respectively. Last year Toronto DHs produced eight homers and 56 RBIs. Through last Sunday, they already had 18 homers and 57 runs batted in. Orta was hitting .288, and Johnson had 14 home runs and 45 RBIs to lead all DHs.
Soupbone has also done his best to liven up the Toronto clubhouse. He's a needler extraordinaire,and receives as well as he gives. When Johnson, 35, was given a trophy and $250by Labatt's last week for being the Blue Jays' Player of the Month for June,Catcher Buck Martinez said, "What did you win, Labatt's Senior Citizen of the Week?"
Johnson has also assisted two of the Jays' budding stars, First Baseman Willie Upshaw and Centre(when in Toronto, spell as the Torontonians do) Fielder Lloyd Moseby, both byhis presence in the lineup and with his batting tips. Friday night he told Upshaw to look for a breaking ball from Ranger Pitcher Jon Matlack. On the first pitch Matlack threw just that, and Upshaw hit a three-run homer in the Jays' 8-5 victory.
Upshaw is one of the best-kept secrets in baseball. Last Sunday he was hitting .303 with 17 homers and 52 RBIs, but the other day a sportscaster on a cable network in the States kept referring to him as "Cecil Upshaw," confusing him with the former Braves reliever. "My relatives kept calling me to kid me about it," says Upshaw. "I would like more recognition, but that will come.Right now it's enough for me that my peers respect me." Cox, who thrust Upshaw into the lineup last year, says he has the best range of any first baseman he's seen.
Moseby is finally coming around after three disappointing seasons. Through Sunday he was batting.283 with nine homers and 16 stolen bases, and in consecutive games lastweekend he made spectacular catches to rob the Rangers' Larry Parrish of extra-base hits. He's also an articulate speaker. Here's Moseby on Toronto's chances to win the division:
"Our strong point is that everybody thinks we're going to fall. Now, you listen to the Game of the Week, and somebody will be saying, 'Well, the team to beat is Baltimore because they've got the pitching,' or 'Boston is really going to come on,' or 'Watch out for New York—they've got the talent.' Nobody expects the Blue Jays to win, so there's no pressure on us. Wouldn't it be something if the Expos and us got into the Series? 'Course it'll be up to Montreal to get it together,because I know we'll be around." He laughs.
Through the magic of platooning, Cox has gotten more production out of catching and third base than anybody could have dreamed. Martinez and Ernie Whitt, best of friends,share the duties behind the plate, with Whitt batting against right handers and Martinez against southpaws. Together, the two journeymen have 13 homers and 48RBIs.
Similarly, the Jays' two third basemen, Garth Iorg and Rance Mulliniks, are batting a combined.281. Once they were doomed to lives as utility infielders. "Bobby uses everybody," says Iorg. "So everybody stays fresh and feels useful."Last year the Jays set unofficial league records for most pinch-hits (71) and most pinch-hit appearances in a season (306). They lead the league again this year.
But Toronto's backbone is its pitching staff, led by Stieb, who was 11-7 with a 2.62 ERA. He also pitched three no-hit innings in the All-Star Game last week to get the victory. Not long ago, he wanted off the Blue Jays and complained about his teammates. But last year Martinez gave him a scolding, and in the off-season he signed a six-year contract that could earn him $1 million per year. "It wasn't until the second half of last year that I was convinced the team was making progress," says Stieb. One of the reasons for the Jays' success is that some of Stieb's aggressive confidence has rubbed off on his teammates.
Behind him, and not that far behind, either, are Jim Clancy and Luis Leal. Clancy, who along with Whitt is the last of the original Blue Jays, was 8-5, and Leal, who beat the Rangers 5-1 Saturday, was 9-6, which raises the possibility that Toronto will have three 20-game winners. The fourth starter, 23-year-old Jim Gott, has the best stuff on the staff and lacks only maturity. The bullpen seems to be in good shape, thanks to the remarkable comeback of Randy Moffitt, who has recovered from a life-threatening illness.
Just as the Jays have made progress, so have their fans. "In the beginning, they were so polite they would applaud when we struck out," says Iorg. "They walked out when we went to extra innings. Not only do they stay to the end now,they've gotten loud." The introduction of beer into the stadium last Julymay account for their raised voices.
By coincidence,the Blue Jays started playing better as soon as Labatt's was allowed. "I prefer not to think of it as a coincidence," says Texas Manager Doug Rader,something of a beer connoisseur as well as an original Blue Jay.
Jay mania has also increased the call for a new stadium. The present one has a number of drawbacks. It has only 26,000 seats between the foul lines; it has no overhang,and crowd noise dissipates; it looks like a converted football stadium, which is what it is; and some of the rows are 41 seats across—imagine sitting in the middle of the row and having to go to the bathroom, an important consideration with the advent of beer.
Ideally, the Blue Jays would like a stadium with a retractable roof, and five sites have been mentioned, one being the present midway of the National Exhibition next door.Officials hope to see it by 1986, and they vow it will not be the fiasco that the Big Owe in Montreal has been.
Like the Blue Jay fans, Expos fans have come a long way. Says Rogers, "In my rookie year, I gave up a two-run home run to Willie McCovey to lose 3-1. But the thing I remember most about the game was the way the fans reacted. They cheered. They cheered McCovey. They didn't care about the Expos. We were just a happening,something to do. They had no loyalty. That's the difference in 10 years. Now they have loyalty."
The Expos have drawn more than two million a season the last three full seasons, even though the O is one of the worst baseball stadiums in creation, which goes to show what happens when you build a stadium for the Summer Games instead of the Summer Game. But the fans have also become quite demanding and somewhat tired of les Expos being les Bridesmaids.
To that end,Montreal hired a new manager, Bill Virdon, to improve its fortunes. Although he has the Expos in first place, even Virdon admits, "We have been very mediocre." He adds, "At least we've been consistent.'
Virdon has instituted a number of changes. "Even a power team has to scramble, has to move the runner into scoring position," he says. His brand of William ball may not be as aggressive as Billyball, but he does have the Expos on their toes.
He also inherited probably the best talent in either league, and the best of the best is Centerfielder Dawson, who at week's end led the league in RBIs with 66. He also had 17 homers, a .323 average, 13 stolen bases, 104 hits, a .581 slugging percentage and three Gold Gloves in his past. "He's carried us," says Virdon.
"He is the best all-around player in the league," says Centerfielder Dale Murphy of the Braves, who is himself considered by some to be the best all-around player in the league. "He's done it a lot longer than I have."
Montreal President John McHale describes Dawson as "a Frank Robinson who could play centerfield. Actually, he's unique. The Hall of Fame centerfielders—Mantle,Snider, DiMaggio, Mays—come to mind, but he's not exactly like any of them."
As fast as he is on the field, Dawson is slow off it. He's slow in waking up: 11 a.m. is early for him on the day of a night game. He's slow to anger: He has never been ejected from a game. "Why should I give the umpires my money?" he asks.Debutantes have dressed faster than he does after a game, because he has to ice his knees for 20 minutes every night. He's slow to smile. But once he does, he can light up a room.
He's also probably the best-conditioned athlete in baseball. His improbable physique includes a Rodin torso, a 31-inch waist and the legs of a mule. He hasn't been able to buy a suit off the rack in years. In the off-season he follows a daily regimen of pushups and wind sprints.
Last year, when Tim Raines, the Expos' gifted leftfielder, admitted to a dependence on cocaine,Dawson, a notably clean liver, regretted not having helped him. This year he and Raines have become very close. Their families live in the same apartment complex on Nun's Island in the St. Lawrence. "Maybe I'm trying to model myself after him a little more," says Raines. "I always felt that if I hung around him enough, some of it would rub off on me. If I get closer to him,maybe I could get the respect he has as a baseball player and a person." On Sunday, Dawson's 29th birthday, Raines's wife, Virginia, gave birth to a six-pound, one-ounce baby boy. They named him Andre.
Raines and Dawson have teamed up in another, more tangible, way. Through Sunday Dawson had 14sacrifice flies for the season, only five away from the major league record set by Gil Hodges in 1954. Raines scored on every one of them.
If the Expos are to stay in first, Dawson will have to continue to shoulder the burden. One of the knocks against him is that he hasn't played well at the end of the season.In the 1981 playoffs against the Dodgers, for instance, he went three for 20."There were times when I pushed myself too hard," says Dawson. "I tried to do too much too soon." Says First Baseman Al Oliver, "Hawk [as Dawson is called] is not a choker. He may try too hard sometimes, but he does not choke."
As if the Expos needed any extra incentive, the organization would be extremely embarrassed if the Blue Jays got to the Series before they did. There's considerable rivalry between the two teams. They're not only inter-province foes, but inter-language, inter-family and inter-beer.
Labatt's owns 45%of the Jays, as does the mysterious Howard Webster, an industrialist. On the other side, Carling O'Keefe Breweries is the Expos' principal advertising backer. Howard Webster's nephew, Lorne, is also a part owner of the Expos.Edward and Peter Bronfman, cousins to Expos' majority owner Charles Bronfman,count Labatt's among their holdings. Confusing, eh?
Needless to say,the Blue Jays resent the Expos' self-proclaimed status as Canada's Team, and the Expos look down upon the Jays as upstart newcomers. "We wuz the fastest with the mostest," says Charles Bronfman.
Every year Montreal and Toronto play an exhibition game, for the Pearson Cup, to benefit amateur baseball in Canada. The Expos think it's a meaningless game, and the Blue Jays don't think the Expos do enough to promote it. On May 5 of this year,the Blue Jays and Expos met for the Cup in Montreal. Toronto finally won 7-5,after three losses and a tie. Mickey Klutts doubled in the winning run in the seventh off a Class A pitcher named Randy St. Claire. The immortal Tommy Joe Shimp finished up for the Expos. Only 8,291 people saw the game that night. But then, how could anyone have known that it might be a preview of the Fall Classic? A Canadian World Series, eh? G'day.
TWO
PHOTOS
In Montreal, Gary Carter shares a pedestal beside the British naval hero, Lord Nelson.
TWO
PHOTOS 
In Toronto, DH Johnson has become a real tower of strength, much like the CN landmark.
PHOTO
Moseby's career got off to a slow start, but now it's safe to say that he has it made.
PHOTO
The Jays have a flock of topflight starters: (from left) Leal, Gott, Stieb and Clancy.
PHOTO
Cox takes his hat off to Upshaw's fielding.
PHOTO
Rogers' 12-3 record and 2.94 ERA make him the National's top righthanded starter.
PHOTO
Though the Hawk is flying high, he must be careful of Raines falling on his head.