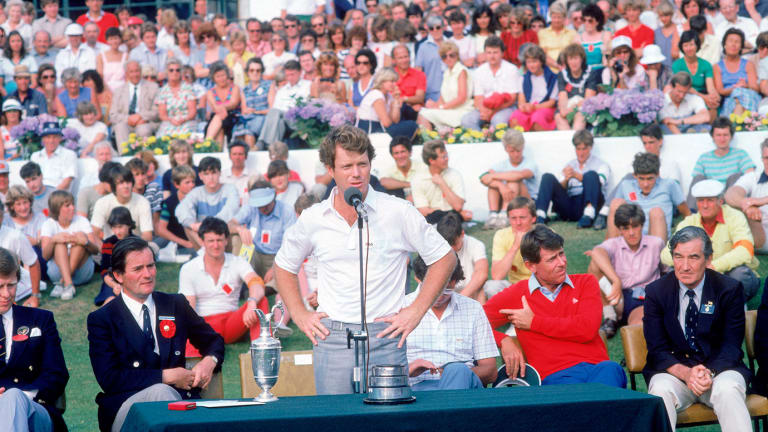 Breaking Clear of the Crowd
Playing perfectly under pressure, Tom Watson shook himself loose from an army of challengers to win his fifth British Open
Tom Watson keeps thinking up different ways to win the British Open. Last Sunday, on the rowdy Lancashire coast of England, he did it for the fifth time by waiting until almost the last minute and then playing what may have been the single best hole of his trophy-littered life. At that juncture Watson faced Royal Birkdale's toughest hole, the 18th, a 473-yard par 4 that looked as if it stretched from a towering sandhill to the Entebbe air terminal. Near that faraway green Hale Irwin, who had whiffed a two-inch putt the day before, was waiting with Andy Bean; the two of them were resting their hopes for an 18-hole Monday playoff on Watson stumbling to a bogey right here. They were in, Watson was out, and a lot of real estate lay between them and him. But, ho-hum, this was the British Open, the championship that simply brings out the best in Watson. The only thing he was going to whiff was a pork pie, maybe.
Even though he'd gone a full year since his 1982 British Open victory without winning, Watson is still the sport's premier shot-maker, and when he had to, he proved it. He smashed a 260-yard drive that literally split the heart of the fairway. He had 213 yards to the stadium-like green, grandstands to the sides, funny white clubhouse behind, and that's when he struck what he described as "the best two-iron of my life." The ball ate up the flag all the way and came to rest only 15 feet from the cup. A blind man could have two-putted for the victory, and Watson coolly did just that, knowing he had put them all away with that exemplary drive and perfect two-iron.
Watson's winning tap-in was about seven inches long, five inches longer than the one Irwin had carelessly missed on the 14th green on Saturday. That whiff would have been inconsequential had Irwin not fired a closing 67 Sunday, just as his playing partner Bean had done. Those scores got them to the clubhouse tied at 276, eight under par, and forced Watson to submit his swing and his grit to the most intense pressure there is in golf—needing par on the final hole of a major to win by a stroke.
"When you're playing well, it's easier to do the thing you have to do to win," Watson said. "I'd played well all week. I thought I could win Sunday unless somebody pulled a Larry Nelson on me."
Nelson had run the table at Oakmont last month to nip Watson in the U.S. Open, and for much of Royal Birkdale's last round Watson must have thought the United Nations was after him. Among the day's challengers were Great Britain's Nick Faldo, who had been a hero all week; Australia's early-finishing Graham Marsh, who started 2½ hours ahead of the leaders and dashed home with a seven-under 64 identical to the record-breaking score Craig Stadler had had in Thursday's opening round; America's Raymond Floyd, who can't seem to put together a good fourth round in the majors this year; Texas' Lee Trevino, a reborn celebrity throughout the Open; Harold Henning, a long-forgotten 48-year-old South African who came out of nowhere; and, finally. Bean and Irwin. In all, eight players held or shared the lead over the final 18 holes, and at least a half dozen others always seemed to be within a stroke or two.
"I was on the front nine when Marsh finished," Watson said. "A breeze had come up, and I thought his seven-under had a good chance to win. I knew what Andy and Hale were doing. You don't start thinking about what other players might do until the last nine holes in a major. I knew there were birdie holes back there, though, and I would get to them eventually."
Indeed, he did get there, but, as it happened, he birdied two of the non-birdie holes, the 11th and 16th, along with the predictable par-five 13th, to streak homeward in three-under 34 for his closing 70 and winning total of 275. That was nine-under on what had been advertised as a tough course, but which played rather tamely because of overwatered greens that held iron shots and putted slowly, and the conspicuous absence of a vicious British Open wind. Only by failing to birdie the gimme 17th, a par-five, did Watson set himself up for that golf-lesson finish on the rugged 18th.
Watson won his first British at Carnoustie back in 1975, in a playoff against Australia's Jack Newton. He next won at Turnberry in 1977 in a gutty head-to-head duel with Jack Nicklaus. Watson set the 72-hole Open record of 268 in that tournament. The third time, in 1980, he enjoyed one of those coast-ins when he buried the field at Muirfield, shooting 271, the second-lowest winning total. Last year he backed in at Troon after first Bobby Clampett and then Nicky Price collapsed. And this time he did it by letting his enormous talent guide him through a confusing maze of contenders and by pulling off glorious shots just when he needed them. At the end, his score was the third-lowest winning total ever.
This fifth British Open win in nine years, along with his 1977 and '81 Masters and '82 U.S. Open victories, gives Watson eight major titles. He was already the only man in the 112-year history of the British championship to have won on four different Scottish courses, and now he's the first to have won on five different courses, period. By winning in England, he joined 11 others who have won in both Scotland and England, a list that includes Arnold Palmer as well as Harry Vardon. But it is the fifth championship that puts Watson in the most elite and historic company, for only Vardon—who won six—J.H. Taylor, James Braid and Peter Thomson have won as many as five, and, except for Thomson, all competed before World War I. Not even Old Tom Morris or the legendary Young Tom Morris won the championship five times.
All those ghosts were with Watson as he came up the 18th fairway, with the mob bolting in all directions and the thousands of adoring fans perched in the bleachers that give the finishing holes of British Opens the look of a Liverpool-Manchester United football match.
Irwin was by then a more significant runner-up than Bean because of Hale's hasty putting on Saturday. En route to a third-round 72, which left him four strokes off Watson's pace of eight-under, Irwin hit what the British call an "air shot." He recklessly stabbed at a two-inch putt for par at the 14th after missing a splendid birdie chance. His first stab missed the ball, and Irwin called the stroke on himself. "The rule says something about intent when you do that," Irwin said. "I intended to hit it." It was a backhanded stab with both hands on the grip of the putter. He jerked up too quickly. Good lesson. Never backhand a putt with two hands, one hand is much safer.
Not that last week's British Open should be remembered only for Watson's overwhelming talent or Irwin's costly whiff. In the opening round. Bill Rogers, who won the title in 1981, hit a spectacular one-iron from the fairway of the 526-yard, par-5 17th and watched the ball sail more than 200 yards and then roll directly into the hole, for a two. That "albatross," or double eagle, was not only the first of Rogers' career, but the first he'd ever witnessed, and the first in the Open in 11 years.
The next day, Denis Durnian, an English club pro, went out in a showy 28, six under par for the front side, a tournament record. He came in a bit less gaudily, with a one-over-par 38, but managed to tie for eighth place, with Christy O'Connor Jr., Faldo and Rogers, at 280.
Until the last round, Faldo had raised high hopes among the fans of becoming the first British player to win his championship since Tony Jacklin in 1969. But in the end he fell away, and the fickle press immediately dubbed him Foldo.
And then there was the heat. British Opens are supposed to be chilling, windy and wet. This one was hot, dry, dusty and oppressive. Royal Birkdale and everything surrounding it was a furnace from start to near finish, especially inside the merchandising and hospitality tents, which are so much a part of the event and usually offer shelter from the cold. On a map, the Irish Sea is close to Birkdale, but last week the sea was only a distant shimmer, and the thousands of sunbathers who sat idly each day and stared off at the miles of muddy beach were the oddest sight of all.
The thing about heat in England is that there's no escaping it. At Birkdale, the closest air-conditioning was the book department at Harrods in London, four hours away on the M6, and ice cubes became rarer than fine antiques. No place was hotter than the creaking old Prince of Wales Hotel in nearby Southport, where most of the American stars were quartered along with those Royal and Ancient members who had a "fix" in. Like everything else on the Lancashire coast, the Prince of Wales has seen better days—Victoria's, for instance—but it's considered to be the best of a bad lot.
Keith Mackenzie, the outgoing secretary of the R&A, however, had assured the Americans that they, along with himself, would be bathed in luxury; whereupon a temperature higher than 90 with no breeze whatsoever greeted the Watsons, Stadlers, Floyds and others when they arrived. They found that most of the hotel's windows were either painted or nailed shut. Linda Watson, Tom's industrious wife, quickly leaped to the rescue. She went out and bought every electric fan she saw for sale in Southport, nine in all, and divided them among several American pros and their wives on a friendship or whimpering-plea basis. Stadler received the largest fan, two feet in diameter, and steadfastly refused to move from in front of it when he wasn't on the golf course.
Royal Birkdale is very close to another British Open course. Royal Lytham in Blackpool, though Lord knows what makes either of them royal. The least favorite venues of well-traveled Americans and fashionable Brits, the courses are located in a football pocket near Liverpool and Manchester, and they're closer in character to the raucous football world than to the Lake District poets or the moors and dales of the Bronte sisters. Thus the crowds at Royal Birkdale were not only the largest in British Open history—more than 140,000 dripped sweat on the links land for the four days—but they were also the drunkest and loudest and, as it happened, the most vandalistic.
Between the second and third rounds, the sixth green was dug up and scarred with paint in the dead of night. The Free Dennis Kelly Campaign was blamed. Dennis Kelly is a convicted murderer from Liverpool. The green was repaired in time for play, but the R&A didn't want it shown on the BBC, although photographs of it in its ruined state appeared in the newspapers, a decision that exposed the R&A's true belief that golf fans don't read. The vandals responsible had been wise not to mutilate Birkdale's sixth green before Wednesday. That was the day Parliament voted not to restore capital punishment. The M.P.s no doubt would have been more inclined to bring back hanging if they'd been confronted with the disruption of a major golf championship.
Meanwhile, Stadler wanted to hang the British press. After his record-breaking seven-under 64 in the opening round, big black headlines in two London tabloids hailed Stadler as superslob, a comment on his beefy build. He didn't see the papers until after he had completed his second-round 70, which found him still in the lead, not by the three strokes that he was ahead of Watson and Rogers and Bernhard Langer of West Germany after Thursday, but still by a stroke over Watson and Trevino, 134 to 135. Watson had added a calm 68 to his equally calm opening-day 67.
"Jesus," Stadler said with disgust after some journalists showed him the headlines in the Daily Mail and Mirror. He mouthed other words.
Two employees of the Daily Mail were quizzed by an American writer as to why they had seen fit to describe Stadler so despicably. "I feel I've read the term in American papers," said Michael McDonnell, who had used the description in his story. "I can't actually claim credit for originality."
"Wait a minute," interrupted Ian Wooldridge, a columnist for the Daily Mail. "There's trouble in the Colonies about this? Does that mean it's not a flattering term?"
Then, after saying what he would like to do with a roasting putter to the British journalists responsible for the tasteless insult, Stadler managed a grin. "Guess I'll take the papers home and frame them," he said.
In the end, that was all there was left for him to do, since he finished the championship with scuffling rounds of 72 and 75, winding up in a tie for 12th. A tournament that had been his as much as anyone's for three days started slipping away immediately on Sunday, when he bogeyed five of the first seven holes.
Trevino also made news all week, right up to the last two holes when he faltered in the scrub. Until then it had looked as if he might tie or even pull off a miracle and win his first major in nine years, on the course where he'd won the first of his two British Opens. He showed up with a girl friend, Claudia II, having divorced Claudia I last fall. "I didn't want to have to change the name on the towels," Trevino explained. He was exhilarated from winning the Canadian PGA a week earlier, feeling good, showing off for his 26-year-old companion and doing a refreshingly new comedy routine.
"I'm a serious contender this week," Trevino said before the championship began. "How can they beat me? I've been struck by lightning, had two back operations and been divorced twice."
Trevino was among those seemingly dozens of challengers who were in, out, near, tied for or flirting with the lead over the last nine holes when Royal Birkdale took on the look of an international demolition derby before Watson, always running on the inside lane, enjoyed his stroll among the historical figures and the scurrying hordes.
He may have been hastened along by the breeze of Irwin's whiff from the day before. With Watson's ball safely on the last green for an easy four. Hale, watching intently in a nearby tent, said graciously, "If he doesn't two-putt this, I'll kill him."
PHOTO
THREE
PHOTOS
By week's end, nearly everyone had grappled with the tall grass, including Stadler (left), Trevino (right) and Watson.
PHOTO
Irwin's concentration, evident as he lined up this putt, evanesced on a mere two-incher.
PHOTO
Hopes for a British victory were raised and then dashed by Faldo.
PHOTO
Stadler left matters of sartorial splendor to his caddie.