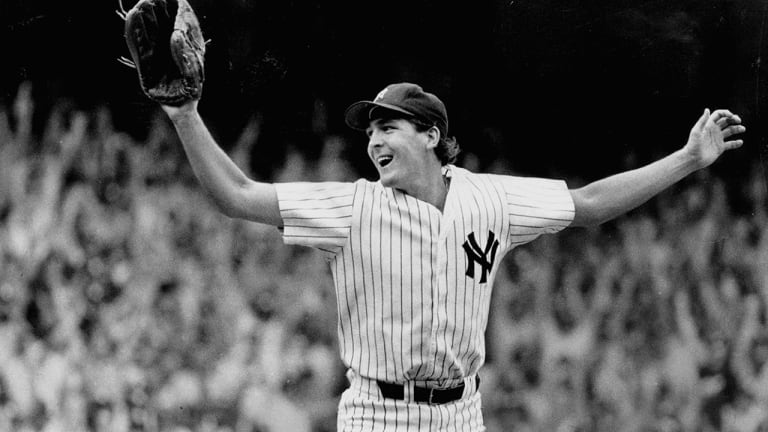 He went from Rags to riches
A Fourth of July no-hitter made Dave Righetti a Yankee Doodle Dandy
Try this one out, patriots. It's July 4, the birth date of his club owner and his country, and Yankee Doodle Dandy Dave Righetti is facing Boston at Yankee Stadium. In his previous start Righetti had pitched his first major league shutout, but on this day he's doing even better. Suddenly it's the top of the ninth, two men are out, and up comes Wade Boggs, who has more hits this season than anyone in the majors. Righetti fans him for the first Yankee no-hitter in 27 years, and the Stadium erupts.
But the next day, while everyone else is still buzzing about the no-hitter, Righetti is lolling on an Atlantic City beach with teammate Graig Nettles and already thinking of his next start, four days hence at Kansas City. "A couple of years ago I would have gone crazy after a no-hitter and forgotten about my next game," he says. Instead he goes 10 1/3 innings without his best fastball and is disconsolate when the Yanks lose 3-2 to the Royals on an Alphonse-and-Gaston error sequence in the 12th.
Endorsement offers start flooding in. Righetti considers them while watching the All-Star Game on TV and snacking on pizza and soft drinks with his lawyer, Bill Goodstein—and rejects every offer. "If I don't do well and the Yankees don't do well, it would appear I got too wrapped up in my own success at the expense of the team," he tells Goodstein.
Last Friday night Righetti made a triumphant return to Yankee Stadium. Showing he can benefit from luck as well as pluck, he yielded five runs and 10 hits in six innings but won 7-5. "I've never given up so many runs and won," he said afterward. "People say I deserve it, so I'll take it."
As of last Sunday, Righetti, 24, 6'3", 198 pounds and still boyishly handsome, was among the American League leaders with an 11-3 record, a .786 won-lost percentage and 97 strikeouts. (His ERA was 3.27.) Flame-throwing lefties usually take longer to reach that level. Steve Carlton first won 20 games at age 27, Sandy Koufax at 28, Ron Guidry at 28. No wonder the Yankees last winter were happy to sign Righetti to a five-year, $3.5 million contract, the largest ever given a player who wasn't a free agent or about to become one. Righetti's teammates call him Rags; they should call him Riches.
Righetti has a Carlton-like assortment of pitches: a fastball he throws about 60% of the time that rides away from righthanded hitters; a slider he throws 30% of the time that breaks in on them; and a nifty curve and changeup he can spot. "You have to look for the fastball, and that makes the other pitches tougher," says Texas' Buddy Bell, "and his control is better than ever [only 36 walks in 135 innings]." Righetti throws without a windup, a la Don Larsen, the last Yankee no-hit pitcher, and gives the hitter some deceptive moves with his right knee and elbow. "He's got enough stuff to stick around for years after his velocity goes backward," says Ranger General Manager Joe Klein.
But Righetti watchers argue that maturity has more to do with his success than the movement on his pitches. "He's learned that when he's behind on the count, he doesn't have to throw any harder," says Yankee Catcher Butch Wynegar. "It's basically a matter of experience."
It's also a matter of confidence. "They gave me the ball in spring training and told me that I was in the starting rotation," says Righetti. "That gave me the self-assurance to stop worrying about who I'm facing; I just have to throw my stuff. It's almost the same philosophy Yogi Berra has—why think?"
Righetti's father, Leo, was a minor league shortstop in the Yankee and Brave organizations from 1944 to '57. "They called Dave 'Sunshine' in the Little Leagues because nothing bothered him," says Leo, who runs a small trucking company in San Jose, Calif.
Dave was an outfielder who switched to pitcher his senior year in high school on the advice of Leo's old friend Paddy Cottrell, a Ranger scout. Righetti went on to pitch for San Jose City College, where one of his outfielders was Toronto's Dave Stieb, another late convert to pitching. "It was also on Cottrell's advice that Texas chose Righetti in the first round of the 1977 secondary draft.
Righetti ran up an 11-3 record for Class A Asheville. He suffered arm trouble the next season and was 5-5 at Double A Tulsa, but still struck out 21 batters in one game and 127 in 91 innings overall. "He was our number one prospect," says Hal Keller, the Rangers' farm director at the time. Adds Danny O'Brien, then the Texas president, "If you'd asked 10 people, nine would have said, 'Keep him.' " The 10th, unfortunately, was then-Ranger owner Brad Corbett. Corbett sent Righetti to the Yankees in a 10-player trade that landed fading Reliever Sparky Lyle for Texas. Soon afterward, Keller and O'Brien left the Rangers and took similar positions with the Seattle Mariners.
"I was relaxed with the Ranger organization. Then suddenly I was in the world champions' system, and people were saying I'd be the next Ron Guidry," says Righetti. He ran up monstrous walk totals for Triple A Columbus during the 1980 season but, cool as ever under pressure, won a clutch game in the International League playoffs.
In 1981 Righetti made the Yankees, had an 8-4 record, won two games in the mini-playoffs and one in the playoffs and was selected American League Rookie of the Year. He should have been set for life, but after a 1982 start that was disappointing but not disastrous—5-5 with a 4.23 ERA—owner George Steinbrenner made good on some early-season threats to send Righetti back to Columbus.
Shocked and hurt, Righetti saw E.T. and then phoned home. "My son is not the sorehead I was," says Leo Righetti. "During spring training in 1952 the Boston Braves wanted me to remain with their Milwaukee farm—but I went home instead. Johnny Logan took my place and later became the Braves' starting shortstop. When Dave told me he was being farmed out, I told him, 'Don't open your mouth.' "
Dave didn't. He relaxed at Columbus, was 1-0 in one start and three relief appearances, was recalled a month later and finished '82 with an 11-10 record, a 3.79 ERA and 163 strikeouts in 183 innings. "The emptiness I had in not making the majors isn't there anymore," says Leo. "Dave filled it."
Righetti and teammates Shane Rawley, Jay Howell, Matt Keough and Bob Shirley have created a stock investment club they named Johnny Stellar, Inc. after a fictitious character they've persuaded other Yankees is a real person. As playful and roughhousing as cubs, Righetti and his friends also give each other names out of movies, adventure books and their own imaginations. "I'm Trick Maynard," says Rawley, "and Howell is Chuck Schick. Ron Guidry's Dirk Pitt and Matt Keough's Dash Hammer. Dave? He's Rob Paradise. We also call him Jedi Master because he's the elite, the best."
PHOTO
Only 24, Righetti is in full stride with an 11-3 record.