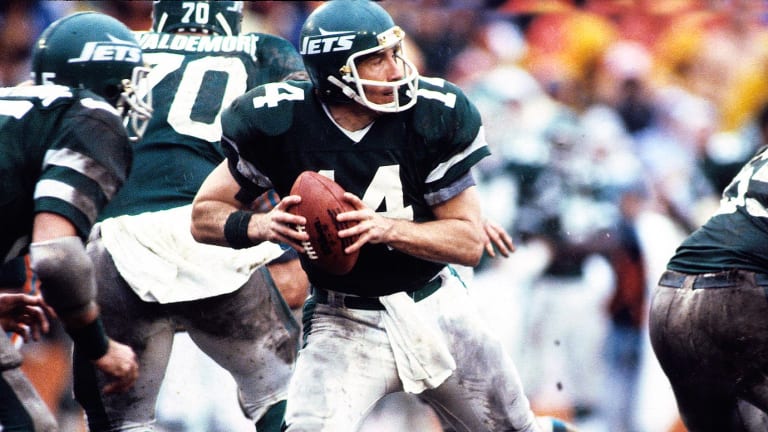 Wall Street Richard
Jet Quarterback Richard Todd is not a Broadway Joe off the field, bank on that, but to be one on it he will have to win a Super Bowl
Out at the Muscle Shoals, Ala. airport the other day, Richard Todd, quarterback of the New York Jets, was getting ready to fly his single-engine Cessna Skylane. While a mechanic was making the windshield spotless, an onlooker asked, "Richard, you're not going to mess up that windshield by running into any bugs up there, are you?" Said Todd, "Whatever's up there, I'll run into it."
That speaks volumes because there isn't much Todd hasn't run into. He's on a first-name basis with adversity. He has run headlong into legends and lost; he has run into New York and lost; he has run into surly fans and snippy media and lost; he has even run into his own sometimes sullen nature and lost. And in 1980, when after four seasons of struggle the job as Jets quarterback was at last his and his alone, he not only led New York to a 4-12 record but also led the NFL in interceptions with 30. Booooo.
In fact, Todd has been the Quarterback of the Future ever since he was drafted No. 1 out of Alabama by the Jets in 1976. The team and its fans have waited, waited, waited.... Finally, as much to send a message to Todd as anything, New York chose a quarterback named Ken O'Brien from Cal-Davis as its No. 1 in April's draft. Todd brushes it off, saying, "I guess if they had drafted John Elway, I might worry."
New Jet Coach Joe Walton, previously offensive coordinator and, says Todd, the only coach he has ever had who really taught him how to play football, pumps up Todd by saying, "Richard is just on the threshold of becoming a great quarterback. He has about reached the age and experience level where things should start going well for him."
They had better start going really well. The Jets are a talent-laden team that seems to have no holes, although New York's All-Pro center, Joe Fields, says perceptively, "Talent isn't talent until it shows up on the football field." All-Pro Wide Receiver Wesley Walker adds, "Everybody expects us to win." Indeed, this season anything less than a Super Bowl appearance—if not victory—will be viewed by Jet fans as a failure of unspeakable proportions. And guess who they will blame most? Says an executive with a rival club, "The problem is that Todd has been doing pretty darned good, but doing pretty good in New York isn't nearly good enough."
In short, it's put-up-or-shut-up time for Todd. He has tantalized Jet fans with mountaintop performances that only made the ensuing valleys seem deeper and more desolate. Last season, for example, he completed a whopping 67.3% of his passes in playoff wins over the Raiders and Bengals, and then threw five interceptions against the Dolphins in the AFC championship game. Typical. Right at the brink of acceptance, which he wants so urgently, he flubbed.
At Todd's football camp for kids, at the University of North Alabama last month, a coach was explaining that Todd would put on a clinic to "demonstrate what he does best." Mike Flynn, 16, of Huntsville, piped up, "What's that? Throw interceptions?" Says Todd, "Everybody remembers that last, lousy game. But what I have come to understand is the quarterback gets way too much blame when the team loses and way too much credit when it wins."
When Todd walked out of the dressing room after the Miami game, he at last saw a friendly face, that of his wife, Lulu, who grabbed his arm, looked him dead in the eye and said, "What was wrong with you? Why did you play so badly?" Months later, the outspoken Lulu explained, "Richard will never be accepted in New York and he will never make it in New York until he wins a Super Bowl—like Joe Namath. Period. Against Miami, Richard got humiliated. But people who think those interceptions will tear down his confidence just don't know him. He's cocky, I tell you."
It was a cold night in New York last January, several days before the league championship debacle, and Todd, wearing jeans and a baseball cap with his battered two-year-old python-skin cowboy boots propped on a facing seat, was eating tuna salad from a plastic bowl as he sat in the rear of a long, black limousine. Obviously, passenger and vehicle weren't well matched. That figures, because Todd and New York have never been in sync, have never been a match.
The reason is simple: Todd arrived in New York in 1976; in 1977, he replaced Joe Namath as the Jet quarterback. New York fans didn't want Namath replaced by anybody, and have never forgiven Todd for being the man who moved their hero out. When you compete against a legend, the legend wins. The fans have generally chosen to ignore the fact that Namath's record with the Jets was 60-63-4 and that only three of his 12 seasons at the helm were winning ones. Todd has a similar mark, 33-38-1, and he has already had two winning seasons in six. Easily overlooked, too, is how alike the performances of Namath and Todd have been if one considers their best years. For Namath it was 1967, when he completed 258 of 491 passes for 4,007 yards, 28 interceptions and 26 touchdowns. For Todd it was 1981, when he connected on 279 out of 497 attempts for 3,231 yards, 13 interceptions and 25 TDs. That's about a wash. But what's never forgotten is that in 1969 Namath led the Jets to a Super Bowl victory.
As the limo sped toward a West Side studio where Todd would tape two television commercials for a New York newspaper, he looked out at the soft, orange winter sunset that was silhouetting the skyline, and said, "It's pretty tonight, isn't it? This city is just amazing. If you can do it here and lick all the problems here, then you ought to be able to handle anything anywhere else in the world. I've caught a lot of abuse. Fans are unreasonable everywhere. Fans are fans. They expect you not to make any mistakes. But this is a humbling game we play. There are no supermen. There are great players, but no supermen."
Except, as far as New York is concerned, Namath—the perfect New York quarterback. Brash and outrageous. Broadway Joe. Eat-drink-and-be-merry Joe, who then quarterbacked like crazy the next afternoon. He was still drunk, he says, when he passed for three touchdowns to beat Boston 38-28 in 1966. Rich. When Jets owner Sonny Werblin lured Namath to the AFL with a $427,000 contract in 1965, the figure seemed stunning. The women. Always the women. In his book, I Can't Wait Until Tomorrow..., Namath says, "I'd like to tell you about what was actually the finest performance of my rookie season, but, shoot, I promised her I wouldn't." And most of all, The Prediction, Namath's perfectly wild and wacky boast that the Jets of the upstart AFL would beat the Colts of the proud NFL in Super Bowl III. Boast, hell. He guaranteed it. And when the Jets won, the Namath legend was immediately carved in stone. It didn't matter that in eight more seasons in New York Namath produced only one more winning record.
Ever since Namath limped off into the L.A. sunset in 1978 for an ill-fated last fling before retiring, the Jets have vowed to bury the star system. Still heard around the New York locker room is a plaintive scream from the equipment room, "Hey, you're no Joe Namath. Put your stuff where it belongs."
Because of Namath's long shadow, Todd has never been able to establish an identity of his own. For his part, Todd—definitely no Broadway Richard, but charming if given a chance—gives the question of image short shrift. "I'm not working on identity," he says. "I'm just a working guy trying to make it in the big city."
Be that as it may, Todd has sent out contradictory messages concerning who he is and wants to be. He stopped and changed a tire for a woman on the Grand Central Parkway in New York two years ago, politely declined a $10 tip and drove off. "Ah," he says with a snort, "we do that kind of thing all the time in the South." Good guy, that Richard. The same month, he got into a row with a New York Post sportswriter and stuffed him into a locker, a terrible, terrible thing to do to a gentleman of the press. Bad guy, that Richard. Is Todd benevolent or is he a bully? Says Todd, "I've always been a big, sensitive kid. Often, too sensitive." But, says his agent, Gary Wichard, "Richard Todd has finally become a New Yorker. He's callous."
Lulu, who hails from Florence, Ala., recalls that when she met Richard while attending summer school at Alabama in 1979, "He dressed like a hobo, acted like God's gift to earth and had hair longer than mine. He was real cocky and had no reason to be. He looked like surfer boy come to New York. A real freak-o. I thought he was obnoxious." But her view changed on their third date, when they played tennis. Says Lulu, "With just him and me, he seemed human. When others were around, they brought out the worst in him." Richard and Lulu were married in February 1981 in Fort Lauderdale. Among the guests: Namath.
In retrospect, it was logical that Namath and Todd were lumped together. Both came out of the University of Bear Bryant (as did Super Bowl winners Ken Stabler and Bart Starr), and Todd signed on with Namath's agent, Jimmy Walsh. They threw balls to each other on the Alabama practice field when Todd was an undergraduate, and if Namath hollered, "Keep your elbow up," Todd took it to heart. In a conversation two days before he died last January, Bryant said, "Joe was more skillful than Richard, but I'd sure like to have either one of 'em back even on their bad days."
Todd recalls, "When I came to New York, I was in awe and scared to death of the city. First of all, Namath was here. There were things I'd never had, like Chinese food and French food and all that. But hanging around Joe was fun." Once, when asked if Namath had influenced his social behavior, Todd replied, "Well, I liked girls even before I met Joe." Quips like that made the papers. Two dangerous forces were converging. Todd was trying to act like Namath and the press was trying to make him seem like Namath. But the fans were quick to notice he didn't play like Namath, at least the Super Bowl Namath.
The booing started in Todd's rookie season. He had a slight stutter, which he has since overcome, that made him the target of malicious fans. Things got worse in his second year, when he was sent to the hospital by the Jets' team doctor for what was thought by the other players to be a very minor injury. It turned out to be just that. Walt Michaels, then the Jets' coach, was livid when he learned Todd had been hospitalized and made his displeasure public. The incident brought Todd's toughness into question and prompted Richard Neal, one of New York's defensive co-captains then, to say, "We can't have a Namath situation here. We had Joe receive special treatment and we were losers."
In '79 a two-quarterback controversy raised its invariably ugly head. Richard Todd or Matt Robinson? The debate began in 1978 when Todd broke his collarbone, and Robinson stepped in and threw for a crowd-pleasing 11 touchdowns in 11 starts. On opening day 1979 Todd was second-team—and sullen. He got his starting job back the next week, but a lot of fans felt Robinson should have been quarterbacking the team. Once, leaving Shea, Todd wouldn't let Lulu walk with him because he didn't want her to see him being humiliated—and showered with garbage. "The fans didn't hate him," says Lulu charitably. "They just wanted him to do better. They knew he was a good quarterback." Maybe. Subsequently, Todd made a lewd gesture to the fans, which was caught by a photographer. He laughs about it now; the picture hangs on the wall of his family room. In 1980, after Robinson had been traded, the Jets were losing at home to San Francisco 37-27 to make their record 0-5 when it was announced that Todd had set an NFL record for completions in a game with 42. Fans responded by hollering, "We want Matt."
And all the while he was living in an apartment on the ocean on Long Island, lovely in summer but desolate in winter, and sleeping on a mattress on the floor. He was miserable and wanted nothing more than to get out of New York and go home to Alabama.
His unhappiness was understandable. Todd had had a gentle Southern upbringing. He was born in Birmingham and lived in Bristol, Va., then Tuscaloosa, Arkadelphia, Ark. and Mobile. His mother, Mary Ann, now teaches nursing at the Providence School of Nursing in Mobile, and his father, Carl, is a theology professor at the University of South Alabama. Such a background is poor preparation for bigmouth New York fans.
It was after that 4-12 1980 season that Todd had the dubious opportunity of discussing a new contract with the Jets. Talk about adversity. He humbly signed a three-year deal for $250,000 in 1981, $300,000 in 1982 and $350,000 for this season—with no incentives. In the world of top quarterbacks, this is embarrassingly low pay; Houston's Archie Manning will make more than $600,000 this season. Rookie O'Brien signed last week for a reported $1.6 million for four years. It's contract time again for Todd after this year.
Todd's troubles in 1980 got him to thinking seriously, and back home in Alabama during the off-season he told himself, "I'm going to play in New York, and I'm going to enjoy it in New York." He started making changes. No more Little Joe. He dumped Walsh and hired Wichard, who told him, "Somehow, you have become a villain. That's not right, and we have to change that image."
So when Todd returned to New York for the 1981 season, his attitude was all polished up. Just in time, too, because about all the excuses that could be made for Todd had been made—he was used wrong as a rookie, he was too young to expect much of, he was hurt, he was embroiled in a quarterback controversy, he had no offensive coordinator in 1980. At last he came through, completing 56% of his 1981 passes and throwing only 13 interceptions. The Jets got to the playoffs for the first time since 1969. Todd was voted the team MVP. The banners in Shea went up: TODD is GOD.
Unfortunately, in his first playoff game he was a loser. New York fell behind the Buffalo Bills by 24 points early, but Todd led a stirring comeback, bringing the Jets to within four at 31-27 and then, as the clock wound down, marching them 69 yards to the Buffalo 11. From there, on the game's last play, his pass for Derrick Gaffney was picked off by the Bills' Bill Simpson. That interception ended New York's '81 season. Its '82 campaign ended, of course, with Todd's five interceptions in Miami.
Still, if Todd has yet to prove that he can produce a second Jet Super Bowl win, he has shown in the last two years that he has matured as a quarterback. He has matured off the field as well. "I don't worry about my image anymore," he says. "I found out when I was trying to please everybody that I was making myself unhappy. And I learned I can't be concerned with people who come to games to scream and boo and cheer and drink." These days he comes across as a bright, open, concerned, helpful fellow—what's wrong with that for an identity?—whose idea of a perfect evening is watching three hours of football films, having a rack-of-lamb dinner at home with Lulu, watching some TV and going to sleep. Home is a $275,000 condo in Jericho on Long Island. When Lulu and Richard decide to kick up their heels, they play gin rummy. Richard usually wins. Who'd want a quarterback who couldn't scheme well enough to beat his wife at gin rummy? On their bar is a bottle of 1977 Louis Roederer Cristal champagne (price: $70). It was given to the Todds by Lulu's parents—to be drunk only in celebration of a Super Bowl victory. "New York is the best place to play when you win," says Todd, "and the worst place when you lose." He starts humming New York, New York.
Todd is becoming more of a fixture around the city. He'll be on local television once a week for 20 weeks starting later this month doing a sports segment designed, according to his agent, to "make use of Richard's glibness." And Todd stayed in New York during the past off-season for the first time, working for Bear, Stearns & Co., a Wall Street brokerage house. Really working. Says Todd: "There are very few O.J. Simpsons and Joe Namaths who can live off their names for 25 or 30 years. I've seen too many guys wandering around lost when football ends. What I might do when I retire is fly my airplane, sell stocks and go scuba diving in the Bahamas. That sounds like a pretty good life."
The Quad Cities Gridiron Club is meeting in Florence, Ala., and the guest speaker is Richard Todd. He is charming, loaded with charisma, out-Namathing Joe on his best days. First Todd addresses those Five Interceptions against Miami, explaining, "My mother always said she liked to see me throw 'cause somebody always catches it." Then he speaks to yet another sensitive point, the Jet draft of O'Brien: "I don't really know how the Jets felt about all those interceptions. Of course, they did draft a quarterback. He's a real nice guy. Smart, strong, good arm, good lookin'—all those things you hate to see. But I'd say he needs a little training, like five, six or seven years. Then he'll be ready."
And so forth. Incredible. Is this the same guy who stuffed the gentleman of the press into a locker? Asked about this later, Todd is typically candid. "I don't think the press likes me," he says. "And I have to face it; I am moody and irritable during the season. But if we had started winning right away when I got to New York, I could have mooned the city and nothing bad would have been written."
He's absolutely correct, as he is about most things when he gets a chance to think about them. Alabama is the place for him to think. He relaxes there on a 1,000-acre spread owned by his father-in-law, Elton H. Darby, a multi-zillionaire with holdings in lumber, aviation and real estate. It's a special corner of the world backed up to Wilson Lake and the Tennessee River. There, bouncing around the pastures in his four-wheel-drive vehicle—even in New York, Todd doesn't big-time people with his cars; his wife drives an Audi and he drives a dealer-provided Datsun—he's at peace with himself. "The fact is," he says, "I'm lucky. If I leave this earth tomorrow, it has been a blast. But I've always wanted to stick it out and show the New York fans they were wrong about me. Being a survivor is what's important."
So what do you want out of life, Richard?
"To be a winner."
What would winning the Super Bowl mean to you?
"That I'm a winner."
And how do you want people to remember you?
"I want them to say, 'That Todd was a winner.' That's it."
Anything else?
"What else is there?"
PHOTO
RONALD
C.
MODRA
Todd stayed in New York in the off-season working as a stockbroker, not a heartbreaker.
PHOTO
RONALD
C.
MODRA
Last season went swimmingly for the Jets until Todd rained interceptions on Miami.
PHOTO
RONALD
C.
MODRA
Todd hopes Walton will help him end the Jets' long wait for a second Super Bowl.
PHOTO
RONALD
C.
MODRA
For horsing around, Lulu and Richard prefer her folks' haven in Alabama to New York.
PHOTO
RONALD C.
MODRA
Todd won't pop the cork on this $70 bottle of bubbly until the Jets win a Super Bowl.