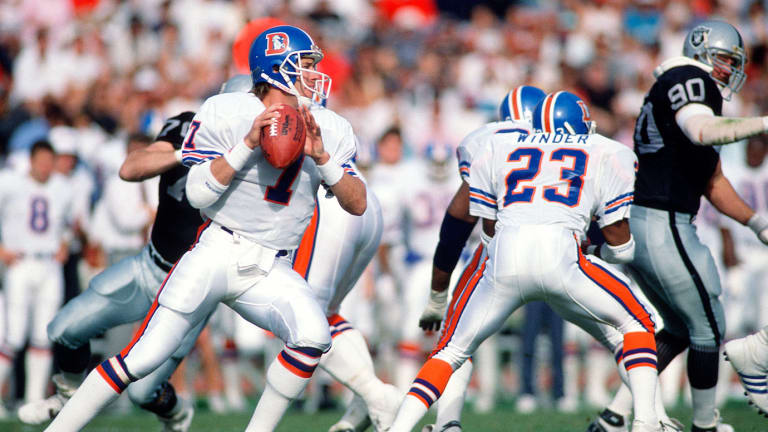 In Denver, Delirium is Spelled E-L-W-A-Y
Playing his first NFL game, Quarterback John Elway exceeded even the mile-high hopes of a football-mad city
In a show-stopping performance that blazed across the Denver sky last Friday night, Bronco Quarterback John Elway established himself—in exactly four minutes, 22 seconds—as a phenom of extraordinary proportions. That's how long it took the NFL's most heralded rookie in eons, and at $l million a year its highest-paid player, to grab the Broncos—2-7 last year and trailing in this game 7-3—by the throat and march them, nay, stampede them, 75 yards into the Seattle end zone for the winning touchdown. The drive took 10 plays—Elway's first 10 as a pro—and during it the quarterback completed five of six passes, in the rain.
If he keeps this up, he'll be a legend by September and eligible for sainthood by October. Pete Rozelle instructs us to call them preseason games, not exhibitions. But make no mistake. This was an exhibition. Of greatness. Of talent that has not come the NFL's way since Joe Namath. "My God," exclaims former NFL Wide Receiver Mike Haffner, a Denver sportscaster, "he's Namath with knees, Bradshaw with brains." Would you believe Moses with shoulder pads, Ghandi with cleats, Churchill with humility, Einstein with humor? Help, can't stop.
There were 53,887 fans at the game in the former Mile High Stadium (the name has already been changed in the minds of many to Elway-Bombs-Away-Stadium) for this historic moment. That means in years ahead, exactly 4.3 million people will claim to have been there. One who was, Rick Wenzel, 27, of Colorado Springs, says, "Elway is life for us." A 21-year-old co-ed, Carrie Erickson, takes the low road: "I think he's a stud."
Elway played only in the second half, after veteran Steve DeBerg, the Broncos' regular quarterback last season, went the first 30 minutes. The fans booed DeBerg when he was introduced, and, as it turned out, that was the high point of his night. Once during the second half Elway went to the sidelines for two plays because of problems with the tape on his shoes, and DeBerg replaced him. The rowdy Bronco locos were beside themselves with boos. It wasn't fair, it wasn't decent—but it was to the point. As Elway had shown the Broncomaniacs, he not only has an enormously better arm than DeBerg but also a better arm than most of the rest of the NFL quarterbacks lumped into one.
Of course, Elway got the game ball. Of course, his passing percentage (.667) on 10-of-15 was impressive. Of course, he later praised his teammates. And, of course, he said, "I've got a long way to go, and a lot to learn." Why wouldn't he? We're talking here about all-American golden boy and matching arm.
Said Bronco Coach Dan Reeves: "He did not execute all the plays well but he did a good job overall." But Reeves's demeanor belied his restraint; the coach looked like a man who had turned on his lawn sprinkler and found it was spewing oil. The next day it was announced that Reeves had agreed to a four-year extension to his contract.
Denver and, indeed, all Colorado have been caught up with Elwaymania ever since the Broncos signed John to a five-year. $5 million package on May 2. And mediamania has been out of control. Get this. On Saturday, The Denver Post published 14 photos of the Broncos-Seahawks game (including two in color, one on the front page), eight stories and five charts and graphs. The Rocky Mountain News had 10 stories, five photos and one chart. Come on, News, more photos, more charts. Get with it.
At the Bronco training camp at the University of Northern Colorado in Greeley, seven communications trailers for television and radio use are parked alongside the practice field. Seven! Three of the trailers are for daily sports talk shows that last three to four hours.
The main subject of conversation and calls generally is Elway. Both of Denver's newspapers run a feature which is called "The Elway Watch," made up of every tidbit that they can scrape together. An example from The Post: "Elway spent some time Wednesday examining the earring Larry Evans wears under his helmet."
At the Bronco offices there are 16,360 names on the waiting list for season tickets; according to ticket manager Gail Stuckey, this represents about 50,000 seats. For this season, Stuckey says, fewer than 100 on the list got tickets. Near the bottom is computer programmer Randall Hay, 30, of Littleton, whose guess that he'll get tickets in 10 years is unduly optimistic. "It's O.K.," he says. "I couldn't afford them now anyway." The Broncos have been sold out for every regular-season game since 1970, and raising the capacity of Mile High Stadium from 51,000 to 75,103 in 1977 put only a small dent in the waiting list. Elway exacerbates the situation. On the day he signed, 200 fans signed too—on the waiting list—for tickets. They will probably get seats in time to see Elway's grandchildren play.
The fact is, Elway—hounded and besieged every step by fans and media—is the first able-bodied young quarterback the Broncos have ever had. And only three out of the Broncos' list of 30 have been any good at all. First, there was old and creaky Frank Tripucka, who led them to their first breakeven season, 7-7 in 1962 in the old AFL. And there was old and creaky Charley Johnson, who guided them to their first-ever winning season, 7-5-2 in 1973. And then there was old and creaky Craig Morton, who took them to the Super Bowl in 1977. That's it. Once, the Broncos gave up two No. 1 draft choices to get Steve Tensi, who was awful; another time they gave up a No. 1 and 2 to get Matt Robinson, who was worse. And surely you remember Mickey Slaughter, Jacky Lee, Joe DiVito and Al Pastrana. Irv Brown, a former college basketball referee and now a local sports commentator, says of the parade of quarterbacks through the franchise, "Basically, the town feels like it has been stiffed."
No more. Now it's Baltimore that feels stiffed. The Colts, remember, made Elway the No. 1 pick of the NFL draft even though he had warned that he would never play for them. When Elway seemed on the verge of signing to play baseball for the New York Yankees if Baltimore wouldn't trade him, the Colts finally came to their senses and moved him. Trouble was, Baltimore owner Bob Irsay became a phenom going on legend himself by making a terrible deal. To get Elway, the Broncos gave up Tackle Chris Hinton, their own No. 1 draft choice, along with not-so-fine backup QB Mark Herrmann and their No. 1 pick in the 1984 draft. That's it.
Before he got Elway, Bronco owner Edgar F. Kaiser Jr. was unpopular in Denver because of his frugal image (never mind that Denver had the highest average player salary in the league last season and, with Elway's contract, should retain the honor); he was perceived as a big-bucks guy from Vancouver who wanted to milk the team and sell it for a profit. But with a single masterstroke, Kaiser made a drop-dead statement to his critics. "I like building things and making them work," says Kaiser. "If the team loses, do I expect to be loved by the fans? No. How will we do this year? Hopefully better. Steve DeBerg isn't that bad, but because of our record last year, fans see him as that bad. And I don't believe Elway was outrageously expensive, just expensive. The worst thing that can happen is maybe he won't turn out to be better than Joe Namath."
Veteran Bronco Linebacker Tom Jackson says, "What the signing of Elway meant was commitment from Edgar Kaiser Jr. Up to that point, we wondered whether our owner was truly committed to this football team. He proved it. Now it's up to us to prove we're worth it."
Ah, yes, Kaiser for King. And Elway for God.
You know all the bio stuff. John is a brainy Stanford grad, Dad is football coach at San Jose State. John is California blond and just wants to be one of the guys. Last week he stared up into the magnificent blue of the Colorado sky (which he also owns; you can look it up) and said, "I'm an ordinary low-key guy. I'm not perfect. I like to screw around. I'm a little kid at heart."
As a youngster, he threw dirt clods and liked it, and then he moved along to footballs. He snaps the ball right back to his ear, just like Namath. His release is so quick that they should time him in practice with a laser beam. And the ball gets there so fast that defenders spend most of the time muttering. Says Bronco Linebacker Bob Swenson, "Say you're responsible for a 10-yard zone, five on each side of you. With that little flick of Elway's, you can't cover it." Cornerback Louis Wright marvels, "He throws 50-yard bombs like 10-yard curls."
But for all the Elway buildup since May 2, there was the caveat: He had never thrown an NFL pass in anger. Never had the start of a second half been so widely anticipated as last Friday's.
At 8:54 p.m. M.D.T., Elway trotted onto the field for the first time—and the Denver fans gave him a thunderous ovation. Once the noise subsided, Elway set up at the Denver 35-yard line. His first play was a handoff to Fullback Rick Parros. Boring. And a 10-yard holding penalty. On the next play, Elway passed to Parros, bam, six yards. First pro pass, first pro completion. Deafening cheers. Next play, Elway drilled Running Back Dave Preston for six more. Doubly deafening cheers. Next time up to the line, Elway saw the Seahawks in man coverage and sent out four receivers. One of them, Rick Upchurch, ran a shorter route than he was supposed to, eight yards instead of 12, but a quick throw by Elway saved the day and gained nine more yards—and Elway's first NFL first down. The fans now were in a state of apoplexy.... Whoops. Disaster. After those three straight completions, Elway threw incomplete to Upchurch.
Then came the highlight of the night. In the shotgun formation, Elway looked at his four downfield receivers, expertly picked out All-Pro Wide Receiver Steve Watson and threw the ball on a rope for 38 yards. "Elway," says Watson, "just takes this game to the limit."
Two plays later, on the ninth of the series, Elway had Parros open in the flat but threw some Holy Smoke right up the middle to the double-covered Upchurch, who grabbed the ball for a 16-yard gain to the two. "Nothing wrong with that throw," said Reeves, "when you have that kind of ability." Next play, Running Back Sammy Winder took it over. Delirium. The Broncomaniacs had just seen their future and they were in love.
Next series, Elway made a brilliant 13-yard run out of a scramble, but that was when his shoe came off. Two plays later he returned, in time to pass on a third-and-eight, but keyed the wrong side and threw incomplete. So what? Denver was penalized for holding anyway.
The remaining four series were uneventful for Elway, playing as he was with large numbers of rookies, free agents and never-will-bes. However, on his third series, Elway did throw—please sit down—an interception. True. He did. His problem was, he saw a defensive back coming up and when he tried to throw short in front of him, Seattle Defensive End Jeff Bryant tipped the ball and Free Safety John Harris got it. "Those things will happen," said Elway airily.
Didn't matter. The fire was lighted; make that Eternal Flame. Bronco fans are sure they are on the eve of another Super Bowl. They may have to wait a season or two, though; realistically, Denver figures to be about a .500 team this year.
Oh, yes, Reeves says DeBerg is still the No. 1 quarterback. Against Seattle, DeBerg completed eight of 17, for 89 yards, same as Elway. But he, too, threw an interception and showed the same traits that alarmed the Broncos last year: poor reads and poor third-down conversion ratio. On third downs, DeBerg was two of seven getting the first down, Elway four of eight. Irv Brown suggests, "People say they shouldn't bring Elway along too fast. I say, 'Why not?' "
The situation was summed up best and most succinctly after the game had ended when Bronco Kicker Rich Karlis, who was one for two on field goals with a 48-yarder, walked up to Kaiser, shook hands and said to the boss, "Nice acquisition." Nobody had to ask which nice acquisition Karlis was talking about. That's the way it is when you are dealing with a phenom going on legend going on saint.
PHOTO
RICH
CLARKSON
Elway connected on 10 of his 15 passes and sparked the game-winning TD drive.
PHOTO
RICH CLARKSON
To Elway, one interception was no cause for sweat.
PHOTO
RICH
CLARKSON
Even a $5 million man strains to keep his chin up.
PHOTO
RICH
CLARKSON
Elway hasn't any intention of sitting, so DeBerg might as well just throw in the towel.
PHOTO
RICH
CLARKSON
His debut complete, Elway got the game ball and another dose of Denver's mediamania.