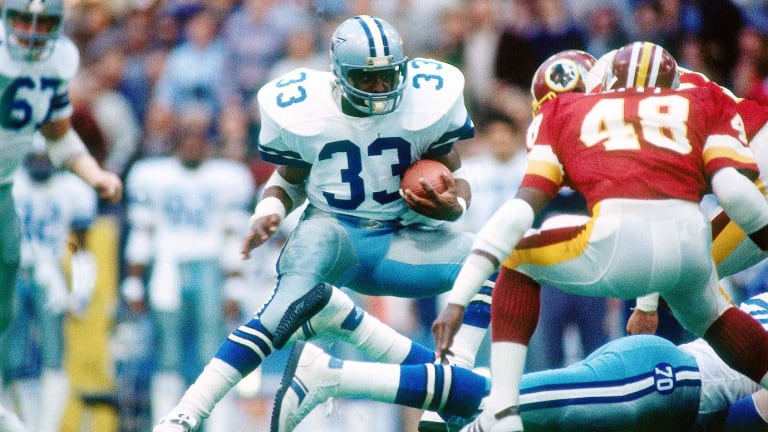 Where Have You Gone, Roger Staubach?
Embroiled in a quarterback dustup and beset by drug rumors, Dallas needs to find a leader—and quick
It is in the nature of pro football that its teams do not consume us—baseball is the consuming American sport. The hold of the NFL in most cities is firm but not grasping, like the grip of the league's offensive linemen most of the time. But the Dallas Cowboys are something different—a kind of majestic nation-state. Just as there are Kremlinologists, there are Cowboyologists, who watch the team closely. And the Cowboys have never been more watchable than they will be this season unless, of course, you are one of their Brazilian fans, in which case you will have to keep your distance.
Dallas is coming off the third straight year in which it ended the season losing the NFC championship game, and questions have been raised about some of the players' sense of discipline and purpose. After five trips to the Super Bowl in the '70s, the Cowboys have not been back in the past four years. Getting close and failing three times concerns them mightily. "It seems like by accident you'd get in one of the three times," says Coach Tom Landry. "We feel our personnel is good enough; we just need to be more of a team. The thing we discovered the past two years is that teams can go to the Super Bowl without great experience, as the 49ers proved, and without exceptional talent, as Washington demonstrated."
That's another nice thing about the Cowboys—they never lose games, but occasionally the other team does get lucky, as Pittsburgh did in its 24-7 exhibition victory last Saturday night. This season there is swirling about the team a drug controversy, a quarterback controversy—hereinafter known as the Quarterback Controversy—and a "team concept" controversy, which pretty much incorporates the other two. One thing that people haven't hitched their wagons to yet (there is also a "circle the wagons" controversy, but never mind) is that while Landry might be thinking about naming Gary Hogeboom the starting quarterback of America's Team, he pronounces the name hogen-boom, not hoag-ih-boom, which seems worth a controversy of its own.
The Cowboys have achieved a record of stability under Landry that is un-equaled in the NFL—16 playoff appearances in the past 17 seasons, including 14 trips to the conference championship game and a remarkable 17 consecutive winning seasons. The Cowboys have not had a losing season since 1964, the same year the Beatles first appeared on The Ed Sullivan Show. The team currently closest to Dallas in consecutive winning seasons is the San Diego Chargers, who for the past five years have had winning records. Landry says with obvious pride, "We don't live from year to year around here."
Landry is a flinty conservative who has a way of making anyone who would change lineups "from year to year" sound like an impetuous rakehell. So it naturally came as something of a shock to the Cowboys when Landry announced this spring that he would be making shifts on a week-to-week basis. "Our approach will be one in which we'll be much quicker to change people...more," Landry said. "There won't be a situation as in the past where if a guy is just a nose ahead of the other, he'll play all the time. This year it's going to be very competitive."
And Landry didn't stop there. He made a reference to the "emergence" of Hogeboom, who had been the Cowboys' only bright light in that 31-17 loss to Washington in the NFC championship game in January. Implicit was a message to the other Cowboys: If Danny White's job was in jeopardy, nobody's was safe.
White arrived at the Cowboys' training camp in Thousand Oaks, Calif. with no reason to believe he was in trouble, and he was confident enough to joke with the Dallas writers about what they were already calling the Quarterback Controversy. But White threw two interceptions in his first preseason appearance against Miami and was booed by the Dallas fans, while Hogeboom rallied the team to a 20-17 victory with two touchdowns in the final 1:53. Landry stirred matters up further by saying that White was still his starting quarterback, then adding, "but that could change." When Hogeboom was chosen to start the next game against the Rams at Anaheim, White became peevish with reporters and refused to discuss the situation. Clearly, for White, the fun had suddenly gone out of the contest.
Dallas pummeled Los Angeles 30-7, the Rams' only score coming when LeRoy Irvin intercepted one of White's passes and ran it back 80 yards for a touchdown. Hogeboom had won the first two rounds of what had now become an intriguing battle for one of the game's preeminent glamour jobs, and it was increasingly evident that the incumbent's self-confidence was slipping away. When someone brought up the Quarterback Controversy again after the Rams game, White said despairingly, "This thing has been milked and milked and milked. The cow is dry."
White's support among the Cowboys began to dry up last season when he seemed to adopt a pro-management stance during the players' strike, and he has had difficulty regaining the respect of many teammates. "I think it hurt him," says Wide Receiver Drew Pearson. "There were some things done on Danny's part that the majority of players felt were unnecessary. In the middle of negotiations, all of a sudden we see that Danny's going to [President and General Manager] Tex Schramm and trying to settle the strike himself. And when we said things among ourselves in meetings, well, I'm not saying Danny went back and told management, but things we said got back. A lot of players resented it."
Hogeboom, meanwhile, began to enjoy the admiration of his teammates, and occasionally even found himself being compared with the most hallowed of Cowboy idols—Roger Staubach. "The players have a lot of respect for Gary," says Pearson, "because they know he can play. He exudes confidence. He gets in the huddle and he gives you this feeling, even when he's having a bad day, that he'll still be able to pull the game out at the end with a big play. There's only one other quarterback I've seen the same thing in, that mystique, and that's Roger Staubach."
One of the most obvious problems the Cowboys have had in big games in recent years is that no one, including White, has been able to fill the leadership vacuum which was created when Staubach retired in March 1980. Landry frets that the ease with which the Cowboys have made it to the playoffs each year has made it possible to get by without a leader. "Most of our players don't know what it's like to lose," he says. "They've never had to face adversity. Winning becomes a habit. You assume you're going to be in the playoffs every year. It won't be long before you're not doing the things you need to do to get to the Super Bowl." And there lies the rub, for as Schramm says, "With the Cowboys, the Super Bowl is the only acceptable goal."
White believes that what Dallas needs to return to the Super Bowl is not a new quarterback, or even greater leadership. He is an advocate of strict discipline, particularly in light of rumors that several Dallas players were out late the night before the NFC championship game last January. White feels the incident, if true, may have been symptomatic of a greater laxity. "Something like that would have been reason enough to lose," he says. When White heard that Landry was thinking of increasing discipline during training camp this season, he encouraged the coach to get tough. Landry was only too happy to oblige.
From the first day of training camp, Landry was sending out more signals than a semaphore with a twitch, and the message underlying each was the same: "This is not a routine camp." Curfews and bed checks were rigidly enforced for the first time in years, and players were fined for everything from putting their helmets down on the practice field to being late to meetings. Two weeks ago, 12 players who chose to skip lunch neglected to sign in at the team cafeteria as required. They were fined $100 each. Landry later complained that because of the new Players Association agreement with the league, fining wasn't as much "fun" as it was when he could nail a player for $1,000 for each indiscretion. "Every time they stepped out of bounds," says Landry, "they got hit."
On the second day of training camp, Landry put the team through punishing "grass drills," a form of torture he had not employed since the 1978 season, which, perhaps not entirely coincidentally, was the year the Cowboys last went to the Super Bowl. He made the players perform the drills in only one practice, but the threat lingered for the remainder of the camp. "It got their attention," says one Cowboyologist.
The grass drills probably hit 11-year veteran Harvey Martin harder than any of the other Cowboys because Martin had reported to camp out of shape and with his blood pressure above normal, probably a result of months of hearing his name linked to various Dallas cocaine investigations. Last August his name first surfaced in connection with a hairdresser named Danny Stone, who was indicted for conspiracy to distribute cocaine. When Stone was arrested nine pictures of Stone and Martin were found in Stone's house, though Martin insisted that he merely got his hair cut at the shop where Stone worked. Landry, who is bald, later said that he got his hair cut at the same place, along with Schramm and Director of Personnel Gil Brandt.
In May, Martin was sent to "evaluate" a drug rehabilitation center in Minneapolis. He and Receiver Tony Hill were subpoenaed to testify for the defense in the trial of a retired Brazilian soccer player named Lauriberto Ignacio, but neither was ever forced to appear, and Ignacio eventually was convicted of drug smuggling and is awaiting sentence. Martin was also one of five Cowboys publicly linked to further Federal investigations of the Brazilian cocaine-smuggling ring; the existence of the investigation was confirmed by Schramm as the team opened camp. The other players named were Hill, running backs Tony Dorsett and Ron Springs and Defensive Tackle Larry Bethea.
Discussions of drugs in the Cowboys' camp usually went under the euphemistic heading of "distractions," and the players treated the whole subject as one big distraction. "You get tired of dealing with it," says Pearson. "We don't talk about it much as a team. It's kind of a touchy situation, so you stay away from it as much as possible." When he arrived in Thousand Oaks Dorsett held a press conference to deal with all the questions at once, then said he didn't want to talk about it anymore. But last week, when the Cowboys returned to Dallas for the remainder of the preseason, Dorsett did touch briefly on how the allegations had affected him. "It hasn't been a distraction to me," he said. "I don't understand the total picture, but my understanding was that it was very trite what they were looking for. The whole thing would never have been more than a city [local] case if it hadn't been the Dallas Cowboys. I guess you're supposed to screen everybody you come in contact with to protect your image. When you're America's Team, you gotta stay clean."
The drug involvement, if you can call it that, has hit the Cowboys right where they live—in the image. With all the Brazilians floating around the edges of the picture, the Cowboys are now being referred to by delighted cynics as South America's Team. "You certainly can't say this type of thing is a positive for us in terms of our image," says Schramm, "and we're very, very conscious of our image. But it's also been a very unfair thing because the impression around the country is that there's been some kind of investigation involving our players, and there has been no investigation of our players." No one can say at this point whether any of them will ever be charged with anything. And if they aren't, there is no assurance that that will ever be announced, either. "How do you get anybody to say it's over when nobody's ever said it's started?" says Schramm. "That's the terrible thing."
One remarkable thing about it is that the Cowboys now have their very own ex-FBI agent on the payroll. Larry Wansley, the Cowboys' new director of counseling services (they couldn't very well call him the team narc), is a former undercover cop who is supposed to keep America's Team off America's front pages by ferreting out trouble before it happens. His duties this season will include keeping "undesirables" away from the players' rooms when the Cowboys are traveling on the road. Presumably this means that if any Brazilian soccer-playing hairdressers carrying cameras and tiny spoons show up in the vicinity, Wansley will get suspicious.
Wansley says he has been well received by the players, but not all of them are happy with the idea that Big Brother Larry is watching. "There's a tendency to feel like I'm a grown man, and I don't need that," says Dorsett. "I don't think that's what we need to bring unity to this team. If we can't do it without a security man, we're in trouble."
The Cowboys had more than their share in Saturday's loss to the Steelers as Dorsett fumbled twice and Hogeboom was intercepted twice in what was easily the worst Dallas preseason performance so far. White completed 11 of 14 passes and threw for a touchdown in the first half to clearly win this round, but Landry remained steadfast in his support of "Hogen-boom." White described Hogeboom's outing as "a good learning experience for him." And White was unwavering in his belief that Landry wasn't using him to try and make a point, no matter how convincing the evidence may be to the contrary. "I really don't think he's manipulating anybody." White said, "or that he's doing all this to be sending any messages."
But somewhere out there, Cowboyologists were studying their TV screens to see which quarterback Landry was standing closer to while the cheerleaders did their salute to The Love Boat.
PHOTO
Against Pittsburgh, White was 11 for 14, including a TD, but it isn't certain he'll start.
PHOTO
Hogeboom has become a team favorite.
PHOTO
For out-of-condition Martin, camp was a struggle.
PHOTO
For Landry, coaching can be child's play.
PHOTO
Ex-cop Wansley will be counselor-in-residence.