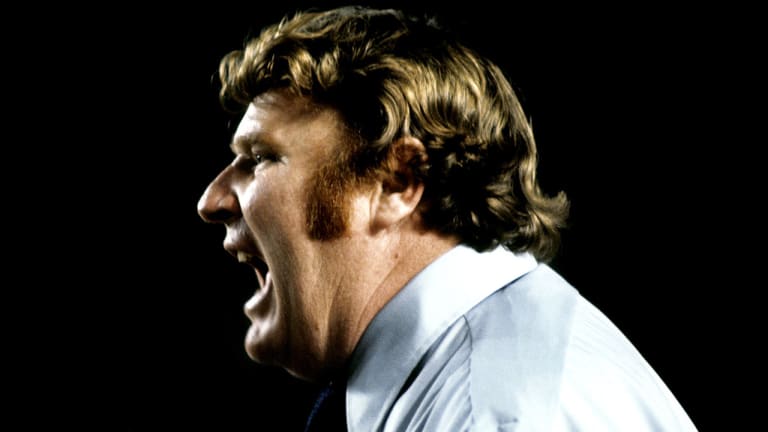 'Hey, Wait A Minute! I Want To Talk'
John Madden has burst upon the American scene as few others in sport, but contrary to his bull-in-a-beer-ad image, he loves nothing more than good quiet conversation, and his skill as a communicator is the key to his success both as a football coach and as a broadcaster
When the Oakland Raiders won Super Bowl XI on Jan. 9, 1977, Al Davis, the Raiders' managing general partner, said, "I am especially happy for John Madden today. This will establish him as one of the truly great coaches in the game from an organization standpoint. And it's just a matter of time before he is recognized as the greatest coach."
Two years later Madden had retired, the victim of a bleeding ulcer and a textbook case of coach's burnout, an occupational malady that had not yet acquired a name. During his decade of guiding the Raiders, Oakland had reached the playoffs eight times, and his record of 103-32-7 made him the first coach in the NFL ever to win 100 games in his first 10 years with one team. Nevertheless, acknowledgment of Madden's proficiency as a coach remained muted to the end.
Davis proved dead right about one thing, however: It was only a matter of time before Madden was recognized. At this moment Madden is about as recognized as anybody in America. His big, doughy, unmade bed of a face and his hulking figure are known and loved by total strangers from Meridian, Miss. to Missoula, Mont. He is both the good-natured but slightly dangerous—to himself as well as others—goof who breaks through the paper walls in all those Miller Lite commercials and the CBS football pundit with the common touch who leads us all through television's swamps of verbal hogwash onto the high ground of enlightenment. Four years after he first entered the broadcast booth Madden still approaches each assignment with the enthusiasm of a rookie. His voice and his manner say to every fan, "It's a game, it's fun, and if you don't know a nickel defense when you see one, stick with me, that's what I'm here for."
But for all his exposure to the public eye, present and past, Madden the man, as opposed to Madden the media creature, is surprisingly little known. The real Madden doesn't fit readily into a 30-second spot, a five-minute interview or a single newspaper column. What we see is merely a fraction of what we might get if we could actually stick with him. He is a thinker whose thoughts do not compress easily. He views life as a complicated, difficult and always interesting human endeavor, and it's not in his nature to belittle that endeavor by reducing it to an epigram for the sake of a laugh. Sometimes a Madden phrase, lifted out of context, makes a memorable one-liner, but you can bet your paycheck that the thought originally encasing the bon mot was worth hearing too.
Talking is what Madden does best. He is a born communicator. His talent for putting thoughts into words that engage the attention of a particular audience and his special knack for infusing these words with his own personality have been the keys to his success not only as a broadcaster but also as a coach. Moreover, Madden listens to others as attentively as they to him. Two-way talk—good old-fashioned conversation—is his hobby. Conversation, as Madden sees it, is living and learning at the same time, and, thus, a doubly efficient way to spend one's hours. That's important to Madden, because although he never seems to hurry, he rarely wastes time.
Clearly, Madden is more than just a marketable face, although that face, plus a midlife crisis of sorts, have combined to make him a fortune. He is paid around a quarter of a million dollars a year as CBS-TV's premier football analyst and color man. In addition he is well remunerated for doing a daily two-minute sports spot for RKO Radio and commercials for Miller Lite, CBS video games and MIC insurance. He also co-authors magazine columns for Pro and last year did some newspaper columns during the football season for USA Today. As a result, he has the wherewithal to own a 47-foot trawler docked at a marina in the Oakland Estuary, an apartment at the Dakota, Manhattan's most famous address, and enough California real estate to keep him and his family comfortably afloat were he never to work another day in his life. In other words, Madden, whose first real job was as a junior high school phys ed teacher, is a rich man, and, according to F. Scott Fitzgerald, that makes him different from you and me.
He is. For one thing, he never ties his shoes. He flops around the country in worn leather tennis sneakers with the laces dragging or no laces at all. He never wears a tie if he can help it, or a jacket, either, unless it's a lightweight windbreaker so big it billows like a spinnaker. His buttoned-down-and-blazered costume for CBS telecasts is just that, a costume. He gets out of it as quickly as possible. Madden, like all very big men, is constantly searching for physical comfort in a world seemingly designed for pygmies. Otherwise he is a 6'4", 270-pound mass of unlikely preferences. He loves people but he can't bear crowds. He travels 100,000 miles a year, but confinement to an airplane seat makes him sick, so he takes the train. He loves to eat, but he dislikes most fancy restaurants. He reads books constantly during his slow-motion journeys, but he never passes the time with fiction.
From Madden's point of view, life is too short for fiction but not long enough for all the talking he would like to do. His idea of an evening's entertainment on the road is sitting around and talking for hours with three or four people who also like to sit around and talk for hours. Other people go out at night. Madden stays in. Going out to him means crowds, noise, small seats—or, worse, no seats—and people who say, "Hi, I'm Robert. I'll be your waiter tonight."
"I hate that," says Madden. "I mean, you didn't go in there for a meaningful relationship. Then they say, 'May we take your cocktail order?' and you sit and wait. If I go someplace, I like to sit down and eat."
Most people faced with a meal alone in a hotel restaurant would rather starve. Madden sees such an occasion as an opportunity for observing and, if all goes well, conversing with fellow diners. To Madden, room service, the customary recourse of the lone traveler, is, like fiction, life-wasting.
It always comes as a surprise to neophyte Madden watchers to learn that he drinks very little. He looks like a drinker and he hangs around with drinkers in drinking surroundings, but he hardly drinks at all. "I don't advertise it," he says, "but I'm about as close to a nondrinker as you can get. Somebody could tell me tomorrow that I can never have another drink and it wouldn't bother me at all." When he does drink, however, he is loyal to Lite, as a well-paid member of the brewery's promotional team should be. On occasions when Lite isn't available, he drinks diet cola, but not until he has made it clear to the bartender, and everyone else within hearing, that he is disappointed to find himself in a place that doesn't stock Lite.
The image makers from Backer & Spielvogel, the New York advertising firm employed by the Miller Brewing Company to keep the public buying Lite by the barrelful, were hot on Madden's trail as soon as he announced his retirement. His image, acquired during his years on the Oakland sideline, as the choleric coach-ranting at officials while waving his tree-trunk arms, with his reddish-blond curls stuck to his sweating brow and his shirt-tails flapping—was a natural for Miller's over-the-hill gang of beer hucksters. His bulk was menacing, but his grin was impish and, Lord, how the man cared. It was written all over him. Not the neurotic kind of caring you see in a coach afraid for his job, but the unbridled, uncalculated caring of a shepherd for his flock.
"They told me when I started, 'The exposure you'll get will be frightening,' " he says. "But I said, 'Me? I've been in the Super Bowl!' Well, they were right and I was wrong. I coached for 20 years, and I break through one piece of paper for one 30-second commercial and everybody knows me as the guy who breaks through the paper." His blue eyes disappear into folds of mirth. "Hey, Myrtle, you know him don't you?" he says, mimicking a member of the public. "He's the guy who breaks through the paper."
A Detroit newspaperman assigned to cover the filming of the latest Miller alumni ad, a softball game between the Taste Greats and the Less Fillings, watched Madden the actor come crashing through a balsa wood panel in the centerfield fence of a southern California Little League park holding what had appeared to be a home-run ball—"Hey, wait a minute! this game isn't over yet. I caught that ball"—and mused on Madden the television analyst: "There's always the possibility of his crashing through your TV set. He makes it an adventure."
The same day, however, the gregarious Madden sat on a bench in a dugout talking quietly to Maria Shriver, who was interviewing him for the syndicated TV show, PM Magazine. Out on the field, Rodney Dangerfield was pitching, Koichiro Numazawa was catching, Jim Honochick was the plate umpire, and Bubba Smith was hitting soft-balls that exploded in a cloud of talcum powder. Matt Snell, Deacon Jones and Ray Nitschke were needling Smith, just to pass the time.
"Get that back leg up, Bubba," shouted Snell. "That's the way, yeah, the back one. You get more power that way."
"Run it out, big fella," yelled Nitschke, as Smith smashed another ball into powder and lumbered toward first base.
Madden was in the dugout, out of sight because he smokes and there were photographers around. He doesn't like to be known as a smoker, but he hasn't stopped, either. For a while he answered Shriver's questions about television and coaching and riding trains. Before long, though, he was asking questions. How did she get started in the business? How did she like it? What kinds of stories does she do? It was a typical Madden interview: It had become a conversation. The same thing had happened earlier that day with Al McGuire. McGuire had finished his videotaped questions for Entertainment Tonight, and then, while the cameraman and his assistant packed away their gear and stood around waiting to leave and the director, a young go-getter with places to get to, tried to look calm, Madden and McGuire continued to talk...and talk, as comfortable as two old shoes. One thing they talked about was burnout. "There's a certain sort of personality," Madden said, "that worries about things he can't control. He's going to burn out. I don't give a damn how long it takes. It's going to get him. With that kind of personality you can coach for 10 years in the pros. That was my limit. Dick Vermeil was a little less than 10. Sid Gillman's the other type. Sid just thrives on it. He's in his 70s. His age tells him he can't live with it, but his mind says he can't live without it. George Allen's the same type. They can't live without it."
When Madden decided the time had come for him to quit coaching, he walked away from football with no plans to do anything for at least a year. For one thing, there was the ulcer. For another, he realized that his sons, Mike, now 19, and Joe, 17, had grown up while his back was turned. He illustrates the point with a story he tells over and over: "One day my wife reminded me that I had promised to buy Mike a truck when he could drive and that I'd better be thinking about it. I said, 'O.K., but there's no hurry. He won't be 16 for four years.' She said, 'He'll be 16 in six months.' "
So Madden disappeared from the sidelines. He went home to Pleasanton, a suburb beyond the hills southeast of Oakland, to see what had been going on all those years. To his surprise he found nobody was there. The boys were at school and deeply involved in sports, and his wife, Virginia, was in business for herself, running a local saloon she had bought two years earlier. With hindsight Madden says, "Spending time with the family is one of the most overrated things in the world." He found himself watching daytime reruns. Even so, he rejected CBS's initial offers of an audition. "I really didn't want to do anything," he says. "But they thought I was negotiating. It went back and forth, and finally my agent, Barry Frank, said, 'You ought to do it. We'll get a four-or five-game guarantee. If you like it you can continue. If you don't, you don't have to.' "
Madden liked TV from the first day he took to the air with NFL football in the fall of 1979. No sooner was he airborne, however, than he found it necessary to ground himself, literally. "I had flown all my life," he says. "I was never a good flyer, but I flew. I was normal. But with the Raiders I was always on a charter where I could get up and walk around. With CBS I was taking commercial flights and it was different. After a game in Milwaukee the first year I had a morning flight to San Francisco. It was a beautiful day. Not a ripple. I was having breakfast on the plane and I started getting the feeling I had to get out. I stood up and went to the bathroom. When I got home I went to a doctor. He said there was nothing wrong except a sinus and inner-ear infection. So I took antibiotics for that, but the next flight it happened again. I thought that maybe the antibiotics hadn't worked. The third time, the Sunday after Thanksgiving, I was flying from Tampa to San Francisco with a change in Houston. The minute the stewardess closed the door the feeling came over me again. I sat through it, but I was miserable. I got off in Houston, got a hotel room, and the next day I took a train home. My alternatives were: one, quit doing what I was doing, which I didn't want to do; two, find an alternative way to travel; or three, seek professional help to get cured. But the first time I took the train I loved it, so it wasn't necessary to get cured. I know what it is—claustrophobia—but I still don't know why it came on." So, as Madden became CBS's No. 1 analyst, he also became Amtrak's No. 1 customer.
It isn't always easy these days to be a train traveler. During the NFL playoffs this year, for instance, Madden and his broadcast partner, Pat Summerall, were assigned the Dallas-Green Bay game in Dallas one weekend and the Washington-Dallas game in Washington the next. For Summerall it was a matter of a two-hour plane trip from Dallas to his home in Ponte Vedra Beach, Fla., where he relaxed for several days before catching another short flight to Washington. Madden's schedule, on the other hand, required a 10-hour drive from Dallas to Meridian, Miss. on Monday—Meridian is the closest city to Dallas on a direct Amtrak route to Washington—a 24-hour train ride to D.C. on Tuesday and Wednesday, and three days in a Washington hotel room.
But Madden's train routine has its own kind of efficiency. He uses the daylight hours on the train to prepare for the next weekend's game, reading and making notes in the privacy of his compartment while all America rolls by outside his window. "Time isn't important on a train," he says. "You go to bed when you get tired and get up when you wake up. Bob Oates of the L.A. Times took a train trip with me. He's a sunup, sundown type, one of those guys who's the first in line for breakfast. He couldn't figure out the schedule." Oates wrote of the experience, "Nutritionally, Amtrak is an Indianapolis coffee shop with canned vegetables."
For Madden, an Amtrak train is an office without telephones and a social club with a constantly shifting membership. He likes it. He rises late, eats a combination breakfast and lunch in the dining car, returns to his compartment to read and make notes, takes a late-afternoon nap, returns to the dining car for dinner and then spends as many hours schmoozing in the club car as the company and his wakefulness warrant. For reading on his trips Madden favors autobiographies, by everyone from George Steinbrenner to "that opera guy—what's his name?—Pavarotti." Recently he was reading Patty Hearst's Every Secret Thing. "To be interesting," he says, "an autobiography has to be telling a story within the story about the author. The first part of the Hearst book is about her young life before the kidnapping. That's boring. 'I got a bicycle and my mother wouldn't let me ride it down on El Camino Real and my girl friends did.' You know. Then finally, when she gets kidnapped by the SLA, it gets good. Then it's a story. That's an amazing story."
As many opinions as Madden has already, he is constantly collecting data to form more. No human contact is too brief for Madden to mine it for insight. On that trip between the playoff games in Dallas and Washington, a thin, shy black man in his 30s drove Madden from the Meridian airport, where he had turned in his rented car, to the Meridian railroad depot, where he was to catch Amtrak's Crescent for the trip to Washington. Madden, who still has the frugal instincts of a schoolteacher, was lugging a six-pack of Lite beer that a restaurant owner in Jackson had given him the night before. "Do you like Lite beer?" Madden asked the driver.
"Yes," said the driver, smiling. He had met Madden a few weeks earlier going the other way.
"Everything you ever wanted and less," said Madden. "I got a six-pack for you. Can't have one till you're through work, though." Madden set the six-pack on the floor and continued.
"How have things been in Meridian since I last saw you?"
"It got cold. My car's in the shop."
"How do you get to work?"
"I walk."
"What do you do for entertainment in Meridian?"
"I don't go to bars. It's bad here." Somehow people always sense, correctly, that Madden's curiosity is neither condescending nor threatening.
"Has it always been a tough town?"
"Always."
"What do you do then, stay home?"
"Stay home. Go to church."
"Well, church is always safe."
Once on the Crescent and settled in the dining car, Madden soon learned that the four young guys playing cards across the aisle were on their way to Fort Dix in New Jersey, that the woman behind him was a girls' basketball coach at a junior high in Laurel, Miss. and that the two college boys from North Carolina seated nearby were defeated debaters on their way back to school. "Took all day to get down there just to get stomped," said one.
Of course the passengers all knew who Madden was, and the basketball coach asked for his autograph, but that was later, after she and her husband, who said he was a friend of Kenny Stabler's, had had a few drinks. Nobody had to screw up his courage to talk to Madden. Madden approached them first.
"I've always been a great people watcher," he says. "If I can't talk to them, I make up stories in my mind about them. You know, you're on a train looking out the window at big empty spaces in Nebraska or Wyoming, and you think, what do those people do at night or on weekends when they have time off? They can't walk down to the neighbors', they can't go buy a newspaper or get an ice cream cone. There's no newspaper stand, there's nothing. So I imagine what their lives must be like."
Sixteen years in suburban Pleasanton notwithstanding, Madden is a city kid at heart. He grew up on sidewalks. He was born in Austin, Minn. in 1936, but from the age of five he lived in Daly City, Calif., a working-class appendage on San Francisco's southern edge. His father was an auto mechanic who died at 56 from the lingering effects of an automobile accident. Madden's best friend and constant companion throughout his youth was John Robinson, now the coach of the Los Angeles Rams. Together they hopped freight trains or rode the racks on the back of streetcars headed for San Francisco, 20 minutes away. Sports were their life, but since they never had much money, their equipment came from rummaging through the bins at St. Vincent de Paul or hanging around semipro games hoping for rejects. "I don't remember ever playing with a bat that wasn't taped up or nailed together, or with a ball that had a real cover," Madden once told a friend.
Madden figured out early that college was the key to a better life than his father's, and he and Robinson went together on football scholarships to the University of Oregon, where Madden signed up to be a prelaw major. Robinson finished at Oregon, but Madden, redshirted after a knee operation his first year, moved back to California. "I didn't dislike Oregon," he says, "but I didn't care if I went back. I realized after the first year that I couldn't see myself wearing a suit and tie and sitting in an office all day. Sports had been my whole life, so I switched to education."
After a semester at the College of San Mateo near his home, Madden was recruited by Cal Poly-San Luis Obispo, where he played tackle on offense and defense for a team that was 18-2 over two seasons. "I really enjoyed Cal Poly," Madden says. "It was a men's college when I got there, and small, probably less than 5,000. You didn't even have to comb your hair. You just got up and went to class."
After graduating in 1959 with a B.A. in education, Madden joined the Philadelphia Eagles, who had drafted him in the 21st round, but in his first training camp his other knee gave out—for good.
While back at Cal Poly getting his master's in education, Madden married Virginia Fields, who was already teaching and working on a master's in the same field. He says they met at school when he was an undergraduate. "He always says that," says Virginia. "The fact is, we met in a bar in Pismo Beach. But it wasn't as if we hung out in bars. If we hadn't both been there on that one day, we'd probably never have met."
Virginia is the axis around which the Madden household rotates. She has energy, humor and a Californian's nostalgic fondness for old things—furniture, silver, buildings. She also has a fine sense of balance. The first thing a visitor sees on passing through the front door of the Maddens' Pleasanton house is an ornate glass-fronted Victorian cabinet, which is filled top to bottom with footballs, game balls every one.
In the backyard, on a small hillside beyond the swimming pool, is a highway YIELD sign that Ted Hendricks, the Raider linebacker, gave to Madden as a going-away present when he retired.
"Ted stopped at the bar that day," says Virginia, "and he said, 'I'd really like to take John something.' So I said, 'Well, John rarely needs anything, but you know, he's really very sentimental.' So Ted said, 'I know just the thing,' and he ran out. When I came home the YIELD sign was in the kitchen."
"It includes the whole post," says Madden, beaming. "He hit it. Ran into it. Knocked it down."
John and Virginia have been a team so long that they can, when they choose, communicate efficiently with glances—not "meaningful" glances, but glances that say common everyday things like, "A small crisis may be approaching. Shall I head it off, or would you rather?" Both are compassionate people with a rare understanding of each other's needs. John was head coach of the Raiders when Virginia, who had always been a schoolteacher, bought The Village Saloon, which happened to be located in the oldest building in the nearby town of Dublin. The venture, which she ran by herself with occasional help before school from Mike and Joe, was an experiment, and after two years she sold it without regret, although it occasionally had made a little money. "It was fun," she says, "but the trouble is, you get so involved in people's lives. People who spend a lot of time in bars are basically lonely people. If you own a bar, your best customers drink too much. That's why they're there. If you know them and you care about them, you wish they wouldn't drink so much. But on the other hand, they're your bread and butter."
Although John doesn't say so outright, one gathers he wasn't a wholehearted proponent of the saloon project. "But," he says, "if you have the kind of life I've had, you have to have an independent wife, so if your independent wife behaves independently, you have to support her."
Because Virginia was the consistent presence in the raising of the two boys, she was also the voice of authority in matters of their discipline. But Madden feels he instilled a few basic ideas that have helped mold his sons' outlooks. "I wanted them to be treated just like any other kids," he says. "That was very important to me. I told them at a very young age, 'You don't have anything to do with what I do. If we win and do well, you shouldn't take any credit for it, and conversely, if we lose, you shouldn't worry about it or take any blame. Just have your own life.' "
When Mike was 12 and entering junior high, a teacher taking roll the first day stopped at his name and said, "Is your dad John Madden, the football coach?" Mike, who's a friendly and unassuming young man with a smile quite like his father's, said, "Nope. My dad's a computer engineer for IBM."
"It just came out. I don't know why," he told his father. Later, when Mike was being interviewed by a local sportswriter before a high school all-star game and the writer asked if being John Madden's son made him different from his teammates, Mike replied with notable insight for one so young, "If I weren't his son, you wouldn't be interviewing me."
"Joe is the same type," says Madden. "Neither is as outgoing as me, but both are better students than I was. They're just good kids."
Beginning this fall, the Maddens will have a second home, where they will stay when John has work in New York. Both boys will be in school in the East, Mike as a freshman at Harvard, Joe as a junior at Choate, a prep school in Connecticut. After much looking around at Westchester County suburbs and Lower Manhattan lofts, John and Virginia settled on an apartment in the Dakota, a celebrated Victorian Gothic pile on the Upper West Side and home of, among others, Yoko Ono, Lauren Bacall and Leonard Bernstein. Virginia likes the Dakota's authentic antiquity; Madden likes its outsize proportions. The ceilings are 16 feet high and the rooms are scaled accordingly.
"At one time the apartments were gigantic places, with servants' rooms and everything," Madden says. "But then they broke up many of them into smaller places. We bought what was maybe a living room and a dining room and a hall, but there were no bedrooms. That was the beauty of it—it didn't make any sense." Sensibly, they have now purchased space below to make a duplex.
The Maddens' bid for the first apartment was nearly rejected, according to John, over the chair Madden was sitting on during the requisite interview with the board of directors of the Dakota, which is a cooperative. The chair, a rather fragile antique, belonged to the board chairman and chief interviewer.
"He kept saying to me, 'Why don't you sit here,' meaning the chair that he was sitting in," says Madden. "And I kept saying back, 'Oh no, that's all right. I'll just stay here.' Finally he stood up and said, 'Will you please sit here.' "
Clearly, Madden has come a long way from Daly City. His coaching career, which began in 1960 with a part-time assistant's job at Allan Hancock College while he was still teaching junior high phys ed in Santa Maria, was quietly meteoric. Just nine years later, at 32, he was coach of the Oakland Raiders and a year later AFL Coach of the Year. In between he had done two years as head coach at Hancock (13-5-0), three years as an assistant at San Diego State and two years as linebacker coach with the Raiders under John Rauch. When Rauch left abruptly for Buffalo after the '68 season, claiming that Al Davis had interfered with his handling of the team, Davis elevated Madden, saying, "He relates well to people."
Among the people Madden related well to was Davis. "It's chic to criticize Al Davis," says Madden, "but I found him to be a great owner. In all my years as head coach he never turned me down for one thing I wanted. I always wonder how they figure an owner can 'interfere.' He owns it. How can he interfere?"
Like Rauch, however, Madden had to coach in Davis' long shadow. When football's pundits looked for enlightenment and trenchant quotes, they invariably turned to Davis. Madden was the coach, but it was Davis' "organizational genius" that got the credit. Davis, it was widely felt, pulled all the strings. Davis and others in the Raider organization occasionally tried to correct that misconception, but they never quite managed to get their message across.
The fault lay less with Davis than with the nature of the Oakland operation, which was often secretive and always informal in those days. The Raiders owned no computers and wouldn't have recognized a flow chart if one had been taped to the locker-room door. They were less a hierarchy than a family circle. Information moved horizontally and decisions were arrived at rather than imposed.
"The whole time I was there," says Madden, "I never had a 'meeting' with Al Davis. We were always just kind of around talking. When I started out, our scouting department consisted of one full-time guy, Ron Wolf. Al was the general manager, and there was me. That was the organization. Even when we hired a full-time scout, Ken Herock, we would bring him to training camp with us, and to get him involved we'd give him a job as a tight end coach. And in the early spring, the coaches would go out and scout. So the coaches scouted, the scout coached, everyone did everything. We never had to write it down, we were all just living it."
The Raiders have always been known as a happy home for squirrels, many of whom reached their zenith as players under Madden. "I really believe," says Madden, "that normal people are only capable of accomplishing normal things. I don't know that I ever had a great player that was normal. To get outstanding performance you get some people that are a little left of plumb. I believed in letting them alone, personality-wise, giving them freedom, not thwarting them. In football you're doing things that aren't normal—running at high speeds, hitting and being hit, and getting tired and sore and hurt. That's not normal, yet some coaches want that same person to take off his gear and go be normal. They call it discipline. Bull. That's not discipline. It has nothing to do with discipline. I've seen teams that have dress codes, hair codes, this code, that code, all having nothing to do with winning and losing. They'll get to third down, short yardage, and three guys'll jump offside. I mean those guys come in and they look nice in the lobby, and then they jump offside. Those are undisciplined sons of guns. I'll take a guy that's wearing a T shirt and a pair of jeans and tennis shoes in the lobby, who when it's third down doesn't budge till the ball's snapped. That's discipline."
One of Madden's favorite eccentrics was Dave Casper, the five-time Pro Bowl tight end for Oakland who's now with the Houston Oilers. "I feel really close to him, and he still calls," says Madden. "If you had some way to really test who the best football players in the NFL are, Dave Casper would be one of the top five. He is able to do everything—run, catch, block. He's very bright, graduated cum laude from Notre Dame, took the stock brokerage test two years ago and got the highest score they'd ever had in the Houston area. He's squirrelly, but he's a good guy. I like those kinds of guys, they're different. Dave's just goofy, he does crazy things out of boredom or because he's trying to get recognized. You always had to recognize him, whether it was good or bad. He didn't care. The second year at Houston he had his helmet off, and the coach told him he had to keep his helmet on at all times. So he said O.K. and went in, took a shower, put his helmet on and went to lunch, with the chinstrap buckled. Ate lunch through his mask. I thought those things were funny. I'd go along with him. But with them he's a bad guy."
Madden believes that a team is built around its offensive line. Veterans of Madden's offensive lines included, besides Casper, Art Shell, left tackle; Gene Upshaw, left guard; Jim Otto, Hall of Fame center; Dave Dalby, who replaced Otto; and Henry Lawrence, right tackle. "Unless you have an offensive line that can do it, it's all academic," says Madden. "You can draw up all the best pass patterns in the world and they say, 'Boy, what a genius,' but if you don't have five guys there that can block those guys that are rushing, your quarterback is going to be looking out his earhole."
On his CBS telecasts Madden goes out of his way to mention the play of the linemen. "During the game," he says, "the only time they get mentioned is when they get caught for a penalty, which is something I was always against—naming the guy. They always say, 'Holding, No. 63,' but they never say when 63 made a good block. No one does in the whole stadium. That's why I try to."
The 70s were difficult times for some NFL teams. There was labor strife, racial strife and social strife, but the Raiders came through it all with their morale relatively intact. Madden gives much of the credit for this to Davis, saying, "When he saw a player who was underpaid for one reason or another, Al would call him in, right then, and tear up his contract and give him a new one. See, Al was smart enough that he always knew the minute a guy was being underpaid. So we never got those disputes. Some teams wouldn't do anything about it until the end of the existing contract."
But Madden's approach to his players also had a lot to do with holding the Raiders together through hard times. "I believed that communication was very important, that you had to keep the lines open," he says. "Whether they were used or not, they had to be open. You couldn't not talk, and then have something important come up and say, 'Why didn't you tell me?' "
Typically it was Madden who initiated the communication. He made it a rule to talk to everyone on the team at least once a day. "Even if it was only so much as 'How're you doin'? What's goin' on?' Something like that," he says. "Every player-every day. I'd go sit and talk to them, have a cup of coffee. I think you catch a lot of things right off the bat that way. You don't get those things that fester."
Madden loved coaching. He once said, "I coached for 20 years and I never felt it was work." So why did he quit? It wasn't only the ulcer. "Everybody has those," he says. It wasn't the boys. They, as it turned out, were thriving. But something else happened in 1978, Madden's last year. On August 12, during a preseason game against New England, Darryl Stingley, a Patriots' receiver, took a legal but crippling blow from Raider Defensive Back Jack Tatum that put Stingley, paralyzed, into a California hospital for two months and into a wheelchair for life. During the first weeks after Stingley suffered his injury, the Raiders were at their training camp in Santa Rosa, an hour and a half north of Oakland, and Stingley was in Eden Hospital in Castro Valley, south of the city. Still, Madden and his wife were daily visitors to Stingley's bedside. They offered their home and the use of a car to Stingley's family. They brought clothes to the hospital for Stingley's girl friend, who had not had time to pack before flying West. On the opening day of the season in September, when the Raiders lost to the Broncos in Denver, Madden returned to Oakland at night on the team plane and went straight to the hospital to see Stingley. Hank Bullough, then the Patriots' assistant head coach, said at the time, "All of us feel we'll never be able to repay John for what he has done for Darryl." Stingley himself thinks that what happened to him may have been the cause of Madden's retirement, and in his autobiography, which will be published this fall, he writes, "I love that man." Madden says only, "I just got to a point where I couldn't see myself going through another training camp, another draft. That was when I quit."
At the press conference at which Madden made his announcement, he said, with tears in his eyes, "I'm not resigning, quitting for doing anything else. I'm retiring. I'll never coach another game of football. I gave it everything I had for 10 years, and I don't have any more."
Gene Upshaw, then a Raider guard, said that day, "When Stingley was hurt, when Warren Wells had problems [the Raider wide receiver went to prison in 1971 for violating the terms of the probation given him after he pleaded guilty to attempted rape], John stepped in. Over the last 12 years our players would sometimes get into scrapes. John would be there night and day, fighting to help them. I'm going to miss the man, I'll tell you. I'm just glad he touched my life."
These days Madden is touching the lives of millions in a different way. The same qualities that made him appealing on the Oakland sideline have carried over into the TV booth, where his spirited approach to his work perfectly complements the cool professionalism of Summerall, the play-by-play man. Both are tall, both wear headsets and both stand throughout a game, but there the resemblance ends.
In front of them as they face the field is a long table, and at the center of the table, midway between the two men, is the monitor. In front of each is a spotting board showing the matchups in the game.
Summerall stands with his hands in his pockets, occasionally rocking ever so slightly forward onto the toes of his shiny loafers, as he looks down at the monitor, then out toward the field and then back at the monitor. His head hardly moves, only his eyes. His expression rarely changes.
Madden begins the show in a collected state, feet together, standing well within his allotted territory behind the right-hand half of the table. But as the game warms up, his arms begin to move in wider and wider arcs, and as his arms move, his feet get farther and farther apart and the horizontal movement of his whole body picks up. By the end of the first half, through a process of gradual encroachment, he has expanded his territory to include a sizable portion of Summerall's half of the room. At the half they regroup, but in the second half this inexorable march begins again.
Madden directs his remarks at Summerall, both orally and physically. His shoulders twist in the direction of Summerall's tall, straight figure, and his head inclines forward and to the left as he peers at Summerall's face, a posture that suggests an appeal for a human response in this atmosphere of electronic isolation. The appeal, if that's what it is, goes unheeded. Summerall's eyes continue to move from the monitor to the field and back to the monitor. You almost feel sorry for Madden, as you would for a little kid whose big brother won't pay him any mind.