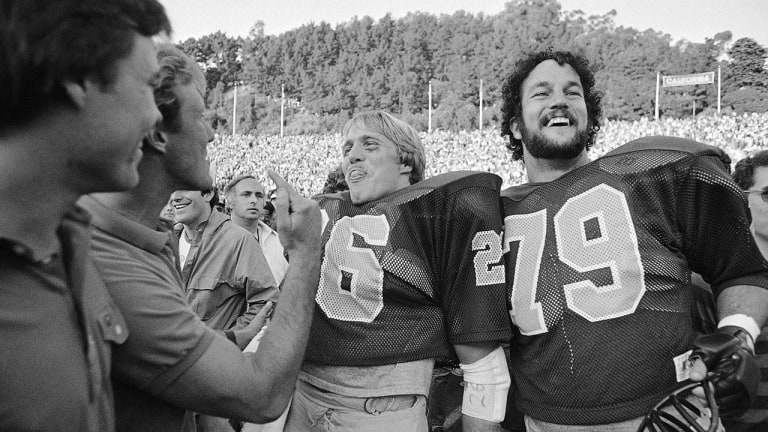 It is now called, simply, The Play. There is no need for further explanation, because there has never been anything in the history of college football to equal it for sheer madness. You've seen The Play, of course. Anyone who so much as glanced at football on television in the final weeks of last season must have seen it, for scarcely a college or professional game was shown that did not feature The Play at halftime, usually to the musical accompaniment of the William Tell Overture. But if by some phenomenal oversight you did miss it, videotapes of it are available from the University of California at $100 a pop. Within two months of The Play, the university had sold more than 250 tapes. For a lot less—$6.50—you can buy a tape recording of announcer Joe Starkey's hysterical account of The Play from San Francisco radio station KGO. Within three weeks, more than 4,000 of these tapes had been sold. T shirts with a complex diagram of The Play, marketed by Cal's Alpha Sigma Phi fraternity, are also available for $8. Some 20,000 of these had been sold by the end of July. Glossy photographs of The Play can be purchased from the Oakland Tribune for $5 apiece. In short, The Play has become the basis of a sort of cottage industry.
It all happened as the clock ran out on the 85th Big Game between Cal and Stanford at Memorial Stadium in Berkeley last November 20 before many of the original crowd of 75,662. Stanford had gone ahead 20-19 on a 35-yard field goal by Mark Harmon with four seconds to play. At that point the game was already being acclaimed as the most thrilling in the long history of this exciting rivalry. Even Cal supporters were prepared to concede that they had witnessed a classic.
When Stanford kicked off after the field goal...well, more about that later. For now, it's enough to say that as The Play unfolded, the players shared their turf with virtually the entire Stanford band, several Stanford cheerleaders, assorted spectators, three members of the Stanford Axe Committee—to the winner of the Cal-Stanford game goes the Axe—who were holding aloft the victory trophy on the Stanford 17-yard line, and at least 11 illegal players who had wandered onto the field from the benches of the teams. A trombone player in the Stanford band would become as celebrated afterward as any of the victorious athletes, and at one point Cal would have players named Richard Rodgers and Gilbert and Sullivan on the field at once, only one of them legally. "It appeared to me that the weakest part of the Stanford defense was the woodwinds," said spectator Ellen Edmondson afterward. Actually, the band played only a minor note in an event that one Cal player, Running Back John Tuggle, described as "an act of God."
Cal has an honorable history of bizarre football plays. In the 1929 Rose Bowl game against Georgia Tech, Golden Bear Center Roy Riegels ran 69 yards in the wrong direction with a recovered fumble, a blunder that led to a safety and an 8-7 loss. In 1940, a Cal fan named Bud Brennan jumped out of his seat in the south end zone at Memorial Stadium and tried to tackle Michigan's Tommy Harmon near the goal line. And there was a beaut in 1945 against UCLA. Cal's Ed Welch picked up teammate Jack Lerond's blocked punt and headed for the UCLA goal 66 yards downfield. Hemmed in on the UCLA 40, he lateraled to Lerond, who ran the rest of the way into the end zone for the winning touchdown. Gems all, but none matched The Play. More important, none occurred in the Big Game.
The Cal-Stanford rivalry is one of the oldest west of the Mississippi, dating from 1892, a season when the student manager of the Stanford football team was an engineering major named Herbert Hoover. The designation Big Game may seem a trifle pretentious to Easterners, or even to partisans of USC and UCLA, but Cal and Stanford do have a great deal of tradition going for them. Moreover, the series has been characterized to an extraordinary extent by upsets and last-second victories. Forty games have been decided by seven points or fewer, and though Stanford leads the series 40-35-10, it has scored only 26 more points than Cal in the 85 games.
The 1982 Big Game was the fourth in a decade to be decided within the last two minutes and the third to be won on the final play. In 1972, with three seconds left, Cal freshman Vince Ferragamo (yes, that one) completed an eight-yard touchdown pass to Steve Sweeney for a 24-21 win, and in 1974, Stanford won 22-20 on Mike Langford's 50-yard field goal with no time showing on the clock. Stanford won 27-24 in 1976 with a leisurely 1:31 remaining.
The favored team in this rivalry generally stands on shaky turf. In 1947, Cal came into the Big Game with an 8-1 record in its first season under Coach Pappy Waldorf. Stanford was 0-8 and had averaged fewer than seven points a game. Only art 80-yard pass play from Jackie Jensen to injured Halfback Paul Keckley with slightly more than two minutes remaining gave the Golden Bears a 21-18 victory. In 1941, Stanford's second Wow Boy T-formation team, under Clark Shaughnessy, entered the Big Game a prohibitive favorite over a Cal team with a 3-5 record. Stanford, quarterbacked by Frankie Albert, was 6-2. A win over the Bears, coupled with an Oregon State loss to Oregon, would send Stanford to the Rose Bowl for the second straight year. Cal scored on its first play from scrimmage and went on to win 16-0.
There was little to choose between the teams in 1982. Cal, under a rookie coach, Joe Kapp, was 6-4, Stanford 5-5. In four of its losses, however, the Cardinal had been oh so close. Arizona State won 21-17 in the final 11 seconds; San Jose State won 35-31 in the last five minutes; UCLA squeaked by 38-35; and Arizona scored 28 points in the last 12 minutes to win 41-27, after Stanford had led 27-13. Stanford had also won a couple of thrillers, upsetting Ohio State 23-20 with 34 seconds left and beating Washington State 31-26 with 22 seconds to play. The Cardinal's most gratifying victory had been over No. 2-ranked Washington on Oct. 30. With that 43-21 upset and the big win over the Buckeyes, both on national television, Stanford seemed assured, despite its five losses, of an invitation to the Hall of Fame Bowl. It was an exciting team offensively, and in John Elway it had a player many observers were calling the best college quarterback ever. A win over the Golden Bears would presumably still leave Elway in the running for the Heisman Trophy, even with his team's undistinguished record. Stanford was a seven-point favorite over a Cal team that had been brutally beaten by USC (42-0), Washington (50-7), Arizona State (15-0) and UCLA (47-31). The Bears expected no bowl bids.
Still, Kapp, who had never coached at any level, was assured a winning season, refuting criticism, much of it from fellow coaches, that he had no business in a job for which he was so manifestly unqualified. The old Minnesota Viking quarterback did have some problems early on—three assistant coaches quit, and Gale Gilbert, who was to start at quarterback, threatened to—but Kapp grew in office, as the old expression goes, and after his team opened with two victories, the question of his qualifications seemed moot. And his zeal was infectious. Kapp is fond of uttering ringing bromides—"One hundred [per cent] for 60 [minutes]"; "The Bear will not quit, the Bear will not die"—as if they revealed truth. Although some of his bombast more amused than aroused the relatively sophisticated Berkeley students, he did successfully drum into his players the conviction that the game is not over until the final gun. In the 85th Big Game, this became a crucial advantage.
​Kapp also insisted that playing football at Cal should be fun. He introduced a game played in Sunday workouts called, euphemistically, "garbazz" (pronounced gar-bahz). "It's Mexican-French for grab-ass, naturally," says Kapp. "We used to play it when I was with the Vikings. It's a mixture of basketball and football with elements of rugby. You just work the ball downfield" by passing it back and forth. Any pass can be a forward pass. There are no offsides. When the ball is dropped the next play starts from there. We do it on the day after a game just to break a sweat. It's the only day we have to relax and have some fun. We have to meet and look at film and get ready for the next week, but there's no reason we can't have a little fun while we're at it:" He could not have predicted that the climactic play of the Big Game would, in effect, be a variation of garbazz.
Like Kapp, Stanford Coach Paul Wiggin had returned to his alma mater, where, again like Kapp, he had been an All-America. Unlike Kapp, however, he had extensive coaching experience: nine years as an NFL assistant and 2½ seasons as head coach of the Kansas City Chiefs. This was his third year as Stanford's coach, and for him it had been a frustrating and worrisome one. The defense he had promised to shore up after a disappointing 4-7 record in 1981 had failed him again in the close losses, and his critics in the press and among alumni were becoming increasingly agitated. If Wiggin couldn't win with the best quarterback in the history of college football, it was asked, what will happen after Elway's graduation? Only Wiggin's strong Stanford ties had kept him on the job, but even they would not be enough to save him if he lost the Big Game.
Wiggin is a true stalwart, a dignified man, forthright, friendly and knowledgeable, but by the end of the season, the criticism and the narrow defeats were beginning to wear on him. The win over Washington had given him national recognition, but the heartbreaking losses to Arizona and UCLA that followed had brought him under merciless scrutiny once more. He would—some say miraculously—survive what happened in the Cal game, but the bitterness of this final fantastic defeat would not leave him. "Ask me 10 years from now," he said two months after The Play, "and I'll say the same thing—we won that game." Wiggin got to keep his job, but lost, it would appear, his sense of humor.
He and Stanford would be undone by four players whose careers until the Big Game had been largely unremarkable. Kevin Moen and Mariet Ford, both seniors, were playing in their last college game. Moen, blond, blue-eyed, with a sparse mustache, is the son of a Southern California banker. He shared playing time at strong safety with Richard Rodgers, another member of The Play's now famous foursome. Significantly, both Moen and Rodgers, who were close friends and roommates on road trips, had been option quarterbacks in high school. Before The Play, Moen, who stands 6'1" and weighs 190 pounds, had been known chiefly as a hard tackier, The Undertaker of the Golden Bears secondary, "a killer," says Kapp. Away from football, he seems introspective and has a wry approach to life's complexities. Moen hopes to enter graduate school next spring in preparation for a career as a teacher.
Ford was easily the best known of the quartet. Though only 5'9", 165 pounds, in two varsity seasons as a wide receiver he caught at least one pass in every game he played and was outstanding as a kick returner. In his junior year he led all Pac-10 wide receivers, with 45 catches. Last season he caught 42 passes for 568 yards, including seven for 132 in the Big Game. His astonishing one-handed 29-yard touchdown reception in the second quarter might well have been the play of the Big Game, had it not been for The Play. Ford majored in sociology and is planning a career as a child psychologist. He is bright, affable and hard-working. He made only one promise to his parents, he says, and that was to graduate from Cal. He kept it.
Rodgers, a thick-muscled, 6-foot 200-pounder, is an exceptionally smart and disciplined player who, like his friend Moen, is a fierce tackier. But his attitude is what sets him apart in the eyes of his coach. Rodgers, who's now a senior, has an uncommon zest for football, and is an unflinching optimist. "Richard plays this game with a smile," says Kapp. Rodgers, whose mother is a dispatcher for the San Francisco Police Department, is planning to attend law school.
Running Back Dwight Garner is the baby of the four. Only a freshman last fall, he played sparingly, rushing only 30 times for 103 yards. At 5'9", 185 pounds, he is a darting, elusive runner and a capable pass receiver. His part in The Play will be the source of endless controversy, a circumstance he finds somewhat daunting. "It's all a little hard for me to handle," he says, "but I suppose I'll be thought of as controversial from now on."
Neither team scored in the first quarter of the game. In the second quarter Joe Cooper booted a 31-yard field goal and Ford made his diving end-zone grab to give Cal a 10-0 lead at halftime. Stanford pulled ahead 14-10 in the third quarter on two Elway touchdown passes to Halfback Vincent White. A Cooper field goal early in the fourth quarter made the score 14-13, and then, with 11:24 to go, Cal's Wes Howell made a sprawling touchdown catch that was fully as remarkable as Ford's. Cal's try for a two-point conversion failed, so the score remained 19-14.
With 5:32 to play Stanford's Harmon kicked a field goal to make it 19-17. With 1:27 left and the ball on the Cardinal 20, Stanford got the ball for the last time. The huge crowd, sensing some final Elway heroics, stood as one, animated, depending on school loyalties, by hope or fear. On the west side of the 60-year-old stadium, where Cardinal partisans held forth, the din was nearly unbearable. On the east, Cal rooters nervously urged their team to hang on one last time. The sun was sinking beyond the rim of the stadium as Elway set out to crown his splendid career in the bedlam of Strawberry Canyon. His first pass, a swing to White coming out of the backfield, lost seven yards when White, avoiding a tackle, slipped on a field still damp from week-long rains. Elway then missed his next two throws, one spectacularly batted away from Wide Receiver Emile Harry by Rodgers. Stanford now faced fourth and 17 on its own 13 with only 53 seconds remaining. Cal seemed a certain winner. But Elway, ever unflappable, zipped a hard spiral over the middle that somehow reached Harry among three Golden Bear defenders for a 29-yard gain and a saving first down. "He did it!" screamed KGO's Starkey.
The drive was under way. Elway hit Mike Tolliver for 19 yards to the Cal 39. Next, with 31 seconds left, Mike Dotterer picked up 21 yards on a surprise running play, a daring gamble that put Stanford on the Cal 18. Dotterer was held to no gain on the following play, but he did get the ball close to the right hash mark, Harmon's favorite area from which to kick. Harmon jogged in for the final field-goal attempt. The crowd grew quiet. "Oh my goodness," gasped Starkey as Harmon lined up for the kick with eight seconds to play. Bedlam again. "It's good!" burbled Starkey of Harmon's field goal that apparently had won the game for Stanford. "What a finish for John Elway, to pull this out. This is one of the great finishes. Only a miracle can save the Bears." True, all too true.
Hundreds of downcast Cal supporters started to make their way to the tunnels leading out of the stadium. James Igoe, a San Francisco attorney, was one of those who thought the Bears were finished. "It was the biggest mistake of my life," he says. "I walked out on history." Some Cal fans who departed early didn't learn about The Play until they read about the game in the morning papers. Dick Hafner, Cal's director of public information, told of one unfortunate Old Blue who sat confounded through an entire dinner party after the game. "He couldn't understand why everyone there was talking as if Cal had won," says Hafner.
Stanford made two critical mistakes on what seemed to be its winning play. Elway, standing next to Referee Charles Moffett, didn't let the clock run down far enough before calling the time-out that preceded the field goal. Then, as the kick passed between the uprights, jubilant Stanford players ran onto the field to celebrate their dramatic victory. This resulted in a 15-yard penalty for having illegal players on the field. The penalty was assessed on the ensuing kickoff, obliging Harmon to kick from the 25-yard line instead of the 40. The penalty in no way diminished Stanford's victory celebration. It should have. Now Cal would have both a shorter distance to the goal and more room to execute the Marx Brothers stunts that would get them there.
When the two teams lined up for the kick, there was, as Cal Special Teams Coach Charlie West said, "pandemonium everywhere." Stanford was busily clearing the field of players who weren't supposed to be on it. Cal didn't have enough. In expectation of a squib kick West had called for his onsides-return team, composed exclusively of players accustomed to handling the ball. In the chaos, two members of the unit, defensive backs Gregg Beagle and Jimmy Stewart, did not hear West call this return formation and did not take the field. So Cal lined up with only nine men, until West, responding to frantic gestures from his players, sent in Running Back Scott Smith to take Beagle's place in the center of the front line. Still more waves and shouts from the field. West was reluctant to act because, as he and Kapp agreed, in such situations "twelve men is a whole lot worse than 10." A skinny 170-pound defensive back named Steve Dunn was standing next to the perplexed coach. "Let me go in," pleaded Dunn, who seldom played, even on special teams. West hastily counted his forces—Kapp calls his special teams "special forces"—and sent Dunn in just as Harmon approached the ball.
Smith reached the field in time to fill the gap left by Beagle's absence, but Stewart's position, second from the left on the front line, was unoccupied. This left Cal with only four players in the restraining area between the Stanford 35 and 40, not five, as the rules stipulate. But this violation calls for only a correction by the officials before the kick, not a penalty that would nullify the return. In the confusion—players shuttling on and off the field, fans crowding the sidelines—none of the six officials noticed the oversight. Rodgers, captain of the special forces, was on the front line at the far left. Stewart's disappearance left a gap between him and Smith. Linebacker Tim Lucas and Cornerback Garey Williams were on the right side of this line. The second line should have consisted of Tight End David Lewis, Moen, Running Back Ron Story and Wide Receiver Howell, but Moen, for reasons unclear to West, was playing five yards deeper.
"I noticed we were a man short," says Moen, "so I decided to protect us farther back." It was one of those inspired decisions by which history is altered and football games are won. Garner was the intermediate return man and Ford the deep man—deeper at first than necessary, for he was not immediately aware that Stanford was kicking from the 25. Dunn had gotten no more than five yards onto the field when the ball was kicked, so in effect he was playing no position at all. He would play it well.
The return formation may have been a hodgepodge, but the Bears did have a vague idea of what they wanted to do, although at least two of the principals, Moen and Ford, didn't know what it was. Recalls Rodgers, "I saw our onsides team coming on, so as Mariet ran past me, I called out to him, 'If you're tackled, lateral the ball.' Then I thought that's what we should do—just keep the ball alive. Stanford might be expecting one or even two laterals, but they wouldn't be looking for us to go crazy. I walked into the huddle and said, 'Look, if you're gonna get tackled, lateral the ball.' Everybody just looked at me. T mean, don't fall with that ball.' That seemed to do it. Don't fall with the ball."
It seemed a terrific idea to young Garner. "I didn't know what we were going to do," he says. "But Richard came into that huddle with a very positive attitude. 'Don't fall with the ball.' I liked that. Why not? If they're gonna beat us, we'll go out fighting. Coach Kapp instilled that in us—100 percent for 60 minutes; never give in until the last second has ticked off. We all held hands after Richard told us what to do. I knew then it wasn't hopeless."
Moen wasn't so sure. "I wasn't in the huddle," he said. "I was just walking around in the middle of the field. I was mad and frustrated. I thought we'd played a good game, good enough to win. I didn't have a lot of hope. I didn't know about the lateraling. But I did have a weird feeling. I just wanted to see what was going to happen."
Ford had heard Rodgers yelling at him, "But I really couldn't hear what he was saying. There was too much noise." And he was having troubles of his own. "My legs started cramping up in the third quarter," he says. "I'd expected it to be cold for the game, so I'd worn tights under my uniform to keep my legs warm. Then it turned up warm [57° at the kickoff], and it was too late to take them off. I did a lot of running in that game, and it finally caught up with me. At the start of the fourth quarter I took off the tights. That seemed to help, but I could still feel the knots in my legs as I stood standing there waiting for the kick."
Stanford went for the squib kick because, according to Wiggin, "That takes away the timing of the return." But not of this one. The ball found the gap between Rodgers and Smith. Then it took a big hop directly into Moen's hands. Had he been playing in position, the ball would most likely have bounced over his head into a virtual no man's land, where Garner, the nearest player, would have had to track it down under pressure. Instead, Moen fielded the ball cleanly at about the Cal 44. He started running to his right "until I saw white shirts"—primarily Stanford Strong Safety Barry Cromer's. On the Cal 48, Moen wheeled in front of Cromer, spotted Rodgers perhaps 12 yards away near the left sideline, stopped and threw an overhand pass back to him on the Cal 46. "I did it instinctively," says Moen. "I thought Richard might have a seam on the left side. I was a quarterback in high school, so I knew I could get the ball to him. Then I ducked past the Stanford tackier and started running toward Richard, circling so that I was behind him, just to be there if he needed me."
Rodgers was startled to get the ball. "I saw Kevin looking around, then the ball was in the air and I had it," says Rodgers. "I started to run, but a Stanford man was in the way." This was Cornerback Darrell Grissum, who would surely have tackled Rodgers the moment he received the ball had not Dunn, trying somehow to get into the action from his nowhere spot, rushed up and delivered a perfect block on Grissum near the sideline. Dunn's block enabled Rodgers to lateral to Garner on the Cal 43.
"When Richard pitched it back to me, I made one fake and then attracted a crowd," says Garner, understating the case. Stanford Linebacker David Wyman was the first to hit him, on the Cal 49. Then Linebacker Mark Andrew joined in, and, finally, what seemed to be the entire Stanford team. Harmon, the kicker, leaped for joy when he saw Garner stopped. "I thought he was down," says Harmon. "Half of our guys were going to the sidelines to celebrate." But there was no whistle, and Garner was resourceful. "My knee never touched the ground," he says. "They had my legs, but they were parallel to the ground. My upper body was free. I could hear Richard calling to me, 'Dwight, the ball!' I shovel-passed it back to him, then I hit the ground. I popped right back up to see if I could get another lateral."
At least nine players from the Stanford bench charged onto the field at that point in the mistaken belief that Garner had been stopped and the game was over. Line Judge Gordon Riese tossed his flag, charging Stanford with unsportsmanlike conduct. However, with the ball changing hands so rapidly, in the eyes of fans and players from both teams the flag could just as well have been against the Bears for something or other. From the south end zone the Stanford band also rushed onto the field, some members reaching as far as the 20-yard line.
But Rodgers, running now with the second lateral he'd received, started upfield from the Cal 48, not quite knowing whom to dodge, because so many illegal players were on the field. Two of them, in fact, were Cal men, Quarterback Gale Gilbert and Cornerback John Sullivan, both of whom took one step onto the gridiron from opposite ends of the Bears' bench when Garner was hit. They stepped back undetected as soon as they realized the ball was still in play. The most obvious of the trespassers was Stanford's Tolliver, who had run perhaps 15 yards from the bench before he realized the game wasn't over.
Rodgers reached the Stanford 46, where he was confronted by Cardinal Defensive Back Kevin Baird. "The second Dwight got the ball to me," says Rodgers, "I thought, 'Hey, we've got a chance.' I could see that Kevin and Mariet were running alongside me and that the Stanford man was in front of me. I acted like an option quarterback, drawing that man to me. Then I lateraled into an area, hoping that Kevin and Mariet wouldn't fight each other for the ball."
Ford took this fourth lateral on the Stanford 47 and swung swiftly to his right, speeding by players—legal and illegal—toward the startled Stanford band. Tolliver, mean-while, had slipped and fallen on his backside trying to get off the field. He was lying helplessly on the Stanford 34 when Ford ran by him. "His entourage ran right over me," says Tolliver. "Sometimes I wonder why I didn't just turn around and tackle that guy." Moen was directly behind Ford. "I knew Kevin was close," says Ford, "but I didn't know how close. I figured if I looked back, one of the Stanford players would go for him."
Ford was also grimly aware that at any moment his legs might again cramp. At the Stanford 27, Ford was trapped by three Cardinal defenders—Outside Linebacker Tom Briehl, Safety Steve Lemon and Harmon. "I just threw my body into all three of them," says Ford. As his feet left the ground, he made a remarkable over-the-shoulder toss—without looking back. "I didn't have much on it," he says. "I wanted it to stay in the air as long as possible so Kevin could get to it."
Ford's dive carried him to the Stanford 24. It also flattened the three Cardinal players and altered the course of three others. Moen, racing under Ford's blind toss, actually overran it. He reached back for it at the 25, at approximately the point from which it had been released. Embittered Stanfordites later protested that this pass, though thrown back over the shoulder, was still somehow forward. The films clearly show that the ball was thrown backward and that if Moen hadn't reached back for it, it would have hit the turf at about the 27.
Ford's climactic play removed virtually the entire Stanford team from the pursuit except Outside Linebacker Mike Noble, who was behind Moen, and Grissum, who was in front of Moen as he received the lateral. Howell took Grissum out with a block that was more of a shove. No flag was dropped. The Stanford band, 144 strong, was on the field by now. One bandsman, unaware that the game was being lost behind him, stood facing the Cal rooting section, waving his cap and dancing in victory. The Axe committeemen were similarly rejoicing with the victory trophy on the Stanford 17-yard line. Another member of the band frolicked near the goal line in a conehead. Most of the musicians, along with two cheerleaders, were congregated between the goal line and the 15. Then, suddenly, Moen, in determined full flight, bore down upon them. Like a Red Sea they parted for the miracle worker. "It was a bizarre feeling," says Moen. "There were so many people on the field, and I could see flags all over the place. And here I was running right through the band."
"I was following the play," says Referee Moffett, "and then I saw the band running toward me. It was the damnedest thing. Now I know how Custer felt."
Moffett admits he didn't see Moen cross the goal line because the band was in the way. Kapp didn't see the touchdown. Wiggin probably didn't, either. The only player with a reasonably unobstructed view of the proceedings was Noble, running in futile pursuit of Moen through his own school band. "I didn't know what was going on," says Noble. "At one point I may have had a shot at him, but it was a madhouse out there. Once I hit the band I slowed down. I didn't know where the end zone was, but I figured the band must be in it."
As Moen passed the goal line, he brushed past saxophonist Scott DeBarger, a former high school football player who later acknowledged he toyed with the notion of trying to tackle the runner, a deed that would have thrown what was already football's most improbable play into even greater chaos. Moffett shudders to this day at the awful prospect. "Imagine the confusion if Moen had run into or tripped over or been tackled by a band member," says Moffett. "Then we would have had to make a decision on whether to award a touchdown." Fortunately, DeBarger's better instincts prevailed. As it was, Moen bumped the sax from DeBarger's grasp as he soared in jubilation in the end zone. Gary Tyrrell, leader of the band's trombone section, was standing in the end zone playing the Stanford band's fight song, All Right Now (the school's fight song is Come Join the Band), when he looked up to see Moen descending on him. "I had no idea why a Cal football player should be in our end zone with the game over," says Tyrrell. "I was apparently at the spot where he was going to spike the ball. I barely had time to brace myself."
Moen landed on Tyrrell and sent him and his trombone flying. Robert Stinnett, a photographer for the Oakland Tribune, was standing next to the musician at the time of the collision. His on-the-spot photos of the occasion have been made into two posters that have taken their place among countless other artifacts of. The Play. Stinnett's pictures made Tyrrell as famous as Moen.
Moen said he never saw the trombone player, so eager was he to celebrate the first touchdown of his college career. Disengaging himself from Tyrrell, he pranced about the end zone with the ball held aloft. Then he had a sobering thought: There were flags on the field. Perhaps the highlight of his athletic career would be wiped out by a penalty. "I finally just sat down to await the verdict," says Moen. The officials had not confirmed the touchdown, and the spectators, thoroughly drained, held their reaction in check. The silence after so many minutes of wild cheering was startlingly abrupt. The crowd had been transformed into a mute, befuddled giant.
Starkey was now virtually speechless, his baritone voice reduced to a grating falsetto whisper. "The ball is still loose," he had shouted incredulously as The Play took form. "He's going into the end zone! There are flags on the field! The band's on the field...." Starkey once worked for Moen's father, Donne, in the banking business in Southern California, and he had been concerned that he had scarcely mentioned the boy's name throughout the game. Now he was maniacally screaming it into the microphone.
But something had to be wrong with a play that had four players throwing a total of five laterals, had illegal players from both teams on the field and had the Stanford band forming a corridor for the conclusion of a touchdown run. Moffett, a Pac-10 official for 22 years, was indubitably the man on the spot. As soon as Moen crossed the goal line, several Stanford assistant coaches confronted Moffett. Wiggin, who had been taunted by a finger-waving Cal nose guard, Bruce Parker, was fuming on the sidelines. Moffett extended a restraining hand toward the coaches, players, rooters and band members who were crowding around him. He called his fellow officials into an on-field conference.
"I assumed the man had scored," says Moffett, "but I had to admit I lost him in the band. I asked the other officials if he had crossed the goal line. They said he had. I asked if anyone had blown a whistle during the return. No one had. I asked if every one of those laterals was clearly backward. They said they were. And the penalty flag? On Stanford for extra players and band on the field. Well then, I said, we have a touchdown. I threw my hands in the air to signify as much. And it was like starting World War III."
In fact, a cannon shot—the one that accompanies all Cal touchdowns—was fired, but this one was tantalizingly delayed. Igoe and those others of little faith were outside the stadium when, with disbelieving ears, they heard it. "I just stood there for a second, a sick look on my face," says Igoe. "Then I started to rush back into the stadium with all the other idiots. I don't know what I expected to see—an instant replay, maybe."
Upstairs in the broadcast booth, Starkey rallied for one final paroxysm: "The Bears have won. Oh my God, this is the most amazing, sensational, heartrending, exciting, thrilling finish in the history of college football. I've never seen any game like it in my life.... The Stanford band just lost their team that ballgame.... This place is like it's never been before. It's indescribable here.... I guarantee you, if you watch college football for the rest of your life, you'll never see one like this...."
With thousands of people now on the field, Moffett and the other officials broke into a perilous sprint for their dressing quarters at the opposite end of the stadium. "Everyone was yelling at us—players, coaches, fans, both bands," Moffett recalls. "It was an alltime experience. Never in my wildest dreams had I imagined that a game could end that way. This one will be down in my memory book forever."
The officials' locker room was scarcely a sanctuary. Within minutes, Wiggin, his offensive coordinator, Ray Handley, and Stanford Athletic Director Andy Geiger were bursting through the door demanding an explanation, insisting that they had photographic proof that an official had waved the play dead when Garner was tackled. "They were in a state of shock," says Cal Sports Information Director John McCasey, who acted as a pool reporter in the officials' room. "Paul was saying how people's livelihoods depended on the officials' decisions." Moffett held his ground under the barrage. No whistle had been blown. Head Linesman Jack Langley had been in perfect position to call the play dead when Garner was tackled. "He was looking right at it," says Moffett. "All through that play I was saying to myself, 'Keep cool.' It was a weird situation, but we're trained to keep our cool." The Stanford team, meanwhile, sat fully dressed for 20 minutes after the game, waiting, as one member, Lemon, recalls, "for something else to happen. We thought we would probably have to do this play all over again. We sat there in total disbelief."
The Pac-10 has no provisions for an official protest, so none was filed. The best Stanford could do was persuade conference Executive Director Wiles Hallock to issue a public statement acknowledging that Cal had only four men in the restraining area on the fateful kickoff. Hallock added, however, that it was a violation that required no penalty. And, he said later, "I'm pleased that in all the confusion, the officials never stopped officiating." As for the play? "Well, it was just one of those marvelous things that happen in football."
Wiggin, his opportunity for a bowl bid gone and his job and those of his assistants in jeopardy, remained inconsolable for months. "I'll take the criticism for not letting the clock run down further on the field goal," he says "but had the damn play been called correctly, it wouldn't have made any difference. Oh, it's very easy for some guy to sit in a bar and say, 'That dumb-cluck coach.' Well, we'll have a clock drill from now on. I'd just like to put the whole thing behind me. It's one of the most bizarre things I've ever been a part of."
Elway, who hit 25 of 39 passes for 330 yards and two touchdowns in the Big Game and set an NCAA career record of 774 completions and a Pac-10 record for yardage in a season (3,242), was as enraged as his coach, and he is a young man not given to excessive emotion. "These guys [the officials] ruined my last game as a college player," said Elway immediately after the game. "This is a farce and a joke." More than a month later, as he prepared to play in the East-West Shrine Game, Elway told Oakland Tribune reporter Ron Bergman, "I still feel the same way about it now as I did in the locker room after the game. Maybe in time it'll wear off, but I'm still bitter. Very bitter."
Harmon, the would-be hero of the game, was no less disturbed. In two years at Stanford he'd never been called on to kick a "winner," and he had steeled himself for the opportunity all through the game. "I didn't care if it had to be 70 yards," he says, "I was going to be ready." He was, but his biggest moment had been rendered meaningless. When the crowd had cleared, Harmon sat by himself in the Memorial Stadium stands, trying vainly to get a fix on what had happened. "It was a lucky play," he finally concluded. "I was in a state of shock. I know I'll be hearing about this for I don't know how long. But you've got to go on with your life."
Noble is haunted by his regrets. "Every time I look at a film of that play, I say to myself, 'There, right there, I could've gotten him,' " he says. "I still get hassled about it. I'll never hear the end of it as long as I live. But I guess you can say I'm part of history."
Kapp's response was predictable: "Hey, they had their party too soon. The game is 60 minutes, not 59 minutes and 56 seconds. This proved it."
The Stanford band, a pariah even before the game to many fans and older alumni for its iconoclastic halftime stunts and its insistence on an exclusively rock repertoire at the expense of traditional school songs, was attacked with renewed enthusiasm for its part in The Play. Mocked in the press and bombarded with hate mail, the band retreated, as it were, into a shell. "The band has served as a scapegoat before," says Tyrrell, suddenly its most conspicuous member. "The hate mail was not unexpected. Actually, we did get some nice thank-you letters from Cal alums."
Films of The Play exonerate the band from serious wrongdoing. It had no business on the field, of course, but no Stanford defender was prevented from reaching Moen by any member of the band. Ford and Howell basically eliminated all available pursuers, and Noble, the only Cardinal player with a chance at Moen, ran unimpeded through the confused musicians.
Tyrrell himself became a celebrity, interviewed on television and radio as frequently as any of the four players. He also received offers from Cal alumni groups for his supposedly battered trombone. Actually, the instrument wasn't even dented, and Tyrrell rejected all offers, preferring to keep it as a souvenir. Unable to acquire the real thing, the Berkeley Breakfast Club, a booster group, presented Cal Athletic Director Dave Maggard with a plaque commemorating the great event, on which was affixed a trombone that looked as if it had been run over by a truck. This tortured horn might well prove as symbolic of the Big Game rivalry from here on in as the traditional Axe has been for the better part of a century. The Axe, incidentally, was replaced in its showcase on the Stanford campus by a giant screw.
Stanford did achieve a measure of revenge the week after the game when reporters for-The Stanford Daily published a bogus "extra" edition of the Daily Californian, boldly headlined NCAA AWARDS BIG GAME TO STANFORD. The prank paper was largely the work of undergraduates Tony Kelly, Mark Zeigler, Adam Berns and Stanford Daily editor Richard Klinger. However, the lead story, which began "The National Collegiate Athletic Association (NCAA) has awarded last Saturday's Big Game to Stanford, the Daily Californian was told late last night," and a box containing a phony NCAA rule by which an "injustice" may be corrected were written for the paper by Tom Mulvoy, a 40-year-old deputy managing editor of the Boston Globe who was attending Stanford on a journalism fellowship. When a hesitant Klingler asked Mulvoy if the staff should proceed with the spoof, Mulvoy advised him, "Go for it. If you don't you'll kick yourself in 20 years."
Seven thousand copies of the ersatz issue were planted in newsstands on the Berkeley campus before the real Daily Californian—fortuitously late off the presses that day—could be distributed. "We stayed around to watch the reaction," says Kelly, one of the Stanford Daily commandos who made the early-morning trans-Bay trek from Palo Alto. "We heard a couple of screams of 'Oh no!' and a lot of swearing. One girl looked to be in tears. Marty Rabkin, the Daily Cal's business manager, showed up. He picked up an armload and was busy telling people the paper was a phony, but Cal students were walking by taking copies out of his arms the whole time. The look on his face was hard to describe—disgust, maybe." At Stanford, says Kelly, news of the hoax came "as a catharsis. It helped alleviate the mood of despair on campus." Copies of the paper, as with most everything else connected with the event, have become collector's items on both campuses, and its authors have joined the expanding pantheon of Play heroes.
The biggest heroes—along with their satellite, Tyrrell—remain the mad lateralers. They achieved new stature on a campus not noticeably appreciative of football stars and were greeted with ardent good humor as they strolled across Berkeley's leafy glades. Alumni and businessmen in town hastened to entertain them with dinner and drinks. Garner, working the cash register at a suburban Macy's store over Christmas vacation, was often mobbed by customers. "I thought I was going to get fired," he says. "Then when my boss found out who I was, he started talking to me about The Play. Turns out he was a Cal alum."
The four players were all good friends before, but The Play brought them even closer. "When we see each other now," says Ford, "we all just burst out laughing." They are bound forever by a special experience, a second set of Four Horsemen. "Now," says Garner, "we squeeze each other's hands just a little tighter."