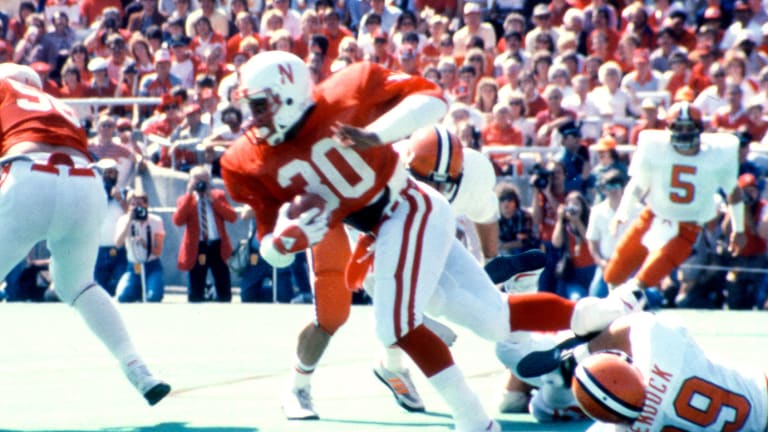 With the Greatest of Ease
Nebraska displayed awesome offensive might as it opened the season by routing champion Penn State
This time Nebraska didn't take any chances. The last time Nebraska played Penn State—on Sept. 25, 1982—the Cornhuskers blew a three-point lead in the final four seconds and suffered a bitter 27-24 defeat. The Nittany Lions went on to win the national championship. On Monday night, though, in the inaugural Kickoff Classic at Giants Stadium in the New Jersey Meadowlands, Nebraska gave Penn State not the slightest opportunity to stage late-game heroics. Or, for that matter, early or mid-game heroics. Unleashing a formidable offensive attack coolly led by Quarterback Turner Gill, the Huskers rolled up 500 yards on the way to a 44-6 romp that was even more one-sided than the score.
With Penn State behind him—far, far behind—Nebraska Coach Tom Osborne noted afterward that a team usually improves the most between its first and second games of the season. Yikes. Heaven help Wyoming, the next victim on the Huskers' schedule.
Penn State Coach Joe Paterno said he had "grave reservations" about playing a game in August, but he couldn't have imagined just how grave his plight would be. "Ever get the crap kicked out of you?" he said early Tuesday morning, long after the lights had gone out. No Paterno team had been treated so badly since 1966, his first season as Lion head coach, when UCLA beat Penn State 49-11.
Nebraska stormed to a 21-0 half-time lead, and then Osborne mercifully benched most of his regulars. Trouble was, the Cornhuskers' second, third and fourth units were just as rough on Penn State as the starters, and soon the numbers on the board read Nebraska 44, Penn State 0. A last-second touchdown did little to salve the Lions' wounded pride. Actually, Penn State probably lost Monday night's game last Feb. 18, the day Todd Blackledge decided to turn pro a year early, leaving Paterno with two untested quarterbacks, Doug Strang and Dan Lonergan.
Nebraska, on the other hand, had a quarterback who stayed. Gill turned down a baseball offer this summer from the New York Yankees—he's a shortstop—to direct Osborne's option offense. He performed against a Penn State defense that was supposed to be even stronger than last year's unit, which allowed only 48 points in the final six games of the regular season. Gill, who's a senior, completed 11 of 14 passes for 158 yards and one touchdown, ran for 53 yards and a score and constantly befuddled the Lions with his option trickery. Penn State would play the pass—and Gill would run. Penn State would play the run—and Gill would pass.
Rather than the Kickoff Classic, the game should have been billed as a Turner and the Jersey Jets jam session. The Jets are I-Back Mike Rozier, who comes from Camden, N.J., and Wingback Irving Fryar, who is from Mount Holly, N.J. Rozier carried 16 times for 71 yards, and Fryar caught four passes for a total of 81 yards. High school acquaintances, Rozier and Fryar planned to attend Pitt together but chose Nebraska because, Fryar says, "There's not much to do." In Nebraska, that is. Gill, Rozier and Fryar are the major reasons that Nebraska was ranked so high in all the preseason polls (No. 2 by SI). "There's no doubt that the enthusiasm for our football team is basically because of the skill players," says Osborne.
On Monday night, however, Nebraska seemed to have 60 skill players ready for the Nittany Lions. After Gill scored from the one to put the Huskers ahead 7-0, Tight End Monte Engebritson, a fifth-year senior, broke into the open and caught a 19-yard touchdown pass from Gill on the final play of the first quarter. It was only the second reception of his career, but Engebritson made it look routine—something out of a Kellen Winslow highlight film. "It was exciting," said Engebritson.
Some 10 minutes later Todd Frain, a second-string tight end with no previous career receptions, caught a 20-yard scoring pass, running the same pattern Engebritson had. "I said, 'Wow!' " said Frain. Gill was on the bench, resting, at the time, and that pass was thrown by his backup, Nate Mason, who picked out Frain as the third option. Osborne says he wants Mason to see action in crucial situations, but Nebraska may not have many of them this year. In the third quarter Cornhusker Linebacker Mike Knox stepped in front of a Strang pass and returned the interception untouched for a 27-yard touchdown, increasing Nebraska's lead to 27-0. "I thought it was damn cool," said Knox. At that point many in the crowd of 71,123 started to leave, and who could blame them?
Impressive as the Huskers were, they didn't do a particularly good job on pass coverage. "Seems like Penn State had a lot of people roaming around in our secondary," said Osborne. Maybe so, but both Strang and Lonergan passed as if they were alley-ooping to David Thompson. After Strang, who started, completed an 11-yard sideline pass on his first attempt, he overthrew receivers on four of his next five. He then changed that pattern by throwing behind Split End Kevin Baugh. Early in the second quarter Paterno benched Strang and went to Lonergan, answering the prayers of Lonergan's mother, Alma. She had burned a candle every day in the hope that her son would get a chance. After throwing incompletions on his first five attempts, Lonergan gave Penn State some life by hitting Flanker Tim Robinson for a 39-yard gain. But Lonergan then overthrew Baugh on a fourth-and-two rollout at the Nebraska 15, and that ended that.
While Penn State has a quarterback problem that may not be resolved until Paterno gets out on the high school recruiting trail, Nebraska is sitting pretty with Gill—and Mason, too. Perhaps Paterno and Osborne ought to work out the first trade in college football history: Mason to Penn State in return for two blue-chip recruits from Mechanicsburg, Pa.
As for Gill, he can do it all. He rarely drops back because he's equally effective rolling left or right—and forcing the defense to think run. "Roll left, roll right, crawl left, crawl right," said Fryar. "Turner can do anything." And though Gill no longer has 6'3", 290-pound Center Dave Rimington, college football's lineman of the year in 1981 and '82 and now a Cincinnati Bengal, blocking for him, he does have 6'4", 270-pound Right Guard Dean Steinkuhler to clear away prospective tacklers.
Like the other Huskers, Steinkuhler wasn't exactly doing handstands after the game. He had his act together. "It's kind of early to call us an offensive machine," he said. "We can't let this game go to our heads. The difference may have been that we were better conditioned. They were sucking air early."
Right you are, Dean. And late, too. The Classic was no contest.
PHOTO
JOHN
IACONO AND HEINZ KLUETMEIER
I-Back Paul Miles soared over the top for the touchdown that completed the Cornhuskers' runaway victory.
PHOTO
JOHN IACONO AND HEINZ
KLUETMEIER
Fryar was a holy terror for the Cornhuskers, hauling in four passes for a total of 81 yards.
PHOTO
JOHN IACONO AND HEINZ
KLUETMEIER
Gill completed 11 of 14 throws and ruined the Lion defense with his option trickery.
PHOTO
JOHN
IACONO AND HEINZ
KLUETMEIER
An exasperated Paterno had no answers for Tailback Jon Williams or anyone else.