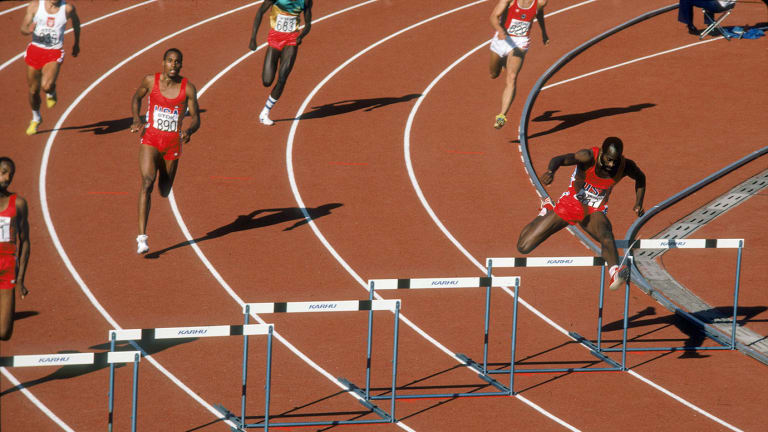 The man has a degree in physics and is distinctly mathematically oriented. He has an eye on medical school. Even so, it's surprising that when Edwin Moses' deepest wishes take shape in his dreams, they may appear as numerals—"magic numbers," as he calls them.
In the early hours one morning last week, Moses dreamed he saw 8-31-83 and then, repeatedly, 47.03. "My 28th birthday," he reported later. "And a very good time for the 400-meter hurdles." Indeed, it was a tenth of a second better than his world record set three years ago. Aug. 31, 1983, as it happened, was that very day, and the world record had lain heavily on Moses' mind all season. "But I wasn't going to say anything about that dream," Moses would recall. Not until after the race, anyway.
The race was in Koblenz, West Germany, and when Moses stripped off his sweats and jogged to the start, his wife of slightly more than a year, Myrella, exclaimed, "He has no socks on. And he's still wearing his watch."
Well, Moses had said that he would try this one in a little more mellow frame of mind. In the preceding weeks he had run 47.37 in Zurich and 47.43 in Cologne. In the Cologne race, intense and pressing ("over concentrating," Moses called it), he had gone out blazing, ignoring the fundamental technical issue of his first five hurdles, which is one of delicacy. Moses takes 13 steps between barriers. Until very recently, when Andre Phillips of Los Angeles joined him, he was the only man able to carry that stride pattern for the entire distance. Others start with 13s and change to 14s or 15s as they tire. Early in the race, when he's fresh, Moses must be careful not to lengthen his stride, otherwise he runs up on the hurdles, chops his steps and loses his momentum, wasting energy.
In Cologne he had wasted a lot. He actually hit the first hurdle and then had to chop before the next four. "Everything was bad," he said. "I lost at least three-tenths, chopping, and I got tired awfully early."
Phillips, meanwhile, was running the race of his life, and was only slightly behind entering the stretch. Moses, whose strength is his forte, had driven himself to a three-yard lead by the last hurdle, but "then I got off balance over that one." He buckled and ran flat-footed to the line for his 84th straight victory.
Phillips hung on for a 47.78, making him the third-fastest 400-meter hurdler in history, and his delight was antic. "The first thing I thought of when I crossed the line was: My mom has to stop smoking now," he said. "We had a deal. If I got into the 47s, she got out of the cigarettes. I like my mom. I wanted to boost the odds on her staying around."
Phillips was roundly congratulated by every athlete who knew him, and the scene pointed up the extent to which Moses has become an institution; it's big news when someone Moses beats runs a time Moses himself has already bettered on 15 other occasions.
For Koblenz, Moses decided to relax, and if a record came, it came. Oberwerth Stadium is surrounded by tall trees, and on the warm, still, dry evening of the meet it was filled with 22,000 expectant Koblenzers. The 400 hurdles was the first event on the program. It usually is. Moses is almost always the creator of a throng's emotion, not the beneficiary of it. His own drives ready him full well. With the wins piling ever higher, he was asked earlier in the season whether the races had begun to run together or the routine had grown stale. "No," he said, "it still seems like I'm being led to my execution 15 times a year."
The competition in Koblenz was virtually the same as that in early August's World Championships: Harald Schmid of West Germany, the second-fastest ever and the last man to beat Moses, six years ago, David Lee of the U.S. and Phillips were all inside Moses' Lane 5. Because of the stagger, Moses had no one to key on, to chase. He was the last to settle into the blocks and the last to assume the set position. And the first to the first hurdle, which he cleared perfectly. "This is the fastest part of the race," he would say. "I have to stop the acceleration after the first one and just kind of restrain myself, up on my toes, to get the steps right."
He chopped a little at the second, the third, the fifth. Phillips was right with him again. "Over the seventh, though," as Phillips said afterward, "I saw him take a little look over his shoulder. And he just took off!"
"The last half of my race is explosive because I've run conservatively the first half," said Moses. "I always feel behind." Now he was tired enough that he could run all out and have his steps fit perfectly. By the eighth hurdle he was rapidly pulling away from Phillips.
"That was about the point," Phillips would say, "where someone said to me, 'Here, take this refrigerator with you.' "
Moses' last 90 meters was no longer race, but display. He stayed balanced and low over the last two hurdles and drove with sweeping uppercuts across the line. The time was 47.02, a world record by .11 of a second, a hundredth faster even than he had dreamed.
It was the fourth time Moses had broken the record; he took it from Uganda's John Akii-Bua in 1976 with a 47.64 in the Olympic final and reduced it to 47.45 in 1977 and 47.13 in 1980. But in Koblenz, Moses couldn't stop smiling. "Well, I haven't had a PR for three years," he said, laughing, and then took a slow victory lap.
Phillips had been second in 48.26, Lee third in 48.65 and Schmid fourth in 48.92. Phillips, since this was his last race of the year, took off his shoes and shirt and threw them into the crowd. Moses would need his to win his 86th straight race (48.74) the next night in Rome and No. 87 (47.93) in Riete, Italy on Sunday.
When friends and promoters offered him birthday congratulations, Moses' answer was, "Couldn't ask for anything more." He gathered Lee and Phillips around him, looking at them fondly. They were bonded by the difficulty of what they had done well. "This is a rough event," Moses said. "That's why you don't have a lot of guys just dropping in and out. You know the very few who know this craft."
You could see the wheels turning. Then he said, "It's going to be hard not to think about a U.S. Olympic sweep next year."
PHOTO
STEVE
POWELL
Last in the blocks, first at the finish, Moses slashed .11 off his world mark in Koblenz.
PHOTO
STEVE
POWELL
"No socks," wife Myrella moaned—but no sweat, either.