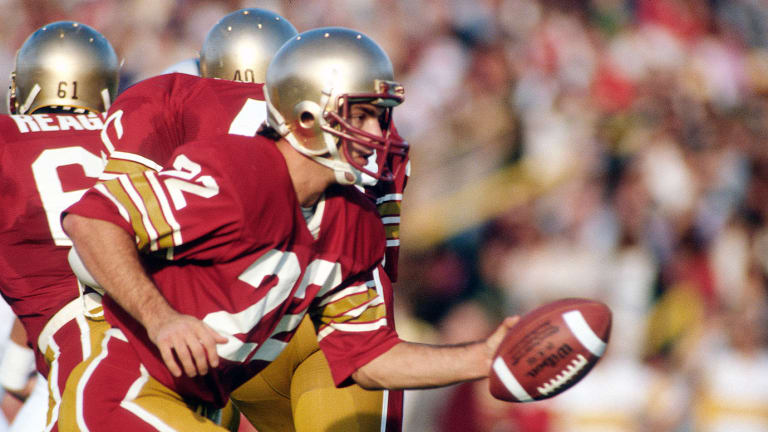 A Little Man on Campus
Doug Flutie of Boston College stands 5'9", which is short for a quarterback but plenty tall for a real miracle worker
A fortnight ago, against Clemson, Boston College Quarterback Doug Flutie fumbled on the sixth offensive play and the Tigers recovered. As the game progressed, Flutie's passes repeatedly were too tall for his receivers. By the third quarter, BC was trailing 16-3 and lucky to be that close—a standard situation for Flutie, who at this point figured he had poor Clemson right where he wanted it. In the ensuing 13 minutes, all Flutie did was pass, run and think his Eagles to four touchdowns—he threw for two of those scores, including a 39-yarder to Wide Receiver Gerard Phelan—as Boston College won 31-16. Ho hum. Typical.
"The thing you learn again in a game like that," says BC Coach Jack Bicknell, "is never give up on Doug Flutie." Eagle Linebacker Steve DeOssie, looking back on Flutie's slightly more than two years at Boston College, says, "There's no way you can overestimate what Doug has done for this team."
Indeed not. Flutie has been the salvation of football at the Jesuit school in Chestnut Hill, Mass., which as recently as 1978 was 0-11. In BC's 42-22 romp over Rutgers Saturday night at Giants Stadium in the New Jersey Meadowlands. Flutie got the Eagles off flying with a 60-yard touchdown pass to Brian Brennan. Then, on the first offensive play of the second quarter, Flutie scrambled out of the pocket, gained 14 yards and took a heavy late hit. "I got popped real good, and from then on I was in a daze," Flutie said. Three plays later he broke out of the pocket again and drew another late hit, which this time resulted in a 15-yard penalty. Flutie remained in the game and took BC downfield for another touchdown, but he didn't remember anything about the drive. Of a later play, Flutie said, "I wasn't looking for the guy I was supposed to be looking for."
Bicknell began to suspect that his quarterback might not be all there when Flutie didn't acknowledge a play that Bicknell had signaled from the bench. The coach called time-out, motioned Flutie to the sideline and asked him if he was O.K.
"I think so," Flutie said.
Bicknell thought not. "Heads," he said later, "you don't mess with heads."
That was all for Flutie, who proved to have suffered a mild concussion. "I was fine by the second half," Flutie said afterward, "and I could have played if they needed me." But sophomore backup Quarterback Shawn Halloran had things under control, so Flutie played spectator.
The victory left BC with a 3-0 record, a No. 12 ranking in the SI poll and right there with Pitt and West Virginia in the battle for Eastern supremacy, now that Penn State has taken sick.
There's much more. Season-ticket sales at BC this year totaled some 11,000, compared with about 4,000 for pre-Flutie 1981; also because of the Flutie phenomenon, BC this season has moved its games against Penn State and Alabama from on-campus, 32,000-seat Alumni Stadium to 61,000-seat Sullivan Stadium, the home of the New England Patriots. And BC is now a prime TV attraction; it will play West Virginia this week in an ABC regional game, worth more than $300,000 per school, and on Nov. 25 will appear in a national CBS game against Alabama that will earn the Eagles $600,000. Pre-Flutie, BC's only significant football connection with television was that the players watched it. Assistant Coach Barry Gallup shakes his head and says, "I'd say what Doug is really good at is magic."
It is a magical story, considering, above all else, that Flutie, a 20-year-old junior, isn't just too short to play major-college football, at 5'9'Öù" he's way too short.
And not only is Flutie too short, he's also too light, 174 vs. a de rigueur 190. And not strong; someone has to open the door to the weight room for him. Then there's the matter of his undisciplined playing style. "Anybody can play like a robot." sniffs Flutie.
No wonder not a single Division I-A college—save BC—wanted Flutie, and the Eagles didn't want him much. He received the last scholarship BC had to offer in 1981, and even then some of the BC coaches viewed him as a candidate for the defensive backfield. Flutie's coach at Natick (Mass.) High, Tom Lamb, says, "Doug wasn't the answer to anybody's prayers."
Happily, Bicknell wasn't praying for a statistically ideal quarterback; he was looking for one who could do the job.. "We're not hung up on size or anything else around here," he says. "All I want to know is, 'Can he make the play?' "
Oh, my. Consider that since Flutie took over as BC's starting quarterback in 1981, midway through his freshman year, the Eagles are a miraculous 15-6-1—miraculous, because Boston College is a serious-minded institution where academics truly do come first, yet its team is now succeeding against the big-time likes of Texas A&M and Clemson. In the 37 games before Flutie, stretching back through the '78 season, BC was 13-24. Last year the Flutie-led Eagles went to a bowl (Tangerine, losing to Auburn 33-26) for the first time in 40 seasons, climaxing an 8-3-1 year in which Boston College blitzed Texas A&M 38-16, ruining Jackie Sherrill's debut, and tied defending national champion Clemson 17-17.
Since Flutie's arrival, BC has been on network television twice; on each occasion he was named the game's MVP. And the experts try to tell us it's a team sport. He's already the Eagles' alltime passing leader with 4,990 yards, surpassing the efforts of all others, including BC's previous legend, Jack Concannon, who threw for 2,942 yards. The point is, all Flutie has meant to BC is everything.
But little Flutie is far bigger than merely the best Eagle of all time. He's on the threshold of being the best New England college football player ever. Disregard those snide remarks that, in view of the scant talent the region has produced, the honor is akin to being first in a one-man parade. Tim Cohane, former sports editor of Look magazine, who now lives near BC, says Flutie is the most exciting player in New England since Albie Booth. Booth, on the off chance he escapes your memory, played halfback for Yale between 1929 and 1931.
While playing in just over half of BC's games in his freshman year, Flutie completed 105 of 192 passes for 1,652 yards and 10 touchdowns, ninth best in the nation. Last season he completed 184 of 386 for 3,048 yards and 15 TDs. Against Penn State in 1982 he passed for 520 yards—the single-game best in the land last year—in a performance that reduced the usually articulate Joe Paterno to saying, "That Doug Flutie goes boom, boom, boom and bingo."
Given all his alleged minuses, how come Flutie is succeeding on such a grand scale? The intangibles. Doug's father, Richard, says of his son, "Doug does things you can't measure or clock." Like what? "Just watch him and you'll see." You do see. Flutie is smart and he's quick, but mostly he's excelling because he has a heart bigger than all outdoors and a disgustingly optimistic outlook on everything. And not insignificantly, he loves football.
Boston College is an easy place to love it. BC is a school with great modesty concerning its athletic program—appropriately, because over the years it has had a great deal to be modest about. Athletic Director Bill Flynn says, "We're just a little, bitty place trying to make it in a hard, tough world." Flutie is making it for them. "Mostly," he says, "I'm a competitor." Mostly, he's amazing.
Example: BC was trailing Rutgers last year 13-6 with 1:18 left in the game, the ball on the BC 13 and no time-outs left. It was a situation in which Flutie figured he had Rutgers, as he would have Clemson, where he wanted it. He led the Eagles down the field, overcoming a holding penalty and getting out of a second-and-20 situation en route. Then, with 12 seconds left and under enormous defensive pressure, he threw a kind of side-armed blind pass to a spot in the end zone where he figured Running Back Troy Stradford would be. Stradford was. Needing the two-point conversion for the win, Flutie then executed a nervy, naked bootleg pass to Scott Nizolek for the winning points. "When it comes down to the last minute," says Flutie, "I want to be the guy. I like the responsibility."
Example: With 2:41 left in the fourth quarter against Syracuse last season and the score tied 13-13, Flutie, who was having a terrible day—he ended with seven completions in 23 attempts—had the ball on the BC 29. Poor Syracuse. Six plays later, Phelan was standing in the end zone with a Flutie pass. The touchdown was the result of an unexpected execution of a Flutie audible that was freelanced—or willed—into success. Says Phelan. "He takes chances and drives the coaching staff nuts. He's king of the broken play." Flutie's brother Bill, 22, a former split end for Brown, defends Doug's style: "He runs the plays he's supposed to run, unless he thinks of something better." If Bicknell had wanted discipline, he should have recruited out of the Marine Corps. "My only concern is that we not coach the spontaneity out of Doug," Bicknell says.
Good thinking, because Flutie mainly has three things going for him on the football field: spontaneity, brains and optimism. As Phelan says, "Once Doug gets believing, all the rest of us get believing. And I can tell you, Doug believes all the time."
That trait first manifested itself when Flutie was nine years old, living in Melbourne Beach, Fla. and playing safety for the South Beaches Cubs. It was a close game involving older boys, and Flutie's coach cautioned him, "Don't let them burn you." The opposition did, scoring the winning TD over Flutie. Afterward he told his father, "It won't ever happen again." It didn't. In kids' football, when teammates were still crying for their mothers, Flutie was reading defenses. When he was in the eighth grade, the family moved to Natick, a Boston suburb, two towns west of the BC campus. Once, at Natick High, Flutie drove his team down the field and then kicked a 38-yard field goal to win the game with no time left. He had never kicked a field goal in a game and had practiced placements only casually. Lamb says, "Success is part of his personality. He expects it."
But few big-time recruiters came calling on Flutie, for all the obvious reasons. Size was the most convenient excuse. "Everybody told me I was too short to be quarterback," says Flutie. "I heard it so much I finally started believing it myself." Flutie could have gone to someplace like Harvard, but while they can spell football in Cambridge, they can't play it very well.
BC Coach Ed Chlebek didn't want him, either—too small and so forth. But when Chlebek walked out after the 1980 season, his replacement, Bicknell, who had been a BC assistant before becoming head coach at Maine in 1976, was more receptive. That was not so much because he saw any more in Flutie than anyone else had seen, but because two quarterbacks the Eagles badly wanted, and thought they had, went elsewhere. When it came down to Flutie or nobody, it was close, but Boston College took Flutie.
At the start of his freshman year, Flutie was the No. 5 quarterback only because there wasn't a No. 6. But within six weeks after his arrival on the Heights he was the starter, having succeeded junior John Loughery, who says, "Doug takes situations and makes the best of them. I'm glad I had a chance to be his friend. I just wish he had come around to be my friend two years later." In his first season Flutie went up against No. 1-ranked Pitt, and while BC lost 29-24, he went 23 for 42 for 347 yards and two touchdowns.
Still, you could make a training film of Flutie in action and title it How Not to Play Quarterback. For example, he often gives up too soon on the plays as diagramed and scatters his own way, forgetting all about inside releases for backside backers, shades and offsets, drag routes and Y to A coming underneath. He merely does what will work and is sure it will, because it always has out there on Retrop Road in front of his house.
Richard says his son's helter-skelter style is partly an illusion. "When you're only about 5'10", you just look more reckless than when you're 6'2"," he says. Additionally, Flutie doesn't fake very well. When he passes, he drops his elbow and pushes the ball. Often his feet aren't set and he rushes the delivery, and he follows through like a baseball pitcher, which can make him appear awkward. He's also so excited by game time that he typically will play poorly in the first half, throwing balls so wildly that the opposition can hardly play for laughing. Against Syracuse last season he was 0 for 5 in the first half.
Worst of all, he threw a whopping 20 interceptions in '82. "If I do that again," says Flutie, "we're in trouble." This problem arises because he tries for a big play on every play. He loves touchdowns and hates field goals and punts. No matter how dire the situation, he'll never give up on making something happen. "I do lack patience," he admits.
Flutie not only has found a way to succeed on the field, but off it he's so decent it makes you want to throw up. We're talking the original Goody Two-shoes here. Pressured and repressured to think of one substantial thing he has done wrong in his life, Flutie, a communications major with a B average, mumbles, fumbles, looks uncomfortable, can't come up with anything and concludes, "This is embarrassing." Brother Bill says helpfully, "He's not trying to be perfect. He's just that way." And that way is just perfect with BC disciples.
TWO PHOTOS
Led by Flutie and his line, Boston College has stepped up into the national rankings.
TWO
PHOTOS
No matter how Flutie eats, he'll never become more than a putt-putt-sized player.
PHOTO
Most Flutie tosses against Penn State in '82 were overhands. They gained 520 yards.
PHOTO
Tooting their Flutie: parents Richard and Joan with kids Darren, Denise and Bill.
PHOTO
Rutgers got Flutie—but then Boston College got Rutgers.