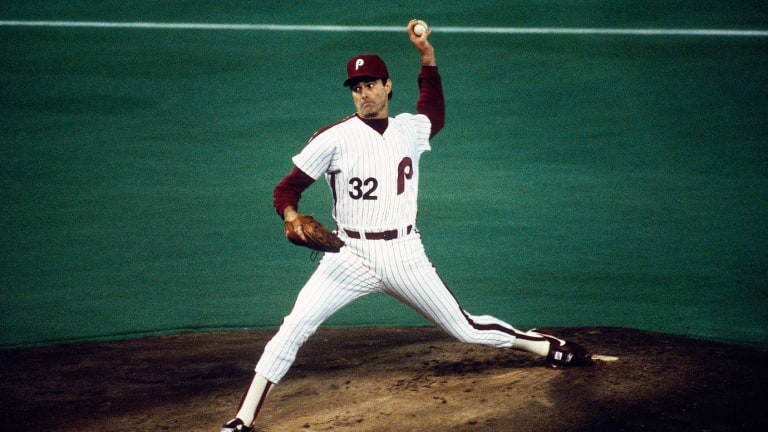 Publish date:
Philly is Streaking for Home
With 10 straight victories the Phillies all but put a lock on the rough-and-tumble race in the National League East
It was the strangest evening of a very strange season. Underneath a full moon Friday night, the Phillies' Steve Carlton beat St. Louis, his old team, 6-2 for his 300th career victory. But, though Carlton became only the 16th pitcher in history and the fifth in the last 59 years to reach that milestone, the accomplishment came off as flat as last night's champagne. Carlton may be headed for the Hall of Fame, but he bolted for the corridors under Busch Stadium like a common criminal, his hands shielding his face from camera flashes. Lefty hadn't said much of anything to the outside world in 10 years, and he wasn't going to start now.
This was also the night, and the defeat, that eliminated the defending world champion Cardinals from the National League East race, if you could call it that. Naturally, the Cards were upset. "Caribbean, here I come," said Outfielder Lonnie Smith.
The victory was the Phillies' eighth straight in a streak that would reach 10 by week's end and kept at bay the Pittsburgh Pirates, who that same night were pummeling the suddenly miserable Montreal Expos 10-1. Through Sunday's games Philadelphia had a four-game lead on Pittsburgh, with a magic number of three and a week to go. Said General Manager-Manager Paul Owens, "If you'd told me last spring in Clearwater that we'd be in this thing with the lineup we've had out there and that I'd be managing it, I would've said to you, 'Are you kidding me or what?' "
That Phillies' lineup included First Baseman Len Matuszek batting second, Rightfielder Joe Lefebvre hitting cleanup and Centerfielder Greg Gross in the sixth spot. Earlier in the season the three of them were, respectively, buried in Triple-A, in San Diego and on the bench. The lineup didn't include several notables, one of whom was Pete Rose, who's being asked to sit out his 15th pennant race.
This hasn't been the best of seasons for Carlton, either. He was 14-15 going into the game at St. Louis and had relinquished his role as ace of the staff to John Denny, who was 17-6. "Lefty has had a funny kind of year," says Claude Osteen, the Phillies' pitching coach and also the losing pitcher in Carlton's eighth, 44th and 68th victories. "His strikeouts are right up there, so you know he's not getting old. But his concentration hasn't been as sharp. He's made mistakes on pitches that he didn't used to make. But he's still the most amazing pitcher I've ever seen."
Actually, the most amazing thing was that Carlton almost agreed to speak after his victory. On Sept. 19, the Phillies announced that if Carlton won his 300th that week he would appear with announcer Harry Kalas on WTAF-TV with a radio simulcast on WCAU, answering reporters' carefully screened questions. But on Tuesday Carlton recanted, saying, through the Phillies' p.r. office, that the issue of his speaking had become bigger than the pennant race. "Milestones are nice, but, very honestly, they are secondary to winning," said the release.
In St. Louis on Friday, Joseph T. Carlton, Lefty's father, hung around the clubhouse, carrying a stack of pictures of Steve in younger days. But he declined to be interviewed. "Like father, like son," he said. "End of conversation."
Carlton shut out the Cardinals over the first three innings and also drove in the first Phillies' run in the second with a single through the right side of the infield. But in the fourth he made the kind of mistake he has been making all season, and David Green hit a fat fastball over the wall in left to tie the score at 2-2.
Then the Phillies came up with three more runs off Joaquin Andujar in the fifth, and Carlton settled down. He allowed a leadoff triple to Ozzie Smith in the eighth, but stranded Smith by striking out Willie McGee and George Hendrick and getting Green to hit back to the box. It was, however, his last inning, denying the fans the pleasure of a grand exit. "He could have gone another inning," said Osteen later, "but he had already thrown 137 pitches, and he has to come back again with three days' rest. I asked him if he wanted the ninth, and we both sort of decided not to risk it." Carlton's line on the night was eight innings, seven hits, two runs, both earned, one walk and a season-high 12 strikeouts.
Al (Mr. T) Holland, the Phillies' excellent reliever, pitched the ninth, striking out Ken Oberkfell for the final out. Carlton ran out of the dugout to shake Holland's hand. Recounted Holland, "Lefty said, 'Thank you.' And I said, 'No, thank you!' "
Carlton then exchanged hugs with teammates. He walked over to the field box next to the Phillies dugout to bring his wife, Beverly, out onto the field. Well-wishers touched him, and he kept mouthing, "Thanks, thanks, thanks." But the stadium was oddly quiet—there was no fanfare, not even an announcement of the historic occasion. Oddly, the winning manager in Carlton's first victory, Red Schoendienst, now a St. Louis coach, was the losing manager this time around because he had to take over for Whitey Herzog, who'd been thrown out in the fifth.
As the media waited outside the Phillies clubhouse, the players gave champagne toasts to Carlton. The trainers chipped in for a magnum of Dom Perignon 1975, and Pitcher Larry Christenson bought a magnum of Taittinger '71. But Carlton, oenophile and mediaphobe, brought his own Methuselah of Laurent Perrier, nonvintage. The huge bottle sat in his locker, even if he didn't.
Outside the clubhouse, Beverly talked about her husband's day. "He got up, walked around the yard, checked the fruit and nut trees, ate steak and eggs and hash browns," she said. "He was very relaxed." She accepted the kiss and congratulations of Phillies owner Bill Giles, who said, "A hundred more."
"Steve would like to play another 10 years," said Beverly, "and as hard as he works, he just might. I wouldn't mind that at all. Baseball's been great to us." When a reporter asked her if there was anything that the world should know about her husband, she said, "Well, he likes Ukrainian food." There you have it, baseball fans.
He just doesn't like attention. He stayed in the trainer's room in private reverie. Pitcher Larry Andersen, who was with the Mariners when Gaylord Perry won his 300th last year, said, "That celebration was a lot different. We had two cases of champagne, and we were spraying it all over Gaylord. Possibly it's a difference in the man, but Steve was very excited when he first came in. At least I'll be the answer to a trivia question in a few years. A very tough one, too."
Carlton's clothes were brought to him in the training room, and he asked that the clubhouse be cleared. When that failed, he requested a police escort through the locker room, and the Costello Ushering Service, doubtless named after the man who asked, "Who's on first?" executed a flying wedge. There went Carlton, covering his face from two vicious photographers and five rabid reporters. Shyness is one thing, paranoia another.
Some would say that the Phillies should go into the playoffs—if they beat out the Pirates—with their hands over their faces. This has been an embarrassing year for the National League East—at the end of last week five teams in the majors had better records than Philadelphia's division-leading 86-70. "I didn't think we were going to win," says Third Baseman Mike Schmidt, who through Sunday had 39 homers, 107 RBIs and a Phillie-record 127 walks—2.16 miles worth. "I didn't think we were as good as Montreal, and I felt that Pittsburgh had just as good a team as we did, and that St. Louis had a chance."
The Phillies' fast finish coincided with a public tiff between Schmidt and Owens. Schmidt said the team was confused and that there was no set lineup. Owens, who had come down from the front office to replace Pat Corrales on July 18, said that too many players cared only about themselves and that some of their statistics made him sick.
"I really didn't think we had the lineup, the foundation to win," said Schmidt. "As it turned out, having no set lineup sort of became our foundation. The guys came out to the park, and if they weren't playing that day, they said, 'Go get 'em today, I'll get them tomorrow.' "
The Phillies kept juggling their personnel until they found the right combination. Their stars were having off years. Leftfielder Gary Matthews, for instance, had 17 game-winning RBIs last year, but only three this year. Second Baseman Joe Morgan came into September batting .201. Centerfielder Von Hayes, who was acquired from Cleveland for five players, has been an utter disappointment. And Rose, poor Rose, had only three extra-base hits since July 1.
The Phillies got everybody into the act in their 9-6 Saturday victory over the Cardinals, which gave them nine wins in a row, their longest streak since 1977. They blew a 4-0 first-inning lead and entering the ninth trailed 5-4, with Bruce Sutter on the mound for St. Louis. Hayes, pinch-hitting, slapped a leadoff single, and then Matuszek, recalled from Portland, Ore. on Sept. 1 and ineligible for postseason play, went the other way to left centerfield for a double that scored Hayes. With one out and a runner on third, Rose, who had made only his second start in 11 games, laid down an exquisite squeeze bunt. Then Schmidt hit a two-run homer. "During the streak we've won games every way you can except by forfeit," said Schmidt.
Indeed, the Philadelphia victory string was extended to 10 games Sunday when Rose came off the bench to drive in the deciding run in a 10-inning, 6-5 win over St. Louis. "People who read box scores think that I can't hit anymore," Rose says. "But I'm 8 for 21 as a pinch hitter, and I'm tied for the team lead in sacrifice flies with seven." The Phillies haven't yet decided whether they want to renew his contract after this season, and rumors have Rose returning to his old team, Cincinnati. "Why would the Reds want me when I'm 42 when they didn't want me when I was 38?" Rose says. "But this is the time of the year for me. People will see me in the playoffs, and I'll show them I can still play."
It's also the time of the year for Morgan. On Sept. 19 he celebrated his 40th birthday with two home runs, a single, a double and four RBIs as the Phillies beat Chicago 7-6. The next day he went 4 for 5 with a double and three RBIs in Philadelphia's 8-5 win over the Cubs. "I don't think I've ever had a bad September," said Morgan.
The Phillies were only two games ahead of the Expos when they arrived in Montreal for a two-game set starting on Sept. 21. The game was rained out—the roof of Olympic Stadium is still stashed away in the basement—so a twi-night doubleheader was then scheduled for Thursday.
That's when the roof fell in on the Expos, and particularly Catcher Gary Carter. Lefebvre and Matuszek combined to drive in five runs, and Morgan had three doubles, a walk and was hit by a pitch as the Phillies staved off several Montreal rallies to win the opener 9-7. In the second game the Expos' season came down to the sixth inning. Trailing 2-0, they had runners on first and second with none out and the heart of the order coming up. But Charles Hudson struck out Andre Dawson and, after Al Oliver singled home a run, got Terry Francona and then Carter to pop up. It was Carter's fourth straight pop-up, not what Expo fans expect from a man making $1.7 million a year, and they booed him lustily. The Phillies ended up winning 7-1 as Hudson, an unexpected rookie bonus, pitched a four-hitter. Matuszek had two RBIs, and Morgan got two more hits, giving him 13 in four days, or more than he'd had in the 40 days between June 28 and Aug. 7.
So, in the course of less than seven hours, the Expos went from contenders to...well, Montreal Gazette columnist Michael Farber called them "Bridesmaid Revisited" one day and after the 10-1 crushing by the Pirates he labeled them "Destiny's Doormat" the next.
On Saturday the Pirates beat the Expos 1-0 behind John Candelaria and Cecilio Guante. Candelaria also drove in the winning run. On Sunday, Montreal helped out the Phillies by beating Pittsburgh 5-3. It was only the Bucs' fourth loss in 14 games.
The Pirates and Phillies, who will meet in a three-game set to end the season, actually seem to be enjoying themselves. For the Pirates it's like old times with the retired Willie Stargell back in the clubhouse, though in mufti, boosting morale and giving batting tips.
All three contending managers, Pittsburgh's Chuck Tanner, Montreal's Bill Virdon and Owens, appeared on Good Morning, America Friday, and David Hartman asked Virdon if the pennant race was fun for him. Said Virdon, "I think Paul had more fun than I did last night." Actually, Virdon doesn't believe much in fun. He has banned alcohol on team flights, has discouraged card playing and (gasp!) made the Expos take down their Nerf basketball game.
Guess what the Phillies did while the Expos paced their clubhouse during the Thursday rain? They organized the World Series of Tonk, tonk being their favorite card game. "It's a five-card rummy game," says Gross. "There's some strategy involved, but basically it's luck. Just like baseball." The entry fee was $40, and 16 players signed up for the winner-take-all pot of $640. Rose was seeded first, Morgan second, Maddox third and Schmidt fourth. The tournament was held Saturday night in a conference room at the Marriott Pavilion in St. Louis. After more than five hours, the winner of the crown of Dr. Tonk turned out to be unseeded and unsung Relief Pitcher Willie Hernandez.
"The Latin connection," proclaimed First Baseman Tony Perez. "He was a 99-to-1 shot." Said Gross, "Nobody expected Willie to win. But it's been that kind of year."
PHOTO
The Phillies may have gotten by everyone lately, but when Garry Maddox tried to score from second on Marty Bystrom's single last Saturday, he couldn't get past the Cards' Darrell Porter.
1
PHOTO
[See caption above.]

2PHOTO[See caption above.]
3PHOTO[See caption above.]
4TWOPHOTOSSchmidt, the league's home-run leader, got a hero's homecoming after hitting No. 39.TWO PHOTOSMorgan has blossomed this month, while Rose has been planted on Philly's bench.THREE PHOTOSJohnny was a Ray of hope for Pittsburgh on the base paths (middle and bottom), but he couldn't stop a steal by Expo Tim Raines.