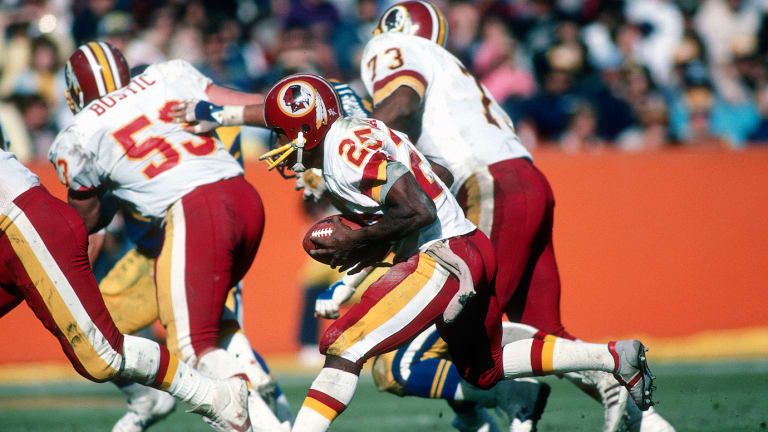 By the Skin of Their Teeth
Just when the Redskins seemed beaten, they rallied for 17 fast points to shock the L.A. Raiders 37-35
Has any Super Bowl champion in recent years seemed so ready to repeat? The Washington Redskins still have John Riggins to part the seas up the middle. They still have the big-play capability of Joe Theismann and his Fun Bunch. They still have more offensive formations than your average flag football team. And on Sunday they showed they haven't forgotten how to win a very big game.
"Even with all we did last year and what we've done so far this year there's been a lot of critics of the Redskins," says Linebacker Rich Milot. "I think they better start coming around."
Now would be fine. On Sunday afternoon before a roaring SRO crowd of 54,016 in RFK Stadium, Washington scored two touchdowns and a field goal in the final seven minutes to beat the Los Angeles Raiders 37-35. That spurt capped the most rousing game of the '83 season and was sweet indeed for the Redskins, who had earlier been burned by a 99-yard touchdown pass and a 97-yard punt return. Riggins wasn't even on the field for those frantic 17 points, and in his place was a guy four inches shorter and 55 pounds lighter—and with two bad knees to boot. Along the way the Skins got help from a trick kick that they've yet to practice and from a loosely played Raider zone that went against every tenet of the hard-nosed, man-to-man Silver and Black defenses of the past. They also refused to knuckle under to the Raiders' intimidating ways in a push-and-shove confrontation that the NHL would have been proud to sponsor.
"They were surprised that we were pointing our fingers back at them," is the way Redskin Wide Receiver Charlie Brown put it. Brown pointed his fingers by catching 11 passes, a career high, and scoring a touchdown. What Washington did, ultimately, was out-Raider the Raiders, a team that has long specialized in last-ditch heroics.
The victory put Washington's record at 4-1, which means it's far too early for Redskin loyalists to book plane reservations to Tampa for the '84 Super Bowl. But a loss on Sunday could have been disastrous. The Skins blew a 17-7 halftime lead and were trailing 35-20 with 7:31 remaining in a performance reminiscent of their Monday night el foldo against Dallas in the season opener. Further, all game long the Redskins had been keeping tabs on the Cowboys' game against Minnesota and didn't find out that Dallas had rallied to win 37-24 and remain unbeaten until they were in the locker room.
"They pulled it out?" said Milot, slamming a towel down on the bench. "They have got to be the luckiest team in football."
Luck had very little to do with Washington's victory. The Skins earned it with every wrinkle in Coach Joe Gibbs's active brain and with every crinkle in Joe Washington's battered knees. The Redskins had arrived at their 35-20 deficit in one of the most demoralizing ways possible. Jim Plunkett had thrown three second-half TD passes, and then the Raiders' Greg Pruitt had returned what seemed a perfect punt 97 yards for a touchdown. Turn out the lights, right?
Theismann—that's Theismann as in Nine Livesmann—had other ideas. On the Redskins' first play after that score, from his own 12, he looked off the defense and flipped a screen pass on the right side to Washington, who under less perilous circumstances for the Skins would have been on the bench watching Riggins grind out the clock. Washington got a ferocious block on Linebacker Ted Hendricks from Center Jeff Bostic—"I just saw the big s.o.b. coming and decided I'd take half of him and Joe could have the other half," said Bostic—and skirted 67 yards down the sideline for a first down at the Raider 21.
"In retrospect, that may have been the biggest play of the game," said Theismann afterward. "If we take a lot of time there to score, we're dead." After one in-completion, Theismann threw a 10-yarder to Tight End Don Warren and an 11-yarder to Brown for a touchdown. Los Angeles 35, Washington 27—and 6:15 left.
Redskin Special Teams Coach Wayne Sevier conferred with Gibbs and decided against a standard onside kick that could have put the Raiders in instant field-goal position. Instead, they opted for what Sevier terms a "power kick," which means Jeff Hayes tries to make a low kick over the first line of the return team. "We had it on our list of kicks to try, but somehow we never got around to practicing it," said Sevier. "But Jeff sure knew how to do it." And Free Safety Greg Williams sure knew how to recover it, outwrestling Dokie Williams of the Raiders for the ball at the L.A. 32. After the Redskins couldn't move, dependable Mark Moseley kicked a 34-yard field goal that made the score 35-30 with 4:28 left.
This time the Redskins kicked off deep, but Plunkett couldn't get a first down, and after the two-minute warning the Raiders had to punt. Perhaps if L.A. had had Running Back Marcus Allen in the lineup—bothered by a hip pointer, he was in for only one play, the power kick—things would have been different. But then, with Allen in the lineup the whole game would have been different.
From his own 31 Theismann moved the Skins steadily goalward, and in just five plays he had his touchdown—on a six-yard flip to Washington over the middle with 33 seconds left. Three of those plays were completions of nine, 26 and 28 yards to Brown, who took advantage of L.A.'s alleged prevent defense. Both his long gainers were on elementary "in" patterns that struck uncustomarily deep in the Raider zone. "They played a soft zone and we just picked it," said Brown.
Near the goal line, however, the Raiders went back to man-to-man. The Redskins lined up in a strange formation—Washington was the lone back but he was stationed outside his left tackle. The Skins can run out of the formation, but it's basically designed to get Washington isolated on a linebacker—and that's just what happened. L.A.'s Rod Martin tried to chuck him at the line, but Washington skimmed off, went inside and took Theismann's lob over Martin's outstretched hands for the touchdown that ended one of the most spectacular comebacks in Redskin history.
The game answered one of the major questions about the Redskins: Can they win without Riggins? The answer seemed to be no before Joe Washington's eleventh-hour spectacular. Riggins had averaged more than 26 carries in the Redskins' first four games, seven more than anyone else in the league, and that pattern didn't change in the first half. Though Riggins had been sick with the flu most of the week, Theismann sent him into the line 18 times for 67 yards in that first half. Riggins' steady gains, plus the remarkably unsteady play of Plunkett, who threw three interceptions, two of which led to Washington scores (a two-yard run by Riggins and a 28-yard field goal by Moseley), helped Washington to a 17-7 lead.
"We wanted to do the same thing in the second half," said Redskin Offensive Tackle George Starke. "Riggins right. Riggins left. That's still what works best for us. But when we got behind, that had to go down the drain."
It's nice, of course, to have something else in reserve—like Joe Washington, who in the off-season had surgery on both knees. He's still not completely happy in his role as Riggins' backup—"It's something that concerns me, but I'm not about to jump off the bridge over it"—but he's a whole lot happier than he was in Baltimore, where he was ready to jump off the bridge before coming over to Washington in a 1981 draft-day trade.
Or like Brown, who in his second year out of South Carolina State is already recognized as a big-play man. Brown will undoubtedly be getting the ball less than he did Sunday (his 11 catches gained 180 yards) now that Art Monk has recovered from a sprained knee suffered in the second preseason game. But Brown's performance Sunday underlined what had become apparent in his outstanding performance in the playoffs last year—that Redskin General Manager Bobby Beathard never made a better eighth-round draft selection. And Beathard showed good judgment in agreeing to renegotiate Brown's $60,000 salary in training camp; Brown got a four-year package estimated to pay him $175,000 for this season. "I feel now I'm getting paid what I'm worth," says Brown.
Theismann would like to get paid what he thinks he's worth. Certainly his contract renegotiation talks with Redskin owner Jack Kent Cooke got a boost from his 23-of-39, 417-yard performance. Theismann is in the second year of a four-year contract that will pay him about $315,000 this season, but there are more than a dozen NFL quarterbacks who make more, none of whom took their team to the Super Bowl last January. Though he's still a walking, and most especially a talking, personification of the Me Decade, Theismann has become a true leader of these Skins.
With all the high-profile guys on offense—the talkative Theismann, the unpredictable Riggins, The Hogs on the line, The Fun Bunch catching passes—it's tough for the Redskin defense to get noticed. Defensive End Dexter Manley is trying his best, though. This year he shaved his head into a Mr. T Mohawk style and has consequently dubbed himself Mr. D. Like Brown, Mr. D succeeded in renegotiating a $60,000 salary in training camp after announcing he wanted to be paid as much as Dallas' Randy White, who gets $318,000. Manley didn't get that, but he did sign for something like $140,000 for this season, with bigger bucks to follow. For the Raider game, Manley appeared in black shoes like those of his pass-rushing cohort, Tony (Mac the Sack) McGee. McGee (three) and Manley (two) accounted for Washington's five sacks, all in the first half when they repeatedly harassed Plunkett. But in the second half the Redskin defense got tired or Plunkett put some Geritol into his 35-year-old arm because he found Wide Receiver Calvin Muhammad for touchdown passes of 25 and 22 yards and marched the Raiders 69 yards for another TD, which came on a two-yard pass to Tight End Todd Christensen.
Everyone knows the way to beat Washington is through the air because All-Pro Safety Tony Peters (who has pleaded guilty to drug-related charges) and Cornerback Jeris White (contract problems) aren't around. But so far only Dallas has done it. Veteran safeties Mark Murphy and Curtis Jordan now work with a very inexperienced crew: second-year man Vernon Dean at right corner and rookie Darrell Green, the 1983 No. 1 draft pick out of Texas A&I, at left corner. Nickel Back Ken Coffey is a first-year man.
"Look, I know they'd rather have Jeris White in there," says Green, "but I can't worry about that. My theory has been, if I'm going to mess up I'll mess up going 110 miles per hour."
The loss notwithstanding, Los Angeles is still the class of the AFC. No team would have done as well Sunday minus a star of the magnitude of Allen, whom Plunkett desperately needs in order to have some kind of a running game. And Allen's absence wasn't the extent of the Raiders' bad luck. Cliff Branch, the venerable wide receiver, pulled a hamstring while outrunning Dean on his 99-yard second-quarter touchdown bomb from Plunkett (only the fifth 99-yard pass in NFL history) and sat out the second half. On defense, Free Safety Vann McElroy and Cornerback Ted Watts missed most of the second half—McElroy with a back injury and Watts with a strained neck.
With Watts and McElroy back in there's no reason the Raider defense can't resume its dominating ways; after all, until Riggins' short TD run in the first quarter, Los Angeles hadn't given up a touchdown in the first 57½ minutes of any '83 game. The loss was disappointing but far from demoralizing. As Defensive Lineman Lyle Alzado said, "Rocky Marciano's the only undefeated team I know."
"I wouldn't be surprised if we met them again in January," said Redskin Guard Mark May. No one else would, either.
PHOTO
Riggins and the Redskins were in Hog Heaven when he scored from the two for a 6-0 lead.
PHOTO
Theismann was in a groove, passing for 417 yards.
PHOTO
Good grief, did Brown have a big day, catching 11 passes for 180 yards and one TD.
PHOTO
With the clock ticking away, Washington isolated himself against Martin and outmaneuvered him to grab Theismann's game-winning pass.
PHOTO
Pruitt didn't seem prudent taking a punt at the three—until he returned it 97 yards.
PHOTO
Allen was a missing ingredient in L.A.'s attack.
PHOTO
Manley got a trim, and a whiff of oxygen.
PHOTO
Washington hates to spend any time on the bench, but he clearly earned this bit of rest.