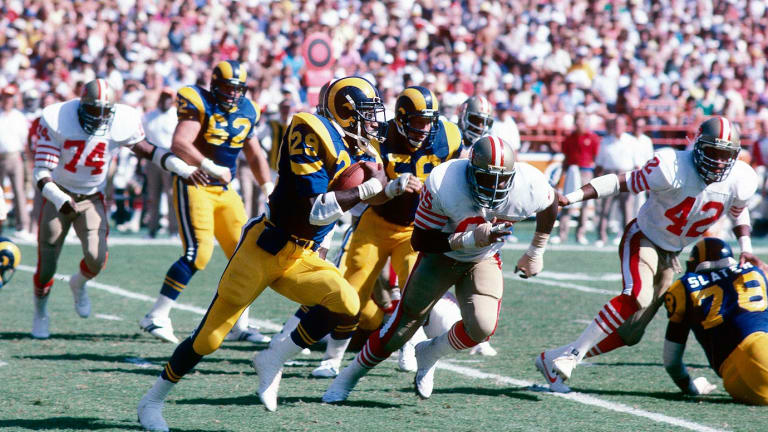 Publish date:
The Run Also Rises
The rushing game is making a comeback in the pros, primarily because all the teams have got their defenses geared up to stop the passing attack
Franco Harris is running wild. Walter Payton's got the giddyaps back in his legs. Tony Dorsett's blowing by 'em in Dallas. And look at those rookies. After five games Seattle's Curt Warner had more than doubled the '82 yardage of the Seahawks' leading rusher. Project Eric Dickerson's six-game rushing stats for the L.A. Rams over a full season and you've got 2,099 yards. Dickerson has gone over 190 yards twice already, and the last time an NFC runner got that many in a single game was in 1977.
New legs, old legs, it doesn't matter. Everybody's doing it. Take the Pittsburgh Steelers' Harris, a notoriously slow starter. Franco had three 100-yard games in his first five, the quickest he has come out of the blocks in his 12-year career. Usually in September and October he's just waking up. Chicago's Payton is off to his best start since 1980. Dorsett has 150 more yards than he did after six games last year—on seven fewer carries. Atlanta's William Andrews, Buffalo's Joe Cribbs, Cleveland's Mike Pruitt, Washington's John Riggins...they've never started better.
So what's happening? This is supposed to be the era of the pass, remember?
Dim the lights. Presenting, fresh from its long-run engagement in San Diego, that darling of the '80s, the formation everyone's talking about, the one-back. Just note the beautiful symmetry. Tight ends left and right. A wide receiver outside each of them. Quarterback under center, running back lined up directly behind him, forming the down stroke of a perfect T. Beautiful. Now start the music. One tight end goes in motion, stops, goes back the other way. The other tight end goes in motion and keeps going. One wide receiver jumps up a step. The other jumps back. Quarterback takes the snap, retreats seven yards and hands to the runner. He waits, checks the line for holes, guns his motor. Defense is waiting for a pass. It's always waiting for a pass these days. There's a hole. Bam, he's into it.
Now it's second-and-five, a passing down. Time for the defense to go into the nickel. Get those big linebackers off the field, bring in some smaller ones—pass defenders—and a fifth defensive back. Offense is changing, too. Now there are three wide receivers and one tight end, or maybe two runners and two wide-outs. (See diagram page 47.) Up front the defensive linemen are rushing the passer, sack happy. There's a blitzer coming, too. Everyone else is dropping back into coverage. Hey, we fooled you. Power sweep, two guards pulling, big guys blocking little guys. Make the nickel back play like a linebacker. Crunch! First down.
The long, agonizing drive. Eat up the clock. Keep your defense off the field, keep the enemy quarterback playing catch on the sidelines. The pendulum swings, and we welcome back, from the pages of history, the running game. This, of course, is a reaction to all that defense against the passing game, which grew wings when the NFL changed the rules, which were changed because everyone was stopping the pass. Got it?
"If there's a trend developing, I'm not aware of it, or at least it's not that noticeable," says Buffalo Coach Kay Stephenson. O.K., the guy's new. He'll learn. The first three times the Bills gained over 100 yards rushing this year, they won. The two games that they've lost they were held to less than 100. The L.A. Raiders' offensive line coach, Sam Boghosian, is another who doesn't notice any great increase in running. Well, in 1981 the Raiders ratio of plays called was 45% run to 55% pass. In '82, when Marcus Allen came, it was roughly 50-50. This season, after six games, it's 54% run, 46% pass, with the same people.
Still not convinced? O.K., let's go to the charts. Two six-year trends have been reversed this season, both of which started when the NFL began introducing rules to help the passing game in 1977. The year before that, rushes per team per game (39.7) plus yards rushing per team per game (150.7) reached high-water marks for the postmerger era, but for the next six years both those figures dropped steadily. This year, through the first five weeks of play, the rushes-per-game statistic made a slight upward swing, but the yardage was up more dramatically—from 117.8 to 130.5, an 11% rise and the highest that figure has been since 1979. Even more striking, though, was the increase in yards per rush—4.1, fractionally higher than 1976 and the highest since 1972, when the hash marks were moved in, opening up the running game.
"Everyone's afraid of a bombing," Raider Center Dave Dalby says, "so they're all playing pass defense and giving teams a lot more room to run."
Raider Linebacker Ted Hendricks puts it another way: "Running is up because we have so many sacks."
Very true. For years people figured the way to play pass defense was to rush three people and drop everyone else back into coverage. As those three poor souls on the defensive line spun their wheels, trying to fight through five blockers, sacks dropped sharply, and the passers set new records. In 1976 there were 9.98 sacks for every 100 passes, and then for five seasons the number showed a steady decline, reaching a low in 1981 of 7.19, a five-year decrease of 28%. The proliferation of designated blitzers, like Cleveland's Chip Banks, the Giants' Lawrence Taylor and Pittsburgh's Robin Cole, reversed that trend in '82, upping the figure to 8.48, and through the first five games this year, with nickel backs and corner-backs and safeties blitzing, sacks were up to 9.45 per 100 passes, the highest they've been since '77.
And one way to attack those sack-happy defenses is to run at them. Clubs are now running power sweeps on third and long, against five-and six-back sets with their blitzes and gimmicks.
"You're seeing more runs on third down than you used to," Chicago Wide Receiver Brian Baschnagel says. "I've even seen play action on third-and-long. You never used to see that."
Play action, meaning a pass play that starts out looking like a run. "It doesn't mean a thing unless you make the defense respect the run," says San Francisco Coach Bill Walsh. "Now defenders know they might see a run on third-and-long, so in a sense the run is setting up the pass again. But first, you've got to let 'em know you're not afraid to run."
"Defensive backs aren't as big and physical as they once were, due to the emphasis on the pass," says Baltimore Cornerback Larry Anderson, a 5'11", 188-pounder, "and the running game takes a big toll on us. I broke my foot on a running play [on Sept. 25; he won't be back until at least November]. I had to take on a pulling guard."
Indeed, the big, strong, run-forcing cornerback, like Pittsburgh's Mel Blount, is becoming obsolete. The heavier running game may bring him back. "Defense is so specialized today," Blount says, "that a lot of backs don't have force responsibility. They just run up and down the field covering receivers."
Early use of extra-back defenses, like the nickel, certainly is the No. I reason the run is becoming fashionable, and it has produced some strange drives. Against Denver on Oct. 2, the Bears had a 15-play, 89-yard touchdown drive on which they passed on every first down and ran on the other downs.
There are some teams, however, that seem to have gone back to a general pound-away theory, basically as a more sensible way of doing things. New England Coach Ron Meyer, noticing that the Jets couldn't stop Seattle's running game and figuring that perhaps all that Sack Exchange publicity had turned the Jets' attention away from the good run-stopping techniques, ran the ball 28 times on 28 first downs in New York. The result was a 23-13 Patriot win and 328 yards rushing, including 212 for Tony Collins, the most by an AFC runner since O.J. Simpson ran for 273 in 1976.
In their second game, the Giants ran the ball on each of their 11 first downs in the first half and on each of their first six in the second half, and beat Atlanta. The following week the Giants tried the same tactic in a hard-fought loss to Dallas—12 for 12 at the start of the first half. The book always has been throw against Dallas on first down—"Teams have been doing that to Dallas since the days of Bart Starr and John Unitas," Cowboy Middle Linebacker Bob Breunig says—but Giant Coach Bill Parcells decided to hammer away. "Two reasons," Parcells says. "To keep our defense off the field and to set up the play-action passes in the second half."
Keep the defense off the field? You hear that all the time, but what does it mean, really? The defense is going to have to play eventually, both clubs are going to have roughly the same number of possessions, and the whole idea is to score more times on your possessions than the other guy does on his. Unless your defense is injured or tires easily, keeping it off the field with long, grinding drives will hold the score down but won't guarantee a win. It's strange, but you hear it again and again.
For some coaches, the jury's still out on the effectiveness of the one-back offense, although it's fashionable now, since Washington and John Riggins bludgeoned people to death with it last year. Both Meyer and Parcells did their hammering out of a two-back set, reasoning that a big, tough back is a better blocking weapon than a swerving and swooping extra tight end.
New one-back converts, though, such as the Browns' Sam Rutigliano, feel it's a more versatile formation, and the blocking is better with the extra man on the line. Pruitt, Cleveland's one-back, says he can see the holes better out of this setup. The formation is a product of the fertile brain of San Diego Coach Don Coryell, who first used it at St. Louis in the mid-'70s, then took it with him to San Diego, using Keller) Winslow as the slotback/tight end. It was primarily for passing, but he could run from it, too, as Coryell's former offensive assistant, Joe Gibbs, proved in Washington.
"The run from the one-back is basically a four-or five-yard gain," says Walsh, who's more of a two-back man. "The whole trick for the defense is to attack the motion tight end before he can position himself correctly."
But, boy, has the one-back produced some fancy running stats. The theory is: Give your keynote runner the ball and don't mess around with the other guys. In the first five weeks of this season, there were 38 100-yard performances, including 10 of 150 yards or better. In the first five weeks last year, the numbers were 24 and two; in '81, 20 and five.
Offensive linemen say the emphasis on running has forced them to work on their drive-blocking skills again, techniques that had grown a little rusty. "I've got to admit," says 49ers Right Tackle Keith Fahnhorst, "that this year was the first time I'd worked on my run-blocking in a long time. After last year [the 49ers were 28th in the NFL in rushing], I figured, O.K., just don't get beat on pass protection and you'll last forever; but getting Wendell Tyler changed that. When you've got a good runner like that, you know damn well that if he's not getting his yards it's not his fault. So you'd better shape up." After three games this year Tyler already had more yards than the leading 49er rusher had all last season, but when Tyler separated his shoulder early in the fourth game, against Atlanta, the 49ers blocked just as aggressively for the other guys, and the rushing totals read 157 against the Falcons and 174 against the Patriots, both wins.
Oldtimers like 49er Linebacker Jack Reynolds say there's an even deeper reason why rushing yardage is up this year: Run-stopping skills are eroding. "It takes a whole new set of techniques to stop linemen coming out and grabbing you," he says. "Linebackers nowadays are blitzers and coverage guys or blown-up strong safeties. They don't rely so much on technique; they count on physical ability, which means their careers will be shorter. An older player can always fall back on technique, but these new guys, once they've lost a step, there will always be a younger, faster guy to replace them."
"I see a loss of basic run-stopping technique among defensive linemen," Walsh says. "Psychologically, they are into sacks, ravaging the quarterback. They learn to slip blocks, to rely on speed. And their skills against the run erode. But I see the running game coming back, and when that happens, the defense will adjust. Players like Jack Reynolds and Mel Blount will be valuable again."
And then maybe some bright young offensive coach will look at all those rugged, sturdy defenders and say, "Hey, I've got an idea. Let's throw the ball."
[originallink:10627031:43431]
PHOTO
Andrews, averaging 109 yards rushing per game, ground out 150 against the Eagles.
CHART
PAUL J.
PUGLIESE
The number of yards rushing (per team per game), after steadily, dropping from a postmerger peak of 150.6 in 1976, climbed in the first five weeks of the '83 season to its highest level since 1979.
TWO PHOTOS
Payton has been kicking up his heels against teams like the Broncos; Pruitt, who rushed for 107 yards against the Seahawks, is one of the players who likes the one-back.
DIAGRAM
PAUL
J.
PUGLIESE
San Francisco 49ers' 18 M BOB: Walsh versus the nickel: Quarterback (A) hands off to halfback (B), and the mismatches are on—fullback against nickel back (1), guards on linebacker (2) and cornerback (3).
CB
FS
LB
DE
DT
DT
LB
DE
SS
N
CB
WR
T
G
C
G
T
TE
WR
HB
QB
FB
A
B
1
2

3PHOTORiggins, the league's No. 5 alltime runner, started this season the way he left off last.PHOTODickerson's 199-yard game versus Detroit was his second 190-plus day of the year.PHOTOSeattle's Warner knows how to turn the corner.PHOTOHarris got a hand and the ball after he replaced Simpson as the game's No. 2 runner.