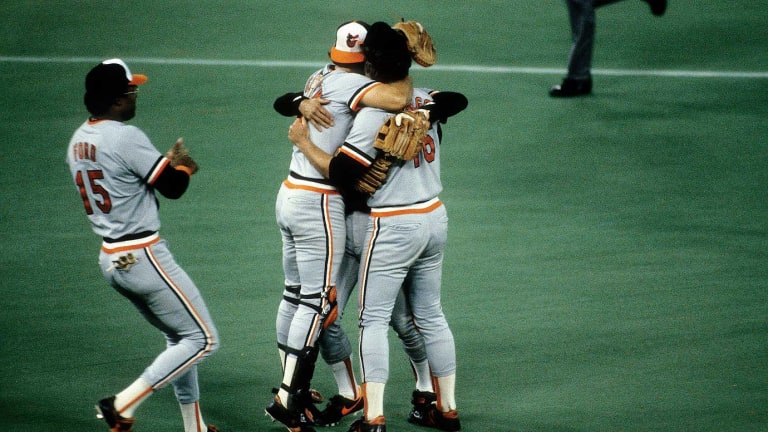 The Orioles All Pitched In
Baltimore overwhelmed Philadelphia in five games in the World Series with an exemplary team effort that featured rookie Pitcher Mike Boddicker and three tough Stooges
They saved the best for last. The Baltimore Orioles—that's oh, are, eye, oh, you know—beat the Philadelphia Phillies 5-0 Sunday to win the 80th World Series in an efficient five games. In the process, they made a good team look bad, and they hushed the largest baseball crowd (67,064) in the 13-year history of Philadelphia's Veterans Stadium. The Orioles looked a little lonely celebrating on enemy artificial turf, but late that night they went home to all the pomp and spelling bees they could ever want.
First Baseman Eddie Murray hit two tremendous home runs, Catcher Rick Dempsey, the Series MVP, had a double and a homer, and Scott McGregor pitched a five-hitter, yet their individual accomplishments seemed absorbed by the entire team. There have been world champions with more talent, but there has probably never been a team as selfless as these Orioles.
"Just knowing that you're part of the best team in baseball," said Murray, "well, it's a nice little feeling."
It was the beginning of a nice little autumn evening for the Orioles when, in the second inning Sunday, Charles Hudson of the Phillies threw Murray a nice little 2-2 fastball. Murray sent a nice big blast into the seats in rightfield. "All I thought was one to nothing," said Murray. "I also thought I took the crowd out of the game."
The Philadelphia crowd had been getting on Murray in the previous two games, derisively chanting, "Eddie, Eddie," every time he made an out, which was often. Murray was also hounded by people wanting to know why he wasn't hitting, and to escape the crush he decided to skip batting practice Saturday and Sunday. Even the Orioles were worried about Murray, though they were up three games to one. Rightfielder Dan Ford noticed he wasn't throwing sunflower seeds at teammates, as is his usual custom, and Ken Singleton, the team's unemployed DH, said Saturday, "Maybe he'll be Eddie Murray tomorrow."
So when Murray homered in the second inning, the game, and thus the Series, was all but over. "As the sleeping giant awoke," said Leftfielder John Lowenstein, "we began to realize that it was going to be very difficult to beat us."
After Murray's home run, Hudson started pitching defensively, and in the third Dempsey hit a 1-0 pitch just over the 371-foot mark in left.
The 10th homer of the Series, but the first with a man on, came in the fourth. With Shortstop Cal Ripken aboard via a walk, Hudson threw a nice little off-speed pitch to Murray, and Murray banged it off the scoreboard in deep right center, almost at the spot where it had MURRAY 111 listed under the American League RBI leaders. "Now I'm thinking it's four to nothing, and with Scotty on the mound we've got this game won," said Murray. "It's funny how you can become a hero in a day."
Murray's hard-hitting counterpart on the Phillies, Third Baseman Mike Schmidt, never got started. He was 1 for 20 with six strikeouts in the Series as the Oriole pitchers kept teasing him with high fastballs, and, with every out, the boos got louder and longer.
McGregor's shutout dropped Baltimore's Series ERA to 1.60, as low as any in a five-game classic since Yankee pitchers had a 1.40 ERA in 1943. McGregor was in such command he threw only one curve, to Second Baseman Joe Morgan in the third. The other pitches were fastballs and changeups.
In the postgame madness, the Orioles washed down with 240 bottles of Great Western Extra Dry. Murray and Ripken espied each other over the heads of the mob and shared their special handshake. Al Holland, the Phillies' reliever, sought out Murray, shook his hand conventionally and said, " 'Bout time you came out of that slump."
This was the Amtrak Series, originating in Baltimore, destination Philadelphia, making station stops in Cooperstown, Platoon, Hurlersburg, Redemption, Morgantown, Holland, Norway, Foshville, Tater City, Stoogeburg, Drizzle and Puddle. Please watch your step while boarding.
The National League champion Phillies and the American League champion Orioles were as different as, say, cheese-steaks and crab cakes, but they did have a couple of things in common. One was a firm belief in two-platoon baseball. The other was good pitching, and as everyone knows, good pitching beats good pitching.
The Phillies, the road show for the Hall of Fame, had the lowest overall batting average for a Series team since the 1974 A's; the Wheeze Kids also had four players 40 or over, and no Series team has ever had more than two of those. As for the Orioles, they were clear favorites, even though they couldn't use Singleton in his accustomed DH role in this odd-numbered year.
This was also the coziest Series, geographically, since the New York Yankees and Brooklyn Dodgers played in 1956. Game 1 on Tuesday was as close as the contending cities, the Phillies winning 2-1. Actually, the Giants won; the game's three home runs were hit by ex-members of the San Francisco team, and former Giant "Mr. T." Holland dispatched the heart of the Baltimore lineup—pity the fools—to save the victory.
It was a rainy night in Baltimore, and the 52,204 fans, many dressed in yellow and orange slickers, looked like so many autumn leaves. Adding to the foliage was President Reagan, wearing a bright red turtleneck under a tweed sports coat. The President arrived at the end of the first inning and left after the seventh, and his visit marked the 12th time a Chief Executive had been to a World Series. The Republicans hold an 8-4 edge over the Democrats.
Another special guest was singer John Denver, whose rendition of Thank God I'm a Country Boy is played during every seventh-inning stretch at Memorial Stadium. Denver, who went to Fort McHenry that day for inspiration, sang the national anthem, and later, in the seventh, he did his own song live.
At 8:17 p.m., Wild Bill Hagy conducted his first spelling bee, and he was followed by a two-minute fireworks display. Hardly had the smoke cleared when Jim Dwyer hit a 3-and-2 fastball from John Denny over the rightfield fence.
McGregor had the Phillies guessing wrong through the first five innings as he faced only one more than the minimum number of batters. But with two out in the sixth and behind in the count 1 and 2, Morgan guessed curveball, got it and sent it into the Phillies' bullpen in right to tie the score. Morgan, 40, thus became the second-oldest man to hit a Series homer—Enos Slaughter was a few months older when he hit one for the Yankees in 1956. "I used to be too short," said Morgan. "Now I'm too old."
After the Orioles hit in the seventh, McGregor was all set to pitch when a crewman for ABC waved him off. "There is a certain flow to the game," said McGregor. "I told that guy never to do that to me again. He already had five minutes. I said, 'Sell your Datsuns some other way.' " Actually, ABC was holding up the game because Howard Cosell was interviewing Reagan.
McGregor's first pitch after the delay was a fastball, and Garry Maddox sent it sailing through the wind into the leftfield seats. "I'm not going to make an excuse," said McGregor. "I threw the pitch I wanted to throw." However, the scouting reports should have told him that Maddox always looks for a fastball on the first pitch. It was only his fifth homer of the year and first game-winning RBI.
Denny left the game after Al Bumbry doubled with two out in the eighth, and Holland came on to get Ford to hit a fly ball to left. Holland throws almost nothing but fastballs, although he delivers three different kinds, depending on the way he grips the ball: rising, sinking and sailing. In the ninth he made Ripken pop up to short, struck out Murray and allowed Gary Roenicke to hit a deep fly ball to left that Gary Matthews caught for the last out of the game.
"I hope the President remembers my name," said Holland, whose exuberance has made him a popular man with the media. When told that the President had left before he came on, Holland said, "That's O.K. He's got his job to do, and I've got mine."
The pitching on both sides was so good that not one walk was issued—only the fifth time that has happened in a Series. Denny, the winner, said, "I've grown up a lot in the last year." He certainly has matured as a pitcher (19-6 with a 2.37 ERA during the season). It has also been interesting to see him grow as a person in the last few weeks. A born-again Christian, Denny invited his father, Dick, who is legally blind, to fly in from Australia to attend the Series. Denny and his father were estranged when the pitcher was a youth. And there's more. Once very antagonistic toward journalists, he now gives freely of himself, citing chapter and verse. The epistle-packing Denny says he decided to talk because of Philippians 2:3-8. You can look it up, as Casey used to say.
Oriole fans looked as dreary as the weather as they filed out of Memorial Stadium. It was the first time in six World Series that the O's had lost the first game. But at least they could take heart from a line in that infernal song of Denver's: "Life ain't nothin' but a funny, funny riddle."
The next night the Orioles' fans could have been singing, "Thank God for a country boy." As he had in the American League playoffs against Chicago, rookie Mike Boddicker, of Norway, Iowa (pop. 633), pulled Baltimore even with a wonderful pitching performance. Boddicker bedazzled the Phillies in the O's 4-1 victory, allowing only three hits, no walks and no earned runs while striking out six. He was just as impressive as he had been the week before when he beat the White Sox on a five-hit, 14-strikeout shutout. That victory also had followed an opening game loss.
"This was a masterpiece as far as I'm concerned," said Claude Osteen, the Phillies' pitching coach. "He's got three speeds for each pitch, and that's a total of 12 pitches. He reminds me of Stu Miller."
"I thought Stu Miller was running a liquor store on the Coast these days," said Phillie Coach Dave Bristol.
"Do you think that kid was a pitcher tonight?" asked the Orioles' chief scout, Jim Russo. "Hell, no. That was Michelangelo with a baseball."
The Orioles had other people to thank in Game 2, most notably Brother Low, Lowenstein; the bottom of the batting order, which is now known as The Three Stooges; and Pat Santarone's ground crew, which kept the field playable despite 24 hours of drizzle.
But the night belonged to Boddicker, who, if he never does anything else, has at least put Norway on the map. It's 15 miles southwest of Cedar Rapids.
Boddicker's game was the best by a rookie in a World Series since 1919, when Dickie Kerr pitched a three-hitter for the Black Sox. Boddicker threw more fastballs than he had against Chicago, 34 in all, 29 for strikes. He also threw 42 curves (28 for strikes), six sliders and 23 of what the Orioles call a "foshball." That stands for the hybrid between a forkball and a "fish," which is the term Osteen once coined for a changeup.
Oriole Pitching Coach Ray Miller, who calls Boddicker "a righthanded McGregor," says Boddicker set the tone of the game right away, against the Phillies' three future Hall of Famers, Morgan, Pete Rose and Schmidt. "He threw a changeup to strike out Morgan," said Miller. "Rose had seen that, so when he went 3 and 2, he figured he'd get one. But Boddicker threw him a fastball and struck him out." Boddicker then got Schmidt to ground to shortstop.
The Phillies actually scored first, in the fourth, on a single by Morgan, a stolen base, a rare error by Murray and a sacrifice fly by Joe Lefebvre. Boddicker's rival rookie, Hudson, had a shutout going into the fifth. But Lowenstein hit a 2-0 low inside fastball over the centerfield fence to tie the score. Lowenstein, who doubled his first time up, finished with three hits. He is the lefthanded side of the Orioles' leftfield platoon, and over the last two years he has had 39 homers and 126 RBIs in 633 at bats. He also can dry the field with his wit. "I have no desire whatsoever to play every day," he says. "That's too tiring."
Coming up after Lowenstein were the Stooges, Larry (Rich Dauer), Curly (Todd Cruz) and Moe (Dempsey), who had a combined batting average of .228 during the season, and in the postseason had four hits in 52 times up prior to the fifth inning. Dauer, 0 for 18, promptly singled to left. Cruz then laid down a bunt that crossed the Phillies up. Dempsey followed with a run-scoring double down the rightfield line. Then Boddicker, in only his third professional at bat, hit a sacrifice fly to left. After the game Boddicker played down his hitting ability, saying, "Everybody hits in high school," but, in fact, he was a third-team all-Big Ten third baseman at Iowa.
The Stooges got their name from Singleton, who said at the end of the season that he was proud of his 85 RBIs, "especially with the Three Stooges batting behind me." Says Singleton, "At first they took offense, but now they're naming each other."
"I'm Moe because I'm the most intelligent," says Dempsey. "I'm Curly," says Cruz, "because he's my favorite guy. Whoowhoo. I do the backstep good, too, so I told Joe [Manager Altobelli] that the next time he pinch-hits for me, I'm gonna do the backstep into the dugout."
During the game Boddicker asked if he could be Shemp, the Stooge who replaced Curly, because of his RBI. But Singleton quickly nixed the suggestion, saying, "You make too much contact."
There was a frightening note in the game when Phillie Reliever Willie Hernandez hit Ford's batting helmet with a pitch in the fifth. But Ford got up, and in the seventh he singled John Shelby to third to set up an RBI single for Ripken.
For two minutes after the game, the Oriole fans chanted "We want Mike, we want Mike," until Mike came out, wearing his Oriole jacket. He doffed his cap and nodded his head in thanks.
When the teams moved to Philadelphia on Friday, the Phillies scattered Hall of Fame plaques all over Veterans Stadium. The Orioles eked out a 3-2 win because merely mortal Benigno Ayala hit one immortal's slider past the outstretched glove of another immortal.
There was more to the game than that, but the moment to remember came in the top of the seventh with the Phillies leading 2-1 and Steve Carlton, the first 300-game winner to pitch in a World Series in 55 years—Reagan or Grover Cleveland Alexander was the last—on the mound. With two out and nobody on base, Dempsey doubled, and Benny Ayala was sent up to pinch-hit for the immortal middle-inning reliever, Jim Palmer. With the count 3 and 1, Carlton threw an inside slider, and Ayala, looking for precisely that, creamed the ball to the immediate left of Schmidt to score Dempsey with the tying run.
That was all for Carlton, and it was also curtains for the Phillies. Holland was brought on, but he gave up a single to Shelby, Ayala stopping at second. Ford then hit a hot grounder to Shortstop Ivan DeJesus, who became a seventh-inning wretch by failing to catch it, thus allowing Ayala to score with the winning run. The winning pitcher was, lo and behold, Palmer, who won his first World Series game in 1966. "It was my biggest thrill since Hagerstown," said Palmer, referring to his two-game stint in Class A ball this year.
There was a horde of heroes in this game, goats galore and some very curious managing, mostly on the part of Paul Owens of the Phillies. One of the curious things he did was bench the 42-year-old Rose in favor of 41-year-old Tony Perez. With crystalline logic, the Pope explained his movement toward youth by saying, "This will enable us to change our lineup."
Perez had hit Baltimore's starting pitcher, Mike Flanagan, well when he played for the Red Sox the previous three seasons, but the move hurt Rose, who had played every inning of his 59 previous postseason games. Rose uncharacteristically shunned reporters before the game, but he did tell the immortal Cosell that he was "hurt" and "embarrassed." Besides upsetting Rose, the change smacked of panic.
Solo homers seemed to be all the rage in this Series, and the Phillies jumped out to a 2-0 lead against Flanagan with bases-empty shots by Matthews in the second and Morgan in the third.
Carlton, meanwhile, faced only nine batters in the first three innings, and he got out of a bases-loaded, no-out jam in the fourth by getting the slumping Murray to pop out and Roenicke to hit into a double play. Flanagan, who was having trouble pushing off what the Orioles claimed was an abnormally high mound, had to leave after four innings when Altobelli sent Singleton up to bat for him after Dempsey doubled with two outs. Altobelli, who failed to use Singleton in the first two games, seemed to be wasting him this time—he struck out. Palmer, the winningest active pitcher in the American League, came in to pitch against Carlton, the winningest active pitcher in baseball. As Altobelli so eloquently put it, "We had two guys out there who had 568——wins. Is that a piece of——or what?"
In the top of the sixth, Ford put the Orioles on the scoreboard with, yes, a solo home run into the leftfield bullpen. Before the game, Ford had specifically asked the batting practice pitcher to throw inside to him to make sure he had recovered from Wednesday's beaning. It was an inside pitch he hit off Carlton.
Palmer turned in two shutout innings, although he did get in trouble in the sixth after a fluke infield single and a walk. The next batter was Carlton, and Owens came out to visit him in the on-deck circle. "If you can give me another inning," the manager said, "I'm going to let you hit." According to Owens, Carlton said, "I'll let you make that decision. I'm all right." Palmer then struck him out.
Before he went out for the seventh, Carlton got a rubdown from Gus Hoefling to loosen his aching back. He got the first two Stooges, Dauer and Cruz, but Dempsey ("Cut it out, Moe") hit one into the gap in left center for his second double of the game. Enter Ayala, who said afterward, "I have a degree in pinch-hitting. I majored in it, and I plan to make a career out of it."
The ball that Ford hit to DeJesus was a tough chance. It skidded on a wet spot of the turf, but the shortstop would make no excuses. "I'm supposed to catch those balls. We lost that game because I made that error."
It wasn't all his fault. In the bottom of the seventh, Palmer's successor, righthander Sammy Stewart, walked Morgan. Sixto Lezcano, batting in Rose's No. 2 spot, fouled off two bunt attempts and struck out. Schmidt was up next, and on Stewart's first pitch, Morgan took off. Dempsey's throw nailed him rather easily. Morgan, running on his own, surprised Schmidt, who at first thought he had missed a hit-and-run sign. Schmidt then struck out.
In the eighth, Owens chose not to hit for Maddox against Stewart so as to keep the Orioles from bringing in Tippy Martinez. But in the ninth, he had Lefebvre hit for Catcher Bo Diaz, and when Martinez came in, he had Rose hit for Lefebvre. Martinez got Rose to ground out, DeJesus to fly out and pinch hitter Ozzie Virgil to ground out to save the victory.
"I could have been second-guessed 150 times in that game," said Owens, and indeed he was. Palmer, who entertained the troops in the postgame interview room right after Owens, said, "I wanted to poke my head around the curtain and ask him some questions. They made some funny moves."
The loss clearly put the Phillies in a phunk. Morgan got mad at the questions that Perez, who was 1 for 4, was getting in the locker next to his. "We're trying to win a World Series, and you're talking about all this petty bull," Morgan screamed at reporters. After Owens took over in July, it had taken several weeks for his players to accept their new roles, and for the manager to learn how to use them. In one night, the Phillies forgot how they got here.
The Orioles weren't likely to forget. And after they'd beaten the Phillies 5-4 on Saturday, they remembered they had been here before. Actually, it was in Pittsburgh, not Philadelphia, and the year was 1979, not 1983. However, the situation was the same. The O's took a 3-1 lead in games, needing to win only one of the next three, two of them at home. But they didn't.
"That's the first thing the guys were saying as we ran up the runway after the game," said Dauer, who had three RBIs in the win. "I think we realize now what we didn't then. We're not an awesome team, but we're blessed with some talent, and we're team-oriented."
One of the surprises in a Series of surprises had been that the Orioles could win without Murray or Ripken, who between them were batting .161 with exactly one RBI. It was the aforementioned Three Stooges, each of whom received a statue of his namesake from Columbia Pictures before Game 3, who had been killing the Phillies.
The game was played on what was surely the most beautiful day in World Series history. They don't keep track of such things, although filberts did know that this was the first time both teams had batteries starting with the letter D (Davis and Dempsey, Denny and Diaz) and that the crowd of 66,947 was the biggest for the Series since Game 3 in New York in 1964, and for one day at least the largest in Veterans Stadium baseball history.
They also knew that when Storm Davis struck out the side in the first, it was the 18th time that had happened. "I think he was trying to impress us with his curveball," said Morgan. "I was impressed."
Denny was equally impressive at the outset, allowing only an infield single in the first three innings. His father had made the trip to attend one of his son's games for the first time since Little League. But symbolism fans had noticed that when Denny went to pick up a white balloon that had blown onto the field before the start of the first inning, it burst as soon as he touched it.
The Orioles struck first, in the fourth. They loaded the bases with none out on consecutive singles by Dwyer, Ripken and Murray, who got his first hit since his first at bat in the opening game. After Lowenstein struck out, Dauer lashed a two-run single to the opposite field in right. "All year we've been trying to get him to go the other way, and today he finally did it," said an Oriole scout.
Rose, back in the lineup, singled with one out in the bottom of the fourth, and got a stooping, if not a standing, ovation. Schmidt, mired even deeper than Murray, finally broke his 0 for 13 schneid in the bottom of the fourth with a broken-bat single. Then Lefebvre doubled down the line in right to score Rose, and Matthews walked. But the rally died when Greg Gross grounded into a double play, Dauer, unassisted, to Murray.
The Phillies took a 3-2 lead in the fifth on a double by Diaz, a wild pitch, a single by Denny, who went to second on the throw to the plate, and a double by Rose, who seemed to want very much to be a hero. There was another bad omen, though, for the Phillies. "It seems that every time Denny runs the bases," said Phillie owner Bill Giles, "he doesn't pitch well the next few innings."
Indeed, in the sixth, Lowenstein singled and Dauer doubled past Schmidt. At this point, Altobelli began to maneuver as if this were the World Series or something. He sent up four consecutive pinch hitters, a Series record. Joe Nolan, batting for Cruz, was walked intentionally; Singleton, for Dempsey, walked with the bases loaded; Shelby, facing Hernandez, gave the O's the lead with a sacrifice fly that Matthews caught with a spectacular leap against the fence in left; and Ford, batting for Bumbry against Ron Reed, struck out.
Stewart, the Throwin' Swannanoan (he's from Swannanoa, N.C.), came on to pitch in the sixth. Actually, he had already been busy in the game, washing the windows of the O's bullpen. "They were all scratched and smudged from doubles by Schmidt and [Andre] Dawson and [Dale] Murphy," said Stewart. "So we called down for Windex and towels in the first." For the next 2'Öì innings, Stewart wiped up the Phils. In the meantime, in the seventh, Dauer singled home Dwyer, who had doubled, to give the O's a 5-3 lead.
The Phillies came into the Series with the more ballyhooed bullpen, thanks to the effervescent Holland. But the Orioles' relievers, Stewart and Martinez, had been even more effective. Martinez, who took over in the eighth, has one of the best curveballs in creation. "It's got a real tight spin, so most hitters think it's a fastball," says Pitching Coach Miller. "What makes it even more effective is that Tippy has an 88-mph fastball. When they see this little guy throwing that hard, they don't know what to think."
In the ninth, the crowd finally came alive when Diaz singled with one out. After DeJesus grounded out, Virgil worked a full count, then singled up the middle to score pinch runner Bob Dernier. "I was only trying to create a little excitement, sell some hot dogs," said Martinez. So, with two outs and the tying run on, Martinez was looking at Morgan, whom he had never faced. He showed him his curve, and on the second pitch he gave him another. Morgan lined it weakly to second to end the game.
"I bet we've got them good and overconfident over there," said Rose.
"The last time we were in this position," said Stewart, "we were counting our Series shares and seeing those rings on our fingers. Not this time, though."
No, not this time.
PHOTO
McGregor's five-hit shutout won Game 5.
PHOTO
Matthews had no hope of pulling down Dempsey's third-inning homer in Game 5.
PHOTO
Murray ended his slump with two home runs.
PHOTO
Denver reigns as Baltimore's most popular singer.
PHOTO
Maddox won Game 1 with an eighth-inning homer.
PHOTO
In Game 2, Cruz scored Baltimore's third run on Boddicker's sacrifice fly to left.
PHOTO
In Game 3, Ayala put the Orioles ahead to stay by coming home on DeJesus' error.
PHOTO
Holland and Morgan helped console Rose when his postseason starting streak ended.
FOUR PHOTOS
Shelby had Matthews climbing the wall in Game 4, which let Dauer tag up and score.
PHOTO
Stewart allowed no runs in five innings.
PHOTO
Lenn Sakata came off the bench to turn a key double play in Game 4.
PHOTO
Martinez was a savior in Games 3 and 4.
PHOTO
In center, Shelby made it without shades.
PHOTO
Schmidt's only base hit was a broken-bat single in Game 4.
PHOTO
In Game 4, Dwyer dusted off the Phillies when he scored Baltimore's fifth and decisive run on Dauer's seventh-inning single.
PHOTO
The victory celebration that never took place in 1979 was held instead on Sunday.
PHOTO
In the final moments of the Series and season, the Phillies' bench had every reason to be glum.
PHOTO