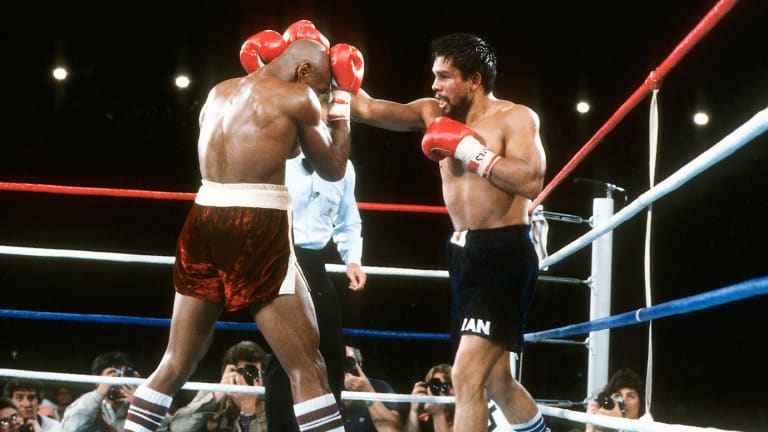 'I Am Still a Pistol'
So says Roberto Duran, who three years after 'no màs' is challenging Marvin Hagler for his fourth world title
Don King was screaming, and Roberto Duran was weeping. During his long and largely illustrious career in the ring, Duran many times had been as plump as the Christmas goose, but through the force of his talent and will he had been able to summon what he needed to produce victory. Now, on Sept. 4, 1982, at age 31, his skills and spirit apparently eroding, the game appeared finally to have caught up with him.
A few minutes earlier, before a crowd of some 5,000 people in Detroit's Cobo Arena, Duran had lost a split decision to one Kirkland Laing, a club fighter from Jamaica. Laing fled a lunging Duran for two rounds, gradually gained control of the fight and steadily beat Duran to the punch as the battle wore on and Duran wore out. It was seemingly the last chapter in the Duran story. Almost eight months earlier, he had lost to WBC junior middleweight champion Wilfred Benitez, and six months before the Laing fight his weight had ballooned to 185 pounds.
"I was weak," he says. "I had to lose too much weight [he fought Laing at 155 pounds]. I was completely dilapidated. I was demoralized. I didn't care about Kirkland Laing."
Oh, after the fight how he wished he'd cared. There he was, with his wife, Felicidad, crying in a corner of his dressing room. And in came King, having stomped out of the arena and toward Duran in a fury of anger. As Duran's regular promoter since 1975, King had made millions on him. After a particularly notable performance. King would grandly whip out a sheaf of $100 bills, fan them like a deck of cards and hand them to Duran at the press conference as they smiled at the cameras. But those days now seemed as far gone as Duran's once immense talent.
King burst through the door of the dressing room, waving not $100 bills but a large cigar to punctuate his obscene, vituperative spiel. Someone locked the door behind him, but outside the room his large voice could be heard booming like cannon fire for 10 long minutes.
Between curses and condemnations, King told Duran that he would never again promote a Duran fight, that Duran ought to retire. The game was over, and Duran knew it. After all those years, he was washed up. "I was finished, ruined professionally in boxing," Duran says.
On Thursday night, Nov. 10, in a parking lot at Caesars Palace in Las Vegas, Duran again will climb the steps into the ring. In the opposite corner, his bald head shining damply as he faces Duran, will be no less a wolverine than Marvelous Marvin Hagler, the undisputed middleweight champion of the world. With 15,200 fans watching at Caesars, another three to four million viewing at 400 closed-circuit theaters around the country and untold millions more looking on in 50 countries around the world, including Duran's native Panama, these two men will answer the bell and have at it for 15 rounds, or until one of them can go no longer.
It's not an exaggeration to say that if Duran beats Hagler and wins the undisputed middleweight title, he will culminate the most remarkable comeback in the annals of the sweet science. To be sure, when Duran steps into that ring against Hagler, only 432 days will have passed since his loss to Laing, and a mere 363 days will have passed since he stunk out the Orange Bowl in Miami in a fight against Jimmy Batten.
"A year ago at this time, as an attraction Roberto Duran wasn't worth a plugged quarter," says Bob Arum, who's promoting the Duran-Hagler bout. "Now he's the biggest thing in boxing. He [as well as Hagler] will have a payday of between $8 million and $10 million. If he beats Hagler, he has a chance to be called the greatest fighter of all time. All this has happened in less than a year. It's unbelievable! Boxing as soap opera."
The story of what Duran has been through for the past three years and where he's heading now is considerably more substantial and dramatic than afternoon pap. "Through all this wind and dizziness" is how Duran describes the strange path he has followed, a path along which self-indulgence and a single act of recklessness presented nearly insurmountable obstacles.
Everyone thought the end had come when Laing whipped Duran in Detroit and King discarded him. That was when he very nearly quit his profession of 15 years. He told Felicidad later, "I'm going to retire. Everything is finished. I don't have the same feeling for it that I had before."
Felicidad listened intently and then had her say. "You can't retire," she told him. Then she pricked him with this needle: "If you had any pride you would demonstrate to Panama and the whole world that you are not finished. You have to sacrifice yourself! One year."
The way back had begun.
To come back, Duran first had to recover his pride, which he had lost in New Orleans' Louisiana Superdome on the night of Nov. 25, 1980 when he spun away from Sugar Ray Leonard in the eighth round of their WBC welterweight title fight, threw up his arms and declared, "No màs...no peleo màs" (No more, I don't box anymore).
It was, for Duran, more than a simple act of surrender; it was one of near self-immolation. For 6½ years, from June 1972 to December 1978, he had been the lightweight champion of the world, acclaimed as one of the best boxers ever and by consensus the fighter of the 1970s. Always quick to strike, a furious puncher and relentless attacker, he also became a superior boxer, technically and tactically. Defensively, he was as elusive as a wisp of smoke. In Montreal on June 20, 1980, he fought perhaps his best fight, bulling and pressuring and banging the previously undefeated Leonard out of his welterweight crown.
Duran had beaten the American, and he was feted nightly in Panama. Bottoms up. He ate, he drank, he partied. In three months his weight climbed from 147 to 185. "After the Leonard fight in Montreal, I lost control of him," says Carlos Eleta, his manager then. "I couldn't help it. There were so many people around him. The fight went to his head." And the fried rice and whiskey to his belly. Janks Morton, Leonard's trainer, had heard reports of Duran's excesses, and so Leonard's camp sought a return fight as soon as possible. Eleta, not wanting to gamble on his fighter making a defense against a lesser opponent and maybe losing, said yes.
"I was caught off base," says Duran, who had eight weeks to prepare for his second encounter with Leonard.
Duran's chief trainer, Freddie Brown, worked to melt the weight off him in New Orleans, but it was a daily struggle. Duran's entourage was of a size that would have befitted Montezuma, and Eleta says some of the hangers-on slipped him food at night, telling him, "They are training you too hard, taking too much out of your system." Brown complained about this to Eleta, but Eleta could not regain control of Duran.
Until two days before the fight Duran trained in a rubber corset, and three days before it, desperate to lose weight, he took a diuretic. After the weigh-in, dehydrated and famished, he gorged himself on two 16-ounce steaks and almost a quart of orange juice. There were only eight hours to go until the fight.
By the time Duran arrived in the ring, he was ripe for picking. Even today, almost three years later, he stands by his story that stomach cramps did him in; that he was too weak and out of shape to deal with what was before him. In the seventh round, while winding up as if to throw an exaggerated bolo punch, Leonard suddenly popped Duran with a stiff jab, the punch of the year, and danced in front of Duran, sticking out his chin.
If Leonard's gestures offended the purists in attendance—the original Sugarman, Ray Robinson, never mocked an opponent in the ring—there were, nonetheless, snickers from the crowd, laughter at the fool that Leonard was making Duran out to be. Three minutes later Duran quit on his feet, $3 million richer but far poorer for his evening's activities.
Notes from two nights of discussion in Duran's room at his Palm Springs, Calif. training site for the Hagler bout. The subject, the neon flashings of his mind regarding no màs:
•I was sick. The pain got worse. Then I began to feel weaker. I couldn't lift my arms. I felt sick. I couldn't breathe, and each time I threw a punch it hurt and I felt weakness in my arms. If I couldn't go on and he was most likely going to give me a beating or mess me up, why did I want to be like that?
•I couldn't throw any punches, and I would have received undeserved punishment. Leonard knew I had nothing.... He was running and clowning because he knew I couldn't do anything. He wanted to show the public he was doing a big thing, but he wasn't doing crap. The first thing that entered my mind was, "If I was well, I would knock him out. It's a pity I can't do it." Leonard didn't punish me. He wasn't hitting me. I was messed up.
•I thought, "If I'm sick, I'm sick. If Leonard can't knock me out, why should I let myself be knocked out?" I could have died in the ring; gotten hurt, cut badly, or something could have burst in my stomach. Why should I continue to force myself? Why should I get hurt unnecessarily? So he should find an opening and I could become blind? Take a shot to the jaw and become paralyzed? I can't die to please the public, leaving my wife and children abandoned. Why [should I go on]? To please a fan?
•Well, there you have Sugar Ray Leonard now. What good is he? He got in with Thomas Hearns. There he is, all messed up, and if he fights, he can't see. But I'm still a pistol! And I've been recrowned a champion again.
So Duran was ill and didn't want to die; he was out of shape and didn't want his face busted up; he was weak and didn't want to be paralyzed. But why such abject surrender? One more question: Don't you think that the way you lost, the way you quit, was a way that the Panamanians or Latin Americans could not accept?
"Yes, that is true," Duran says, "but also I wasn't going to let myself get knocked out and look ridiculous in the ring."
To be made to look ridiculous, to be made a fool, was for Duran to yield unconditionally to Leonard. Instead, he chose to surrender on his own terms. "He knew he couldn't go 15 rounds," says Eleta. "He knew, he knew. He was too orgulloso—too proud of himself. He was afraid of what people would say of him. What he did was so much worse, but he didn't think about that."
A footnote: Late on the night of the fight, Duran threw a big party in his suite at the Hyatt Regency hotel, while alone in a room outside Panama City his mother, Clara Esther Samaniego, prayed to a statue of the Virgin Mary as someone stoned her house.
Whatever Duran's feelings were at the conclusion of the fight, he masked them, like the burgler who smiles at the cop turning the flashlight on him in the back of the store. "He tried to hide all his feelings, so he did the opposite of what you'd expect," Eleta says. The party began. When Eleta came by, the whole entourage was there. Some of the hangers-on were dressed in white Panama suits that Duran had bought them. They were drinking, singing, dancing, shouting. Eleta was enraged. "Everybody out!" he yelled. "Out!"
Eleta took Duran to the hospital to have tests run on his stomach. In the car, Duran wept. "Yo estoy arrepentido," he said. He was so sorry. "Embarrassed," Eleta says.
Clara Samaniego had had nine children, two of whom were boys fathered by a Mexican sailor, Margarito Duran. "A good man," she says. "He was kind to me." One child, Alcibiades, died of heart disease at age three and was buried in a municipal cemetery in Panama City. Now his full brother, Roberto, had quit in the ring, and she feared for his life.
Samaniego already suspected why her son had lost. She believes in santería, a form of witchcraft involving both Catholic saints and spells. Before the fight, a friend had told her that Roberto was not going to win: "He's under a witch's spell. Mrs. Benitez put him under it because of envy." That would be Clara Benitez, the mother of three-time world champion Wilfred, who had lost his welterweight title to Leonard in 1979. Mrs. Benitez denies all, saying, "Impossible. Ridiculous. Are you sure that his mother didn't cast a spell on that fight and it backfired?"
Suddenly, stones crashed through a window in the front of Samaniego's house, and she heard voices cry out, "Hija de perro, su hijo se vendio!" (You son of a bitch, your son sold out!) Felix Suñe, a boxer with whom she was living, called her immediately after Duran surrendered. He was in South America, preparing for a fight. "Lock yourself in the house and don't go out," he told Samaniego. She did, for a week. "I was scared, I was alone," she says. "But thank God my other children weren't here. I don't understand why people reacted that way. Roberto gave enough glory to the country."
Duran returned to Panama City in disgrace. "Sitting in the airplane, I knew what was coming," he says. He had been pummeled by the media and denounced by the people before he arrived, and the vilification continued after he got home. Graffiti painted on the seawall of La Avenida Balboa accused him of going into the tank, DURAN IS A TRAITOR read one sign. He was having a house built in the city, and policemen had to guard it from vandals.
Felicidad remembers the obscene calls in the middle of the night: "They would phone at three, four in the morning and insult us, curse us. 'Son of a whore,' all such things. I was scared for my children." People taunted Duran in public, calling him "un cobarde" (a coward) or "una gallina" (a chicken). Behind his back they branded him a homosexual, the ultimate Panamanian insult for a man renowned for his masculinity.
"I would go into a bar, and people would say I was crazy," Duran says. "Once I went to a fight, and the people mocked me. I told them, 'Someday I will return to Panama, and you people will applaud me.' I was in Panama during Christmastime of '80. My morale was spread all over the floor. The Panamanians, instead of helping me, put me down like I was a thief, a murderer. I couldn't get up. I stayed two, three months locked up in my house. I didn't go out. When I did, everyone gave me dirty looks."
He did have some visitors out of the past, among them Luis Spada, an Argentinian who had become close to the young Duran when Spada worked for Eleta. Spada told him, "Roberto, if you need me at any time to carry your bucket for you, I would do it without pay." Duran would not forget that.
The days grew longer in Panama. Mostly, Duran sat in his study with the 15 or so friends he had left—after New Orleans, dozens from his entourage had deserted him—and watched horror films from his extensive collection. He's a buff of the genre and is able to recall in detail scenes from movies such as Night of the Living Dead, which is about zombies running amok. He had become something of one himself, staring at the screen all day, no longer the exuberant, joyful, joking raconteur that he'd been.
"Eleta didn't even call me. Eleta forgot me," says Duran. "Even one of my own sisters forgot me. I was hoping that Eleta would come and tell me, 'Well, I've got you the date for the rematch with Leonard,' so I could begin training in earnest. But no, nothing." Even today, after all he has been through, Duran doesn't seem to fathom what he did in New Orleans that night; how fully he condemned himself to the "wind and dizziness" that followed. He never stopped crying for one last chance against Leonard. He cries yet.
Duran was living in a house haunted by Leonard, and the exorcising of this ghost required no less than a third Duran-Leonard fight. Duran vowed not to return to Panama until he was re-crowned a champion, and he began his pursuit of Leonard, who was preparing for Hearns. It tormented Duran. "He thinks about it all the time, all the time, all the time," Eleta says.
When King and Eleta set Duran up for his first fight after New Orleans, against Nino Gonzalez, an unranked junior middleweight, Duran trained indifferently. "I didn't want that," he says. "I wanted Leonard. I fought Gonzalez just to fight. Not many people showed up, and those that did came to mock me and scream at me." Duran struggled, showing only brief flashes of his former self, but he won a 10-round decision. Six weeks later, on Sept. 26, he decisioned Luigi Minchillo. "Why won't Leonard give me the rematch?" he asked.
Duran's weight blew up in the ensuing months, and when he signed to fight Benitez for his 154-pound title on Jan. 30, 1982, Duran was the Bad Year blimp; he weighed more than 180 pounds. At the suggestion of the late General Omar Torrijos, then head of the Panama National Guard, Eleta sent Duran to the island of Coiba, off the Panama coast, a maximum-security penal colony. There, sharks patrolled offshore and prisoners ran free.
"Wow!" says Duran. "I was a prisoner among prisoners! To make a telephone call you had to climb a mountain. You called by shortwave radio. There were many murderers there; not many thieves, mostly pure murderers. I was scared. The prisoners walked around with machetes because they used them for work in the mountains. Whenever I went into the streets I had a guard with me. At three in the morning, roosters would be crowing. I couldn't get any sleep. I was pulling my hair out. That was a disgrace. It was a big mistake, a bad decision to go there."
Duran fought gamely but ineffectually against Benitez and lost a unanimous 15-round decision. After almost 14 years together, Eleta and Duran parted following that fight, Eleta scolding Duran one more time about his crash weight-loss programs before each fight. "You should train in the proper way or you should retire," Eleta told him. "You are going to kill yourself."
Eleta's departure from Duran's camp left only King and Nestor Qui√±ones, his Panamanian trainer since he was a boy, from the inner circle that had surrounded Duran in the glory days. The 84-year-old Ray Arcel, Duran's strategist since he beat Ken Buchanan for the lightweight title in 1972, had retired after the second fight with Leonard, shaken and bewildered. Arcel had come back for the Benitez bout, but when that was over he bowed out, writing a letter to Duran about all books having a final chapter and suggesting that Duran had written his. The 76-year-old Brown, for 11 years Duran's conscience and shadow in training camp, had departed after no màs, bitter over a money disagreement with Eleta.
Along with his handlers, Duran's dream soon disappeared, too. By the time of the Laing fight, Leonard had been operated on for a detached retina sustained in training. He would retire two months later. Then, after the Laing fiasco. King ungracefully bowed out; the final encounter between Duran and King occurred in New York two days after King's tirade in Detroit and, if anything, was more humiliating to Duran.
King lets you know how brightly you shine in his firmament by how long he keeps you waiting in his outer office. Roberto and Felicidad arrived at 1:30, seeking the purse for the Laing fight. When King hadn't called them into his presence by four o'clock, Duran left. "I'm not going to be humiliated by anyone," he said, leaving his wife with the lawyers who had accompanied them. She finally saw King around two hours later.
The following day Duran walked the 20 blocks to the office of King's archrival. Bob Arum, who with King had co-promoted the first Leonard-Duran fight. Even before the Laing fight Duran had asked Arum for the chance to fight his young, inexperienced WBA junior middleweight champion, Davey Moore. Arum had agreed to make the fight, which led to a clash with King that ended abruptly after the Laing fight. King then didn't want Duran anymore. "I figured I wouldn't hear from Duran again," Arum says.
When Duran called, saying he was on the way over, Arum asked his matchmaker, Teddy Brenner, "Do you think there's any future there?" Brenner said, "The guy hasn't taken any punishment. It's all mental. And he doesn't take care of himself." When Duran arrived. Arum says, he looked as if he'd been crying. "I was going with only one idea," Duran says. "To get away from King and fight for Arum, so that King could see that without him I had someone else to represent me." He told Arum he had learned his lesson. "If you give me the opportunity, I will work very, very hard," he said.
"You have only yourself to blame for what's happened," Brenner told him.
Arum offered Duran $25,000 to fight Batten on the Aaron Pryor-Alexis Arguello card on Nov. 12, 1982. Duran resented the offer, pocket change for him. "I thought Arum treated me a little harsh," he says. "I was going to tell him to shove it, but I held off. Arum was very hard, but he gave me a chance."
After signing for Batten, Duran called his old friend Spada and asked him to be his manager. "You aren't going to carry my buckets," Duran said, remembering. Unlike Eleta, whose business empire had kept him at home between Duran's fights, Spada is in boxing full time and at Duran's side and feed tub during training. He has managed three champions—Duran, WBC light flyweight champion Hilario Zapata and WBC junior featherweight champ Rigaberto Riasco—owns a gym in Panama and, literally and figuratively, knows the ropes. "You have to train, you have to work," Spada told Duran right off. "I'm not Mandrake El Mago, and I'm not a Chinese doctor!" What he would do with Duran in one year suggests that he's a bit of both.
For Batten, Duran wasn't ready and knew it. He didn't want to fight before the main event but, rather, after it, figuring that the press would be interviewing Pryor and Arguello as he was dancing with Batten. A sound decision. The fight emptied what was left of the house. Duran won by a decision, but he was slow and awkward.
It was the last time he would look bad. A few days after that fight, Duran signed to meet former WBA welterweight champion Pipino Cuevas in Los Angeles on Jan. 29. Spada agreed to fight at 152 pounds, Cuevas' ceiling, but for two days Duran resisted, thinking he couldn't make that limit. "If you don't get this fight, you better just fool around in boxing," Brenner told him. Then Arum held out the big carrot: Beat Cuevas and Moore would be next. Duran signed and meekly asked Spada, "Is it O.K. if I make 153?"
Duran trained rigorously for Cuevas and made the weight easily. What Felicidad saw in those days of training in L.A. was something she hadn't seen since the days before the Leonard fight in Montreal. "The enthusiasm came back when they told him he was going to fight Cuevas," says Felicidad. "From that point on, I began to see the same Roberto Duran as before—happy, joyful, the one that liked to joke around. I recovered him. He was back. He was the same Roberto I once knew."
Cuevas may have been a spent bullet, but Duran moved like the Duran of old, chasing him like a ferret around the ring and looking sharper than he had looked since Montreal. When he had Cuevas in trouble, he finished with fire. Cuevas didn't have a chance, losing by a knockout at 2:26 of the fourth round. Nor five months later did Moore have a prayer. Despite the layoff, Duran had no trouble making 152½ pounds for Moore. "Making weight for a fight is a preoccupation with a boxer," Spada says. "It's his subconscious bothering him, making him restless. Twenty days before the Moore fight Roberto was 153. This gives the boxer breathing room, relaxation, calmness."
In Madison Square Garden on June 16, Duran used every skill he had learned in his 79 professional fights. Moore had had only 12. Duran closed Moore's right eye with a thumb, bullied him here and there, spun him around, jabbed him, pounded his body, hooked him up and dropped him with a straight right hand in the eighth that had the sellout crowd of 20,061, most of them Latins, doing handsprings in their seats. Duran was the new junior middleweight champion of the world.
"I was born again," he says.
Ricardo de la Espriella, the President of Panama, invited Duran to come back home, but Duran begged off temporarily, saying he first wanted to spend a few days in Miami among the Cubans and then some time in California among the Mexican-Americans, both of whom had, Duran says, "opened their doors to me." He adds, "Yeah, how come they want me in Panama? How come they didn't say that before? I remember when I used to go out to the street to run in Panama and people would yell to me, 'Retire! Are you crazy? You're not going anywhere!' Today, all those people hug me, kiss me."
He eventually went back to Panama, of course, and had a good time. Still, he never misses a chance to remind Panamanians of how they treated him after New Orleans and of how cold the shoulders got again after the Laing fight. "When I spoke to the President, he asked me to please come, and because of him I finally went to Panama," Duran says. "He said he'd send an airplane. I went to Panama to see those people humble themselves beside me, applaud me and all those things."
On the ride from the airport into Panama City, crowds estimated at 300,000 to 400,000 lined the streets, cheering him as he passed. Less than three years before, he had been a prisoner in his own house in this town, and now the people were greeting him as they had greeted Pope John Paul II three months earlier. "When I was in the car, during the parade, I laughed and laughed at the hypocrisy," Duran says. "I was saying to myself, 'Look at all those hypocrites, today applauding me, saluting me.' "
There was talk of a Hagler-Duran matchup even before Duran destroyed Moore. In May, Hagler was supposed to do a boxing skit with Leonard at Bob Hope's birthday party at the Kennedy Center in Washington, D.C., but Leonard had to drop out at the last minute to undergo surgery for a hernia. Duran was summoned from his training camp in McAfee, N.J. to replace him; he left in such a hurry that he arrived wearing two right shoes.
Duran and Hagler shared the same dressing room. At rehearsal, while the two fighters went through their skit, Spada said to Arum, "I don't believe it. They're about the same size." Hagler, at 5'8½", is only one inch taller. It got the two camps thinking. When Duran stopped Moore, Hagler was among the first to get to the ring, and he ended up giving most of the interviews. The fight was made.
Hagler, with a record of 57-2-2, is a 3-to-l favorite, and the consensus of smokehouse savants was that Duran, substantially outgunned and undersized—Hagler, for example, has an eight-inch reach advantage—was in for a desperate evening. Hagler, 29, a true 160-pounder and a natural lefty, is regarded as the most capable champion in boxing today. He throws a crushing punch from either side and is notably hard-hitting with his right jab and hook. He's also a studious boxer who changes stances easily.
"There's no script for this fight," says Mort Sharnik, CBS-TV's boxing consultant. "Anything could happen." It could be a war, with Duran attacking as he attacked Leonard in Montreal, taking the fight to Hagler from the git-go. It could be a long, boring boxing match in which two superior boxers make intermittent contact between disengagements. Or a combination of the two. Hagler is worried about the bout going the full 15 rounds, since the WBA, which will designate the ref and judges, is controlled politically by Latin Americans and Duran is a Latino. "I can't leave it up to the judges here," Hagler says. "I have to go in and do the job. If Duran goes 15 rounds with me, he's going to be busted up."
Hagler, as usual, has trained as if he's to meet the Creature from the Black Lagoon. "I respect Duran," Hagler says. "He's a very experienced fighter. When guys are dangerous, don't play with them. My motto for this fight is: Don't play with him—bust him up. I think this fight will bring out everything I've learned. It will all come out that night. I'd like nothing better than to end Duran's career."
For his part, Duran, whose record stands at 76-4-0, has never seemed looser before a fight. Recently, getting a haircut at his Palm Springs hotel barbershop, he serenaded the attendants with a medley of Cuban songs. He told joke after joke, night after night, as he moved about Palm Springs, and he laughed loudest of all at them. He punished sparring partners during his daily afternoon sessions. He saw Arum walk by the ring one day and said, "Hi, Bob." Arum glanced over, and Duran stuck out his tongue.
"The problems Hagler presents don't interest me," Duran says. "When I'm in condition and I train, I'm not interested in anything like that. Nothing bothers me when I become hot-blooded; let him come any way he wants. I can fight inside as well as outside. If I'm not there, he won't hit me. I will have a lot of movement for him. I will go to the body. I should be frightened because he's a higher weight than me? You're crazy. Now it's time. Now he's going to fight someone with quality."
Of that there's no doubt. "Hagler has never been in the ring with a fighter of Duran's quality," Sharnik says. "I pick Hagler, but I could see Duran winning the fight. He could win by a knockout. Ask Moore. Duran's a finisher. "If he feels he has shaken Hagler, forget it. Boxing is 90 percent in the head. If he sees it's within his grasp, he'll seize it. He soars. If he hurts Hagler, he'll be on a high. Here is a guy who can move, think, counter and fight and is motivated by more than money. He was an outcast." And should he win, he would be the first fighter in history to win four titles.
"I give Duran a hell of a shot," Arcel says. "Boxing's a very strange business. God didn't make the chin to be punched."
Brown is certain about who will win: "I got to pick Duran. I got confidence in him. I know how much guts he's got, how hard he can punch and how much ability he has. Very smart. You can hit him, but you're going to get hit back. And you'll know you've been hit." Like others who pick Duran, Brown remembers the 1979 draw between Hagler and then-middleweight champion Vito Antuofermo, in whose corner Brown was working.
Hagler had trouble coping when Antuofermo pressed him and eventually lost control of the fight. "Vito got right on top of him, pressing him, facing him, making him fight," Brown says. "Hagler doesn't like that. That's why Vito gave him all that trouble. Duran's a better in-fighter than Vito. He's as strong as Vito. Duran's a harder puncher and not as easy to hit. Vito was easy to hit. This is a real good fight for Duran."
Still, most logic stands against Duran in this bout, but perhaps there's something more compelling here than logic. For Duran, the themes are larger, more passionate. Hagler is involved in a career, while Duran is involved in a quest. Hagler is fighting to retain his title, while Duran is fighting for history. He believes, if he wins, that he will be considered the greatest fighter of all time. "I'm going to be it," he says. "I am, and I will be it." He believes, too, that if he wins, his dream of Leonard returning will remain alive. You see, he is really fighting Hagler to get to Leonard. "That is true," Duran says. There's no other way home.
THREE
PHOTOS
When he turned his back and surrendered the WBC welterweight title to Ray Leonard in their November 1980 rematch, Duran seemed to be at the end of his career. But now, as he prepares for the fight of his life, he's confident he'll be No. I again.
PHOTO
Duran, who ballooned to 185 pounds 20 months ago, has trained down to a hard 158 for Hagler.
PHOTO
Duran was the underdog when he slopped Moore in June to win the WBA junior middleweight title.
THREE PHOTOS
After "no màs," Clara was vilified, Panama City—Duran was born in the center blue apartment at right—got mean and he was a captive in his house.
PHOTO
Duran learned the tricks of his trade here in the Marañon gymnasium, a converted trolley-car barn in Panama City.
PHOTO
When Duran lost to Benitez, Eleta, his millionaire manager, quit, saying, "You should train properly or retire."
TWO PHOTOS
Former handlers Brown (above) and Arcel will be spiritually in Duran's corner for the Hagler fight.
PHOTO
Spada has stuck with Duran through thin and thick.
PHOTO
Duran isn't skipping a bent in preparing for Hagler...
PHOTO
...but, as son Robbie and Felicidad can attest, he doesn't constantly eat, drink and sleep boxing.